WPForms is one of the most used form builders for bloggers. There are many reasons why this is. However, I wanted to share with you my top 5 reasons for using WPForms.
WPForms is a simple, clean, and easy to use form builder for WordPress. It allows a web owner to contact his visitors and collect leads, information, sales, and many other things. Forms usually have many add-ons allowing integrations that extend their functionalities. WPForms has many integrations that make it a complete form plugin.
Let's see my 5 reasons.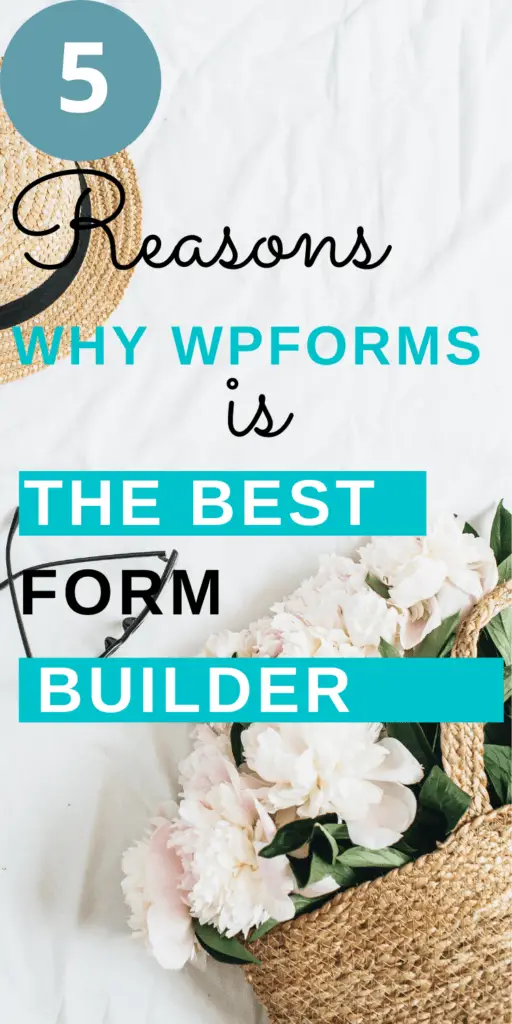 MY FIVE REASONS WPFORMS IS THE BEST FORM BUILDER
A form normally allows you to gather an e-mail subscription to a newsletter or an e-mail list in the most basic functionality. It is a simple thing. If you want to add more to it, you could start using forms to collect answers to your questions and have a human interaction with your visitors.
But when your site starts to grow, you may need to do more things, like collect payments, allow people to submit posts, run surveys to adjust your campaigns, a landing page to customize offers, templates for any niche needed if you write many types of articles on a variety of topics, collect signatures, integrations and much more.
I think it would not be enjoyable to have a separate plugin do perform a single function. Therefore, form plugins expand their functionalities to help site owners interact with their visitors in many ways. WPForms with all the add-ons, options, and features allow having one plugin that does it all.
Here are my 5 reasons on why WPForms is the best form builder:
1.SIMPLICITY
I don't deny that a simple, clean form can go a long way. As a beginner, you may think those elaborate and flashy compositions can attract more visitors to sign-up. Not always. In most cases overdoing it can be disturbing and distracting. After playing around with designs for some time, I figure that people like clean, easy, and simple things.
WPFomrs is clean and beyond simplicity. It is easy to use for a beginner, and it is easy to fill up for a visitor. New bloggers should use WPForm until they become more expert and seasoned bloggers, keep up conversions, and make more expert use of it.
Building a form is intuitive because you can build it with a drag and drop builder. Therefore, since it is visual, it is easy to figure out how what to do. However, every step of the process has a link to a tutorial if it is not clear what a function is for.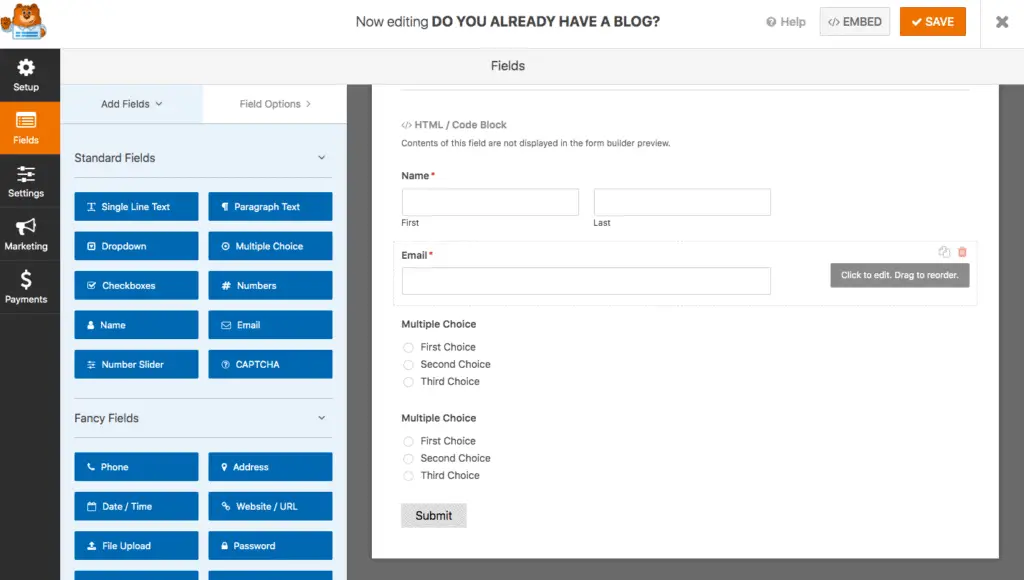 2.ALL IN ONE PLUGIN
Saving time and a fast working plugin that does many functions can be a lifesaver for a busy blogger. In building a page, we may want to collect payments for a subscription.
Maybe we want to ask people to submit a post or insert a survey to collect valuable data. What if I would have to install a different plugin for each one of these functions?
Not only would it occupy space on my site and slow it down. But I would have to go in and out of different platforms to get what I need.
It is easier to have it all in one place and use it when needed, with the same working method. Therefore I do like very much the fact that I can use many functions with the same plugin.
Some of the things allowed by WPForms are:
File Uploads
User Registration
Form Pages
Form Locker
Conversational Forms
3.CUSTOMER SUPPORT
Customer support is fast and friendly. If there is a question or anything is needed, maybe not knowing how to do something, customer support is fast, and they are very friendly. When purchasing premium products, it is important to know that there is always customer support that is fast and effective.
WPForms does its job on this, and they are very friendly in answering and making sure you resolve the issue.
4.NO CODING OR COMPLICATIONS
Pretty much nothing in WPForms requires you to deal in codes and complicated setup. Everything is already arranged and can be done with a click or two. Integrations with third-party softwares or plugins also require few clicks. And the same is for e-mail integrations with E-mail marketing softwares.
No one wants to spend time and headaches to set up advanced functions needed when it comes to a form. I like that there are no knowledge requirements to use WPForms and all its advanced features.
5.ALWAYS WORKS
It is rare to get a bug or that the plugin becomes unusable or experience technical errors. However, you may think this is a given until a form plugin nearly destroyed my site when I have updated it. I don't tell you what I had to do to get back my site, and I think I lost 1 or 2 articles. I had backups, fortunately.
I am not going to say which plugin was that, but I learned that a professional plugin that is up to date and constantly worked on by developers is important. I like that WPForms works all the time, doesn't give bugs or problems. It simply works all the time.
PREMIUM OR FREE VERSION
There are free forms plugins around the web, but when you add a plugin to your site, you have to make sure that it is compatible with your WordPress version and that it is being updated constantly.
Often a premium version is better because of technical support and because normally, the plugins are taken care of routinely as far as development is concerned. Based on my personal experience, it is better to have a premium plugin when possible, especially regarding forms, payments, and other critical operations.
Some useful free plugins do their job. But, when it comes to contact with a website visitor, it would be essential to pay some attention to what is being used and make sure you have a problem free plugin.
As an example, I had installed a free forms plugin, one day I run an update, that update it scrambled all my site. I had spent countless hours with my hosting providers to uninstall all of the plugins, find out which one is the problem, and then restore my site to a previous version.
Fortunately, my hosting provider does automatic updates for me, so I did not lose much—all of this to say, when possible, get a premium plugin with good customer support.
WPForms has a premium version, and it is not that expensive. You are good to go for a year, and you can be assured that hardly anything would happen with your contact forms, payments, and other operation, and if something happens, you have support ready.
CONCLUSION
I hope this was useful to you. If you have any questions or want to add something, leave it in the comments below.