Cart Abandonment: have you wondered how is it possible to reduce the phenomena of people leaving the shopping carts? Are there reasons why people do that? This is the subject of this article.
Cart abandonment is the phenomenon of people leaving the shopping cart before making the purchase. This can happen for numerous reasons. The most common are: It takes too long to check out, the process is too complicated, coupon code doesn't work, shipping takes too long, shipping cost too much, the site doesn't work, and have to re-enter information more times. Reducing cart abandonment means taking away all the reasons why it is happening
Let's see what can be done about it.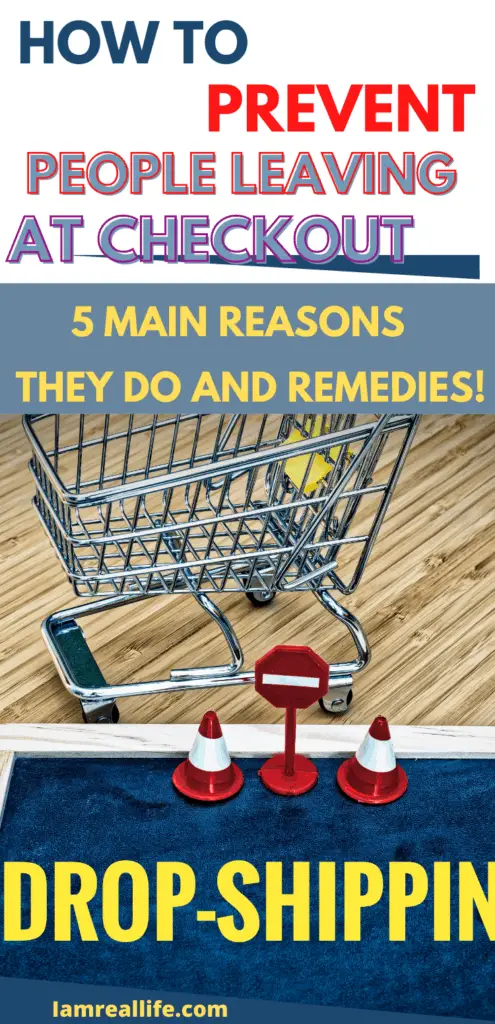 CART ABANDONMENT REASONS
A general website doesn't convert all the traffic that comes through it. If you are a Shopify store owner, Woocommerce, or anything else, you are the effect of the phenomena of Cart Abandonment.
What is cart abandonment?
"Cart Abandonment is an eCommerce term used to describe a visitor on a web page who leaves that page before completing the desired action. Examples of abandonment include shopping cart abandonment, referring to visitors who add items to their online shopping cart, but exit without completing the purchase."
It is frustrating because you, like me, spend a lot of energy and time to get people to come to your site. Why do they leave then?
Obviously, not everyone is finding what they are looking for, but let's say that most of the people that come through your site are leads that are looking for that specific products and could be potential buyers; how is it possible to decrease the abandonment cart phenomena, how is it possible to keep and converts as many leads as possible?
What are other people doing to decrease this and to generate more conversions from their hard work? Let's figure out the cause first as some of the remedies have to do with the way your website, cart, and checkout experience is set up.
The checkout experience needs to be the most user friendly, fast, and understandable. Need to be easy and somehow interesting.
If you have ever tried to buy something from a website and try to checkout, but being confused by the layout, complicated questions, too many questions, delays, and more, you understand what means to have an easy and fast way to get through the process. In the end, even a very determined buyer is going to go and buy somewhere else.
PRIMARY REASONS FOR DIGITAL SHOPPERS IN THE US TO ABANDON CARTS
Stats are updated for the last year. Soon, new will come out, and the information can be updated. However, those statistics still give a good idea of what causes the cart abandonment and how to solve it.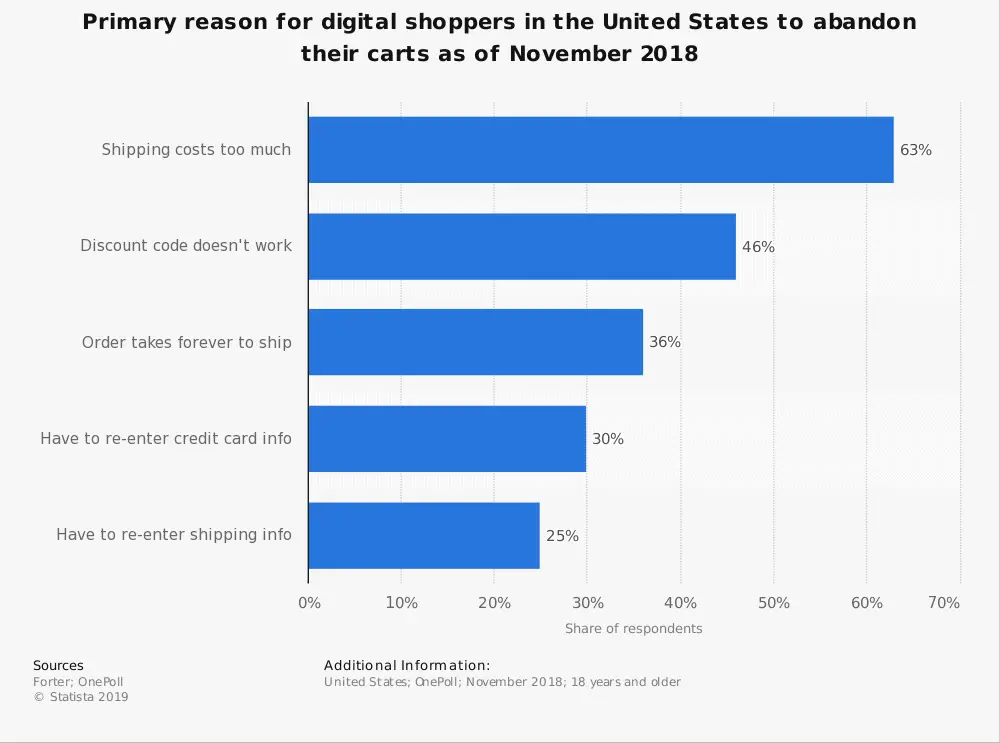 Top reasons:
Shipping cost too much
Discount code doesn't work
Order take forever to ship
Have to re-enter credit card info
Have to re-enter shipping info.
Thus speed is of the essence.
You can do a quick test of your website as a customer. Every once in a while, I do this to spot delay and non-optimum situation with your cart and checkout.
You may be curios as to what industry has the higher rate of cart abandonment. Here you go: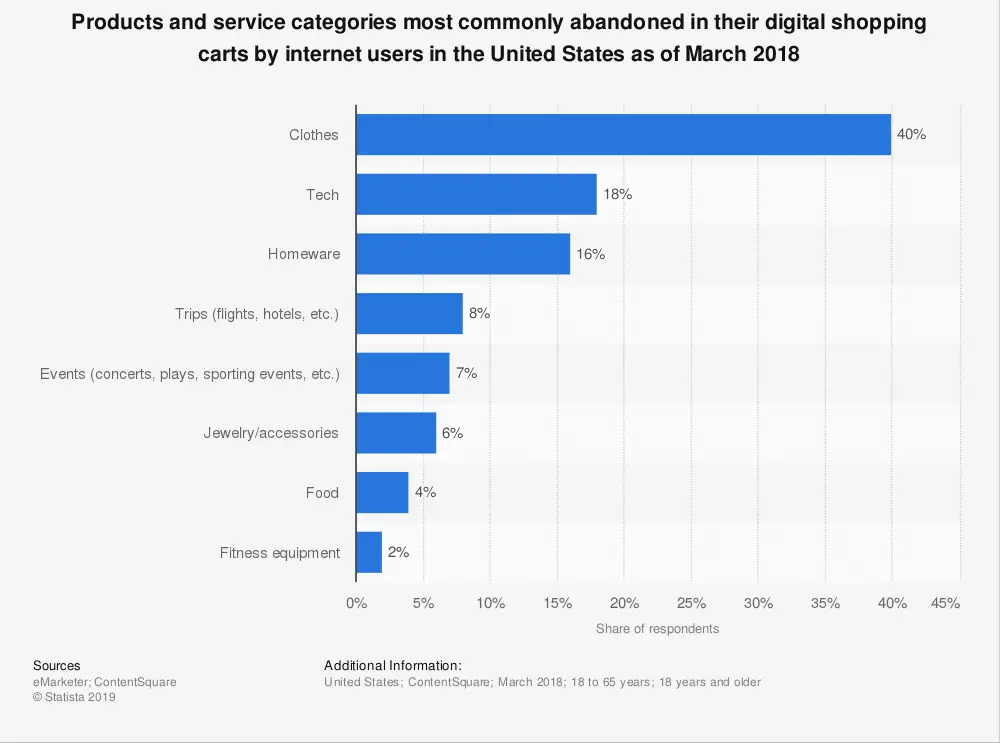 CART ABANDONMENT SOLUTIONS – TOP 5 REMEDIES
What can you do? Are there things that we can do to reduce cart abandonment? Let's recap, we said that the top 5 reasons for people leaving carts are:
Shipping cost too much
Discount code doesn't work
Order take forever to ship
Have to re-enter credit card info
Have to re-enter shipping info.
Therefore we know that we have to do the following things:
Reduce shipping costs
Make sure that discount codes are working.
Make sure your shipping times are the best one around.
Make it easy to insert credit card info.
Test your site over and over to make sure there are no errors
You can do other things, like sending automatic e-mail reminders as soon as a customer abandoned the cart.
If you haven't implemented a basic cart abandonment campaign, you are losing huge amounts of money.
Cart abandonment campaigns can range from a simple email to the shopper after they end a session with an item in-cart to a coordinated, cross-channel campaign over an extended period of time.
Another way is a pop-up window that is doing a different task but mainly keeping the customer engaged. Either way, your goal is to nudge the shopper into buying the products they showed interest in but abandoned. 
Regardless of whether or not the campaign is successful, the best marketers know how to leverage what they learn about the shopper's behavior during an interrupted purchase to better market to them in the future.
NUMBER ONE LEAD GENERATION TOOL AND CART ABANDONMENT SOLUTION
The Number One Recommendations is OptinMonster. Implementing software that does recognize and act on leaving customers can save you a lot of sales.
Since its launch in 2013, it has improved conversions for small independent businesses to Fortune 500 companies.
OptinMonster comes with an easy-to-use drag-and-drop popup builder that allows you to create beautiful email opt-in forms that are proven to convert. You can create various campaigns, including WordPress popup forms, exit-intent popups, floating header and footer bars, slide-ins, also known as scroll triggered boxes, sidebar forms, after post forms, in-line forms, mobile popups, welcome gates, and more.
Using OptinMonster popups combined with their exit-intent technology, page-level targeting, and behavior automation, users have seen an instant boost in conversion rate, even upwards of 785%!
Don't worry all those terms are defined below.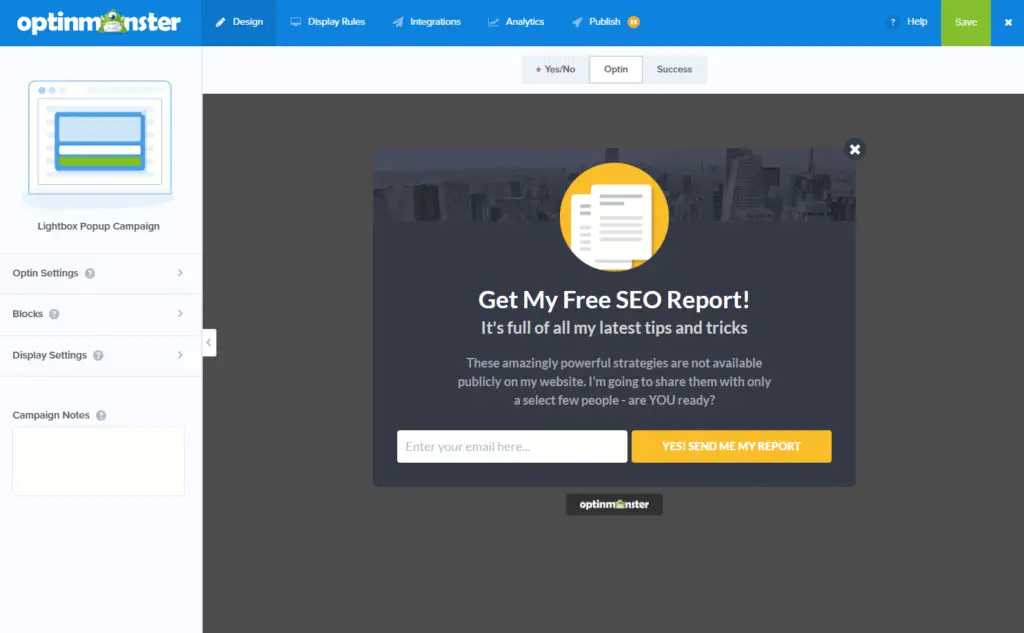 DRAG-AND-DROP BUILDER + OPTIN FORMS TEMPLATES
If you want something easy and fast, this is it. OptinMonster allows you to build high-converting opt-in forms in minutes, not hours!
You can choose from 5 different types of campaigns: lightbox popups, fullscreen popups, floating bars, slide-ins, and in-line forms.
Choose a pre-built template designed for maximum conversions, or start from scratch with a blank canvas. Customize all the details with their easy to use drag-and-drop builder – no code needed.
With OptinMonster's drag-and-drop builder, you can add any element to your popups, including video, social icons, images, buttons, and more.
All of your campaigns will be 100% responsive and mobile friendly.
EASY INTEGRATION WITH ALL EMAIL MARKETING SERVICES
OptinMonster works out of the box with all popular email marketing service providers including but not limited to:
MailChimp, AWeber, Drip, ConvertKit, Infusionsoft, GetResponse, ConstantContact, CampaignMonitor, Hubspot, Marketo, ActiveCampaign, Pardot, TotalSend, Emma, iContact, MailerLite, Customer.io, MailPoet, and FeedBlitz.
You can also use custom HTML forms as well as use shortcodes to add other form plugins such as WPForms, Formidable Forms, etc.
(HTML: HyperText Markup Language (HTML) is a markup language for creating a webpage. Webpages are usually viewed in a web browser. They can include writing, links, pictures, and even sound and video. HTML consists of a series of shortcodes typed into a text-file by the site author—an example of a simple HTML page. Hypertext Markup Language (HTML) is the most common language used to create documents on the World Wide Web. HTML uses hundreds of different tags to define a layout for web pages.
POWERFUL EXIT INTENT® TECHNOLOGY
OptinMonster is among the pioneers of exit intent popup technology.
What is Exit-Intent Technology?
Exit-intent technology is behavioral technology that tracks and monitors the movements of website visitors. It detects when they're going to leave your site without making a purchase or leaving their information. It is designed to reduce cart abandonment and capture more leads.
Did you know that over 70% of people who leave your website will never return? In most cases, this means that 95% – 98% of your marketing efforts are going to waste, and you are losing more money in customer acquisition costs than you need to.
OptinMonster's exit-intent technology detects user behavior and prompts them with a targeted campaign at the precise moment they are about to leave.
Using this SMART behavioral technology, you can convert an additional 2 – 4% of your users into email subscribers and soon thereafter into paying customers.
ADVANCED PAGE LEVEL TARGETING AND BEHAVIOR PERSONALIZATION
OptinMonster's page level targeting module allows you to display unique offers and campaigns based on visitor's location and interaction on your website.
Did you know that 75% of shoppers are frustrated by sites that don't cater to their needs? When your website visitors are unhappy, that means fewer conversions, leads, and sales.
OptinMonster's Page-Level Targeting feature solves that problem by letting you use behavior personalization to create page-specific campaigns that generate more leads, attract more subscribers, and make more sales.
This allows you to segment your email list and group your subscribers based on their interest and interaction with your website.
Segmentation allows you to send relevant emails to your subscribers, which results in higher open rates, higher click-through rate, increased sales, more significant revenue, more excellent customer retention, and lower unsubscribe rate.
EASY TO USE A/B SPLIT TESTING
A/B testing is one of the most desired features, but normally it is tough to set up for beginners. Well, we changed that and made simple as part of being the best WordPress popup plugin on the market.
OptinMonster's easy A/B split testing tool helps you eliminate the guesswork and make data-driven decisions on what works best. The best way to understand this is to watch the video.
DETAILED CONVERSION ANALYTICS
OptinMonster's conversion analytics is easy to understand and give you the stats that matter, so you can take action to improve your lead generation strategy.
OptinMonster's Conversion Analytics makes it easy to get the stats that matter so you can improve lead generation. It integrates with Google Analytics to track and measure conversion goals and your optin campaigns' success.
MONSTERLINKS™ – 2 STEP OPT-IN TECHNOLOGY
MonsterLinks turns any image or link into a 2-step opt-in campaign, with no coding required. When visitors click on the image or link, a popup asks them to subscribe or buy.
MonsterLinks allow you to easily create a WordPress popup on click, which is proven to boost conversions by as much as 785%. Marketers use it to offer content upgrades and then use OptinMonster's success redirect feature for lead-magnet delivery.
FULL FEATURES LIST
High converting template library (100% responsive mobile-friendly), including WordPress popup templates.
Drag-and-drop campaign builder to easily customize any campaign, no code needed.
5 different types of email opt-in and popup forms.
Powerful page level targeting to build a hyper-segmented email list.
Custom user-centric output settings to target visitors, logged-in users, or a mixture of both.
Category, tag, and custom taxonomy output controls for robust campaign segmenting.
Custom analytics to tell you which campaigns and popups are converting the best.
Signature Exit Intent™ popup technology to convert abandoning website visitors into subscribers and customers.
Powerful A/B testing that helps you eliminate guesswork and make data-driven decisions on what works best.
MonsterLinks™ popup on click technology, which is proven to boost conversions by as much as 785%!
Mobile-specific WordPress popup forms that are specifically targeted towards mobile visitors.
Scroll triggered WordPress popup and opt-in forms for enhanced conversion rates.
Timed popup forms – display opt-ins after a certain time or on the second pageview.
Canvas popup forms – use Canvas to add Facebook like a box, WooCommerce products, or anything else that you like.
Exit Intent™ popups – reduce visitor abandonment, grow your email list, and more!
MonsterEffects™ technology for eye-catching popup animations.
Success messages and redirects
Easy integration with over 25 different email marketing service providers

CART ABANDONMENT RATE STATISTICS
If you want to know about the past years, check this article, this gives an idea of the evolution year by year. The author of the article and research went through a lot of work to gather those data, and even though they are not the current statistics, those can still be of some value to see the trend over time.
41 Cart Abandonment Rate Statistics! Visit this site and give the author some love. They are the Baymard Institute, an independent web usability research institute.
Baymard conducts original large-scale research studies on all aspects of the e-commerce user experience – from form fields to the entire mobile experience. The research results are published as articles, reports, and benchmark databases.
Cart Abandonment rate statistics:
Average: 69.57% abandonment rate
Last updated: March 28, 2019 by the Baymard Institute.
PRICING
I looked at the prices for OptinMonster. They are very affordable; any serious person working to really create a business internet-based can't really afford not to have Lead Generations tools.
It cost more not to have such a tool than to invest in all the above features. How much it costs to lose 4% more leads? How much it really costs to lose traffic every day? Only you can answer based on your traffic.
One email is worth 40 dollars, it could be more if those are really interested public who are searching for the products you are offering, but they have not decided yet. You can help them decide on the smart use of technology.
OptinMonster prices are really affordable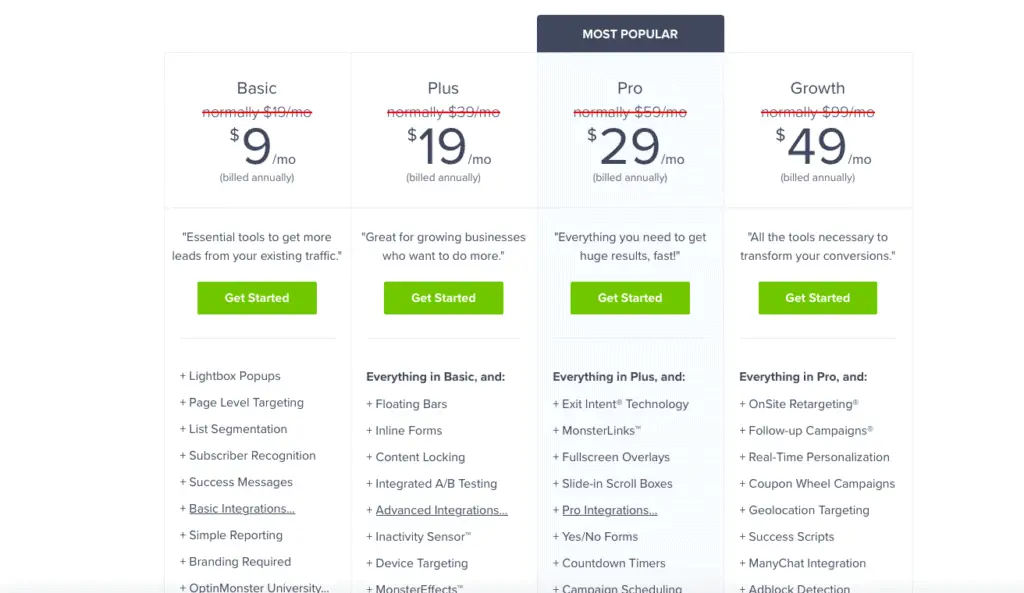 CART ABANDONMENT EMAILS TO CUSTOMERS
One point has not been discussed, and this is the lost cart mails or the cart abandonment recovery email. This is a crucial point to know and an option to have.
What is the lost cart email or the cart abandonment e-mail?
An abandoned shopping cart email is a mainstay of eCommerce. It is a follow-up email sent to someone who has added items to their cart, gotten through a portion of the checkout, and then left the site without purchasing.
Shopify has these options inserted into their website menu. Not many others have. Statistically, a lead can be recovered to the degree that the follow up is done very close to the attempted sale. The longer one waits to follow up. The more are the chances to lose the lead completely.
A creative Recovery Cart email done in time can salvage and recover the sale. Without the option of sending an email to recover an abandoned cart, you may lose the additional sale,
Let's say that after all the effort to avoid cart abandonment with the above options, you still have some ( hopefully less ). Don't give up. You can still follow them up.
This option is available in OptinMonster PRO PLAN. It is only $29.
CONCLUSION
Cart Abandonment: Investing in a tool that can reduce people leaving your site, or better reduce the cart abandonment phenomena can increase your conversion and get you back the original investment and much more. This is a dynamic subject, there are many things on the site that can be done to increase conversion and make sure people do not leave before purchase. But if your site is well constructed, the difference can be made with the use of pop-ups and a software that can help reduce cart abandonment even when you sleep.
What is your cart abandonment rate? Let us know. Let us know if you are using particular methods. Could you leave it in the comments below?