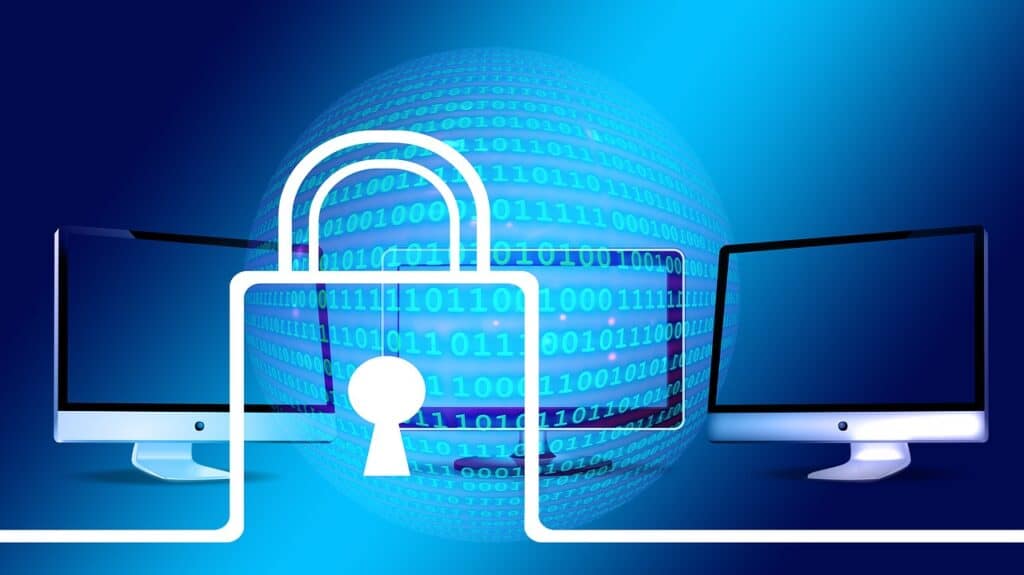 Best E-mail Marketing Services: What are the best E-mail marketing services for you?
Depending on your needs and the type of work you are doing, you may find the perfect match in any of the following E-mail marketing software. Those have different features, benefits, and pricing.
WHAT IS AN E-MAIL MARKETING SOFTWARE?
E-mail marketing software solutions are applications that allow you to plan, execute, and monitor e-mail marketing campaigns. They often come with email builders, e-mail scheduling features, and campaign automation tools to help you streamline operations, they may have landing pages and autoresponders. Moreover, they provide marketers with reporting and analytics that will allow them to measure the success rate.
mar·ket·ing (/ˈmärkədiNG/)noon the action or business of promoting and selling products or services, including market research and advertising.
To choose from the best email marketing services, research price, reliability, technical support, template designs, ease of use, deliverability, automation, integrations, and any additional features you need.
Before we get started, if you still need to set up your website, make sure to choose the best web hosting that integrates with the tools on this list.
Please note, I may receive affiliate compensation for the links below at no additional cost to you. However, these are the best email marketing software tools I've vetted over my ten years in digital marketing.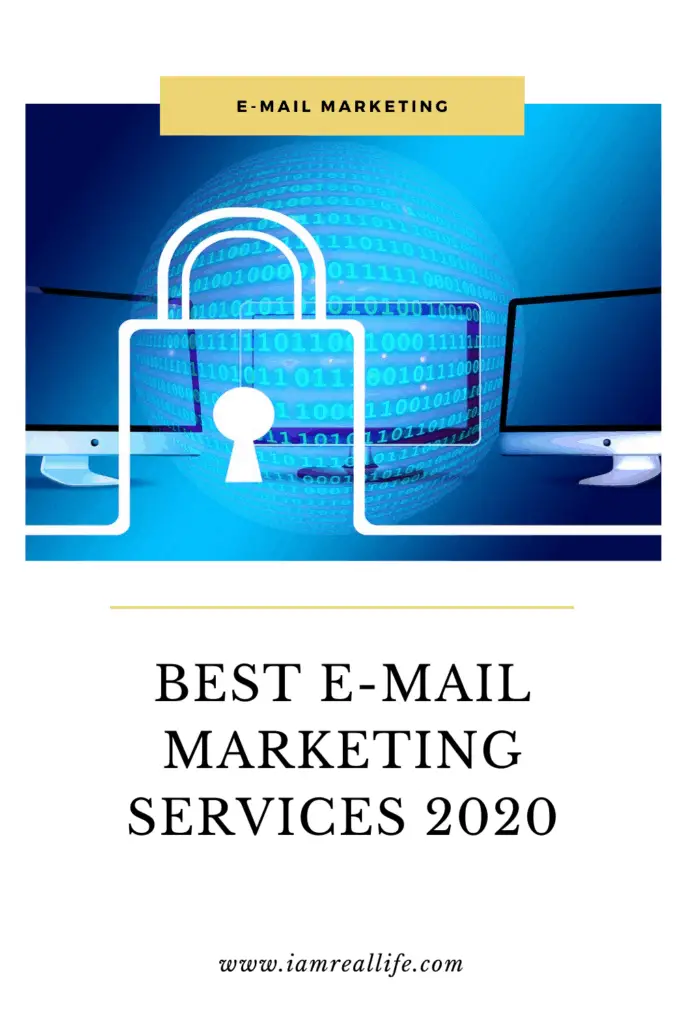 BEST EMAIL MARKETING SERVICES
HubSpot is a leading growth platform. Today, over 78,700 total customers in more than 120 countries use HubSpot's award-winning software, services, and support. Comprised of Marketing Hub, Sales Hub, Service Hub, CMS Hub, and a powerful free CRM, HubSpot gives companies the tools they need all in one platform.
E-mail marketing is just one fraction of what they offer.
You can create stunning e-mail templates, automatically personalize subject lines and content for each recipient, and run A/B tests to improve open rates and clickthroughs.
Once you're happy with your e-mail design, preview it based on different recipients, devices, or e-mail clients like Gmail, Apple Mail, and Office 365.
Quickly draft e-mail campaigns that look professionally designed and display correctly across any device – all by yourself.
Then make it your own with the easy-to-use drag and drop editor. Customize your layout, add calls-to-action and images, and modify your content and colors to match your brand. 
Personalization is another strength with HubSpot. Like standard tools, you personalize content based on common merge tags like the recipient's first name.
Get more of your emails opened, and links clicked when you tailor each email to each subscriber.
You can use an email subscriber's lifecycle stage, list membership, or any information in their contact records to automatically serve up the most relevant subject lines, content, links, attachments, and calls-to-action.
Then schedule your e-mail campaign, hit send, and know that your email will show up in each inbox at the optimal time, regardless of time zone differences.
Consistently hitting users' inboxes is another benefit with HubSpot. They have a healthy 99% email deliverability rate. 
This full marketing platform includes e-mail marketing and everything else to align your marketing and sales efforts.
If you are looking for a platform that can give you ALL that is needed to market and sell, without having to use multiple different software HubSpot is for you.
You can start using HubSpot E-mails for free: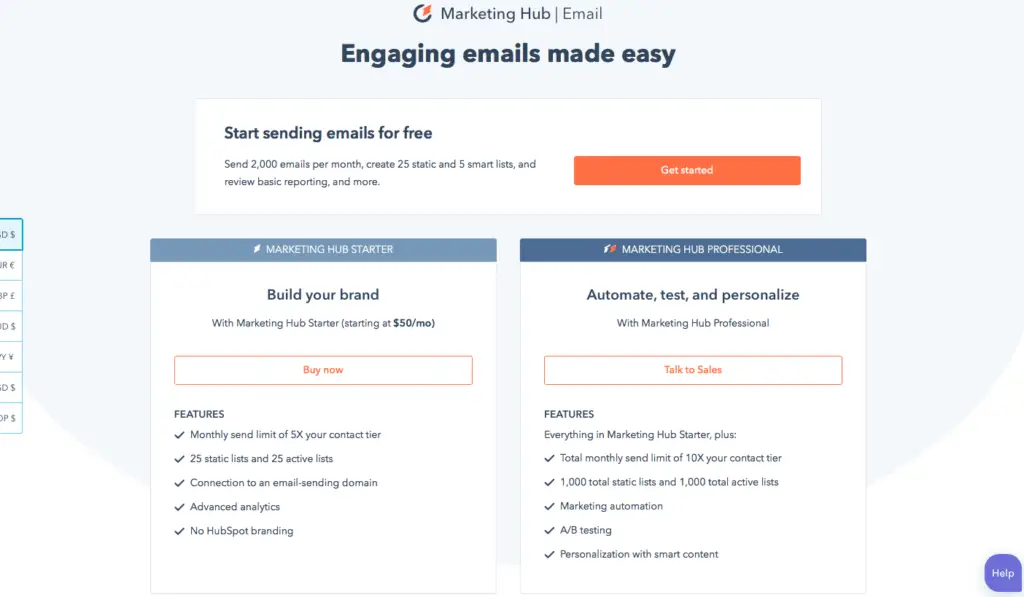 With the free e-mail services you can send 2000 email per month.
If you get the starter plan with $50/month, you get the following:
Monthly send limit of 5X your contact tier
25 static lists
25 active lists
Connection to an email-sending domain
Advanced analytics
No HubSpot branding
You can also start using HubSpot for free and take advantage of all the services in their platform:
Free CRM: Organize your contacts, get deeper insights on every lead, and monitor deals with ease — all for free. Now with free email marketing
Marketing Hub: Grow your traffic, convert leads, and prove ROI with our all-in-one marketing software. Start small with free e-mail marketing, lead capt: use forms, analytics, and more.
Sales Hub: Close more deals faster with a suite of productivity-boosting tools for every part of your process.
Service Hub: Start small with ticketing, live chat, team email, meeting scheduling, and more.
CMS Hub: Create, edit, and maintain a more secure and optimized website—with or without a developer. Start a free trial with website themes, drag-and-drop editors, SEO recommendations, and more.
The main reason to choose HubSpot: All in one marketing and sale platform for your website.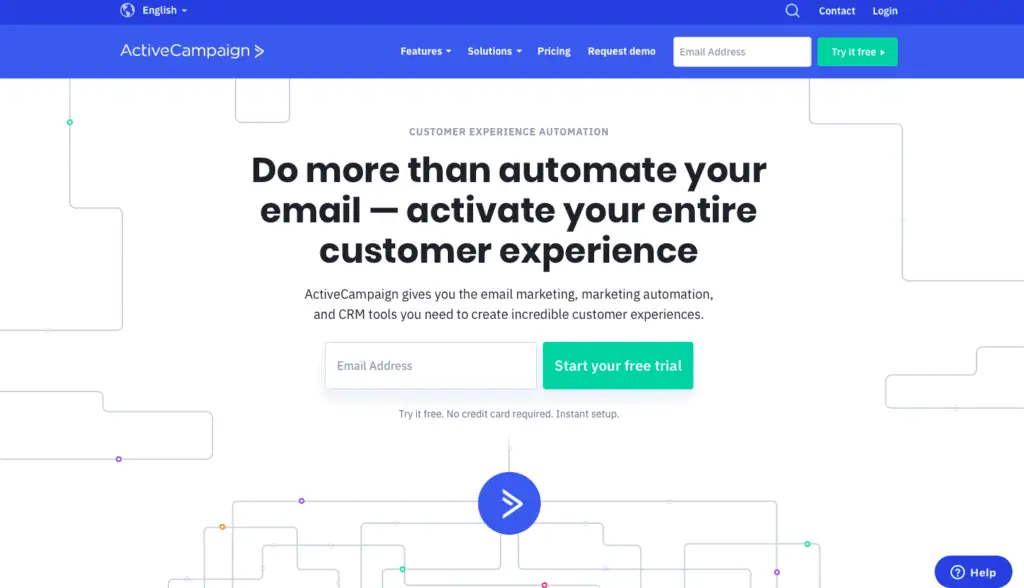 ActiveCampaign was founded in 2003, headquartered in downtown Chicago, with additional offices in Dublin, Sydney, and Indianapolis and a growing presence in Brazil. Counts more than 100,000+ small businesses around the globe rely on us to help grow their business, employing more than 550 people worldwide.
ActiveCampaign is perfect for Marketing automation.
Site tracking: can you tell what contacts want from your website? Site tracking tracks visitors so that you can offer contacts precisely what they're looking for. Site tracking lets you see what products, services, and information your contacts are most interested in. Once you know that, you can follow up to convert more customers. ActiveCampaign  WordPress plugin sets up site tracking automatically. You can start using site tracking in under 10 minutes—as quickly as installing a WordPress plugin or setting up Google Analytics.
Event tracking: Every login, play, and click is information you can use to improve your marketing. Event tracking lets you see what people are doing in your app, membership site, website, or online portal. Without event tracking, actions on your site go unnoticed. With event tracking, you can track video views, button clicks, orders, logins, and in-app behaviors. And then follow up.
Automation Goal: Not all of your contacts have the same needs. Goal tracking lets you see who's moving through your funnel—and where people drop off.
Automation Map: Automation Map is the first and only tool that lets you see how automation connects. That makes it easy to edit your marketing—and find new opportunities to grow your business.
Another strong selling point is email deliverability, ranking higher than all other platforms on this list. Their email sends are the least likely to be marked as spam and have the best chance of hitting primary inboxes on Gmail and Outlook.
Their paid plans start at $9/month, and they offer a 14-day free trial. This plan gives you up to 3 users, up to 500 subscribers, and the ability to send unlimited emails. They also have advanced reporting tools, with geo-tracking, click maps, website visitors, sign-up forms, and more valuable data.
Overall, ActiveCampaign is the best tool if you're looking for an advanced CRM, lead scoring, and high deliverability rates.
I recommend you get started for free to check out their dashboard and features.
Then when you're ready, unlock either their Lite Plan ($9/mo) or Plus Plan ($49/mo) based on the size of your email list. Make sure to save between 30-40% when you pay yearly.
The main reason to choose ActiveCampaign: Started of have a blog. This is a blogger first pick.
Read Also: SMTP BEST ILLUSTRATED GUIDE 2019|WP Mail SMTP Pro Easy Email Deliverability.
Sendinblue is the European leader in digital marketing software. They are a complete Sales & Marketing toolbox: email, SMS, Facebook ads, chat, CRM, and more in one single SaaS platform.
More than 100,000 customers around the world count on Sendinblue to power their sales and marketing engines.
Sendinblue is the European leader in digital marketing software. They are a complete Sales & Marketing toolbox: email, SMS, Facebook ads, chat, CRM, and more in one single SaaS platform.
Sendinblue is an easy to use email marketing service with a free plan that allows unlimited contacts, and 300 email newsletter sends per day.
Their free platform is all built on ease of use. Its simplicity allows you to easily create clean-looking templates, automated welcome emails, and website opt-in forms.
Sendinblue also uses machine learning and AI to send emails at the best time of the day to maximize engagement.
You can also view real-time statistics with necessary reports that provide metrics like open rates, click-through rates, deliverability, and heat maps.
One of their best features is their e-mail automation workflows. These allow you to set triggers and put your subscribers through custom workflows based on actions they take on your website and in the funnel.
These automated triggers create actions like sending emails and SMS messages, segmenting your contacts into separate lists, and updating their information in your database.
If you want advanced email marketing automation software on a budget, you can get started with their Lite Plan for $19/month.
The main reason to choose Sendinblue: small business.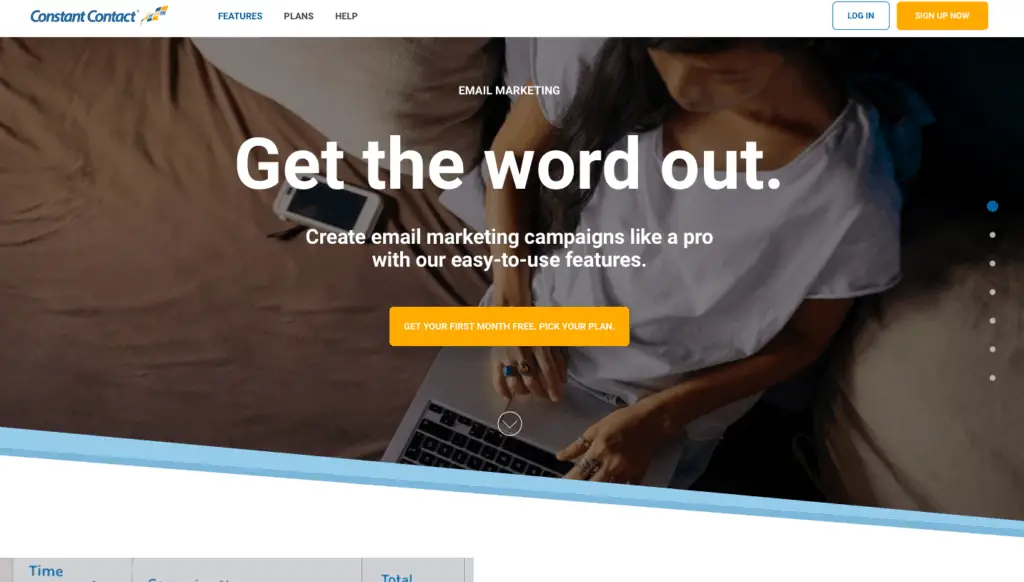 Constant Contact has been in the email marketing space since 1995, in 2005 they surpass 250,000 customers.
They started with e-mail marketing and ended up expanding with website builders, social media, LogoMaker, Google Ads, expert advice, SEO tools, and more—all in one simplified platform.
They feature 100+ modern, mobile-optimized templates to engage and convert customers, real-time reporting and analytics, and bonus features like coupons, polls, and events.
E-mail deliverability is above average and one of the highest among email service providers at over 90%, with only ActiveCampaign topping them.
Their editor makes it easy to customize an email template and design professional, mobile-responsive emails that look great on every device.
E-mail Marketing Automation keeps your audience engaged and builds strong customer relationships:
Greet new subscribers with a timely welcome email
Trigger email series based on where contacts click
Segment contacts to send the right message every time
Automatically resend emails to non-openers
Expand your reach with powerful list-building tools
Constant Contact provides real-time tracking tools that report who's opening, clicking, and sharing your emails—so you can plan your next steps.
Constant Contact pricing is tiered based on the number of email contacts in your list. Their paid plans start at $20/month for up to 500 contacts.
The main reason to choose Constant Contact: Send unlimited e-mails for small businesses that need more than an e-mail marketing software.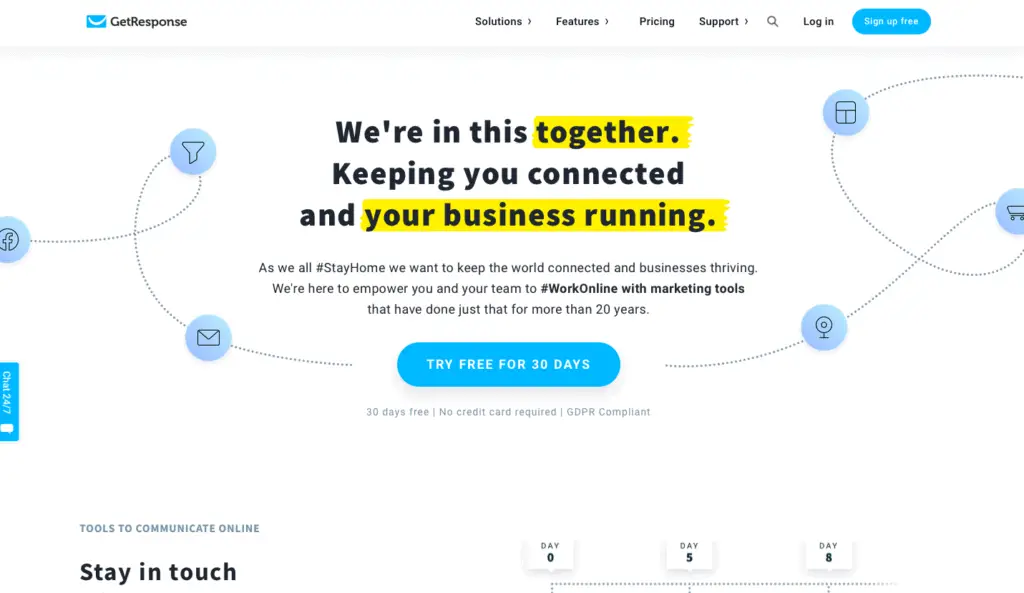 GetResponse counts more than 350,000 customers in 183 countries, the world's most comfortable email marketing platform, now available in 27 different languages. The company operates globally with offices in Poland, the U.S., Canada, Malaysia, and Russia, with more than 300 passionate professionals on board, and with more than 15 years of experience
GetResponse e-mail marketing and online campaign management platform helps entrepreneurs build targeted subscriber lists and send high-impact newsletters, video emails, and follow-up campaigns. It offers marketing automation, responsive email design, hundreds of ready-to-use email templates, landing page creator, and useful statistical analysis tools.
Get Response is achieving a consistent deliverability rate of over 99%, the highest deliverability rate in the industry.
Get Response features to include Marketing Automation, Landing Pages, Image Editor, Responsive Design, Forms, Webinars, and Perfect Timing. ( e-mails are delivered during the time period estimated to be the best time for opening )
Their dedicated team of experts provides five-star customer support via email, and chat 24/7.
The real standout here is
Autofunnel – this is a tool with 30+ ready-made landing pages, email templates, and sequences to generate sales.
Webinars – they offer a platform that allows you to deliver webinars.
Overall, GetResponse is one of the best email marketing tools to create automated sales funnels and landing pages.
You can get started with a 30-day free trial and upgrade to their $15/month Basic Plan.
The main reason to choose Get Response: user friendly, webinars and AutoFunnel.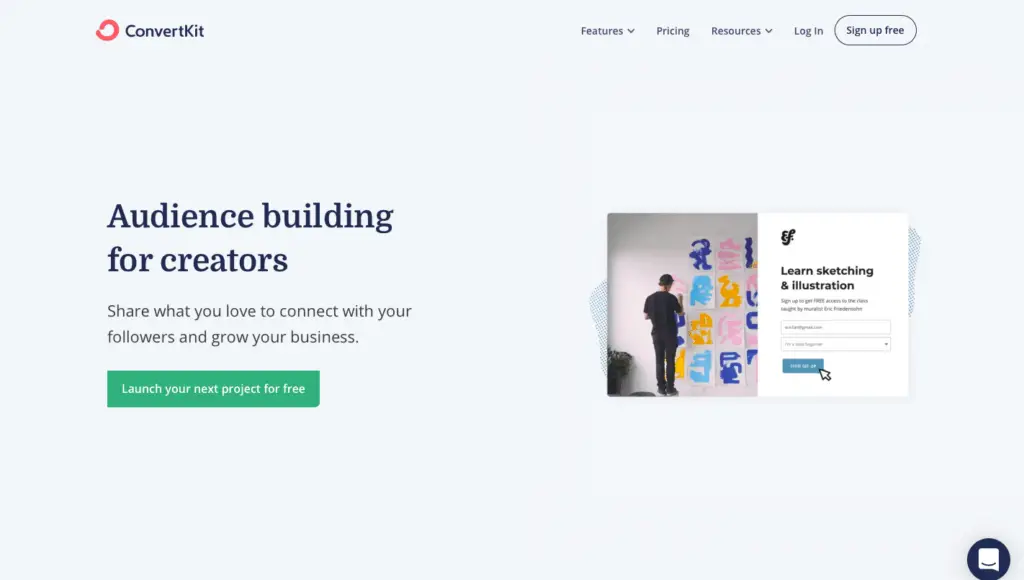 Creators build ConvertKit for creators. ConvertKit creator was a blogger and course creator who was frustrated by how difficult it was to get started as a creator. So instead of trudging through a tool that didn't fit, he built ConvertKit to solve the pain points of creators like himself and you.
They have an array of features that are perfect for beginners:
sign up forms and landing pages
e-mail designer
marketing automation
subscriber organizing: that means you can easily organize your subscribers from one list with tags and segments
Reporting: Understand how your subscribers interact with your email marketing efforts by tracking conversion rates on your homepage dashboard
the delivery rate of 99%
There are 2 plans available.
The free plan includes unlimited landing pages, unlimited, customizable CTAs & signup forms, 30+ premium landing page templates, unlimited traffic, customizable domain setup, mobile-responsive designs, manage 1,000 subscribers, email broadcast, subscribers tagging, seamless Unsplash integration, creator community
The complete plan includes everything in the free plan plus: Visual automation funnels, Automated email sequences, ReportingIntegrations & API, Premium support, free migration from another tool
The complete plan is $29/month and a 14-day free trial.
The main reason to choose Convert Kit: new blogger or blogger.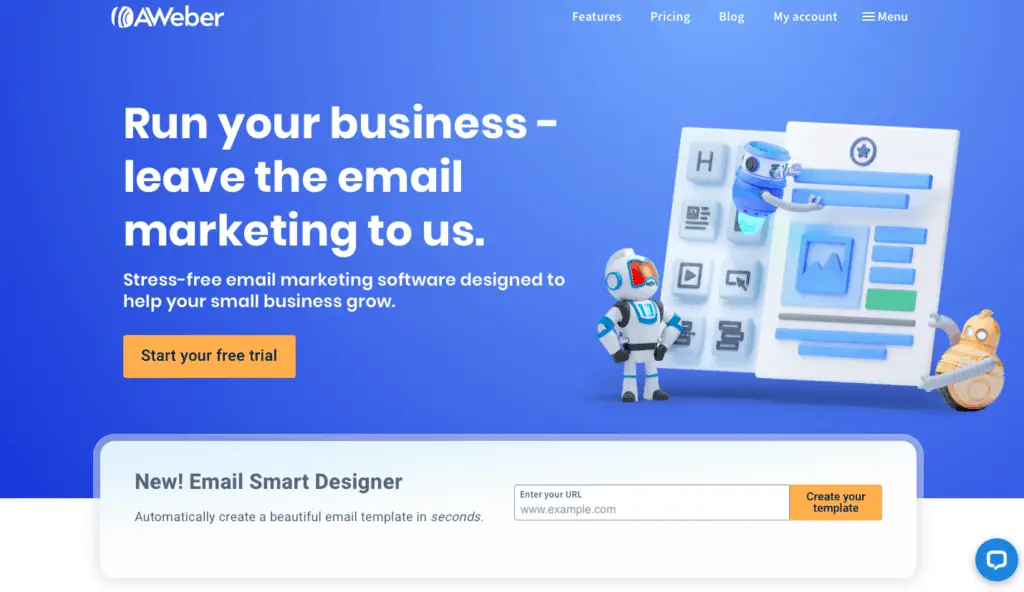 AWeber delivers powerfully-simple e-mail marketing software specially designed for small businesses. Since 1998, they've helped over 1,000,000 small businesses around the world grow their businesses by giving them the tools and knowledge they need to connect with their prospects and customers.
Like other tools on this list, they offer over drag-and-drop email builders, list management tools, and analytics reports.
AWeber includes:
Smart Designer: AI-powered e-mail template designer that automatically creates amazing-looking branded e-mails in just seconds.
Landing Pages: It's never been easier to create visually stunning landing pages that get your business online quickly (no website required).
Drag & Drop Email Creation: Create custom e-mails in minutes – no coding required to make them look awesome!
Free Template Library: Get started faster with a vast library of pre-built templates that are designed to make your business look awesome.
Auto-Newsletters: Automate e-mail content creation by broadcasting the latest posts from your blogs.
Create automation: Assign triggers and flows to your e-mails that deliver the right message to the right person – at the right time.
Automate tagging: Tag the people in your lists so you can better identify and target e-mails to the right audiences.
Personalize communications: Direct campaigns to the right people using tagging and dynamic content, so they respond to offers more often and faster.
Pre-built reports: Best-practice designed dashboards and reports deliver simple, meaningful insight into e-mail and campaign performance.
AWeber Atom: Build your list on the go by quickly creating a signup form on your mobile device that adds new people to your mailing list.
30-Day trial
They make it easy to manage your lists with any rules you create automatically. Additionally, with their marketing automation tools, you can create an autoresponder workflow based on actions like email opens, link clicks, site visits, and purchases.
To get started, sign up, pick one of their paid plans starting at $19/month, and you'll get one month free. Plus, you can save 14.9% when you pay annually.
The main reason to choose AWeber: small business.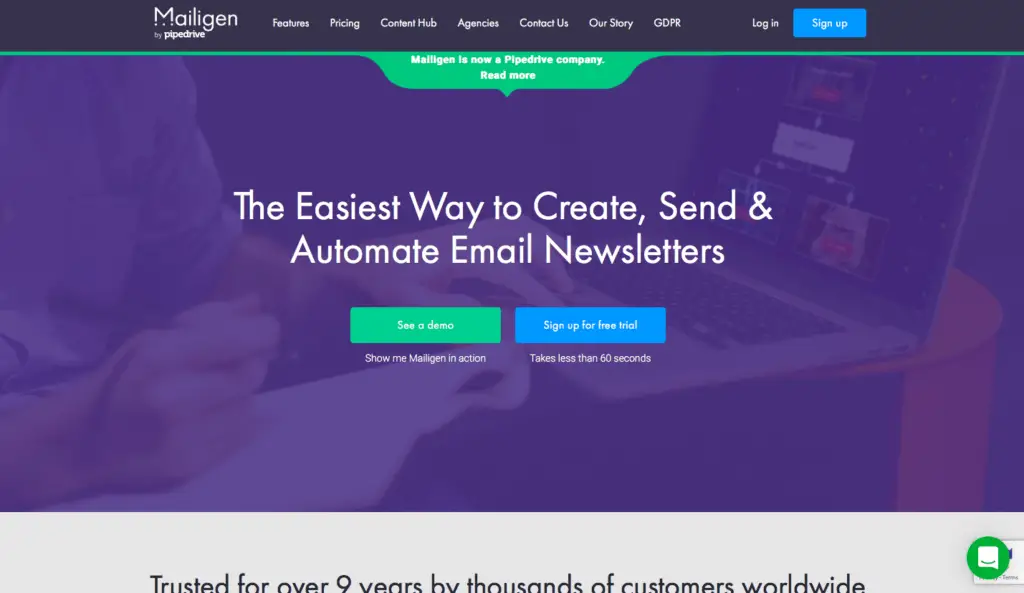 Mailigen is a SaaS company established in Latvia in 2010. It is a cloud-based email marketing solution that caters to small and midsize businesses across industries, including e-commerce, advertising, banking, media, and more.
Access Every Feature with a Single Plan:
Unlimited E-mail Sending
Unlimited Sender Emails: Use different email sender name and email address to differentiate between your e-mail newsletters and sales campaigns. Alternatively, you can manage different businesses in one account.
Unlimited Account Users
1GB Image & File Storage
Free Email Template Gallery
1GB Image & File Storage
Free Email Template Gallery
Behavior-Based Automation Series
Responsive Drag & Drop Email Editor 
Campaign A/B Split Testing 
Dynamic Email Content
Embedded Email Images
RSS & XML-Based Campaigns: Automate your blog or news emails to go out daily or weekly with RSS. Deliver up-to-date product sales emails using an XML feed.
Custom Web Signup Forms
Subscriber Segmentation & Hygiene 
Google Analytics Integration
Integrations & API Access
Custom Click Tracking Domain
SMS Marketing
Online Surveys 
Fantastic Customer Support (Phone, Chat, Email)
Pricing is tiered and scales based on your number of e-mail subscribers. For small lists up to 500 subscribers, it's $10/month. If you have 2,500 subscribers, you'll pay $25/month, and this goes up to $400/month for 100,000 subscribers.
They offer customized high-volume pricing if you have over 150,000 on your list.
If you're looking for a strong email marketing service that integrates with lots of apps and has an open API, you can get started today with a 30-day free trial.
The main reason to choose Mailigen: small business great price value with all features with the lowest plan.
Read also: E-MAIL DELIVERABILITY | SET UP WORDPRESS E-MAIL LOG.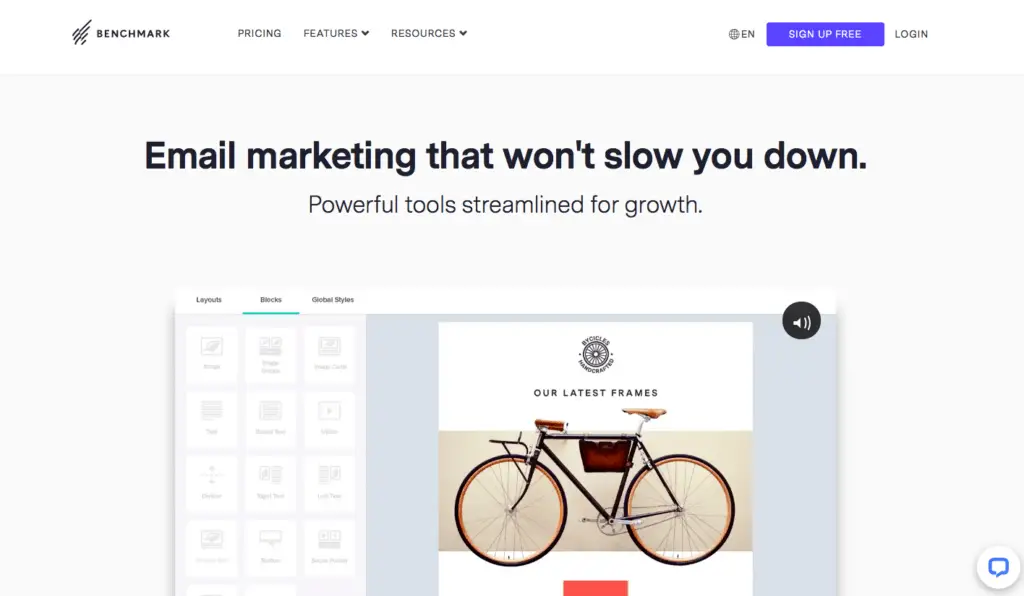 Benchmark E-mail offers an integrated, automated, and robust feature set built to help the enterprise of any size. A powerfully simple and only powerful e-mail marketing solution designed to help you create and send compelling campaigns with ease.
Benchmark is available in nine different languages and has offices in fifteen countries across the globe.
Whether you're an HTML expert or an email newcomer, Benchmark's suite of e-mail tools has something for everyone.
When they join, you can use triggers to add them to automated email workflows like welcome series, post-purchase series, abandoned cart emails, and more.
Benchmark also features analytics tools like A/B testing subject lines, content, and delivery times. Plus, they feature a helpful inbox checker to preview what your email will look like on all email platforms.
Finally, they integrate with 300+ other services. Connections include a WordPress plugin, Facebook sign-up forms, Google Docs, Zendesk, PayPal, and tons of other SaaS platforms to extend your email functionality.
You can test-drive Benchmark for free and upgrade to their premium plans starting at $13.99/month.
The main reason to choose Benchmark: business and enterprise.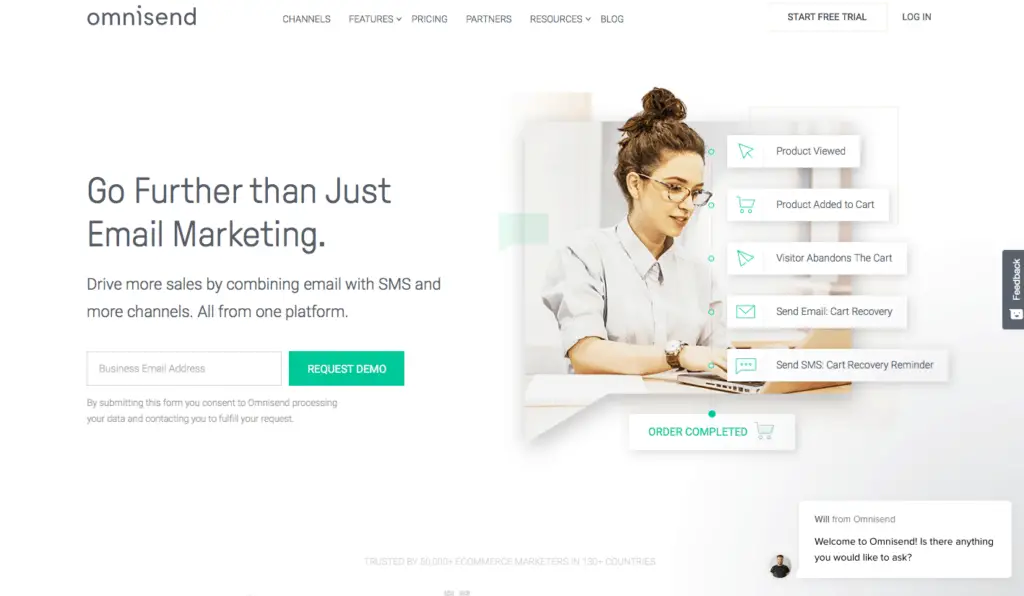 Omnisend started life in 2014 as an email marketing platform called Soundest. 
They take e-mail marketing a step further by unifying e-mail marketing across social media platforms, text, push notifications, Whatsapp, and more. Over 40,000 marketers use their email marketing software in 130+ countries.
Omnisend marketers who used three or more channels in their automation workflows had campaigns that earned 250% more engagement and purchases than single-channel campaigns. 
Using easy-to-use drag-and-drop visual composer, you'll create beautiful e-mails in minutes. With the customizable templates, we offer. Minutes turn into seconds.
For e-commerce brands, Omnisend can send visitors more relevant messages across platforms and devices. They do this by understanding website browsing behavior and user device preferences based on any custom events that you create.
With their $16 per month Standard Plan, you can send 15,000 e-mails/month and get access to their automation features. These include interactive signup forms and email elements, SMS notifications, and product recommendations.
This feature set is excellent for e-commerce conversion rates as users will receive messages based on the products they've interacted with on your site.
Omnisend is one of the best choices for omnichannel brands who want to market effectively (and remarket) to their visitors.
You can get started with their free 14-day trial and their plans start at $16/month.
The main reason to choose Omnisend: you are active on multiple channels and want one platform to include them all.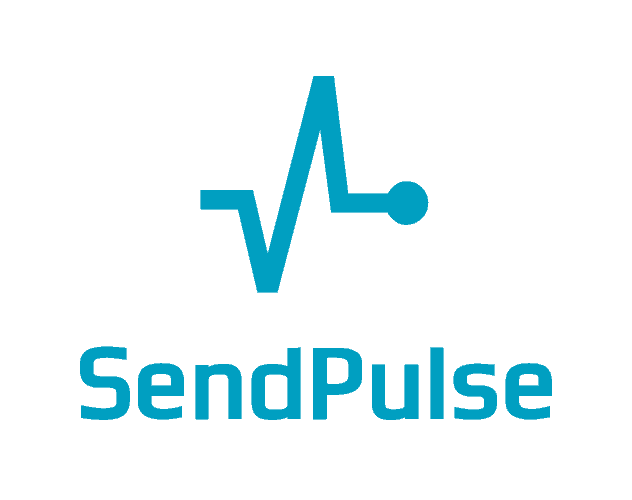 SendPulse offers marketing tools to empower your business's marketing efforts, bring in more leads, and convert them to customers. You can use multiple communication channels to interact with your customers within a single platform, including email, SMS, web push, Viber, and chatbots for Facebook and Telegram.
Combine e-mail with other channels like SMS, web push notifications, Viber, and messenger chatbots, or use each channel separately.
Drag and Drop Editor
Subscription Forms
Trigger Emails
Free Email Templates
A/B Testing
Chatbot Builder
Web Push Monetization
The company's offices and representatives are located in Brazil, Mexico, Ukraine, Russia, Belarus, and Nigeria. Our support team speaks English, Portuguese, Spanish, Russian, and Ukrainian and is available 24/7, so we can effectively assist and guide SendPulse users from all over the world.
In March 2019, SendPulse reached 1 million registered users.
When you sign up for a SendPulse account, you can get started for free. If you want to upgrade to a premium plan and remove the limits, plans start at $7/month.
The main reason to choose SendPulse: for the multiple channels, affordable prices, and pay as you go plan.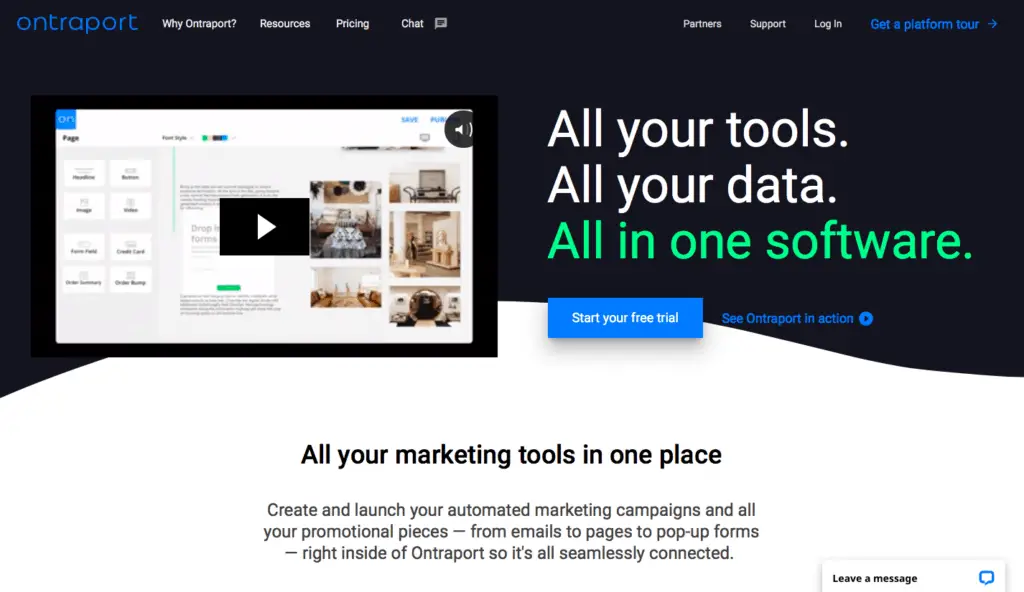 Ontraport serves thousands of business owners in over 60 countries and a variety of industries, including coaches and speakers, authors and bloggers, consumer service providers, and professional service providers. They have been in business for 13+ years, have over 100 employees, and make over $10MM in revenue per year.
They're best known as a customer relationship management (CRM) tool first, and e-mail marketing platform second.
Their core feature is their Campaign Builder, which is visual marketing automation and live reporting platform.
You can create and launch your automated marketing campaigns and all your promotional pieces — from emails to pages to pop-up forms — right inside of Ontraport so it's all seamlessly connected. 
The newest addition is Membership Sites: Easily create, launch, and manage your entire membership site in Ontraport to start earning a passive and recurring revenue stream. You can use Ontraport for your membership site, you integrating Ontraport with an existing WordPress site.
One downside is that their Basic paid plan starts at $79/month and only allows 1,000 contacts, which isn't scalable. For example, once your e-mail list grows from 1,000 to 2,500 subscribers, the monthly price almost doubles to $147/month.
Ultimately, this tool is best for sales-driven organizations in high-end B2B or B2C industries – companies where automation and sales workflows are more important than sending bulk emails to large lists.
You can get started with Ontraport free for 14 days with no credit card required. 
The main reason to choose Ontraport: bigger businesses and entrepreneurs and memberships sites.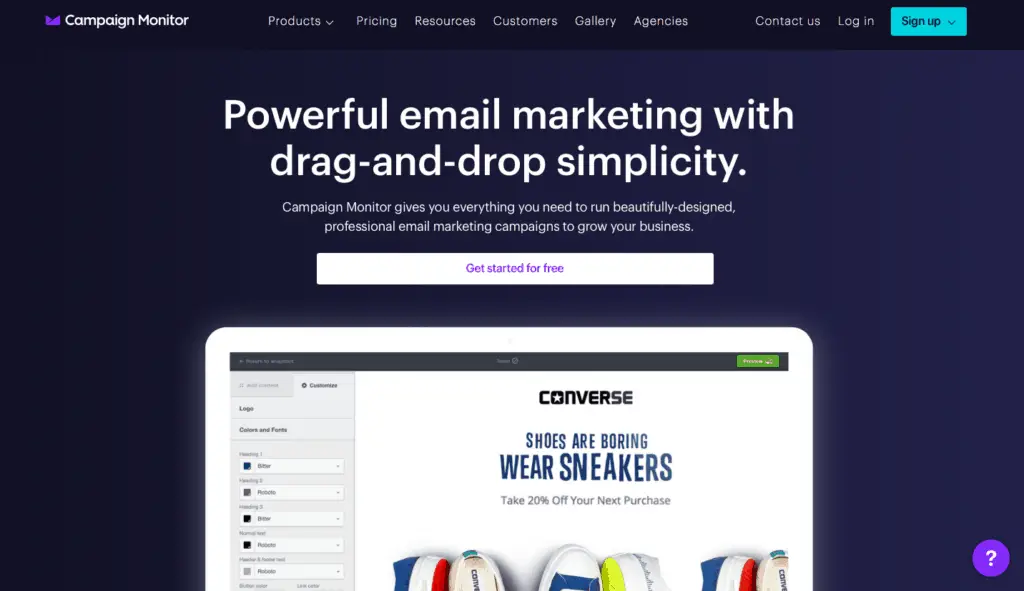 Campaign Monitor is a global technology company that provides an e-mail marketing platform that's easy to use and gives more than 250,000 customers the tools to make lasting impressions on their audiences using email.
With a 99% customer satisfaction rate and a Giving Back program, they are a global company with people-first values.
Campaign Monitor employees spend thousands of volunteer hours every year. They provide groceries to local food banks, pick up trash from local parks and beaches, and donate supplies to at-risk youth groups.
Choose from hundreds of professionally-designed templates and drag-and-drop to put your email together in moments. Drive urgency using a countdown timer, and customize every visual aspect for a completely branded email campaign that looks great on any device.
Campaign Monitor seamlessly connects to hundreds of pre-built apps and integrations so you can seamlessly connect your e-commerce platform, CRM, or website. Because when all your customer data comes together, you win.
Their Basic Plan is $9/month and lets you send 2,500 emails per month.
You can get started with a completely free account to test out their features.
The main reason to choose Campaign Monitor: nice built templates.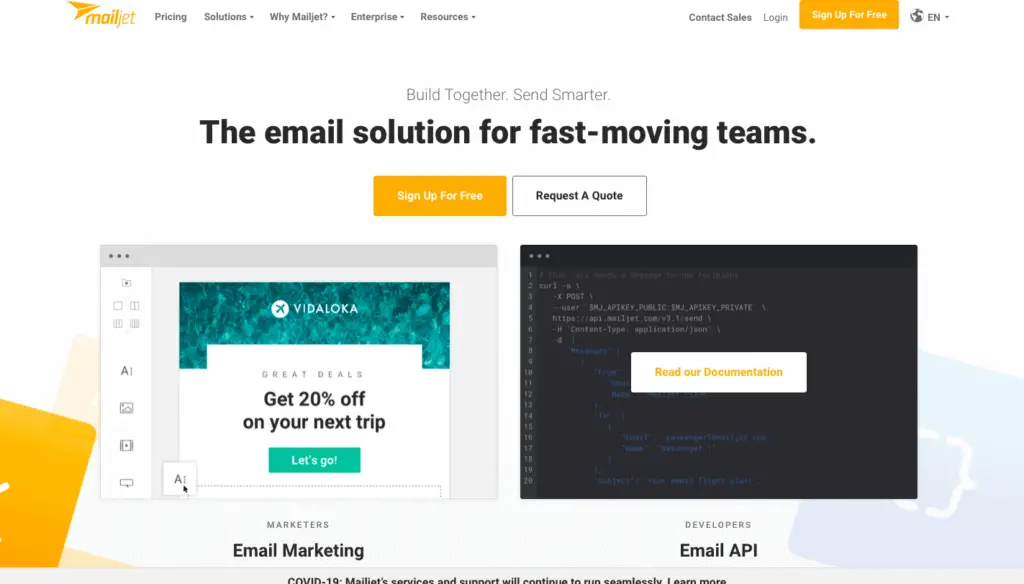 Mailjet is an e-mail marketing service that started in 2010 and based in Paris. 130,000 companies use Mailjet daily.
Mailjet helps you work faster, together with a toolkit of innovative features designed for teams to collaborate effectively on email. Control what each member of your team can do, save time by avoiding the tedious back & forth on template building, and much more for you to discover.
With their free plan, you get 6,000 email sends per month or 200 e-mail addresses per day for unlimited contacts. These features work if you have an extensive list, but send few total emails per day.
Designing an e-mail that displays correctly on the screens of all your recipient's devices can be time-consuming. Passport ( Maijet e-mail builder ) is an easy-to-use editor that helps you create your newsletters, e-mail marketing, and transactional e-mails in a responsive format. You can create your message by merely inserting text or images blocks, adding links, buttons for sharing on social media, and even customizable features. For even more customized content, you can insert HTML code blocks from the interface.
To remove the daily send limits, get access to 24/7 support, and send up to 30,000 emails per month, you can opt for their it costs $9.65/month.
The main reason to choose Mailjet: it perfect for marketers with a more extensive list, but low email sending requirements and who need to work with collaborators or teams.
MailerLite provides all the latest email marketing features designed to help you grow subscribers and build stronger relationships. Here are a few of them:
Drag & drop editor
Rich text editor
Custom HTML editor
Newsletter templates
E-commerce campaigns
Website builder
Landing pages
Pop-ups
Embedded forms
Subscriber management
Email automation
Interest groups (tagging)
Personalization
Segmentation
Promotion pop-ups
A/B split testing
Deliver by time zone
Auto resend
RSS campaigns
Campaign reports
Surveys
Click maps
Opens by location
They just launched a website builder. You can now build entire websites using the drag & drop editor. Create a homepage, separate pages, and a blog section with articles—no coding skills needed.
Additionally, get valuable subscriber feedback with the MailerLite email survey tool. Design and send questions right from MailerLite. You pick the survey type and set the rules.
Over 600,000 customers around the world use Mailerlite. They have flexible tiered plans based on the size of your contact list.
You can start with their forever free plan if you have less than 1,000 email subscribers.
This free plan has limited features and allows you to send up to 12,000 emails per month.
Upgrading to their $10/month plan gives you access to all features that help your marketing strategy, including a landing page builder, embedded forms, and pop-ups.
With Mailerlite, you can track your email marketing results with a click map and opens by location reports.
The main reason to choose MailerLite: Pricing versus all the features. If you plan to expand this is the cheapest.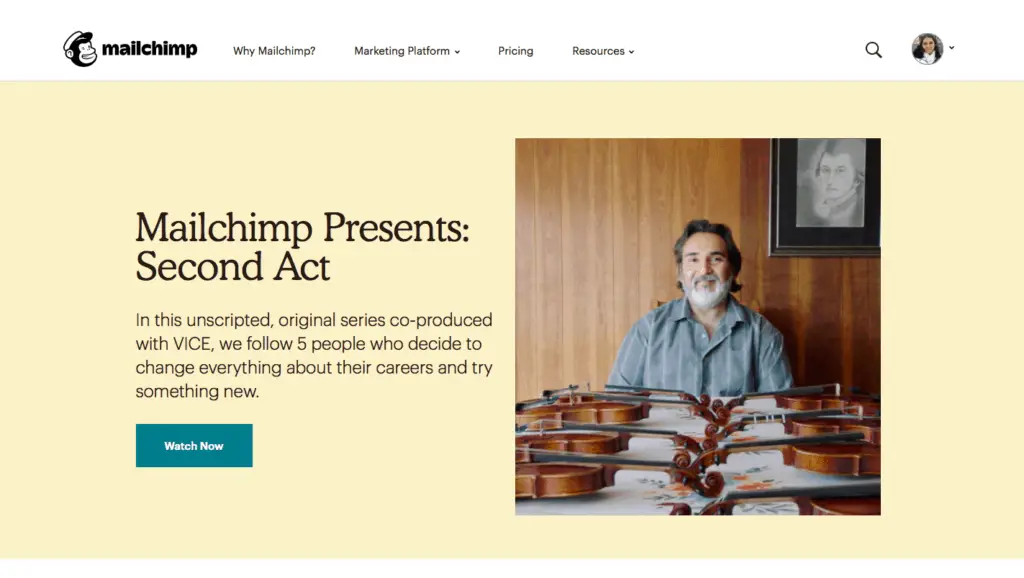 MailChimp is an all-in-one Marketing Platform for small businesses. Founded in 2001 and headquartered in Atlanta with additional offices in Brooklyn, Oakland, and Vancouver, Mailchimp is 100% founder-owned and highly profitable.
It is one of the biggest names in e-mail marketing, with over 1 billion emails sent every day on their platform and over 14 million customers as of 2017.
Their free plan gives users a user-friendly interface and up to 2,000 subscribers and 12,000 email sends per month – more than enough if you're a small business.
Their free plan includes autoresponders, transactional emails, analytics, and lots of third-party integrations. There's a free Mailchimp app too for iPhone and Android.
They charge based on the size of your email list, so if you go over the threshold of 2,000, you join their 2,000-2,500 plan at $30/month.
Overall, MailChimp may be the most well known free e-mail marketing service on the market, with over 17 million users as of a few years ago.
However, they are loosing to others who have better features and prices, as well as e-mail deliverability advantage. MailChimp is one of the last in terms of deliverability. It seems like MailChimp is resting on its old glory.
The main reason to choose MailChimp: Basics emails functions with free plan.
HOW TO CHOOSE
Now we have listed a series of e-mail platforms. Each has different features, prices, and services.
Therefore how to choose?
If one needs a specific feature that others don't offer, the pick is easy. For example, one may need SMS services or push notifications or use multiple channels. In this case, the choice is restricted as not everyone allows those options. Not everyone offers landing pages or website builders or the possibility to host webinars.
You get the point?
But, what is the underlying factor in choosing an excellent e-mail platform that could be considered the best?
E-mail deliverability!
E-MAIL DELIVERABILITY
We can have all the most fantastic features, templates, integrations, and low prices, but if your e-mails never reach anyone, nothing at the end has any meaning.
What is email deliverability?
Email delivery is when an email is successfully delivered to the receiving server
Email deliverability is when an email successfully arrives in the person's inbox
Just because your email was delivered, does not mean that it made it into the right place, i.e., the reader's primary inbox. There are, in fact, several places your email can go:
the spam/junk folder;
in the case of Gmail, the Promotions tab;
or, worst of all, it doesn't get delivered at all
BEST E-MAIL DELIVERABILITY
If we have to choose between the above providers, using e-mail deliverability as THE most important factor, your options are:
This is based on an independent study by www.emailtooltester.com.
The article referred to is "Email Deliverability February 2020"  by Roberta Phillips.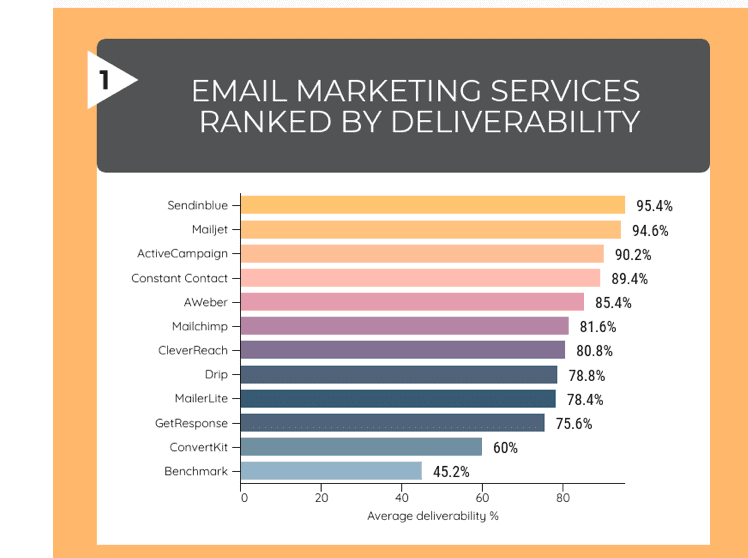 While Sendingblue and Mailjet are at the TOP, ActiveCampaign has been for a more extended period in the first positions, showing overall reliability and always assuring high standards.
While the other two have improved over time (see historical data from the article by Roberta Phillips), ActiveCampaign did not show huge drops.
CONCLUSION – TOP CHOICE
You may, of course, prefer other providers based on features and pricing, and other qualities.
But with ActiveCampaign, you can be sure to have stability and don't have to change email providers every year just to get your e-mails in your contact's inbox.
ActiveCampaign is the obvious TOP CHOICE.
They have also a free plan to start with, so you need no money to get started.
Read Also: BEST WEB HOSTING SERVICES OF 2020