Keywords Everywhere Alternatives: have you wondered how you can find a tool that performs tasks like the "Keywords Everywhere" keywords research tool?
This is exactly the subject of this article.
A Keywords Everywhere Alternative is another keyword research tool that lets you see search traffic volume, suggested and related keywords, what people have asked for, the competitiveness of the word, and other data and values, to help you find the right keywords to use in blogging or internet marketing.
Let's see what we found in our research.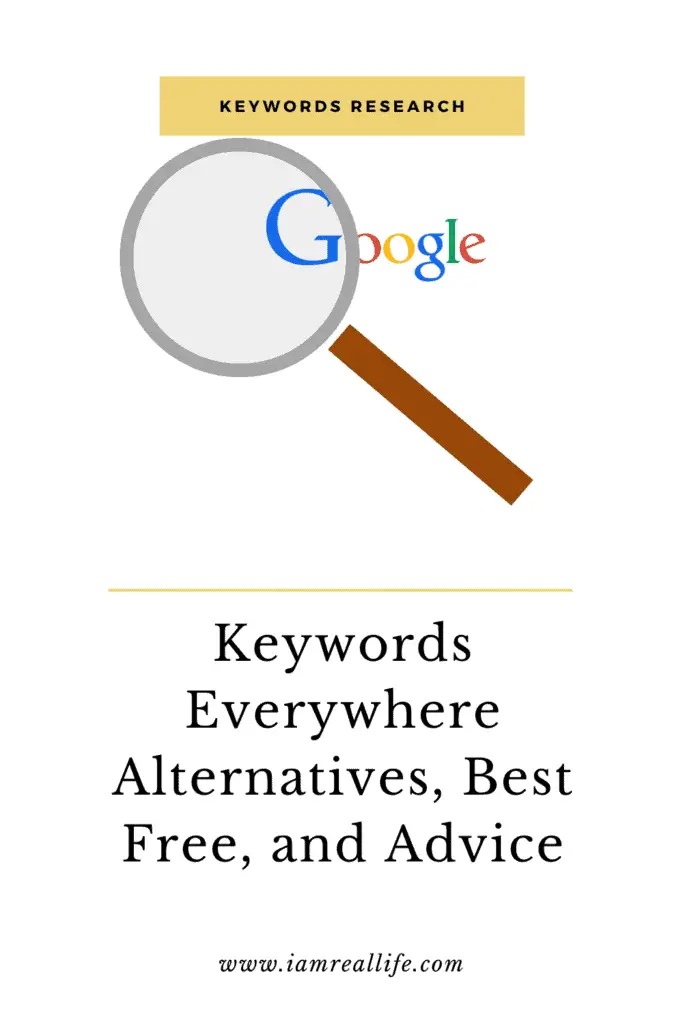 BEST KEYWORDS EVERYWHERE ALTERNATIVES
Keywords Everywhere is a tool that allows you to see search volumes, related searches, what keywords are used within an article written in Google, and other metrics you may need to know in order to target specifics keywords.
Keywords Everywhere works also as a Chrome extension and Firefox extension, this means that every time you do a search in Google, using either Chrome or Firefox, you get those values on the side, so you can see at glance key values.
It is a very practical tool. However, it may be a bit too expensive for the type of research you need on a daily basis.
Here some Keywords Everywhere alternatives:
Let's start with the usual suspect: Ubersuggest. You can use the tool for free, but you have a limited amount of searches per day.
The monthly plans are also very cheap compared with what others are charging, while you still get a professional and user-friendly dashboard. In addition, using Ubersuggest, you can see backlinks, do site audits, and more.
While Keywords Everywhere in geared around keywords mainly, Ubersuggest is a complete tool.
This is a free search volume research tool. It estimates search volumes for free. You can do 800 searches per day. For some of you, this can be more than enough.
They also have very cheap paid plans, with $5 a month of $25 a year you get it to use for bulk search volumes queries:
If you need to just find search volumes in bulk for free, this is a great tool to use.
It works exactly as Keywords Everywhere Chrome extension, it let you see search volumes for free, related searches for any given keyword or keyphrase. In addition it let you see words cont for every page appearing in search.
This is very useful. In fact, I was looking for a tool that let me see how many words competitors are writing for an article. Always for free.
The number next to the book icon, represent the word count n the article appearing in Google Search.
It is practical to see at once what should be the word count to outrank the competition.
As of the paid plans, there are options as cheap as $29. This tool specialize in on-page SEO.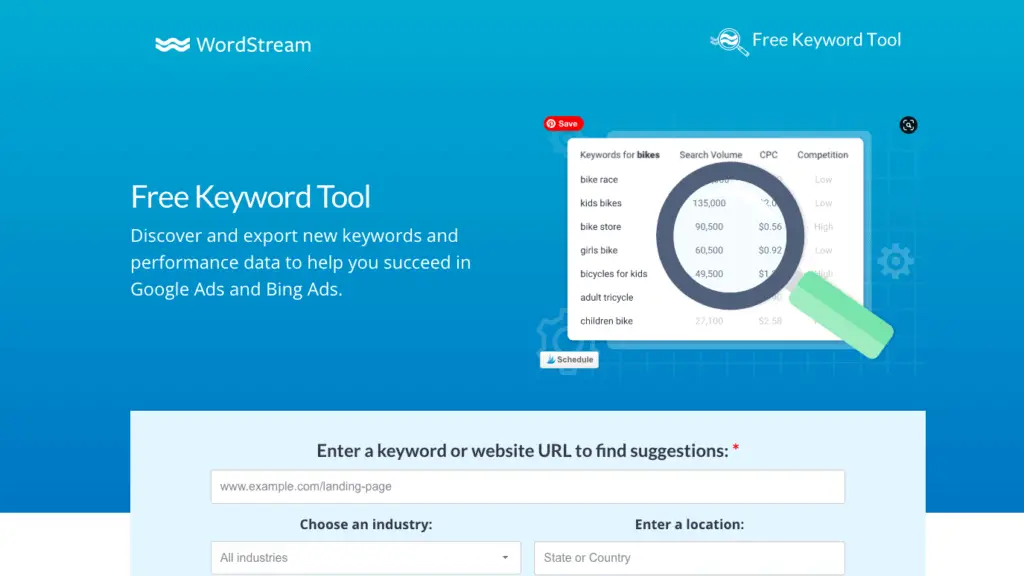 WordStream specializes in ads, and they have a few keywords research tools. Their free keywords tool is giving search volumes, related words, and some other metrics. You can see online on the first page, and the rest of the keywords are e-mailed to you.
They have also other tools you can check out:
This is another great alternative to Keywords Everywhere, you just insert the word you want to target and the tool generates the list of connected keywords, search volume, and CPP. In the free version, some metrics are covered.
They do have some paid plans, which I consider the cheapest around the web. If not other alternatives, this tool can eventually do its job. However, it doesn't do a competitor analysis or website analysis. It is more a plain keyword tool.
This is a tool connected with the Google Adsense account. Therefore you have to sign up for it, and once that is done, you can use the free tool to find keywords, search volumes, and other metrics.
You get to see the forecast of a specific word, expected clicks, and impression, and you can see what areas are more likely to respond to a keyword:
If you want to generate related words or more suggestions, it is better to go with another keywords research tool.
This is a very simple tool, but it freely generates loads of keywords ideas, which you can export to a file and use. There are no metrics but a lot of good keywords ideas.
You have to take those keywords and do your own Google search and investigation to see if it is a good keyword to use in an article.
If you just need ideas and inspiration, this is a great simple free tool.
RELATED QUESTIONS
Here some related questions we found useful to answer:
How can I see what keywords your competitors are using?
Any Seo analyzer tool could help to find which keywords a competitor is using. If you want to start for free you could use Ubersuggest. In fact of the tools listed above, Ubersuggest is more complete.
Let's see how you could do, go to Ubersuggest:
Paste the competitor URL
Scroll down to see for what keyword they are ranking
You can see the keywords driving traffic to this domain, and you can see all the keywords by clicking "View all SEO keywords this domain ranks for." If you are using only the free version, I believe there is a limit on keywords you can see; however, you can see enough.
Are keywords tools precise ?
Tools are good to get you some ideas and then do researches to see if you have a chance to rank for that keyword. The search volumes are estimations. They do not necessarily represent reality.
If would be a good practice to take a keyword and search it in Google to see if there is an autocomplete in place when you put the word in the search bar. In this way you can see if people are actually searching it, then you can look at search results and see who is ranking and what type of content they have.
Now you can have a pretty good idea if you can rank for this keyword. We have written a couple of articles covering the subject:
How To Rank a Website For a Competitive Niche, Suggestions, and Tips
Keyword Golden Ratio Method: How it Works, Tips, Examples
Do I need a keyword research tool?
Actually this is the best of the Keywords Everywhere alternatives: no keyword tool at all. In fact, you do not necessarily need a keyword tool, you could simply take a word you want to rank for, start typing in in Google, see what are the suggestions, see if there is competition and figure if you could actually do better.
There are points where you could run out of ideas, however this system would use Google suggestions to orient yourself.
What is the best free keyword research tool?
There are so many Keywords Research tools out there that it is difficult to answer, most of them are very fancy and have many good options, but for this, they could be costly. I believe Ubersuggest is a complete tool that costs much less than the competition. I don't think one needs to spend $100 a month for something you have for $29.
Possibly biggest research tools like Semrush, Moz, and Ahref could give tons of options and metrics. Still, in the end, usually, you search for keywords, suggestions, volume, backlinks, site audits, and competition analysis.
If you are into keywords suggestions, especially long-tail keywords, you could look at Long Tail Pro.
How do you search for keywords in a text?
Try using any of the free Chrome extension for the above keywords tools. They usually let you extract the keywords from any article.
CONCLUSION
We have seen some Keywords Everywhere alternatives and answered some questions. I hope it was useful. If you have any questions, write it in the comments below.