How to Find a Micro Niche Keyword: have you heard about micro niche sites? But what are they, and how is it possible to rank a micro niche site?
A micro-niche site is a site that is built around a specific keyword or topic that has less competitiveness and less traffic volume than a more competitive keyword. However, there is enough traffic to profit out of it.
In this article, it is going to be shown how you can find a micro-niche keyword and how to build a micro niche site.
WHAT IS A NICHE SITE?
A niche website is built around a topic or subject, for example, a website that speaks about cats, dogs, fishing, mobile phones, etc.
Niche means: denoting or relating to products, services, or interests that appeal to a small, specialized section of the population.
This is easy to understand, so what is a micro niche?
WHAT IS A MICRO NICHE?
We could consider a micro niche line a subtopic or argument related to the main niche. For example if you are going to choose cats a niche, what could be a micro niche?
Without checking if there would be any traffic or estimated product, i could say that those could be examples of micro-niche:
Rare cats breed
Main Coon Cats
Cats Accessories
Cats shelves
But how to actually find those micro-niche and see if there is any chance to make it work? Let's see step by step how we can do it.
HOW TO FIND MICRO NICHE KEYWORDS IDEAS
We want to find a niche that has the following characteristics:
Low competition
We could expect enough traffic to be able to monetize, ideally passively.
The products sold or referred have enough value to make sure you can earn decent commissions. Even if just have a micro-niche site
LOW COMPETITION
How to Find a Micro Niche Keyword that is not competitive? Here is what can be done. For this example, we will use a keyword search tool. I will tell you a bit later how you could do that without a keyword search tool.
I prefer to use Long Tail Pro because it can give many keywords ideas, and you can see the competition. There are other tools too, just find the one you are more comfortable with.
Now let's just name a niche; let's use "cats." I will insert cats into the search bar in Long Tail Pro and see what the suggestions are coming up. I have set the tool to give me 100 keywords ideas in that niche; you could do more or less, it is really up to you.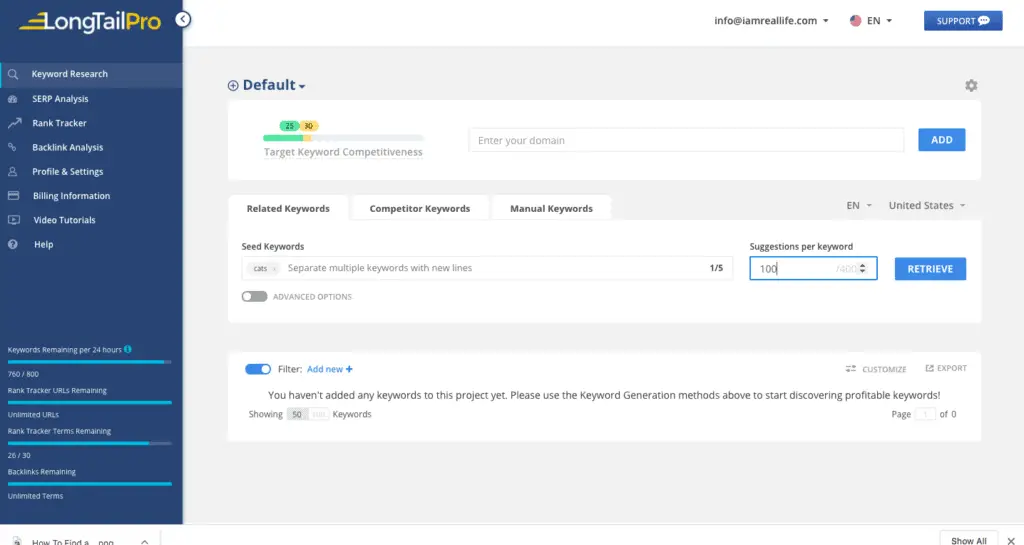 There are options to set up filters if you need, as search volume minimum and maximum and other options. You can do this with pretty much every search tool, and it may simplify the search.
Here is my list: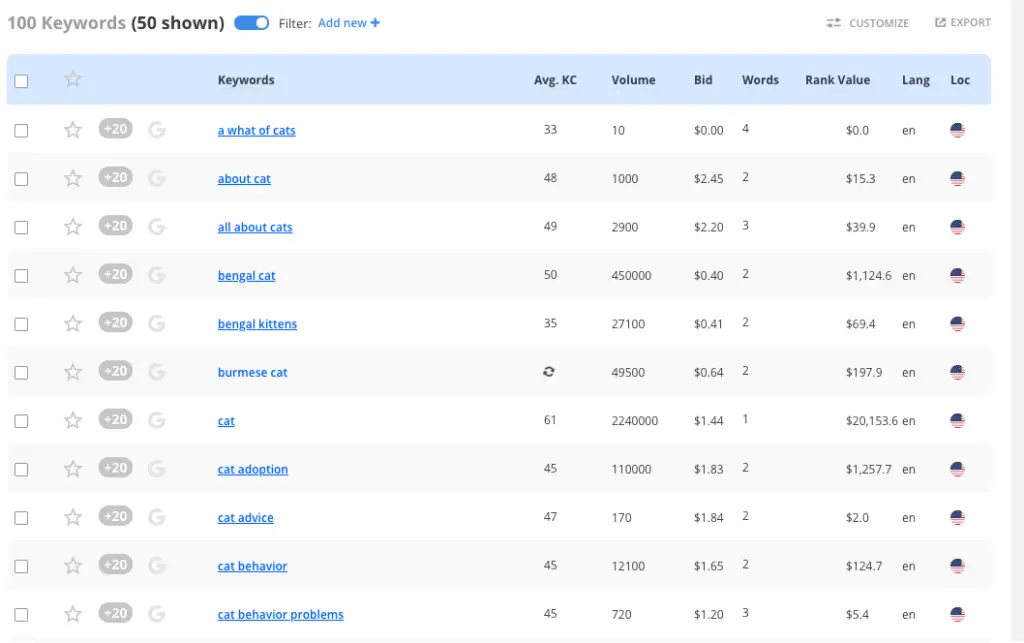 I can export the data to an excel file if I need to. In this case, I will sort the list based on Search Volume(starting from the lowest traffic, in other words, the other way around) and see what I get: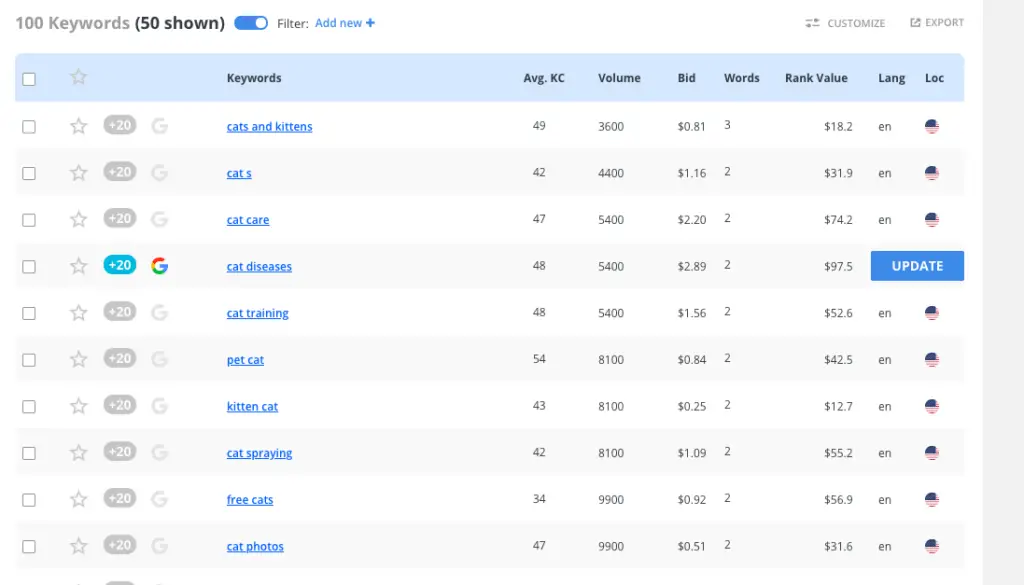 At some point, I see "cat training," it is estimated at 5400 monthly search volume. I am going to take this keyword and insert it in Google search bar: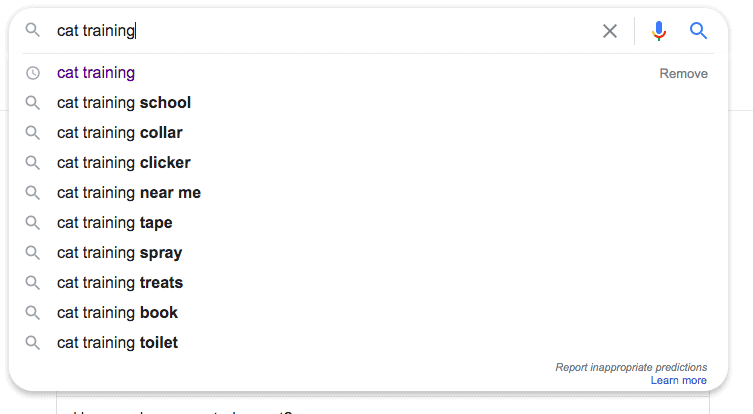 There is a Google autocomplete on this keyword, and it seems that people are looking for cat training schools, cat training, and other words.
I am going to take a closer look: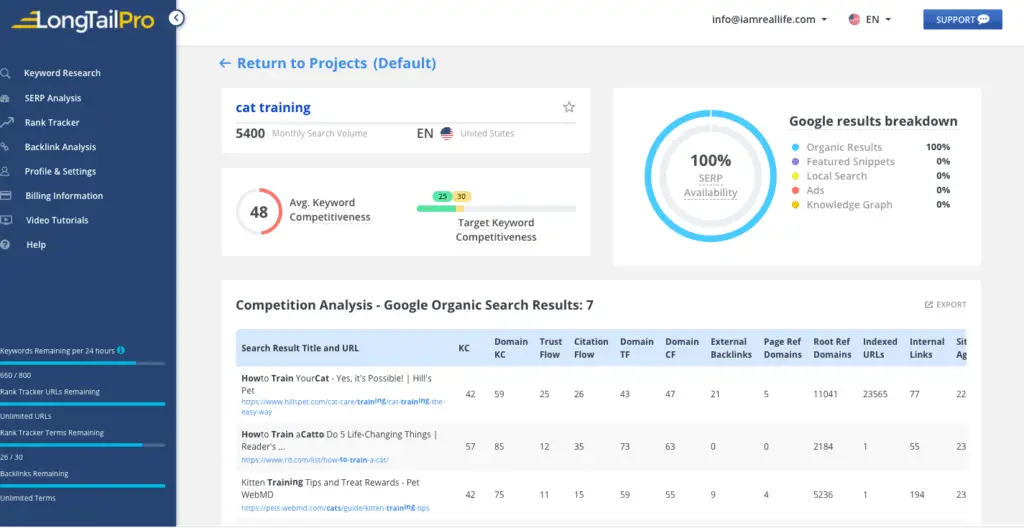 It seems quite competitive, there are sites with high Domain Authority already ranking for this keyword.
"Cat training" seems something to think about carefully if you are a new site. But honestly, it would be great for a micro-niche. There are enough related questions and searches to write some good content.
From the other side, I see that the keyword " Bengal Kittens" is a lower competitive word and has a much higher volume. I could see a micro-niche site centered around "Bengal Kittens" or "Bengal Cats."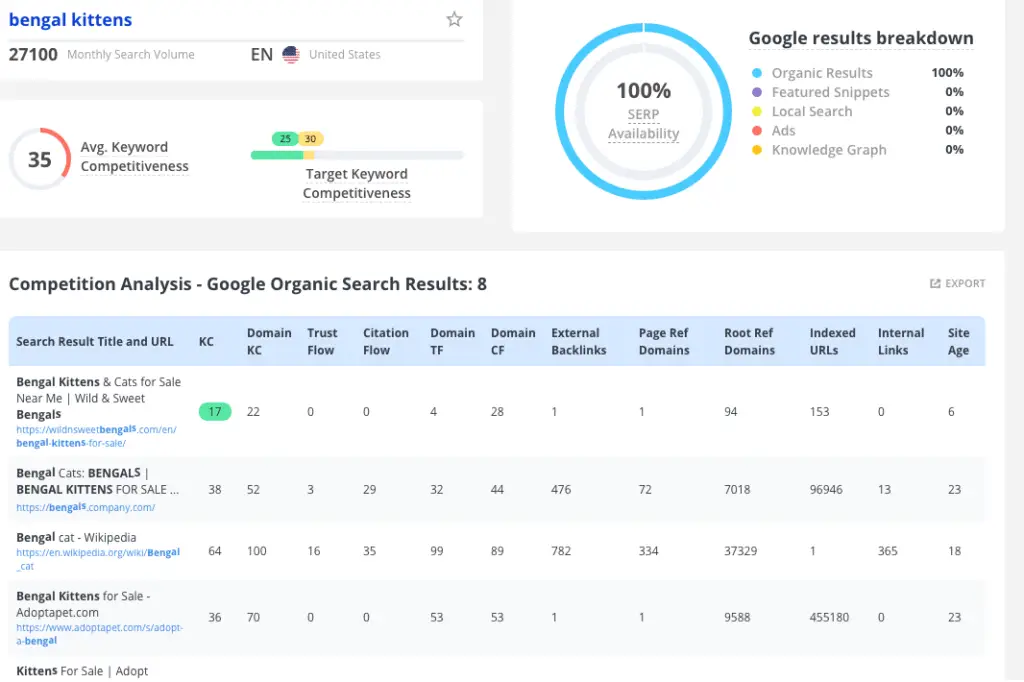 I would still look at the Google Search entries and see what people are looking for and derive content ideas.
This is still not the lowest competitive word, but it is still within reach. Maybe another niche can give better micro niche sites ideas that have lower competition. Even though "Cat Training School" and "Bengal Cats" could be great ideas.
There is a way to rank for high competition keywords anyway: How To Rank a Website For a Competitive Niche, Suggestions, and Tips.
But you get the idea?
Check the search volume
Check for low competition
Check for related queries or key words in enough amount for you to put togheter a site
ENOUGH TRAFFIC TO MONETIZE
In the example above, if the estimated traffic would be enough to monetize, pending, I did find good affiliate products that are worth suggesting.
I know of people earning $1000+ with an 8000 page-view per month, and I know of people getting over 15000 page-view and getting $200 per month.
So before starting anything, it is good to know what you can get monthly with the predicted traffic.
VALUE OF COMMISSION PER AVERAGE SALE
In other words, selling only $10 or $50 it is not good enough. It the site uses only Amazon Associate as an affiliate program, you may get fewer commissions then you deserve, once the traffic is there.
Amazon recently lowered the commission value and their tracking for affiliations in very short, once you put all the work in making a site go, you want to capitalize as much as you can.
It would be wise to see before starting a site to check for possible lucrative affiliate programs.
There are good alternatives to Amazon, like ShareaSale, to just name one, but you can research end to see if there are good affiliate programs for your niche.
What could be a good micro niche keyword?
You can find micro niche keywords in every possible existing niche; ideas of such keywords could be:
and so on.
What is a good micro niche finder?
A micro niche finder would be a keyword research tool. There are many research tools, commonly for those kinds of research one can easily pick Long Tail Pro: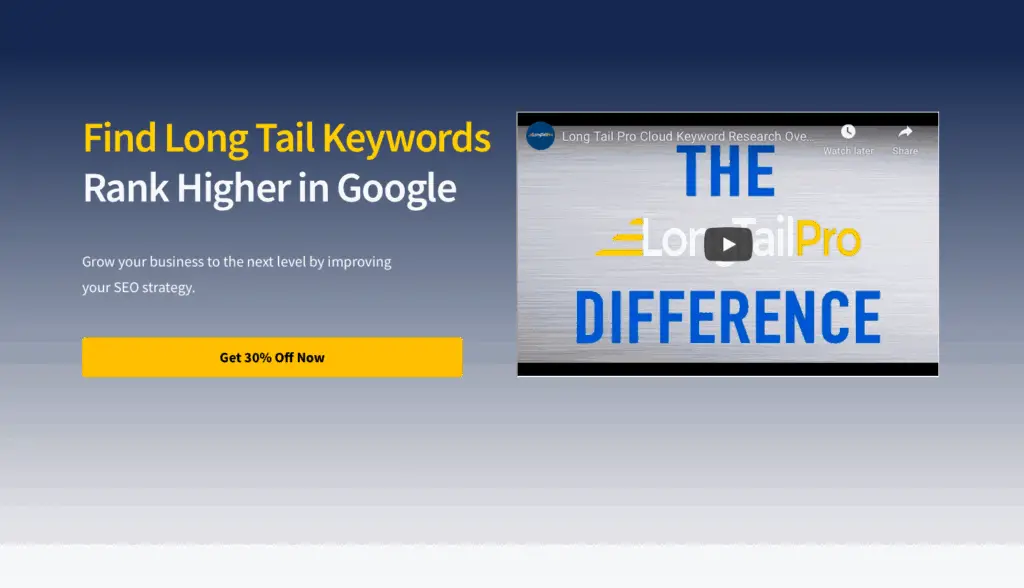 Another tool I like to use is Ubersuggest. You can do the same research type, just input a word, and it suggests other keywords.
Are keywords tools reliable?
No, they may not be precise; you always have to put your ideas into the Google Search bar and see if there is an Autocomplete (when you start typing Google would suggest the end of your query) if there are means other people are searching for this words. Then you need to look and see if there is enough to put up a site.
Meaning: there are enough related queries? There are a market and request for products? Just look into it, see what others are doing and what is the competition level. Can you overcome them?
Try to get an answer to those questions; you may not need at all a research tool; in fact, it may be that you can err if you blindly follow a tool.