Do you want to set up an exit-intent optin form for your site? If you want to capture more leads and try to make your visitor stay longer on your site, it is not a bad idea to use exit-intent technology and offer them another opportunity to sign up.
An exit-intent opt in form is a form that comes up on the screen when someone is trying to leave a website. Those forms are set up to show up when the software detects a visitor about to leave or close the window. At this point, they are shown a form that shows then an opportunity to sign up, get a discount code, and so on.
Let's see how to set up one.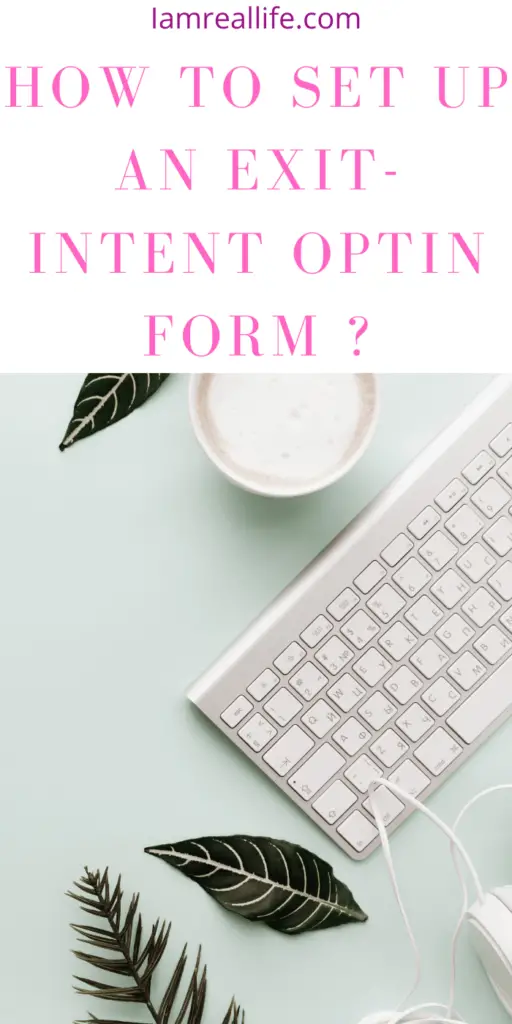 EXIT-INTENT OPTIN FORM: HOW TO SET IT UP WITH OPTINMONSTER
For this tutorial, we will use OptinMonster to create a pop up that uses exit-intent technology. Log in to your Optinmonster account. Once you are in, you will see the dashboard, which gives you several options:

CREATE CAMPAIGN
In the next window you are given the option to select the campaign type:
Pop-up
Full Screen
Slide-in
Floating bar
Inline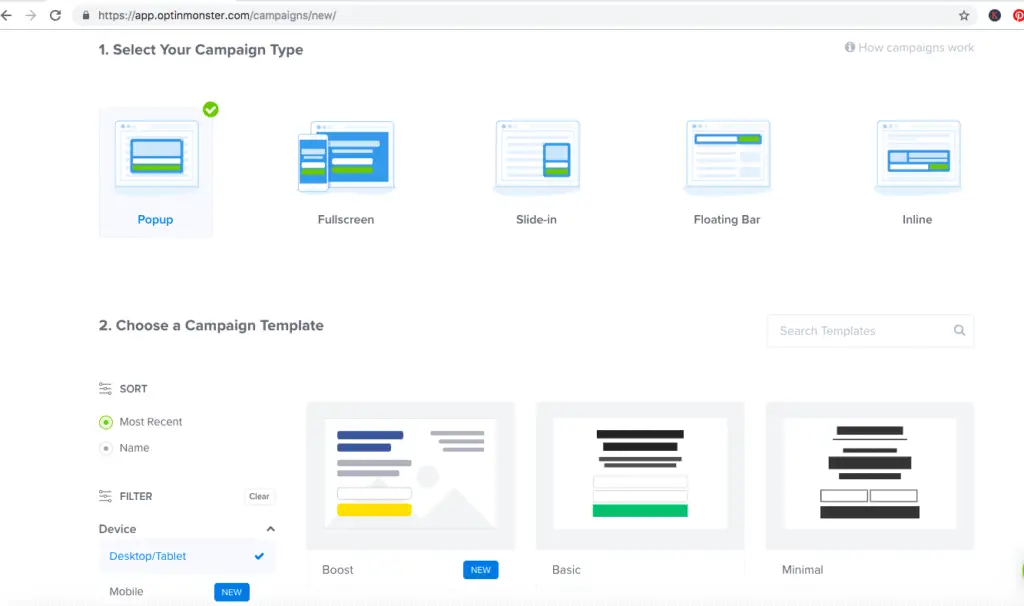 After you have selected the first option, you have to scroll down to the 2nd Option: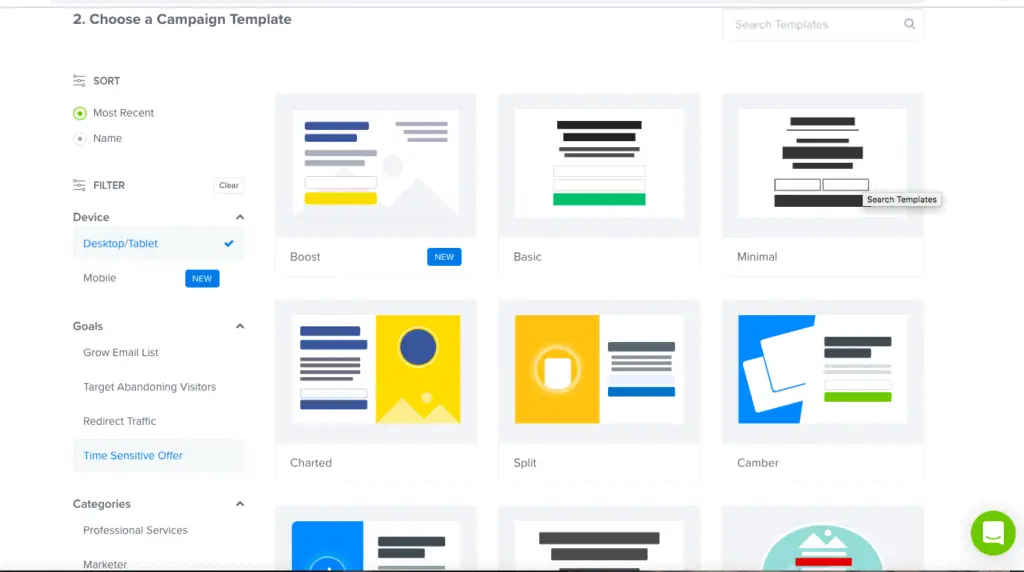 Scroll down to the " Target Abandoning visitors." Once you click on it, a series of templates are coming up to the screen's right. Scroll and search for the one suited for you.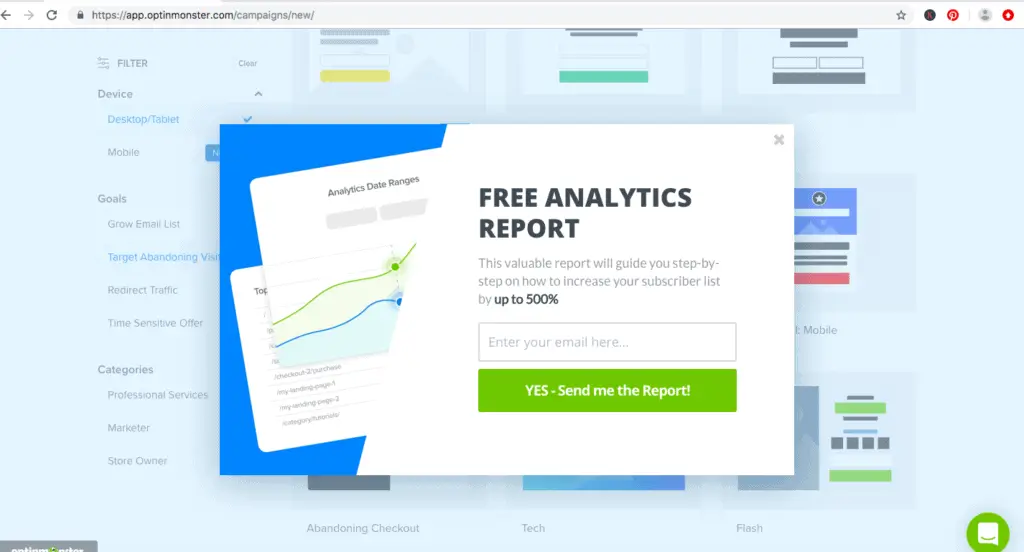 Select your template and click on " USE THIS TEMPLATE".
EDIT YOUR POPUP
Once this is done you are going to go to the edit dashboard:
You have a column that allows you to customize the pop-up, colors, block, and everything else on the left. It is all very intuitive and explained on the go. In the Top bar, you have to set your settings for the following:
Design ( the current window you are on)
Display Rules
Integration
Analytics
Publish
Once you are done with the design, click on Displays Rules: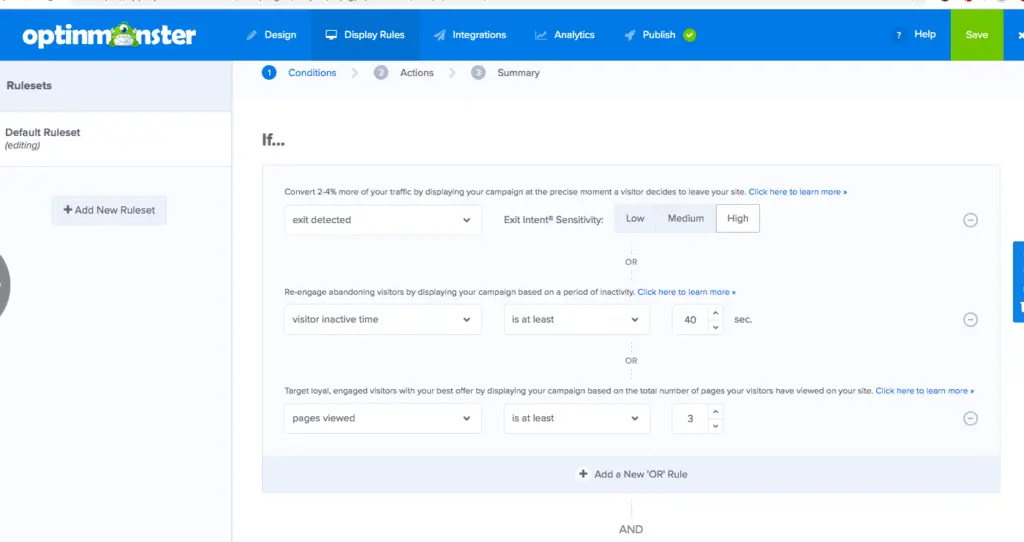 In this window, you can choose when you want the pop-up to show up, for example, how long since the page loads, how many pages the visitors have to have seen, how many minutes he has to be inactive, and so on, you choose the one you prefer. However, for this tutorial, we will implement the Option, "When the Exit is detected."

You can set yo the sensitivity of the exit intent from the visitor. Once this is done, you have told Optinmonster to show your popup when anyone is leaving the site.
Continue to the next window: Integration. You can set it up right away so you can have an autoresponder or leave it for later: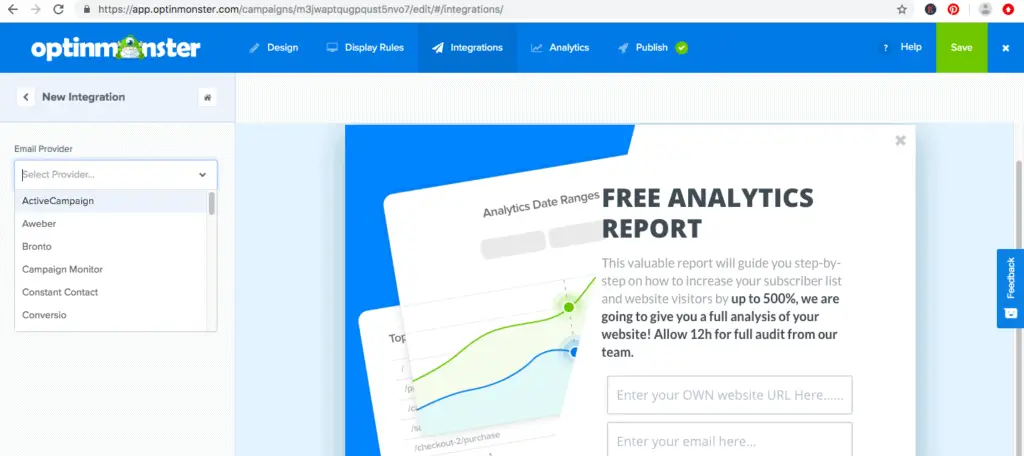 You an see that you can select the email service provider at your left. Again you can do this later or not do this at all.
Once you set this up you go to analytics, where you can set yo google analytics to gather statistics on your Popup effectivness.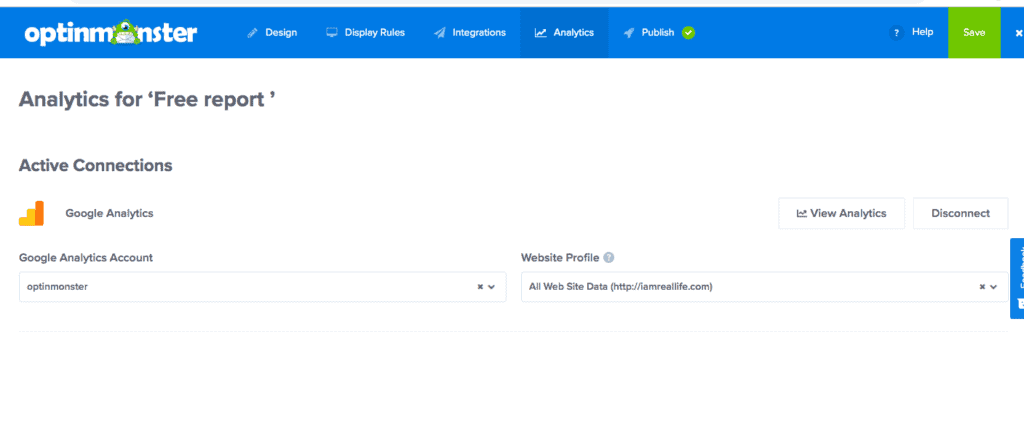 PUBLISH YOUR POPUP
Finally the last step: PUBLISH.

So let's look at the end results.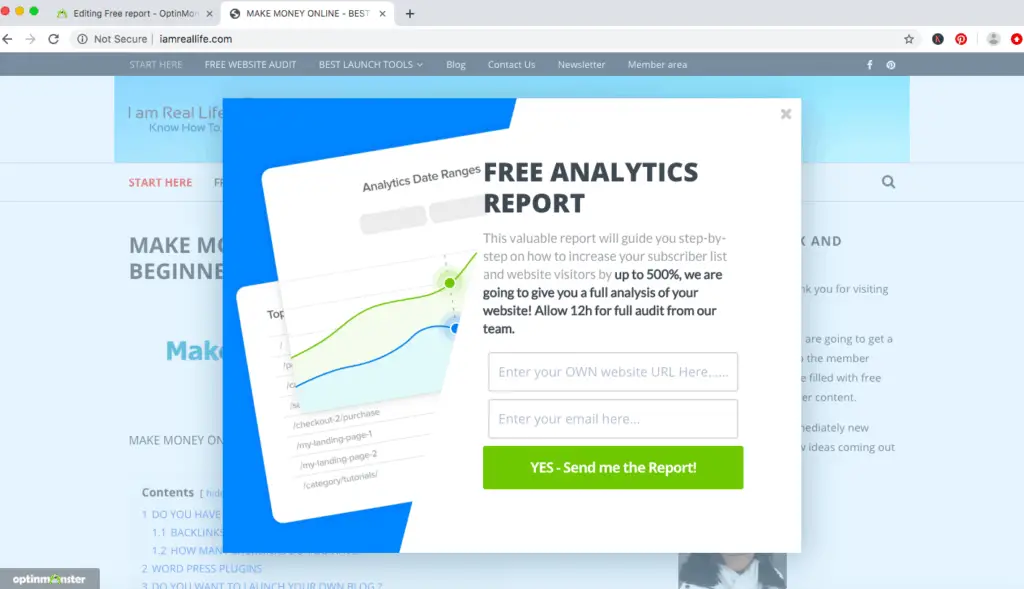 So this is how it looks once everything is done. I logged into my site and tried to get out, which came up. Set up successful!!
When you go back to the dashboard you will see the following:

When you go back to the dashboard, you will see the pop-up you just set up appearing on the screen. You can then have a visual of how many visualizations, leads are collected. You can activate and deactivate the popup and see the conversion rate.
You can also click the stats icon, under actions and see the graph of the pop up performance: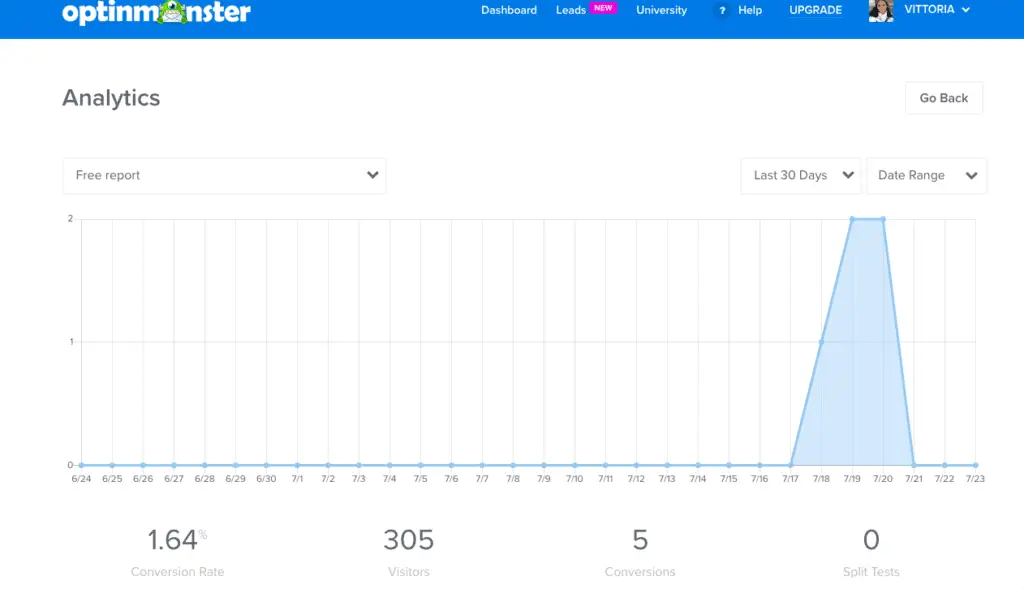 There you go you are now fully set!
WHAT IS EXIT-INTENT TECHNOLOGY?
Exit-intent technology is behavioral technology that tracks and monitors the movements of website visitors. It detects when they're going to leave your site without making a purchase or leaving their information. It is designed to reduce cart abandonment and capture more leads.
Did you know that over 70% of people who leave your website will never return? In most cases, this means that 95% – 98% of your marketing efforts are going to waste, and you are losing more money in customer acquisition costs than you need to.
OptinMonster's exit-intent technology detects user behavior and prompts them with a targeted campaign at the precise moment they are about to leave. Using this SMART behavioral technology, you can convert an additional 2 – 4% of your users into email subscribers and soon thereafter into paying customers.
Let our exit-intent technology help you convert abandoning website visitors into revenue! First thing, go to the dashboard and click create a campaign.
PRICING
100% No-Risk Double-Guarantee! Exit-intent technology comes with an Optinmonster professional plan.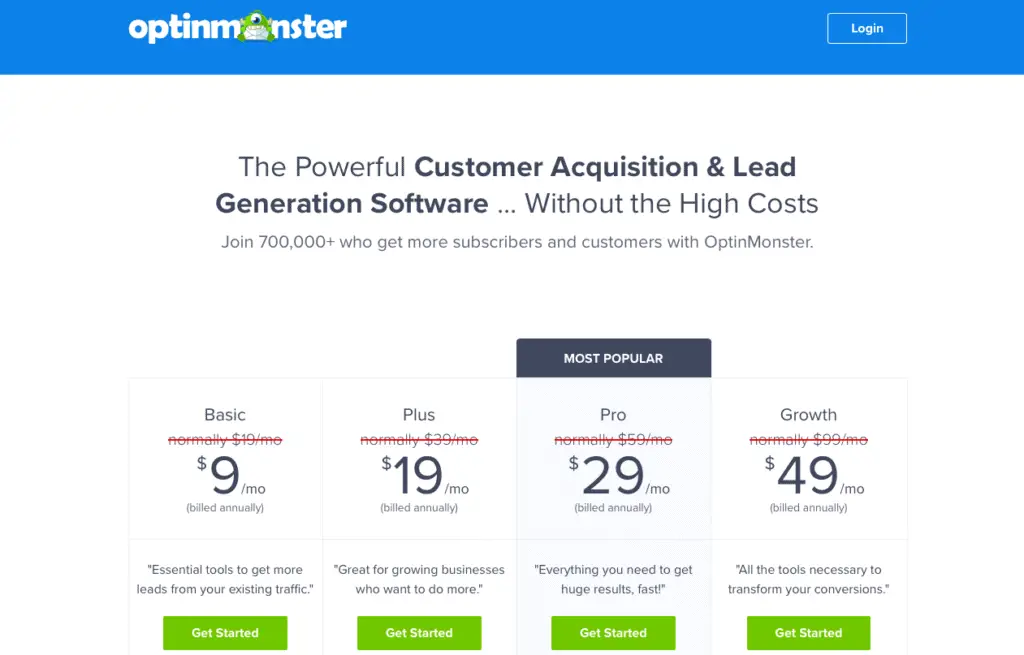 The PRO plans come with exit-intent features, and you can use them with 3 sites and use all the other incredible features from Optinmonster.
WHAT IS OPTINMONSTER
OptinMonster is the best lead-generation plugin for WordPress. It allows you to create beautiful, attention-grabbing opt-in forms that convert well. OptinMonster gives you the power to convert your website visitors into subscribers and customers.
FULL FEATURES LIST
High converting template library (100% responsive mobile-friendly), including WordPress popup templates.
Drag-and-drop campaign builder to easily customize any campaign, no code needed.
5 different types of email opt-in and popup forms.
Powerful page level targeting to build a hyper-segmented email list.
Custom user-centric output settings to target visitors, logged-in users, or a mixture of both.
Category, tag, and custom taxonomy output controls for robust campaign segmenting.
Custom analytics to tell you which campaigns and popups are converting the best.
Signature Exit Intent™ popup technology to convert abandoning website visitors into subscribers and customers.
Powerful A/B testing that helps you eliminate guesswork and make data-driven decisions on what works best.
MonsterLinks™ popup on click technology, which is proven to boost conversions by as much as 785%!
Mobile-specific WordPress popup forms that are specifically targeted towards mobile visitors.
Scroll triggered WordPress popup and opt-in forms for enhanced conversion rates.
Timed popup forms – display opt-ins after a certain time or on the second pageview.
Canvas popup forms – use Canvas to add Facebook like a box, WooCommerce products, or anything else that you like.
Exit Intent™ popups – reduce visitor abandonment, grow your email list, and more!
MonsterEffects™ technology for eye-catching popup animations.
Success messages and redirects
Easy integration with over 25 different email marketing service providers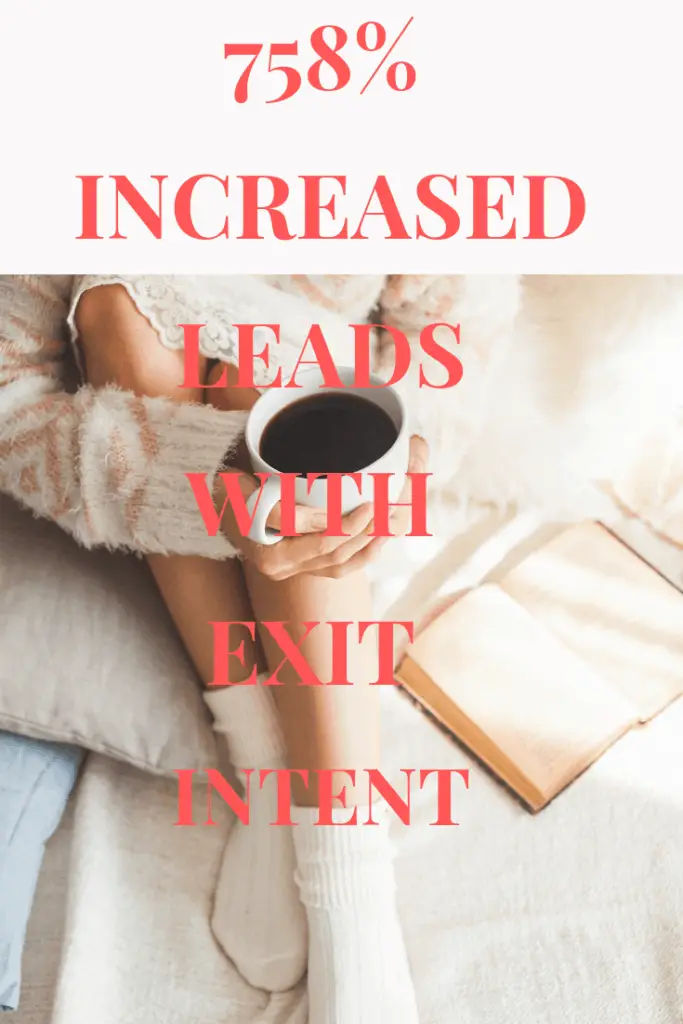 Find it In Pinterest!