Exit Intent pop-up for WordPress? Have you ever wondered if there is anything you can do to keep visitors on your website longer? Or increase conversion and collect leads? If so, let me show you a tool you can use.
An Exit Intent pop-up is a window that appears on top of a web page displaying a message, generally asking people to sign-up, offering coupons, discounts, free materials, and more. An Exit Intent pop-up has the purpose of keeping visitors from exiting the site, collecting leads, and even generating sales. There are many uses for such pop-up if used well can increase the chances of converting a lead.
Let's see how to use it.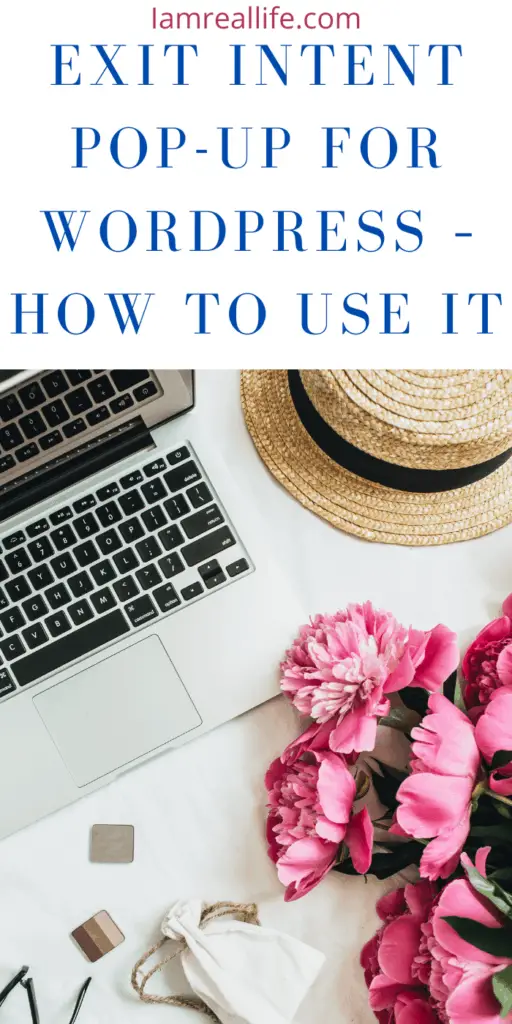 EXIT INTENT POP-UP PLUGIN: WHAT IS EXIT-INTENT TECHNOLOGY?
The truth is that everyone who comes through a website is not given the possibility to sign up for something or asked to do so. With this technology, ALL visitors are asked to sign up, as they all leave the site at some point, and at that moment, a window is going to come up asking them to sign up for something or leave their email in exchange for a gift.
For example this is my exit intent pop up, from Optinmonster: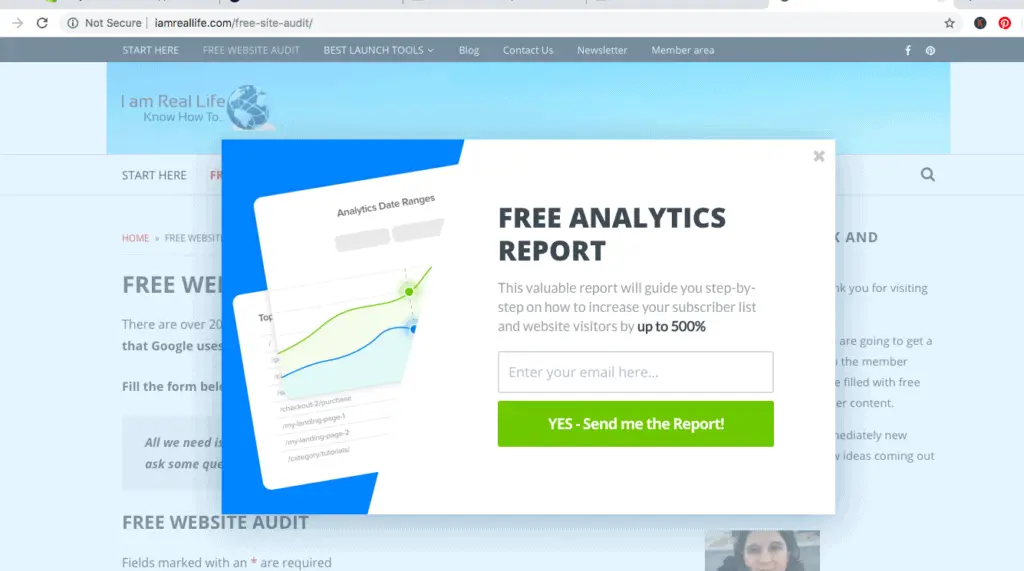 A pop–up is a graphical user interface display area, usually a small window, that suddenly appears ("pops up") in the visual interface's foreground. … A menu or taskbar pulldown can be considered a form of a pop–up.
In computing, a plug-in (or plugin, add-in, addin, add-on, or addon) is a software component that adds a specific feature to an existing computer program. When a program supports plug-ins, it enables customization.
The 'Exit Intent Technology' can be defined as an intelligent technology or an innovative tool designed to help marketers turn and transform their abandoning website visitors into paying customers. Once embedded on your website, this technology can track and monitor mouse clicks and movements of site visitors.
And what's truly smart about it is that it has the power to detect when a site visitor is about to exit or leave the site without product purchase. And this is where the technology actually gets in and triggers a lead capture.
Exit-intent technology is behavioral technology that tracks and monitors the movements of website visitors. It detects when they're going to leave your site without making a purchase or leaving their information. It is designed to reduce cart abandonment and capture more leads.
Studies show that Exit Intent Technology has helped marketers improve their conversion rate significantly.
The Exit Intent Technology enables marketers to re-engage potential customers by presenting captivating information and ensuring that they don't leave the site without viewing the best offers and products.
The conversion rate defines the percentage of people who visit your website or social media pages and take a desired and profitable action, such as downloading material in exchange for their e-mail address, purchasing a product, or subscribing to your newsletter or monthly membership plan.
A high conversion rate means that visitors who land on your page are satisfied with your offer and ready to take the desired action.
Pop up windows and exit intent pop up are some of the most effective ways to increase such conversion and lose fewer leads and customers.

HOW DOES EXIT INTENT TECHNOLOGY WORK?
This technology works intelligently. It shows a new and more engaging message to a site visitor or customer at the moment when they're about to close the website or leave the page. The message is displayed in the form of exit overlays and pop-ups such as sign-up requests, newsletters, special offers, and discount deals.
The purpose is to engage the traffic and ensure that they turn into buyers or subscribers before they exit. Exit-intent technology allows you to make one last-ditch effort to convert visitors as they are about to leave your site. Detecting when someone is about to navigate away presents the visitor with one final message (in a lightbox overlay) right at that pivotal moment.
Unlike immediate popups, which interrupt your visitor as they try to browse your site, exit popups aren't an annoyance. Some people believe that any form of popup is an annoyance. However, even if your exit popup did annoy the occasional visitor, you were about to lose that lead anyway.
So what's the harm in trying? The truth is, regardless of how you feel about popups in general, data shows that exit popups actually do work really well.
When you implement an exit-intent popup on your site, you could recover 10-15% of lost visitors.
Exit-intent® technology allows you to make one more effort to convert visitors as they are about to leave your site. By detecting when someone is about to navigate away, it presents the visitor with one final message (in a lightbox popup overlay) right at that pivotal moment.
WHAT IS A LIGHTBOX POP-UP?
A lightbox popup is a web form that appears on top of the webpage that you are viewing. When it appears, the webpage is darkened in the background so that the form stands out.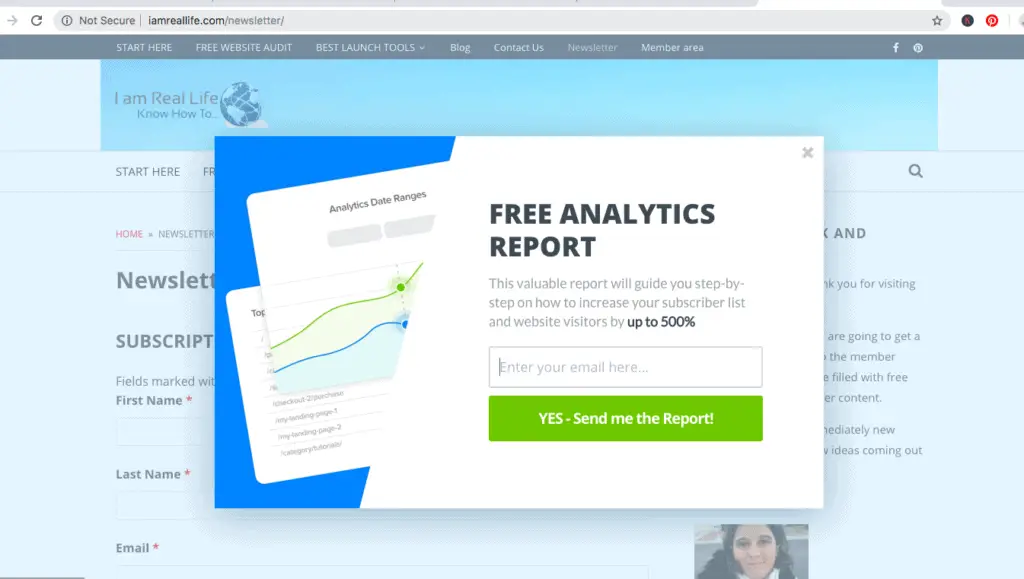 As you can see from this example the background is darkened allowing the pop up to stand up.
EXIT-INTENT FOR eCOMMERCE (Shopping Cart Abandonment)
One of the most common use cases of exit-intent technology is to reduce cart abandonment and increase conversion using an exit-intent popup. Your checkout page is the final step of your conversion process. Anyone who makes it all the way to this point is a high-value user.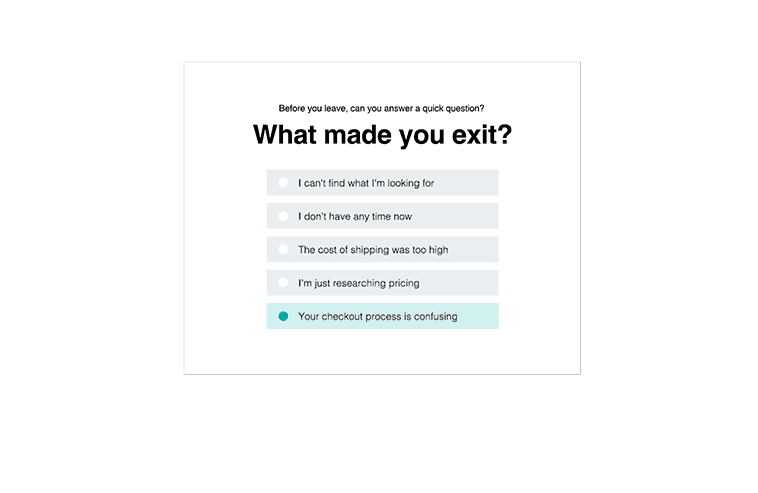 If our exit-intent technology detects that the user is about to leave, then we allow you to display targeted campaigns to the user, such as:
An invitation to chat with a support agent
A special discount offer to encourage on-spot purchase
An invitation to download your lead-magnet by joining your email list.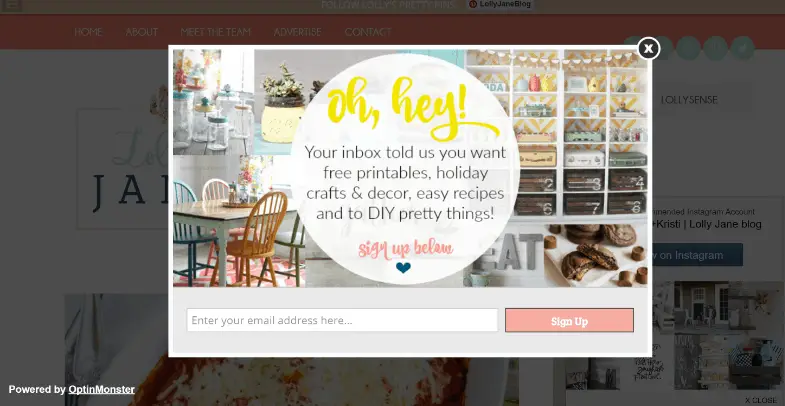 EXIT-INTENT FOR CONTENT MARKETING (Lead Generation)
Are you maximizing your content marketing efforts? Want to put your lead-generation efforts on steroids? Another common use of OptinMonster's exit-intent technology is to grow your email list and free-trial signups.
In most cases, when a user is done reading your content, they leave. With exit-intent popups, we allow you to display targeted campaigns to the user, such as:
Download a free eBook or Case Study
Sign up for a free product trial
Book a free consultation call
Signup for your webinar
On average, our publishers see a 200 – 600% increase in email signups when they use exit-intent along with their content marketing efforts. You can use marketing automation and email auto-responder to convert these new subscribers into loyal customers.
OptinMonster's exit-intent popups work on WordPress, Shopify, Magento, BigCommerce, Drupal, Joomla, and basically all types of websites.
HOW TO GET EXIT INTENT POP UP?
The OptinMonster WordPress popup plugin helps you grow your email list and get more subscribers with popups and other types of high converting opt-in forms.
OptinMonster comes with an easy-to-use drag-and-drop popup builder that allows you to create beautiful email opt-in forms that are proven to convert. You can create various campaigns, including WordPress popup forms, exit-intent popups, floating header and footer bars, slide-ins also known as scroll triggered boxes, sidebar forms, after post forms, in-line forms, mobile pop-ups, welcome gates, and more.
Using OptinMonster popups combined with our exit-intent technology, page-level targeting, and behavior automation, users have seen an instant boost in conversion rate, even upwards of 785%!
FULL FEATURES LIST
High converting template library (100% responsive mobile-friendly), including WordPress popup templates.
Drag-and-drop campaign builder to easily customize any campaign, no code needed.
5 different types of email opt-in and popup forms.
Powerful page level targeting to build a hyper-segmented email list.
Custom user-centric output settings to target visitors, logged-in users, or a mixture of both.
Category, tag, and custom taxonomy output controls for robust campaign segmenting.
Custom analytics to tell you which campaigns and popups are converting the best.
Signature Exit Intent™ popup technology to convert abandoning website visitors into subscribers and customers.
Powerful A/B testing that helps you eliminate guesswork and make data-driven decisions on what works best.
MonsterLinks™ popup on click technology, which is proven to boost conversions by as much as 785%!
Mobile-specific WordPress popup forms that are specifically targeted towards mobile visitors.
Scroll triggered WordPress popup and opt-in forms for enhanced conversion rates.
Timed popup forms – display opt-ins after a certain time or on the second pageview.
Canvas popup forms – use Canvas to add Facebook like a box, WooCommerce products, or anything else that you like.
Exit Intent™ popups – reduce visitor abandonment, grow your email list, and more!
MonsterEffects™ technology for eye-catching popup animations.
Success messages and redirects
Easy integration with over 25 different email marketing service providers
PRICING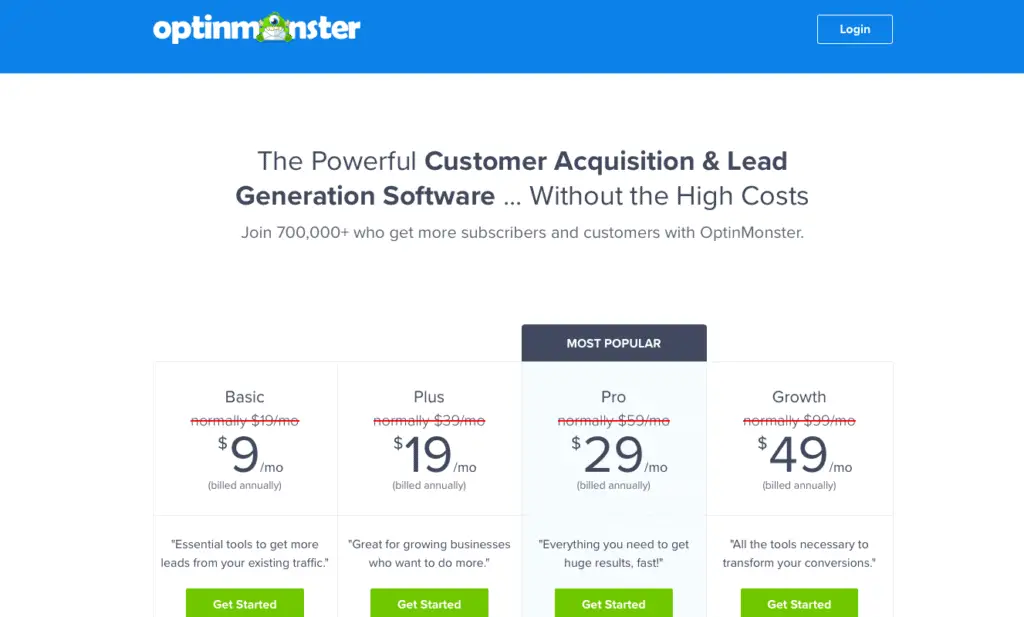 There are different plans, get all the features including the exit intent technology with the PRO plan.
CONCLUSION
I hope this was useful. If you have any question leave it in the comments below.