What is Tailwind Create? Maybe you have heard about this tool, perhaps not yet. However, if your dream was to quickly generate Pins to promote an article with a few clicks, I am about to tell you that your dream finally came true.
Tailwind Create is an additional tool you can get from Tailwind that lets you design Pins with different designs and different text, and even different colors with the push of a few clicks. You can import or choose pictures you want and the primary title for your pin; then Tailwind Create designs for you great pins that you can edit with few clicks, all different from each other.
How is this even possible?
"This blog is readers-supported, and this post contains affiliate links, which means I will make a commission at no extra cost to you should you click through and make a purchase. "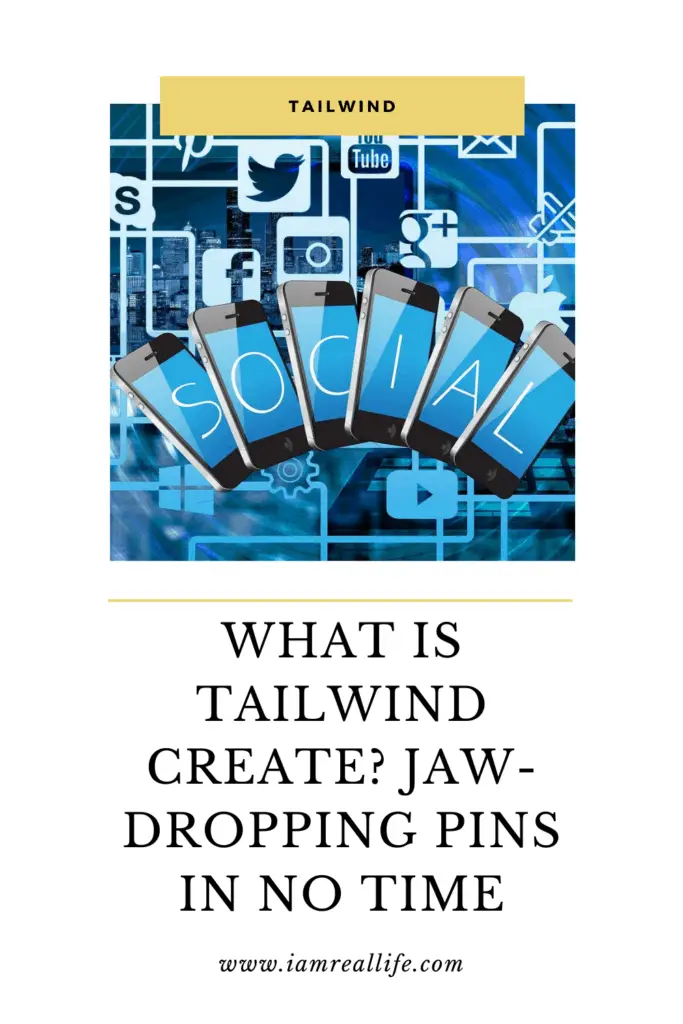 WHAT IS TAILWIND CREATE?
First of all, if you want to know more insightful data about Tailwind, you can read my illustrated guide.
Since I am at it, I want to brag a little bit and show you how that article does in search engines. I made it at number one in Bing (yuppies!), I did not get the snippet, though.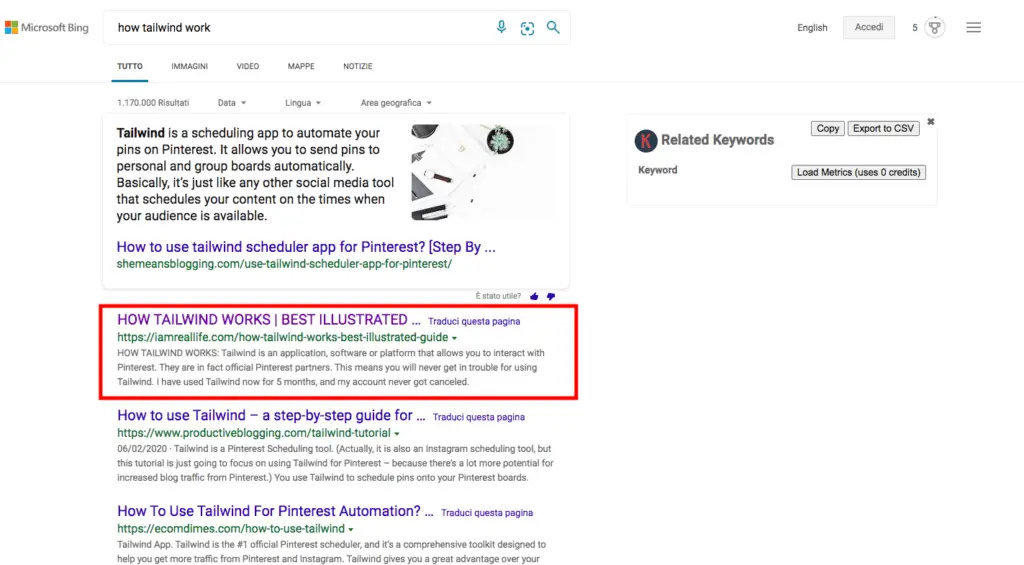 Google is a bit harder to get to the top by I made it at position number fifteen. I recently updated that article to make it current, and in a matter of 24h, it bumped up a lot in position. It was much further down the lines.
Likewise, in Bing, it was at number three or four before the recent update.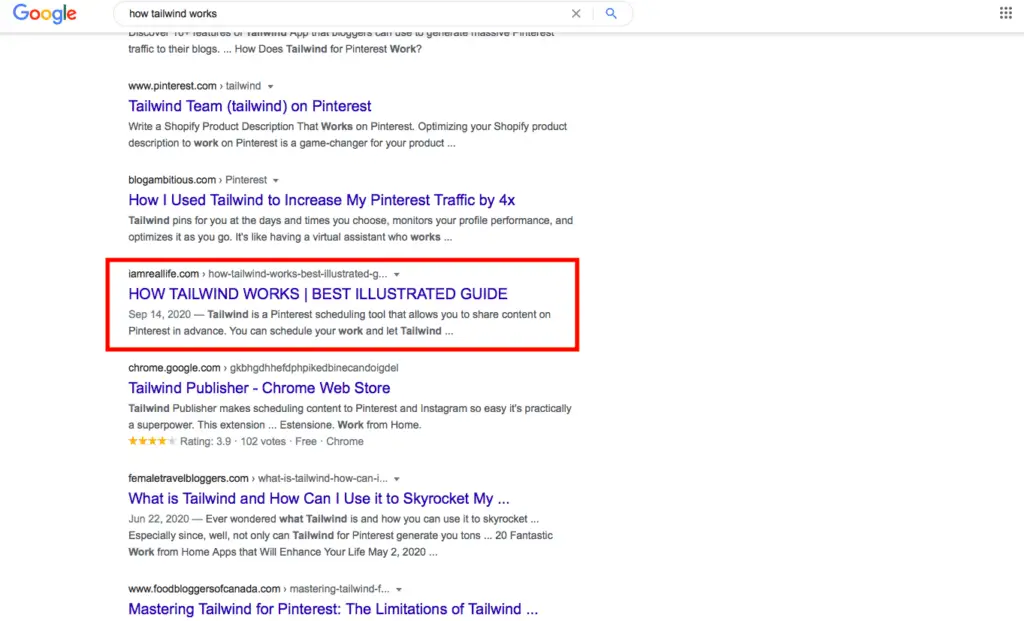 Considering my site is pretty young, and I am competing with sites with very high DA, I am thrilled with the results, even with the Google position. I am sure I will make it to number one soon with some very well studied changes.
All of this to say to go over and read that article too: HOW TAILWIND WORKS | BEST ILLUSTRATED GUIDE.
In this article, I am also sharing my successes using Tailwind and traffic increase generated with analytics. These are my personal results, but Tailwind also publishes the Typical Results of Tailwind Members every year, so you can see exactly what the average growth rate looks like for their members.
Ok, end of the brag and back to Tailwind Create.
If you use Pinterest to drive traffic to your blog, you may have gone through the painful experience of creating pins for your post and try to create more then one pin design for a single post.
It takes time. If you are busy writing content, I am sure you are happy to find out a tool that can design pins for you automatically with a click.
Think about the time saving!
HOW TAILWIND CREATE WORKS
So, how does it works?
Insert the URL where you want to gather the pictures for your pins.
Write a title for your pin.
Select additional pictures you would like to use from the Tailwind Create collection, or import your own pictures.
Generate the pins. Tailwind Create will generate multiple Pins with different designs using the pictures and titles you had chosen.
Edit single or multiple pins and add them to your schedule.
The editing tools available in Tailwind Create are top-notch. It let you change titles, subtitles, colors, font, and more. In other words, you can fully customize the pins, and you can choose only the pins you like to be sent to your scheduler. It is brilliant.
Here an example of Tailwind Create designing pins for you once you have selected the title and pictures you would like to be used: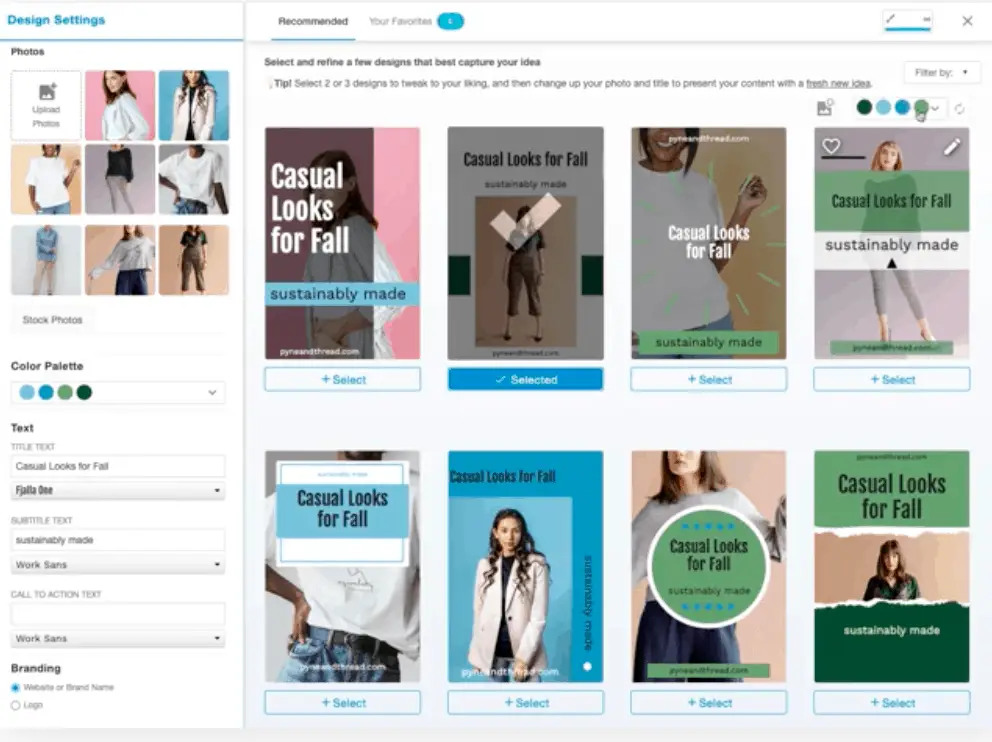 It takes around 5 to 10 minutes to create a single pin, mostly if done with care and different quality. If I want to make a couple of pins to promote one blog post and schedule them over time, I need to spend at least 40 minutes with different designs.
How many pins have I not created because I did not have the time and the inclination to find new designs? A lot.
For sure, I am struggling to put in the time to create pins in decent quantity to fill up my schedule. In the end, I may end up to schedule over and over the same pins.
Some bloggers go around this obstacle by hiring an assistant who spends the time to create pins, maybe some more prominent sites still will use a VA to do so due to the high publishing schedule.
But what about the "normal" people who are not hiring someone? Finally, this can be a solution.
Here some other perks: you can see hundreds of pin variations for your photo and title, find the right styles for your industry and content type – with designs optimized for Pinterest engagement, traffic, and conversions.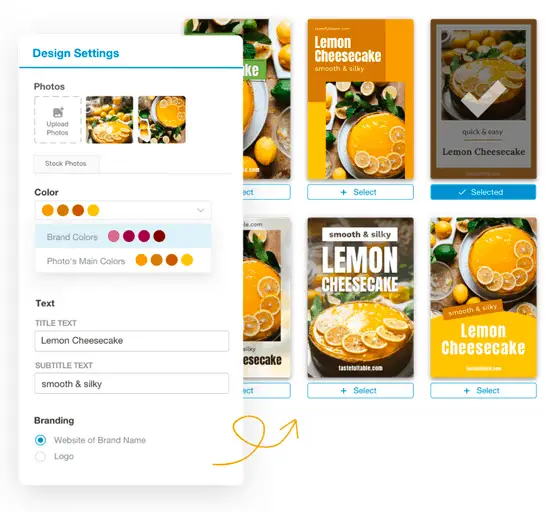 REASONS TO USE TAILWIND CREATE
I can think of many reasons on top of my head for using Tailwind Create. Some are obvious, some other reasons less obvious. For bloggers that are using Pinterest a lot, this tool can be one of the best things that happened to them in terms of time-saving.
Time-saving is not the only point that makes this tool so valuable even though it can be the primary reason for using it. Here some excellent reasons to use Tailwind Create:
Tailwind Create provides hundreds of different designs and variations for a pin. Normally you have to sort through other tools like Canva, for example, and figure out a good catching design. After a while, one can come short of ideas and stop creating. Using Tailwind Create, you never run out of ideas and never get tired of creating.
With the possibility of creating so many different designs quickly, one can test different pins to see which one gets the most exposure. It is much simpler and easier to test when the creation part is already taken care of. Just don't overdo it! A couple of designs for each idea is plenty.
INFINITE CUSTOMIZATION IN NO TIME
Even if the tool already provides hundreds of variations and alternatives, you can still edit each pin as you want, making each pin really different and unique in terms of colors and text. There are no limits to what you can create.
Normally for a blog post, you may be ranking for more than one keyword or targeting more keywords or phrases. You can edit the title or subheading of a specific pin to include another keyword with such a fast creation tool in no time.
For example, if you are writing an article about "why cats get protective of their owner," you may have also written subheadings to the article like "Are cats protective of other animals?". You can add this text to some of your pins and see if the secondary keywords convert better or get more clicks.
Sometimes a blog post is optimized for Google keywords search but not for Pinterest. You may have to research on Pinterest what people are actually looking for and change the keywords. You can c change the text on Pins in Tailwind Create with a few clicks. It allows you to use different keywords for different pins.
We already went over the time-saving factor. It cannot be stressed enough. Time-saving in design and the possibility of using different graphic types can be a huge impact if a blogger monthly production. I think about more articles that can get written with the time spent previously on Pinterest.
It was already fun to use the Tailwind scheduling tool; this is even more fun because it brings out all the creativity; it lets you be a designer for a while.
USE TAILWIND CREATE WHEN YOU WORK FOR CLIENTS
If you are a VA or assistant to someone else that hired you to create pins for them and work on their Pinterest account, now you have a tool that can make you look like a pro designer, you can charge more for your work or at least be faster and better and take on more clients.
If you haven't realized yet, you can import the photos to pin from your site simply using the URL and post to Pinterest directly after all your pins were created, of course, without uploading and downloading any file. No more space is occupied by files pictures.
HOW TO GET TAILWIND CREATE
To get Tailwind Create, you have to have a Tailwind account. Once you started to use Tailwind, you can get early access to Tailwind Create with a special link I am about to share.
1.If you are not a Tailwind user, start for free, you can schedule up to 100 pins at no charge with the free plan.
2.Once you have started the free trial, you will find Tailwind Create right into your account. It is also free to start with. You can create up to 15 designs with the free plan. Here is where you are going to find this new feature: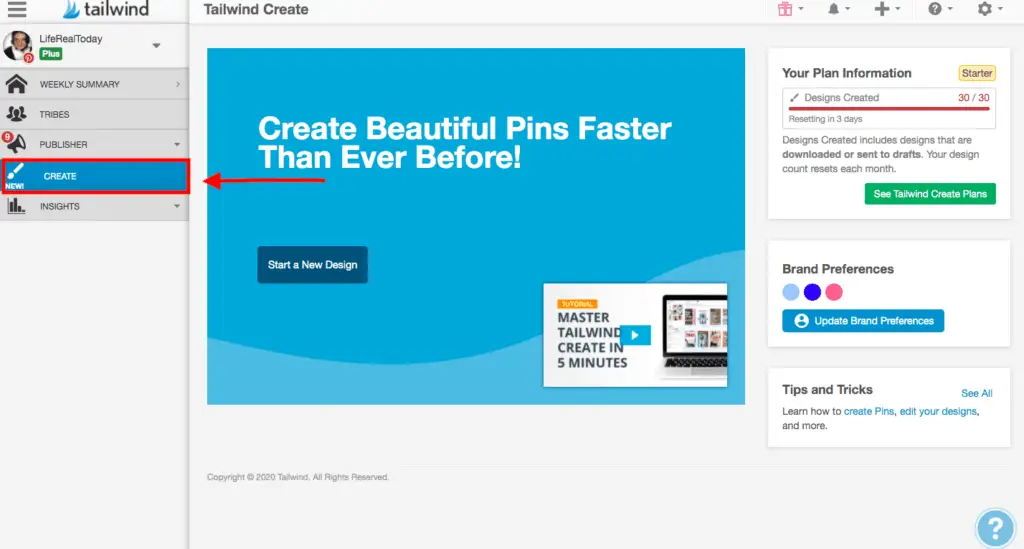 TESTING THE USE OF TAILWIND CREATE – HOW THE PINS PERFORMED?
I have decided to test this new tool to see if it is worth using it at all. I am still into testing different designs and testing different things. But I wanted to get out the immediate results to let you see what has happened with some of the pins created by Tailwind Create.
First of all, I have made a video where I showed how to use this new tool, and in that video, I have created in a few minutes, while I was talking, 3 pins. I did not give too much importance and thought to those pins; I just picked them because I liked it and to show the viewer the use of the tool.
Here is the video:
After the video, I had those pins, and I decided to schedule them anyway. How did they do? Incredibly one of those pins created around 60 clicks with less than 1.8k views. It is an incredible click-through rate.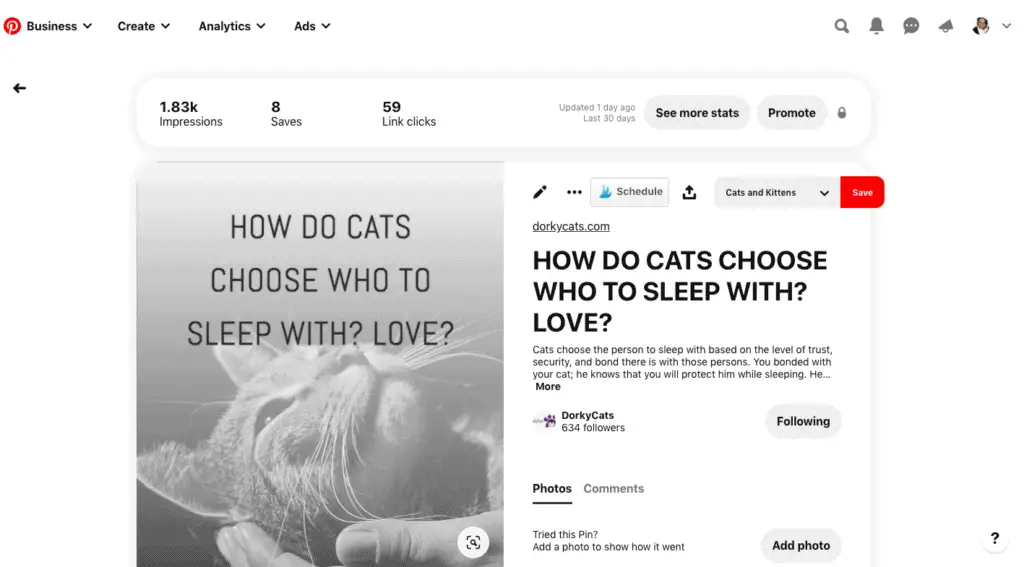 This is the latest screenshot, a week ago it looked this way: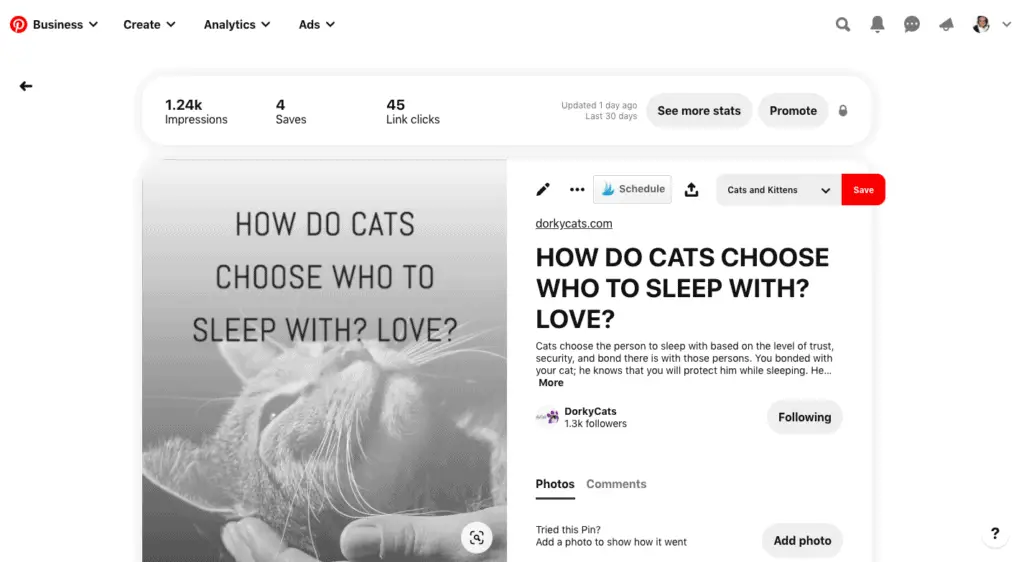 It means that this pin keeps generating traffic every week. I am curious to see where it is going to go. I have seen a spike in analytics around a week after the pin was posted.
The other pins posted where the following:
One of the pins generated 234 impressions with 5 clicks, the other 235 impressions with 1 click. The first thing that comes to my mind is that the click-through rate goes out of the roof. My accounts are rather new; despite it, there has been traffic generation from less than 2500 people viewing those pins in their feed.
If you think about it, getting around 2500 impressions and 70 clicks is not bad. I will tell you my conclusions in a bit. I want to show you other pins I have created using Tailwind Create and how they did.
Those pins have one week's life-span. I expect them to grow in numbers in a few weeks. If something major happens, I will post an update below. Besides, one that got 16k impressions, they all got few clicks. But, I have to say that some of those pins, even they have a shorter format, perform better than the one I have created myself with a longer format.
I am a bit annoyed that so far, with Tailwind Create, I can create only shorter pins, however, I wrote to them, and since it is still Beta, I believe they will resolve this issue.
What I am getting so far with this little experiment?
I figured that that particular pin that got so many clicks with 1.8k impressions comes about with the particular image type. If you look at the photo, there is a fading effect and a particular game of lights. It is not a usual design you see around Pinterest. It is catchy and ignites curiosity.
The other pins that get clicks with a few hundred impressions are due to the same reasons. The designs are not commonly used and are attractive. I thought about it, Tailwind Create is a software, and by the way it is working, images are gotten together randomly, out of so many combinations some pins sticks out.
Therefore the best way to use this tool is to insert 3 or 4 images at the beginning to give the software more possibilities to combine them. If you have only one photo, there will be fewer combinations. If you use only one, as I did in the first example, choose the pins created that are uncommon and catchy.
When you get them, pick the more bold, uncommon, or that you do not often see on Pinterest. Test them and see what happens.
If you want to get more ideas and a precise roadmap on how to get Pinterest traffic to your blog, you can read this: HOW TO USE PINTEREST TO DRIVE BLOG TRAFFIC (REALLY).
Here some related questions about Tailwind, Pinterest and Tailwind Create, and related answers:
Tailwind is a Pinterest scheduling tool that allows you to share content on Pinterest in advance. You can schedule your work and let Tailwind do the rest. Tailwind lets you share your pins with other users, tremendously increasing your exposure. Lately, Tailwind added an Instagram scheduler that works like magic.
Tailwind is constantly growing and creating solutions to bloggers and publishers when using Pinterest and Instagram.
Is there a free version of tailwind?
You can start for free. You can use the Pinterest scheduler until you have scheduled 100 pins, then you can get into a paid plan. Plans are relatively cheap.
Is Tailwind worth the money?
If you are trading time for money, Tailwind is more than worth it. Besides, you can share your pins with other users and get your pins pinned in their accounts. I got thousands of views on my pins that otherwise weren't possible. If you are using Instagram, you can check their scheduler too. It is an innovative time saver.
How many pins should I pin per day?
It would help if you pinned anything from 5 to 24. One per hour is not too much; more, it would be spammy. The problem would be if you are pinning the same pins over and over again, Pinterest thinks it as spam and may suspend your account. Tailwind scheduler alerts you if you are pinning the same pins too much and can take action.
Is Tailwind approved by Instagram?
Tailwind is official partner with Instagram and Pinterest. It is a safe tool to use.
CONCLUSION
I hope you got the data you needed. If you want to add anything or have more questions, leave it in the comments below.
Tailwind Create can dramatically increase production and exposure. It is a tool I recommend for bloggers like me.