How to use Pinterest to drive blog traffic is a question that doesn't really find a complete answer. I am nearly 2 years into blogging. Still, I can't find anyone around who is really answering these questions in detail without writing the usual thing that everyone else is writing.
Yes, we have to create a business account and optimize the boards and pins with Pinterest keywords. Yes, join group boards, but what else? No one seems to give the idea of the amount of effort, boards, pins, a model that needs to be followed to get a certain amount of traffic within a certain period. I always feel that there are missing steps, and somehow I have to get the puzzle together.
Therefore, I decided to finally put the puzzle together make it available for everyone.
HOW TO USE PINTEREST TO DRIVE BLOG TRAFFIC BY CASE STUDIES
I want to take another approach to the situation. Let's review Pinterest accounts from some of the most successful bloggers and, by doing so, come up with a full guide to get Pinterest traffic to our blogs. Some bloggers claim to get over 100k monthly visitors to their sites from Pinterest.
The first time I run into such an article, I thought it was a scam; how is it possible? It is already quite something to get traffic from Google, and my experience with social media at that point wasn't hunky-dory.
I privately asked some other successful bloggers
Asking them if they knew people who got that kind of traffic from Pinterest for real, and they said YES! Here is one example:
OK, then we have a case. I have read 30 articles and watched even more videos about getting Pinterest traffic, to find information only about creating an account and boards with keywords. The rest of the information is not shared, you had to buy a course, and some of those courses were even $300.
We come back to courses later. At that point, I decided that I would investigate and find a complete answer to the question: How to use Pinterest to drive blog traffic? I want to make it available to others as well for free!
Let's start!
3 CASE STUDIES: 3 TRAFFIC DRIVING PINTEREST ACCOUNTS
Many bloggers drive traffic from Pinterest, some over 100k visitors a month. Let's see what they are doing and what we can take away. Beginners may not yet have the resources to buy courses.
Ultimately, I am sure that some of the bloggers' courses can really help since they have figured it out.
How to use Pinterest to drive blog traffic: review of three top accounts:
CASE STUDY #1 – CARLY
Yes! You saw it correctly. She has 5 million people viewing her pins monthly; she uses to get 200k monthly page views from Pinterest.
Quick review of her account:
BOARDS: currently, she has 55 boards on her account. She writes board descriptions for each board, and she pins third party pins on some of her boards, not all of them.
PINS: Most of her boards have over 200 pins, some between 200 and 1000 (not including group boards). All her pins have descriptions and are pinned to the relevant boards. Some of her pins have hashtags at the end, some do have keywords repeated after separation from each other, right after a short description.
GROUP BOARDS: she is part of 18 group boards—most of those really big with thousands of pins and followers.
DESIGN: pins are designed with big text, they look clean, nice looking, and most of them have a longer format.
NICHE: she sticks mainly to mommy related topics and blogging for the majority of her boards.
I want to show you how her pins look like so you can see what the ingredients of creating a great pin that generates traffic are: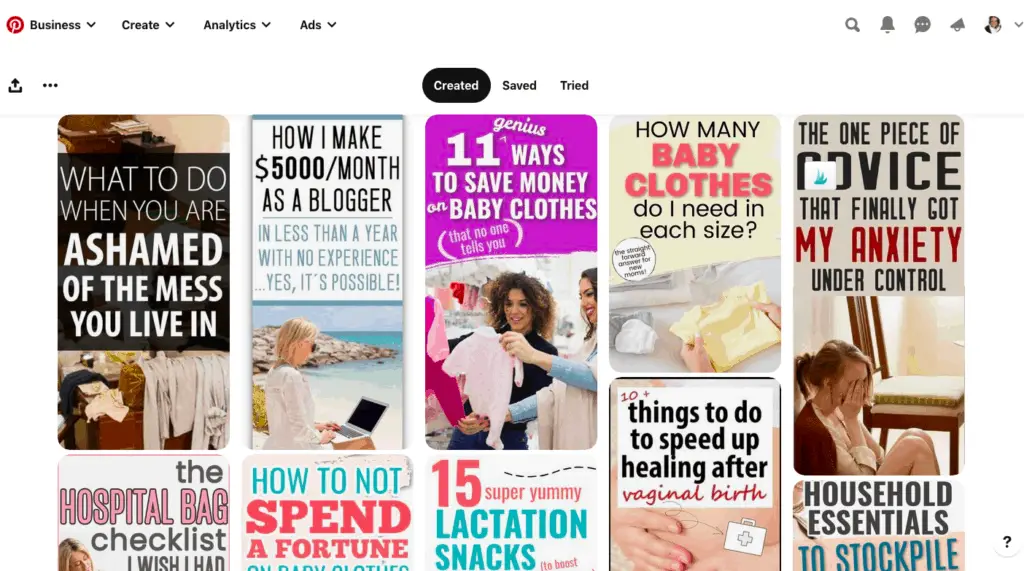 And here is her article stating how much traffic she gets from Pinterest:
And here is one of her posts, where you can see one of the highest numbers of shares rarely seen on a blog post. I honestly thought that I was misreading the numbers at first: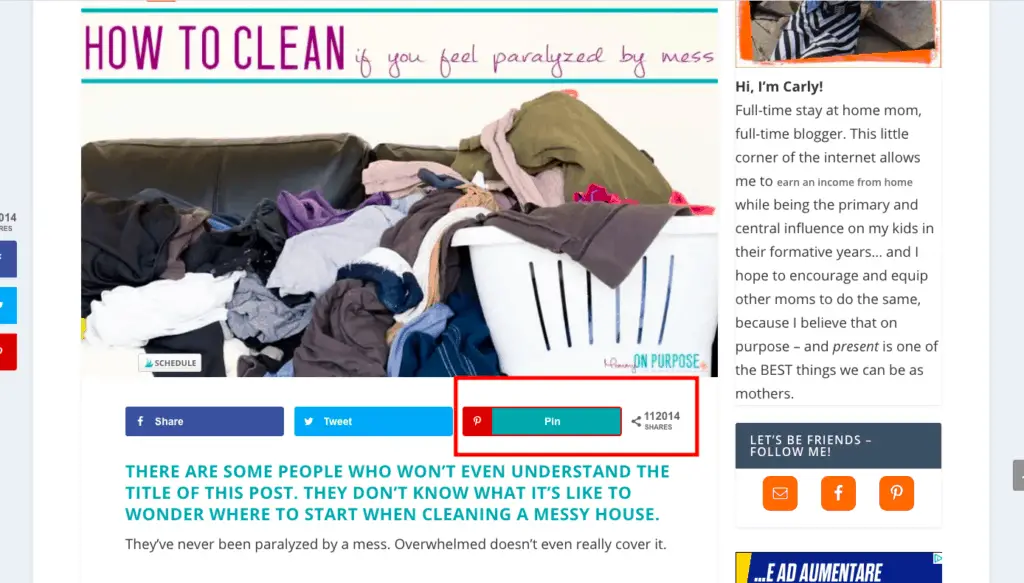 Yes, it is a 6 number figure. So she is walking the walk, and not talking the talk only!
CASE STUDY #2 – ANASTASIA BLOGGER
She comes strongly on Pinterest with 10 million monthly viewers. She doubled Carly's monthly viewers, and she is successfully driving people from Pinterest to her blog.
Quick review of her account:
BOARDS: currently, she has 175 boards on her account. Also, here she pins third party pins in some of her boards, and some boards have only her own pins. She also writes board descriptions.
PINS: Most of her boards have over 100 pins, some between 200 and 600 (not including group boards). She writes descriptions filled with keywords related to the boards the pin is going. She also uses hashtags.
GROUP BOARDS: she is part of 87 (holy smokes!) group boards—most of those really big with thousands of pins and followers.
DESIGN: pins are designed with big text, they look clean, nice looking, and most of them have a longer format. She has bold text on her pins, and the text is huge. The pictures are nice, and the colors are catchy. She mostly uses longer types of pins.
NICHE: she is into tons of topics, from food, blogging, making money, art, health, weight loss, online business, to cleaning tips. She is basically into everything that matters, and she has a blog that runs on all those topics.
Let's see how her pins look like:
So with this second case study, we start seeing some points in common between the 2 accounts and some points that differ, but it makes sense looking at the traffic difference. I will summarize it below, do not worry.
Here is her traffic proof from Pinterest: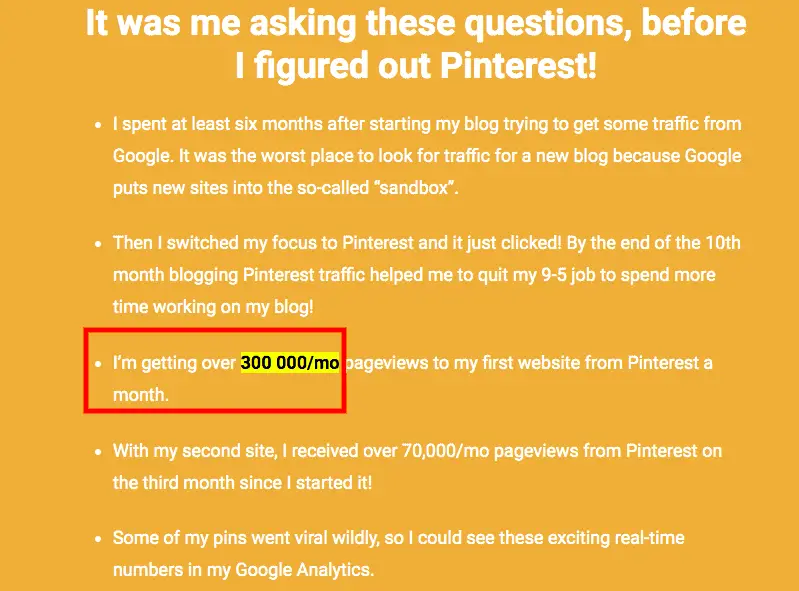 There we go.
CASE STUDY #3 – HAYLEY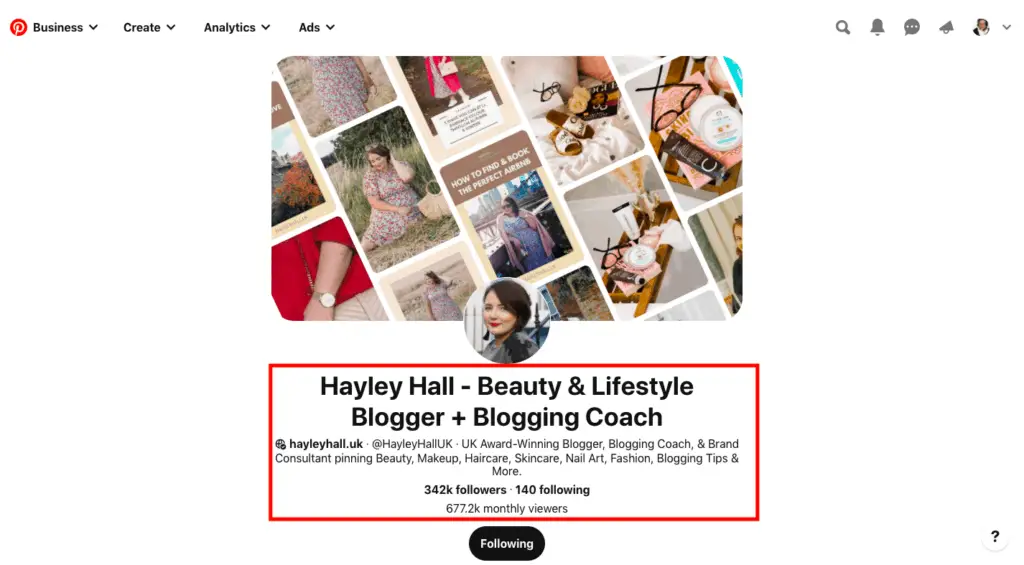 I wanted to include in our case study an account that is different from the other two. Instead of having tons of monthly views, she has tons of os followers, 342k! Even though we can say that 672k monthly viewers aren't anything!
In this way, we can have various variety and pick up different shades of successful traffic-driving Pinterest accounts.
Her pins are out of the box, she doesn't use text rarely, and she takes her own shots. At least for what I can see, she is on the photos that she is pinning.
BOARDS: currently, she has 60 boards on her account. Also, here she pins third party pins in some of her boards, and some boards have only her own pins. She writes board descriptions on each board.
PINS: Most of her boards have over 100 pins, some between 200 and 600 (not including group boards). She writes descriptions for her pins, which are keywords related to the pin; she uses hashtags.
GROUP BOARDS: she is part of 6 group boards
DESIGN: her pins have no text over the pictures in most cases; she still has a template she uses for some of her pins to brand the image; she is in her own pis, she takes the shots. Therefore the photos are original every time, are not taken from a stock photo site. Those photos are also very nitid and high resolution. It is clear she takes great care of every shot she uses and that she has good equipment. She uses a shorter pin format.
NICHE: she is into beauty; pretty much she is onto this topic.
Here how her pins look like: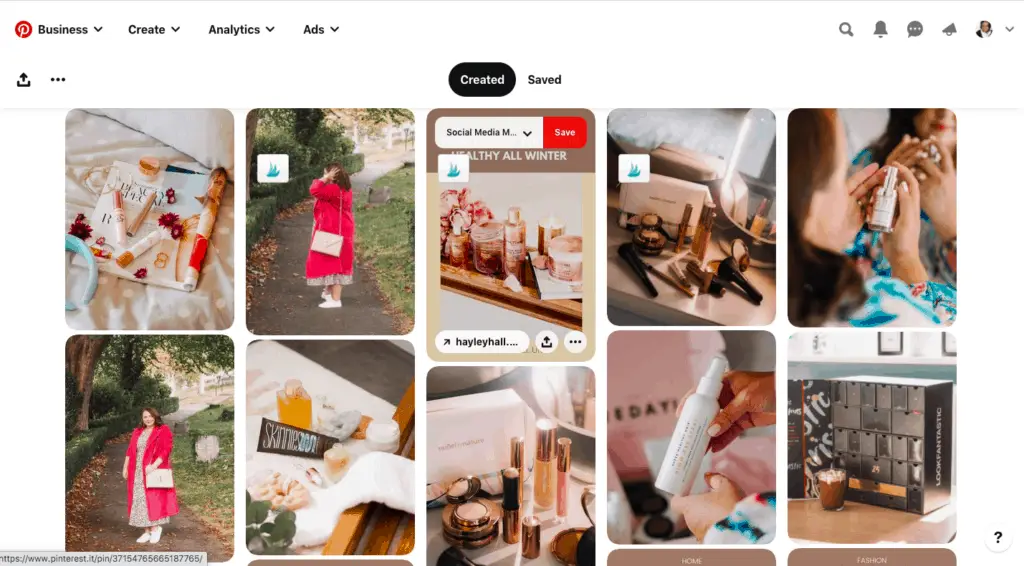 She wrote an article on her blog five years ago about using Pinterest to drive traffic; she does not release information about how much traffic, though. But she is concentrating on 1 or 2 social media platforms to drive traffic. One of these is Pinterest.
What we take away from those three successful case studies? How to use Pinterest to drive blog traffic "secret" roadmap.
HOW TO USE PINTEREST TO DRIVE BLOG TRAFFIC – CASE STUDIES RESULTS
So what we take away from those successful examples? Actually, we can take learn a lot; we could build up a model to follow.
The model would be: how successful Pinterest needs to be and what needs to have. We are talking about driving tons of traffic, not just a few thousands of people.
What model would I follow to build a blog driving traffic Pinterest account? Below is a list of major points coming out of the case studies.
PINTEREST TRAFFIC "SECRETS"
I WOULD NEED TO BUILD MY ACCOUNT WITH A MINIMUM OF 50 BOARDS
THE BOARDS HAVE TO BE NICHE RELATED IF I HAVE A MULTI NICHE BLOG, CREATE AN AVERAGE OF 50 BOARDS PER NICHE
TEXT ON PINS HAS TO BE BIG ENOUGH TO BE READ; BIG CLEAR TEXT IS SUCCESSFUL
DESIGNS HAVE TO BE CLEAR, HIGH RESOLUTION, ORIGINAL, THE MORE UNIQUE IMAGES, THE BETTER
I WOULD HAVE TO CREATE ENOUGH CONTENT TO BUILD MY BOARDS TO SEVERAL HUNDRED PINS
MY BOARDS HAVE TO HAVE A DESCRIPTION. THE DESCRIPTION IS TO BE RELATED TO THE PINS ON THE BOARDS
COLORS NEED TO BE CATCHY AND FLESHY SELF MADE PROFESSIONAL PHOTOS ARE EVEN BETTER
SOME THIRD-PARTY PINS ARE GOOD TO FILL SOME BOARDS. THEY NEED TO BE RELEVANT
SOME BOARDS ARE ONLY MADE OF MY DOMAIN PINS WITH NO THIRD PARTY PINS
GROUP BOARDS ARE IMPORTANT, GET INTO 18+ GROUPS BOARDS. JOIN A LOT OF THEM
HASHTAGS ARE USED IN PINTEREST TOO FROM SUCCESSFUL BLOGGERS
PINS DESCRIPTIONS HAVE TONS OF KEYWORDS RELATED AND HAVE HASHTAGS
PINS PERFORMS BETTER ON LONGER FORMAT
PINNING ACTIVITY MUST BE A LOT TO KEEP THOSE BOARDS BUILDING UP TO SEVERAL HUNDRED PINS
IT TAKES 6 MONTHS TO BUILD A BOARD WITH 200 PINS MINIMUM IF YOU PIN ONE PIN PER DAY
PINS DO NOT HAVE THE SAME IMAGE AND TEXT. THEY ARE ALWAYS DIFFERENT
ONE NICHE GETS YOU THERE FASTER AND WITH LESS EFFORT, YOU CAN NICHE UP LATER
HOW TO USE PINTEREST TO DRIVE BLOG TRAFFIC FULL GUIDE
OK, but this doesn't give a guide on what to do? Does it?
Yes, of course, it does! Now we can put together what to do from beginning to end to make the successful use of Pinterest to drive this crazy traffic those people are talking about. We are reverse engineering success models.
Here is how to use Pinterest to drive blog traffic, starting from scratch:
CREATE A PINTEREST BUSINESS ACCOUNT
Go to Pinterest.com and create a business account. You can follow the instructions. Once you log in for the first time, Pinterest asks what your interests are. Answer the questions. Confirm your e-mail. Now you can start to set up your account.
SET UP YOUR PROFILE
Click on the profile icon in the top right corner, then click on settings. There you go to edit your profile information. After that, you can click on "Claim my website" to connect your domain to Pinterest.
To claim the domain, follow the instruction given to you; it is simple. The profile information should be filled with keywords related to your niche. Search in Pinterest what are the keywords related to your niche that is being searched.
Open another window, and enter your Pinterest account, type into search one keyword related to your niche. For example, if we write blogging:
Use some of this in your profile description. If you look at the 3 case studies above, they have done the same. Their profile is using niche related keywords, and they have researched on Pinterest if users search them.
CREATE YOUR FIRST BOARDS
Here is the situation: you can't start with 60 boards from the beginning; you have to have enough content to fill them up. It also depends on how many articles you have on your site. If your site is new and you have a few posts, you have to start with a few boards and build up to the 50-60 and above.
Do you have enough content to start with 4 to 6 boards? You want to keep them active every day or every other day. So if we do a bit of math, assuming we want to have 200 pins in each board at some point, and you pin one pin a day, between your pins and third-party pins, it would take around 200 days (6 months).
It would take around 6 months to get to the level of content that generate huge traffic. It is a lot of work because you have to create original pins each time. Pinterest doesn't want you to pin the same pin in more than 10 relevant boards; additionally, always standing on Pinterest, it is always better to schedule identical pins 2 days apart.
However, as we have seen from the case studies, we need to have original content as much as possible. Therefore we write an article; we create 3 or 4 different pins for the same article or more in some cases; we pin it 2 days apart on different boards with related keywords or related topics.
Fortunately, some tools can assist us in making the work easier and faster. We will talk about it later.
The numbers are just an average and give an idea of the time frame and content amount. I believe results may vary depending on keywords, niche, and designs. However, the 3 case studies above give a pretty good idea of how much effort is needed to generate crazy traffic flog from Pinterest. Remember, you can get a decent amount of traffic somewhere in between already at month 2 or 3. It is possible to get more traffic from Pinterest than Google.
BOARD DESCRIPTION
Don't forget to add a board description filled with related keywords. Use the search bar, as shown above, for the profile set up.
As soon as you have more content, you may start creating more boards every month until you start to build your account and your content.
With the first boards you create, re-pin third party content right at the beginning, besides the boards where you decided to have only the pins related to your domain. If you remember from one of the case studies above, we found boards with pins created by the blogger only.
You can re-pin third-party content on the other boards every other day to drive some traffic and to help Pinterest understand what that board is about.
This is why it is important to pin only related or relevant pins to a board. If you have a board with pins about cooking, pets, and home decor, it isn't obvious to a computer what you want on those boards or what people should see.
START CREATING PINS
Now you can start to create your pins. If you have a new site, you may want to get some articles out, and maybe once you have enough to design plenty of pins, you can start scheduling them to the various board.
It is quite some work because you have to fill many boards, you have to create original designs, and you have to keep creating content.
How many pins per day should I Pin (with original content and designs) to get great results as fast as possible?
You have to build up your schedule with pins based on your content and your boards. If you have 10 boards, you can try to schedule 8 to 10 pins a day, considering that some would be third-party pins.
The good news is that the same article can generate many pins with different designs; do not post them all at once.
If you use Canva to create your pins, you can duplicate the pin you create and change image, color, text, and create a new pin in seconds. Now it will create a duplicate ready to be modified. You do not have to start from scratch.
Once you start creating volumes of pins, you can't post them all at once; you need to schedule them. You can use the Pinterest native scheduler. It is free, and you can use it to schedule pins for 2 weeks ahead.
If you need to schedule pins later than 2 weeks and want assistance to make the process faster, you can get into Tailwind.
It one of the most used tools to schedule pins, it can automate many functions, and now they also came up with a tool that can help you create different designs in a few seconds. It may be worth the price since let you do a lot of work in little time. All the time, economized can then be placed into more content creation.
Don't forget to write a pin description; researching keywords like it is shown above.
HASHTAGS INTO PINS DESCRIPTIONS
Place hashtags into pins description. You can try experiment placing them in some pins and not all; see how it goes. Hashtags using keywords, of course.
PINS DESIGNS AND FORMAT
It seems that longer pins work better; long pins were used a lot from the above case studies. Sizes can be 700×1500 or 700×1400 or 700×1550. The best is always to experiment, but know that longer pins have more chances. You can resize the pins with Canva Pro; you have a smaller pin template with the free version.
Text is big and very clear; colors need to be catchy and flashy. Texts need to be easy to read, so pay attention to weird fonts. If you look at the pins above, they are all effortless to duplicate from a reader viewpoint.
It is clear that the more stunning your photos and designs are, the more successful you can be—quality over the rest.
GROUP BOARDS
There are different opinions about group boards if they are still working or not. I would say that successful Pinterest accounts have plenty of group boards in them. Therefore it is an element to take into consideration. It would help if you tried to join many group boards and collaborate.
Joining group boards can be painful because sometimes you have to write e-mails to the administrators with no answer-back. So you may end up spending a lot of time outreaching with no results.
I have a trick you can use to get into some group boards right away, with a few minutes of outreach. Once you get going with this, you can go after more group boards with outreach.
Here is the trick: sometimes, you see a group board where you can click "Join" at the top to send a request. Not all group boards are set up like this. If you find those first, you can send several requests with few clicks instead of writing individual e-mails. In the end, you may want to contact the other group boards, but you can speed up in this way for a start.
Here is how you do:
Once there, you can search for Pinterest groups by filtering the search and selecting boards with a "Join Now Button." Insert the keyword related to your niche and search. You can also sort the list by various parameters like number of followers, number of pins, number of collaborators, and more.
FIND GROUP BOARDS THAT YOU CAN JOIN WITH THE BUTTON
Click on the board you want and you are directed to the Pinterest Page, once there, click on "Join":
Close the window, go back to Pingroupie and go to the next. In this way you can jump start. Then you can also find other boards where you have to apply via e-mail and work on that too.
Go for 10-15 boards; not all are going to approve you.
Now we have all the ingredients and a road map to follow with numbers and time frames!
TOOLS TO USE IN GROWING PINTEREST TRAFFIC
You could go a long way using free tools. The only difficult part would be creating great long pins with free tools versions. Most successful people use tools like Canva and Tailwind. Tailwind is a scheduler, and Canva lets you create tons of designs.
From the first case study above, Carly does all her pinning manually, and sometimes she uses Tailwind. Therefore it is not necessary to spend anything in a scheduler. But if you have tons of work, a scheduler may assist you in do more work.
Here is an overview of the 2 tools:
Canva can be used for free, so you do not have to invest money at first. With the free version, you can create pins with a smaller template, you can use plenty of designs and stock photos for free.
If you want to resize your Pins, you have to go PRO. The pro version has way more photos available for use and many more functions to create better designs. If you really want to get tons of traffic from Pinterest, it may be worth investing in. PRO version is only $11,99 per month.
Tailwind is an awesome tool. You can schedule a pin in advance for months. You can see your schedule at a glance. You have analytics, automated tools like best time scheduling, and way more. You can read my full article on Tailwind to get to know the tool.
You can start for free; they allow you to schedule the first 100 pins for free. The best part of this is that they have bloggers, called Tribes, which are re-sharing each other pins. It is a great replacement or addition to group boards. Exposure can increase exponentially using Tribes. When you start for free, you can join 5 Tribes and submit them up to 30 pins.
Recently they came up with Tailwind Create, a tool that lets you create different designs with a few clicks; it is a time-saver; the designs are awesome and standing out. I recently made a video demonstrating how to use it, and I wrote an article as well. I created a couple of pins within the video in a few minutes. One pin got over 50 clicks to my site, having just 1k views—an incredible click-through rate.
Of course, I have re-pinned it and got more clicks; I believe in total I may have reached 70 clicks (meaning 70 people) to one of my sites in a pin that I made just for fun to demonstrate how to use a tool.
It is an interesting case study.
This is to say that it can be a value in Tailwind Create if you use it to generate pins that others do not usually pin. It is also free into your Tailwind account. You can create 30 designs when you first come in. Then you have to upgrade. It saves time to use this tool, and some of the designs made by it, I would not be able to come up with.
Again, you do not have to use a schedule, but you will find out that you may need one for a practical, time-saving reason, amongst the other features like Tribes and Tailwind Create.
COURSES
If you want to invest in yourself to really learn it from the best, I found an affordable course. It is from Carly. The first case study. Surprisingly she doesn't change tons of money for this course. I have seen other courses costing up to $600!
You can have it for $57 only. She is genuine and simple. She makes her course affordable so everyone can have a chance to get in and learn the ropes.
Carly's course shows you all she is doing to get over 200k monthly visitors to her blog only from Pinterest. It is packed with videos showing how she is actually working with Pinterest and creating pins. She does manual pinning. It is a great example to follow.
When you get on her course, you also get a series of FREE PINTEREST TEMPLATES. If you look at her account, her pins are gorgeous.
Yes! I took her course, and I have implemented most of her strategies; now I get every day between 20-30K additional viewers on my Pinterest account, I get clicks to my pins. Not yet crazy click, I am working on getting pins out for higher search keywords and building the number of boards I need. Still, I am not into enough group boards. But every day since the course, I bit my own records.
With this rate, in 21 days, I should be able to hit 1 million monthly views. Yuppy!! While I am trying to get better at clicks.
This is happening on one of my accounts that is one year old. I have a newer account connected to another site, also very new. I am implementing the same strategies as well. The growth is slower, but the best part is that I get everyday traffic from Pinterest that bits Google.
So, I am monitoring closely and will publish my 2 Pinterest accounts soon as case studies for everyone benefit.
I basically changed my pins designs, followed her keywords research tips, and pinning manually as well. I still use Tailwind too. I have too much to do; I can't yet do it all manually.
So if you are up to it and want to become a pro in Pinterest marketing, go for this course; you are going to bit Google on all counts:
CONCLUSION
It was a lot, and I still think there is a lot to cover. But now we have reverse-engineered the creation of great traffic driving Pinterest accounts. It is pretty much how to use Pinterest to drive blog traffic.
I may update this post often. If you have questions or want to add anything, leave it in the comments below.