Tailwind SmartBio: Would you like to increase the traffic you are getting from Instagram? And would you like to have each Instagram post linkable?
Now it is possible to do this in a few simple steps with Tailwind SmartBio.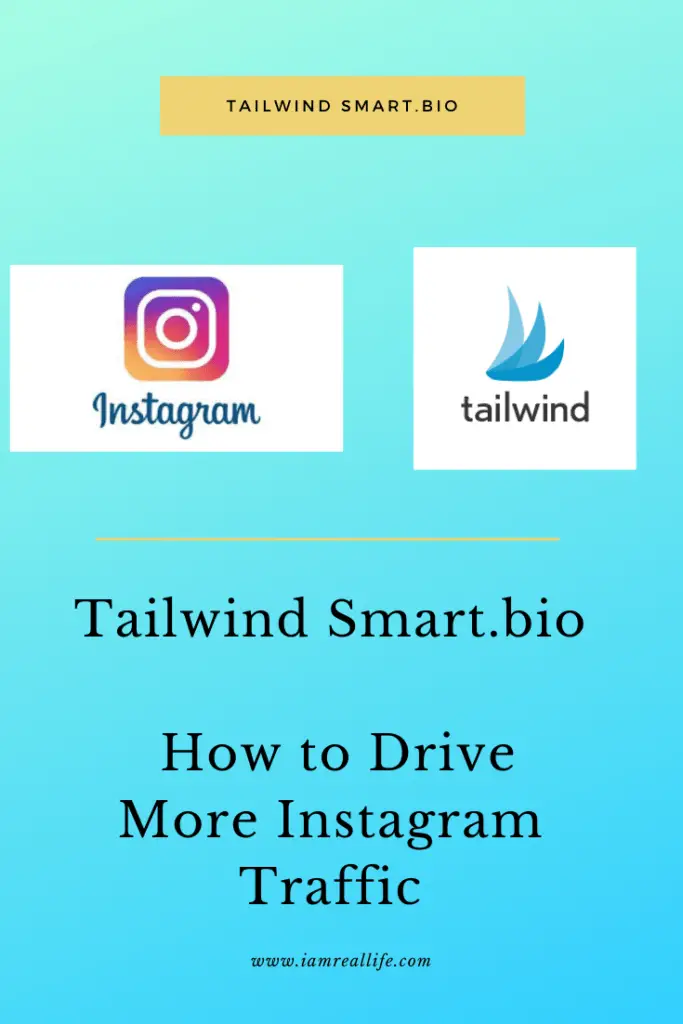 Read Also: HOW TAILWIND WORKS | BEST ILLUSTRATED GUIDE
This post contains affiliate links, which means I will make a commission at no extra cost to you should you click through and make a purchase. I was also compensated to create this post, though all opinions are my own.
What is Tailwind SmartBio?
Tailwind SmartBio is a linking tool designed to make it easy to schedule Instagram posts with the dedicated link for that post.
As you know in Instagram it is possible to place a link only in the profile section. ( I have already the Tailwind Smart.bio link on my profile page, pretend this is the previous link, which was the website homepage}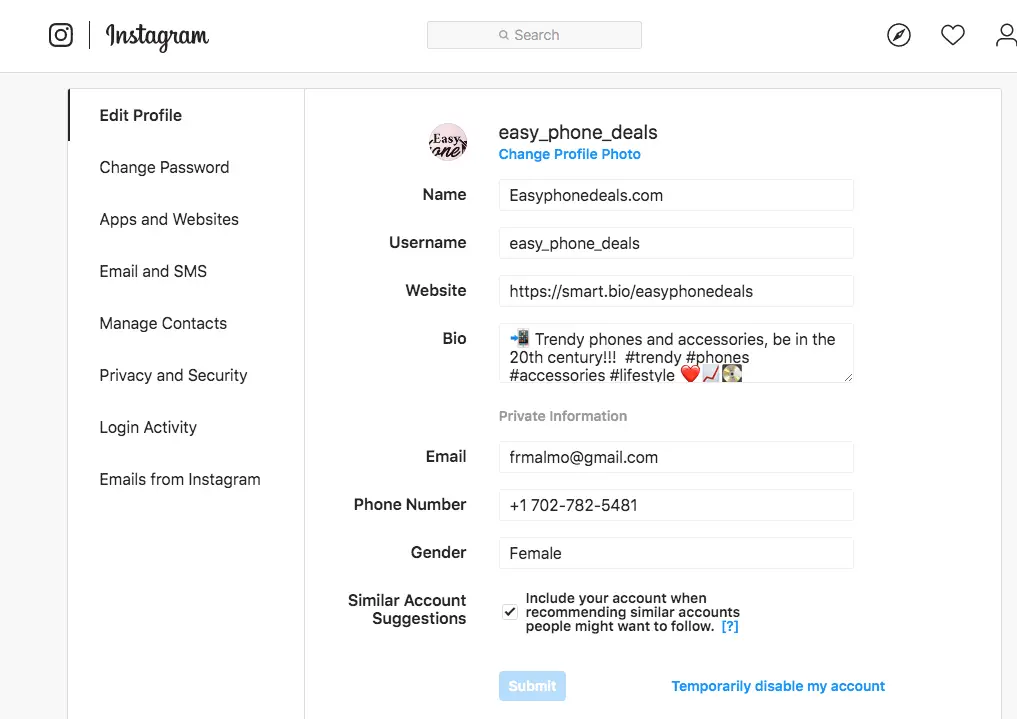 This is my Instagram account linked to a Shopify store ( Shopify let you sell products as drop shipping rather than a traditional website ). Once I place the link to the website I am done, any link placed in the post captions is not clickable.
This means that each visitor interested in the post has to navigate to the profile, click the link to the website homepage and then search for the product they were looking for.
This is how the profile page looks like: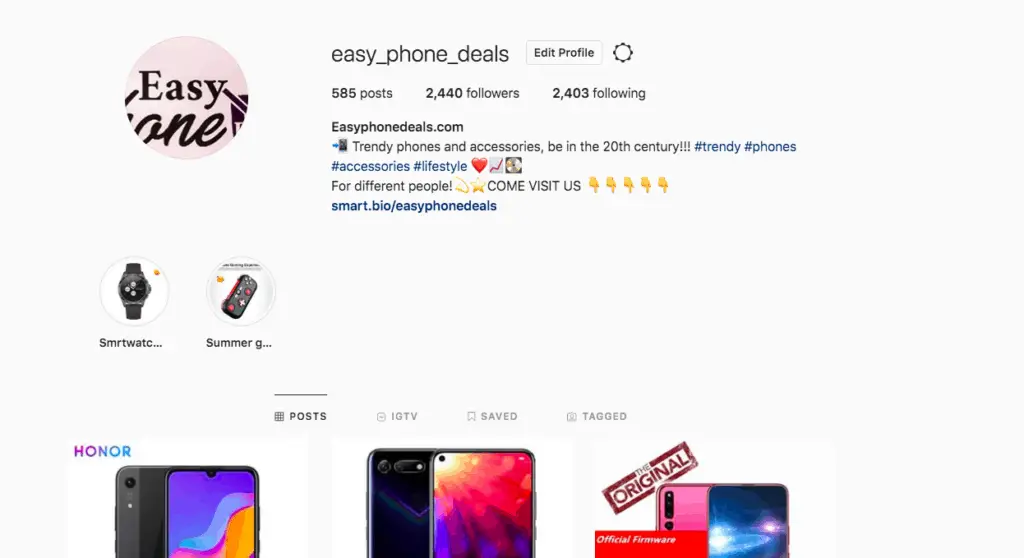 You can see the link allowed is shown at the end.
In my case, the visitor has to find the item amongst hundreds of similar products once arrived to the website.
You can for sure see how it is very likely to lose visitors on the way.
With the Tailwind SmartBio, I can link each post to a page, and I can set up which post to display once the visitor clicks on the Tailwind Smart.bio in the Instagram profile.
The visitor can easily find the latest posts and go to the dedicated webpage for that post with one click.
Tailwind SmartBio is a way to easily put links to your blog posts and showcase your favorite Instagram content all in one place.
Here is how mine currently looks: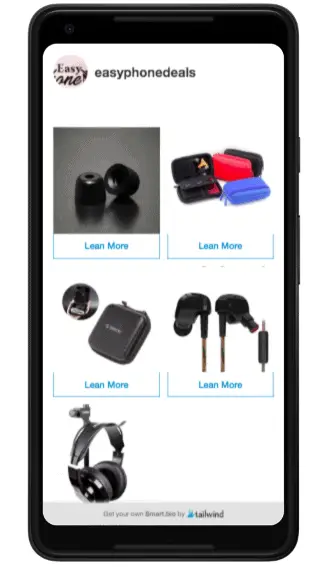 Those are the latest post, which means each visitor can click on the "Learn More" button and be directed to the webpage for that post. For this example let's click on the first post: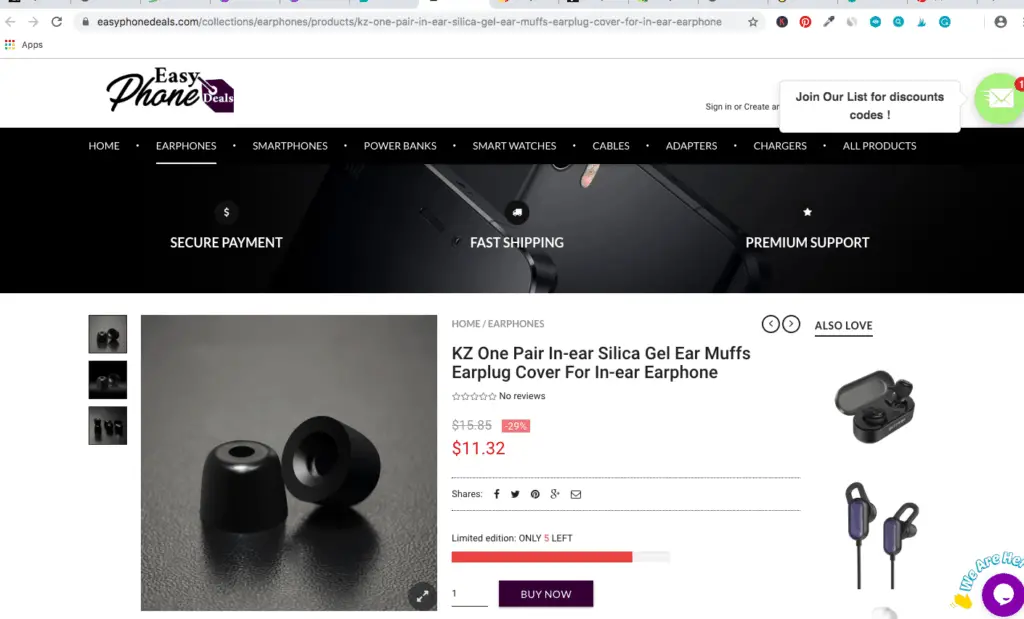 There we go! The visitor can go to the webpage and decide to make a purchase or not. No click and browsing and searching.
Read Also: HOW TAILWIND WORKS | BEST ILLUSTRATED GUIDE
What is Tailwind and How It Started?
A tailwind is a scheduling tool for Pinterest and Instagram. It allows scheduling and analytics on those two social media with great ease, incredible user experience, and saving a lot of time.
Tailwind is an official Pinterest Partner specializing in Content Marketing, and an official Instagram Partner badged for Community Management. It means that it is safe to use; your accounts are not getting banned or blocked for using Tailwind.
The company is around for quite some years, it all started in 2011, at the time when Tailwind was PinLeague. The creator of Tailwind was solving a marketing problem for a website using Tailwind. Being successful for her and others decided to start a marketing platform.
It has been around since that time. Tailwind is one my resources since long time.
How Tailwind SmartBio works?
Tailwind SmartBio is very easy to use.
When you are scheduling the post you can simply add the SmartBio link: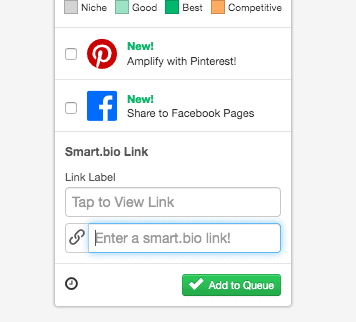 When Tailwind publishes your post, the link is going live.
If you have already posted into your Instagram account and want to add Tailwind SmartBio, go to your Tailwind account: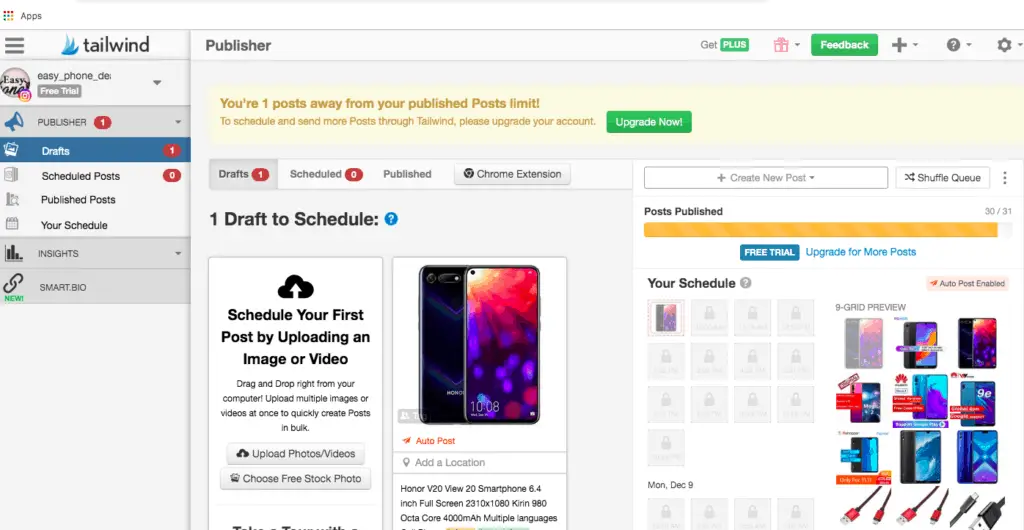 Click on SmartBio: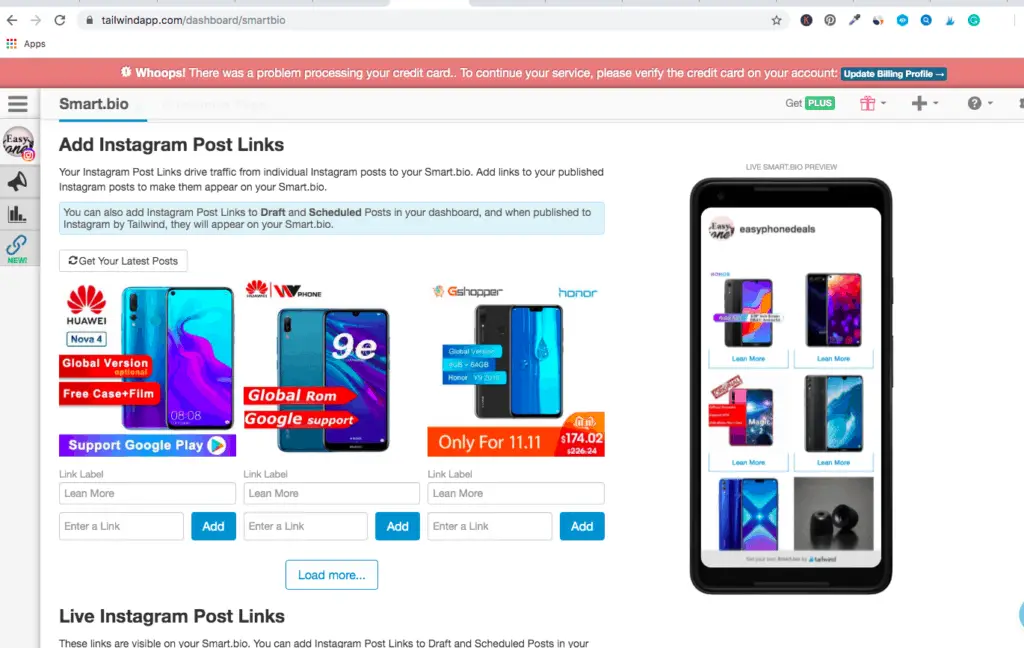 Here you can load the past posts and add SmartBio to each post.
The greatest thing is that you can also customize special button links at the top of the page each visitor is going to see once clicking on Smart.bio.
I give you an example. This is what each visitor sees now: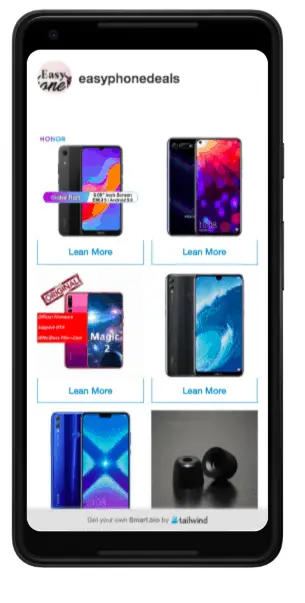 I am going to add a new Button Link at the top of this page.
Always in the Tailwind dashboard, I click on the SmartBio menu: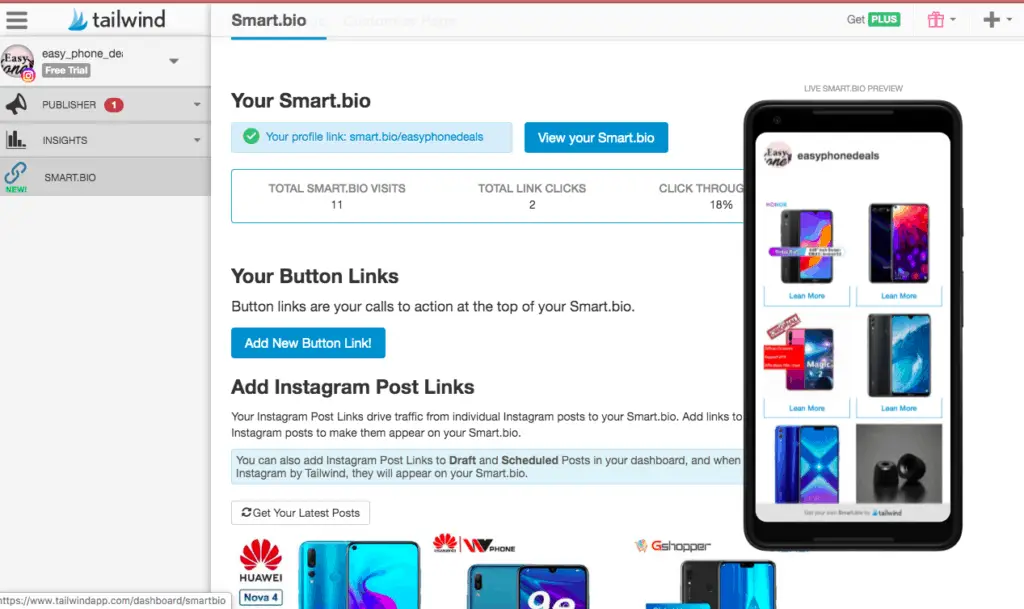 Once there I click on " Add New Button Links ":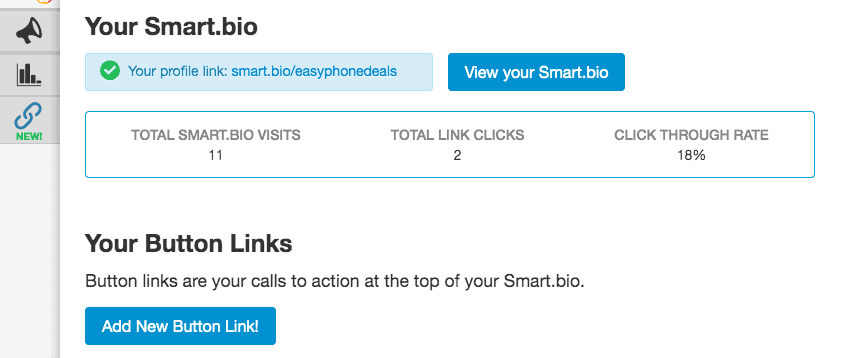 Once this is done I can add the Button I need by deciding on a label and placing the link.
Let's add a discount code button: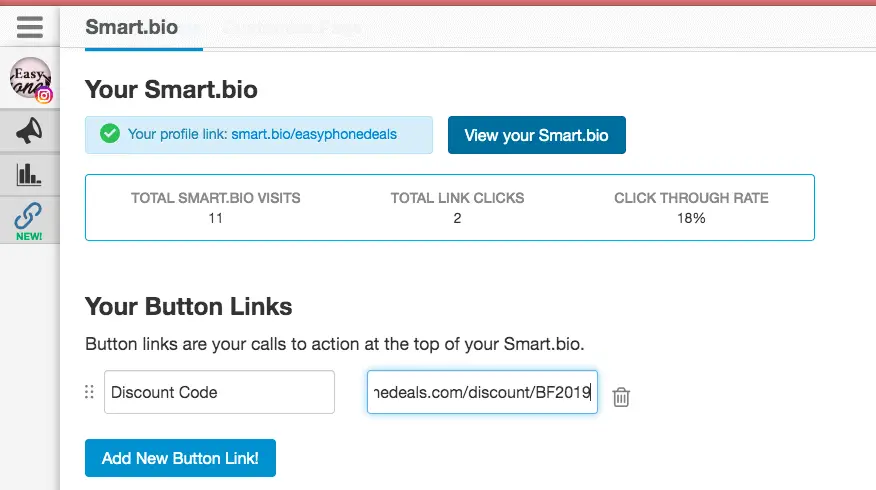 Then save and there it is: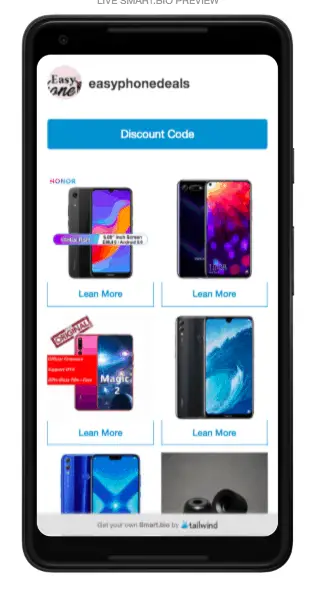 Now, every person who is clicking on the SmartBio, in the Instagram profile, will see the above page, with so much discount code button and the latest posts with their links!!!!
Beautiful!
Not only it is a free tool, coming with your Tailwind for Instagram ( which also comes with a free Trial) but there is also analytics connected to this tool showing you the results:

How Tailwind SmartBio is Changing my Presence on Instagram
I was looking for a long time for a way to link a post with a specific page on Instagram. Let's face it; people will not click and browse to look at a product unless it is made easy for them to find what they want.
For a long time, I did not use Instagram because of the time needed to post, and because I thought it was too much effort to post an image that I knew could not be related to the dedicated website page.
INSTAGRAM IS NOW OPEN FOR BLOGGERS WITH THIS TOOL
Until now I have not created an Instagram account for my blog because of this.
First, with the Tailwind scheduling for Instagram ( and Facebook at the same time), and then with Tailwind SmartBio, I started again to use Instagram as it is straightforward and fast to post.
The result has been to start getting traffic from Instagram to my site: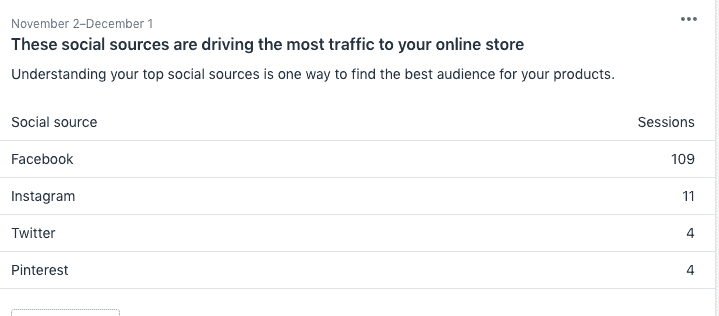 Read Also: HOW TAILWIND WORKS | BEST ILLUSTRATED GUIDE
These are my personal results, but Tailwind also publishes the Typical Results of Tailwind Members every year, so you can see exactly what the average growth rate looks like for their members.
Is Instagram Marketing Still Working?
Instagram has become a crowded place. More and more people are on Instagram for marketing purposes.
Is it still worth to invest in this type of marketing or rather find another platform or simply do e-mail marketing? Or just work on the blog?
Let's see:
INSTAGRAM COMPETITION
Instagram started mainly for personal use, then the business part of Instagram began to grow more.
The competition is, for sure, a lot. However, if you know what you are doing and how to do it, you can still get great results. There are millions of people using Instagram; with proper work and marketing, anyone can get a piece of the market.
It is definitively a platform to use and capitalize from. One should not be intimidated by others; each one has a different field and niche and diverse marketing strategy.
The fact that there so many people using the platform can be used at one's advantage. Remember to get a business account to start selling on Instagram.
INSTAGRAM MARKETING TIPS
Instagram is the social media with the most engagement from people than others. It is mainly a visual social media. You can't write a lot; therefore, you have to communicate principally with visuals.
This is why Tailwind SmartBio comes handy to increase the customization of your Instagram posts.
USE GREAT VISUALS
If you are running a business that sells a physical product, you do not need to post only images of your product.
Try to vary and use images that can relate to the product, which can engage. For example, if you sell a cream, posting only images of a cream can be annoying.
Maybe post pictures of people applying the cream, quotes, beautiful images of people with great skin, and so on.
BE CONSISTENT WITH YOUR BRAND COLOR AND LOGO
When posting make sure you use similar theme, meaning similar colors, logo to make your brand strong and recognizable from others. People will start identifying your posts from others.
ENGAGE WITH VISITORS
Reply to comments and messages, Instagram has even a poll feature to use, that allows people to answer the question and thus engage.
INSTAGRAM INFLUENCER
Try to find a micro-influencer with a good number of followers and engagement to give you a shot out. It is still a valid technique to increase your brand awareness and even sales.
USE THE ADVERTISEMENT CAMPAIGN FROM INSTAGRAM
If you have a business account, you also have to connect with Facebook. Instagram lets you run ads campaigns, even with a small budget, so that you can increase brand awareness and click-through rate.
It is fantastic if you are using Tailwind SmartBio because your profile is already optimized with many buttons. People will be prompted to engage, much more if you have a regular profile link only.
Expect highest ROI in money placed for ads campaign if your are using the SmartBio feature.
UTILIZE SHOPPABLE POSTS
I covered this before. Normally on Instagram, you have to navigate to the profile to find the only link you can click.
However, you can make each post shoppable, meaning visitors can click right on the post and buy.
EXAMPLE OF SHOPPABLE POST
It is one more reason to use the SmartBio feature. You can see the advantage of someone just seeing a post and go precisely to the page they want.
And you are doing it without having to go to your profile, then to the homepage of your site, and then still having to search for the product they want.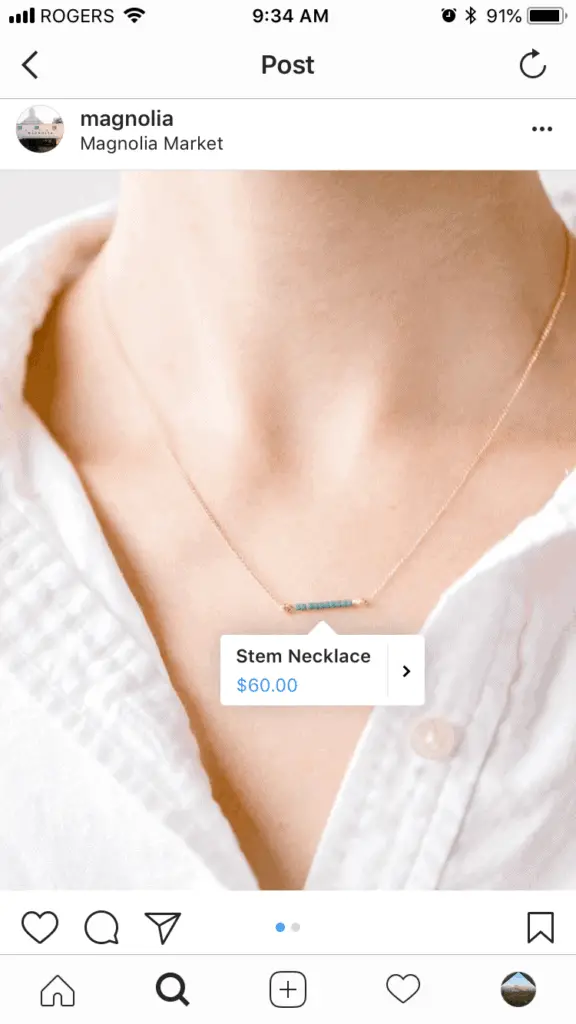 As you can see from this example you just have to click on the button appearing on the image. This is making a post shoppable.
INSTAGRAM BUSINESS PROFILE
With an Instagram business profile you can:
Access to metrics on how your posts and stories perform
Ability to track how your followers engage with your content
Access to features necessary to run ad campaigns
Gain feature for adding URLs to Stories so you can send warm traffic to your site
CONCLUSION
My take is that if you are a blogger, you can now use Instagram with the confidence that you can direct visitors to a page you want them to see.
My take is also that Instagram marketing is essential for lead generation and would not be wise to not get into it.
If you have any questions, leave a comment below or contact me via the Contact Us page.