Here is a Rocket.net review. Find the right web hosting for your site can be challenging. What should you go for? A cheap hosting to get started, a super expensive hosting, or any hosting provider could do? I want to show you good guidelines to follow, depending on where you are on your blogging adventure.
Rocket.net provides fast, secure, and reliable hosting for WordPress. It concentrates on hosting WordPress sites only and optimizes everything around it, from back-ups, security, and caching. All the rest of the technical aspects bloggers have to do to keep their site running perfectly. Rocket.net focuses on speed and making a WordPress site fast.
Let's see the specifics.
This post contains affiliate links, which means I will make a commission at no extra cost to you should you click on a link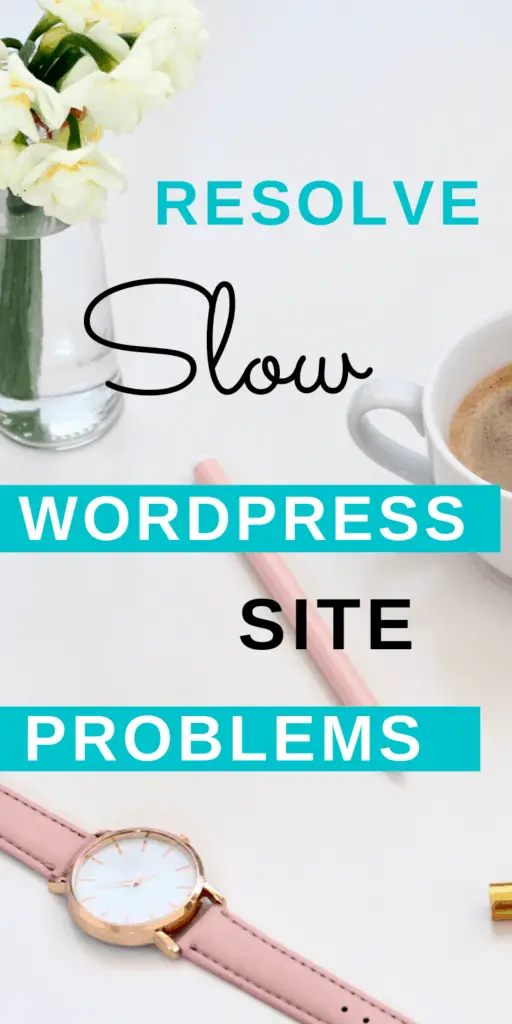 ROCKET.NET REVIEW
When you are starting a WordPress site, it is normal to wonder what hosting one should choose. Obviously, a more experienced blogger would have a better idea of what he needs. It is not that immediate for someone starting newly. In fact, terms like hosting and domain are not even understood.
Let's see what Rocket has to offer, and then let's see if a new blogger or a more seasoned one is the right fit for it.
Besides being new or experienced, everyone is looking for web hosting providers to give security, speed, good customer service if something happens, simple, and easy to use.
However, not all hosting comes with all those things together at the same time. A blogger should be concentrating on content creation and not so much on technicalities.
Here is what Rocket has to offer:
SPEED
Rocket is built specifically for WordPress, and it is taking pride in the speed offered to its customer. A slow site can hurt ranking in Google and can give a bad user experience to visitors.
I am sure you are familiar with web pages that take too long to load. I can't stand it and so your visitors. The chances are that if this is happening to your site, visitors are going to move on. This is very negative if you are trying to monetize your blog.
Rocket.net does provide top speed performance for a WordPress site, enabling you to get better ranking in Google due to this. Google has made known that speed is one of the ranking factors they look at, therefore you have to make sure you optimize your site for top speed.
What is the recommended best practice for site speed on mobile and desktop? In other words, what is the required speed you should have on your site? Google gives you the answer right into your Google Search Console.
You should connect your site to Google Search Console right away and check the speed score. Once you are logged into Google Search Console, go to Core Web Vitals and click to check your Desktop Page Speed and the Mobile Page Speed: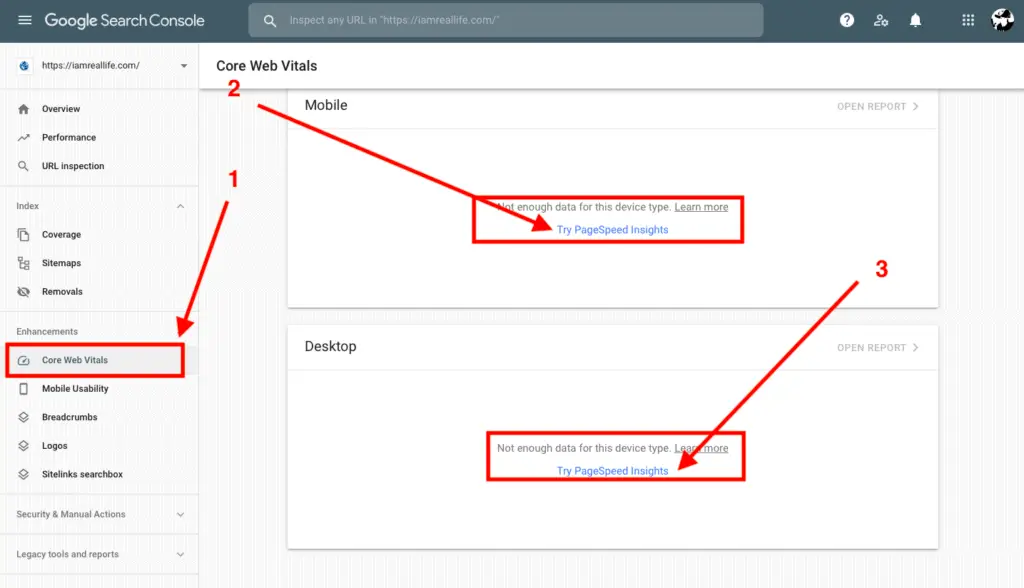 Google will tell you what your site speed is and will let you know if it is Good, Poor or if Needs Improvements"

The metrics scores and the perf score are colored according to these ranges:
0 to 49 (red): Poor
50 to 89 (orange): Needs Improvement
90 to 100 (green): Good
You want to be in the 90+ and general close to 100 or 100. If you are in the 90+, your site speed is pretty good. You want to be in this range for Mobile and Desktop.
The chances are that if you do not have a fast web host, you have to go through many plugins and trials to get to that speed. However, it is not said you can make it to 90+ on mobile.
Premium plugins that handle page speed with cashing and other actions are costly. Sometimes to handle some of the points that come up when checking site speed, you need to hire a developer. Plugins do not handle everything you need in some cases.
Rocket.net offers the following, included in the hosting plan, with no need for additional plugins and additional costs from your side:
Instant Image & File Optimizations
Priority CDN Network
Scalable DDOS Protection
100% Uptime
File Compression via Brotli
Tiered Caching
Mirage Image Optimization
Edge Micro-Caching (NGNIX with Reverse Caching, Built-in Asset Proxy, Static & Dynamic Content, Priority CDN Distribution, Origin Cache-Control, Reduced DNS Lookups)
Normally, if you are trying to handle site speed or page speed with a plugin, you will have to pay for image optimization, CDN, Cashing, minification, and other functions.
Rocket.net has all included. Practically, you can get the hosting and start creating your site with content with no worries about all of the above points. All will be taken care of for you.
As a note: a general hosting plan cost $5-10 monthly, premium cashing and speed plugin $49-99 yearly, images optimization plugin if not included: $4-10 monthly. Keep this in mind for the final cost calculations at the end of the article.
Plugins you may need otherwise:
Firewall/WAF Plugins
Image Optimization Plugins
JS Prioritization Plugins
Malware Protection Plugins
CDN Plugins
Caching Plugins
In other words, get the hosting plan, start producing, and that is it. Site speed is incorporated. No plugins, no developers to resolve it. All is already done.
AUTOMATIC UPDATES
You have to remember and set up a plugin (yes, another plugin on top of the one you would need to optimize your site for speed) to do backups. Normally you can do it manually with the plugin or make automatic scheduling for updates.
Rockets do it all for you. You do not need to do backups or update themes or plugins. Your site is always updated. It is important if you do not log into your site that often. Forgetting to update plugins and themes can create security issues.
Backups are done daily and kept for 14 days. Backups are necessary. I can tell you when I almost lost my site because of an error caused by one of the plugins (another reason to have fewer plugins installed than more). Fortunately, the web host I had did provide daily backups. I think I lost only a couple of articles.
SSL CERTIFICATE
I would not give this for granted. Not all hosting providers do give an SSL certificate included in the plan. Often you have to purchase it, and it cost anything from $40 to $120 per year, depending on the hosting provider.
Google checks if your site has an SSL certificate; it adds that extra layer of security. It is also another ranking factor for your website. It is better to have it from the beginning.
Rocket install automatically the SSL certificate and renew it automatically, there is nothing to think about.
SECURITY
It is a significant factor in running a WordPress site. There are so many spams and malicious programs trying to hack websites that one has to be protected. Rocket protects without you needing to add another plugin to your site to add extra security.
Yes, even here, if certain features are not included with your web hosting plan, you have to get another plugin. Security plugins cost anywhere from $199 to $499 per year.
Rocket.net provides the following:
Website Firewall (WAF): WAF or web application firewall, as you may be aware, is the first line of defense between the app and the internet traffic.
Malware Scanning
Malware Patching
Brute-force Protection
Weak Password Prevention
Automated Bot Protection
DDoS Protection (DDoS or Distributed Denial Of Service) A DDoS attack is when a criminal attempts to take a website offline by overwhelming the server with junk traffic.
Malware Protection. Rocket.net provides full malware protection on two levels. The Cloudflare WAF provides full-time protection while Imunify Security protects the origin servers.
Imagine those are already included with the hosting plans.
OPTIMIZED EDGE SERVERS
To explain it in simple terms, Rockets has the possibility to let you chose servers close to your location. This reduces latency and increases speed and performance. They have over 20+ server locations to choose from. And they have 200+ Edge locations.
What is Edge locations or Edge computing in a more complex explanation?
Edge Computing aims to move the computation away from data centers towards the edge of the network, exploiting smart objects, mobile phones, or network gateways to perform tasks and provide services on behalf of the cloud. By moving services to the edge, it is possible to provide content caching, service delivery, storage, and IoT management resulting in better response times and transfer rates. At the same time, distributing the logic in different network nodes introduces new issues and challenges. (Ref. Wikipedia)
So, what is edge?
The word edge in this context means literal geographic distribution. Edge computing is computing that's done at or near the source of the data. In other words, there are locations throughout the globe where Rocket performs operations; since they have over 200 locations, they would use the closest to you to make your site perform better.
So what they provide?
Faster TTFB
Lower Latency
Directly Peered
Full Page Caching
Less Complex Layers
200+ CDN PoP's
DASHBOARD
Many other features could be mentioned. I am trying to focus on the key one. However, amongst these, I can't forget to mention the dashboard. It is easy to figure, easy to use, and you can see all the important metrics when you first come in, including website visitors.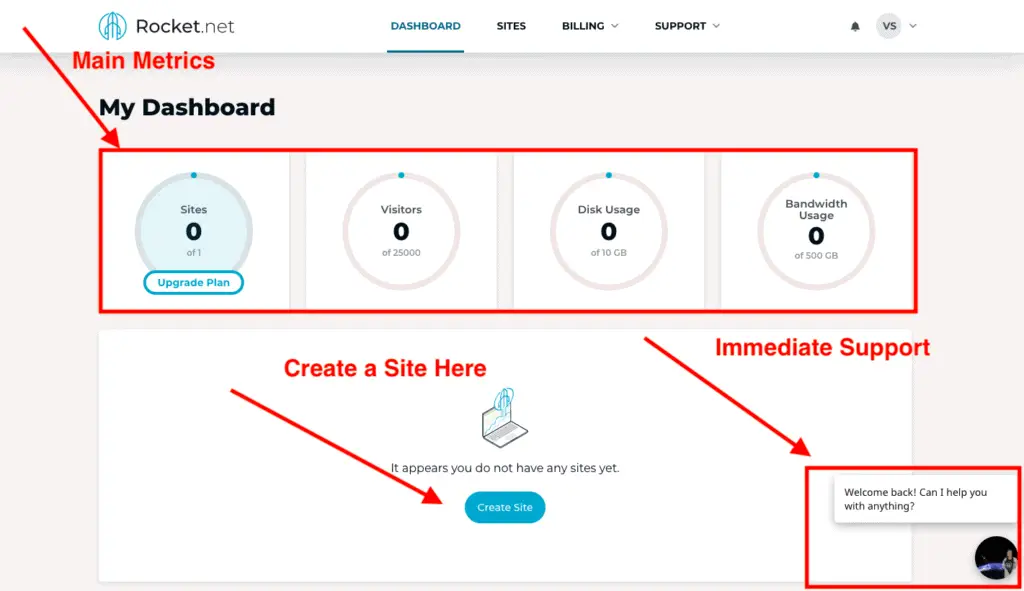 I am soon going to show you how to create a new site with Rocket. You can see the easy and clear dashboard. This is the front end dashboard. And here is the Dashboard inside a created WordPress site: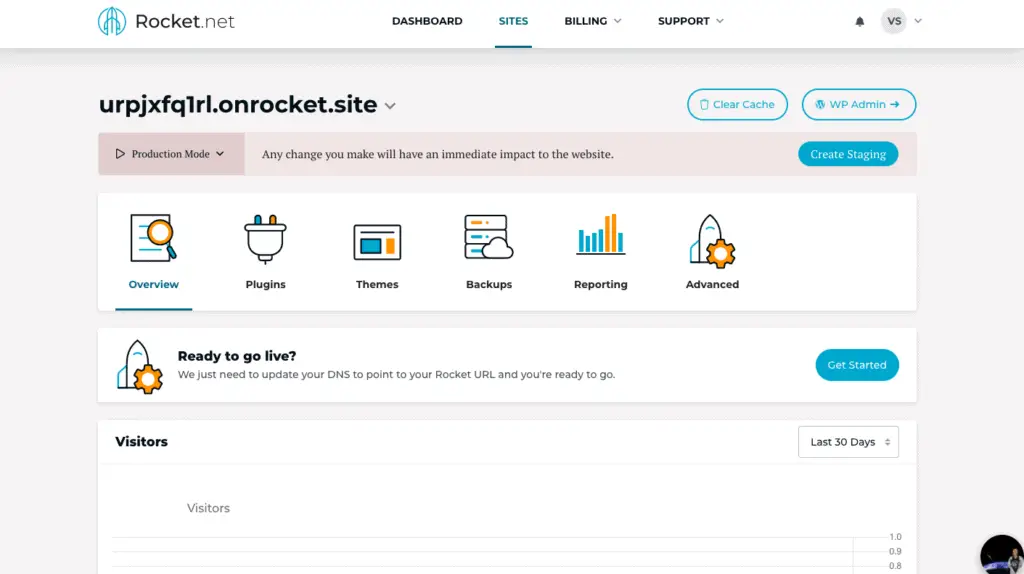 Similar layout, very clean and easy to figure out.
HOW TO CREATE A NEW SITE WITH ROCKET
Once you get started with Rocket and you are logged in to your account, you have to click on Create Site: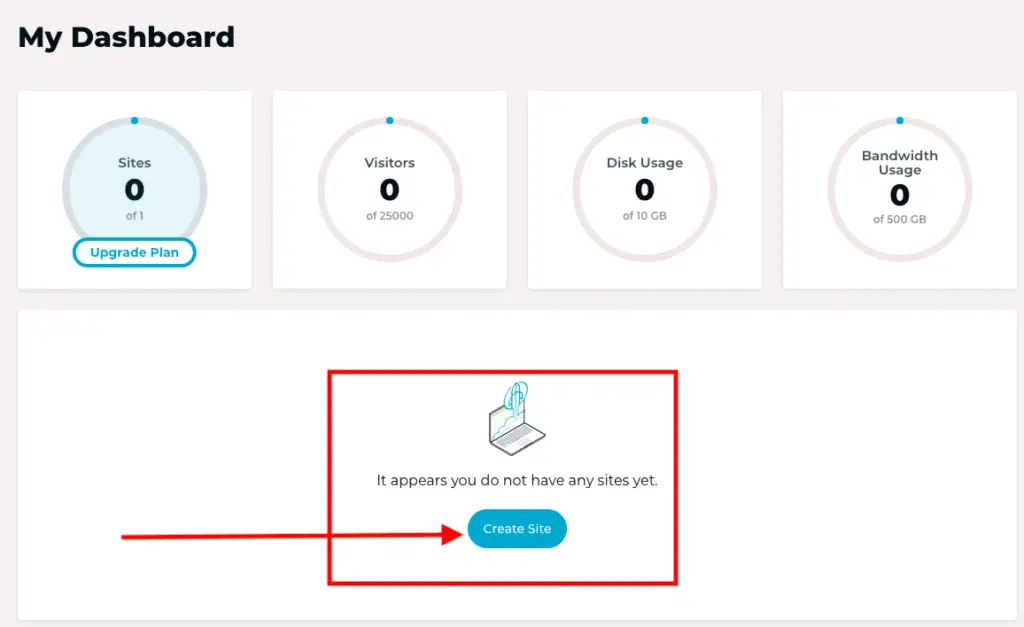 In the next page you have to select the site name and the server locations. You should choose the nearest:
In the next page you have to fill up the WordPress informations: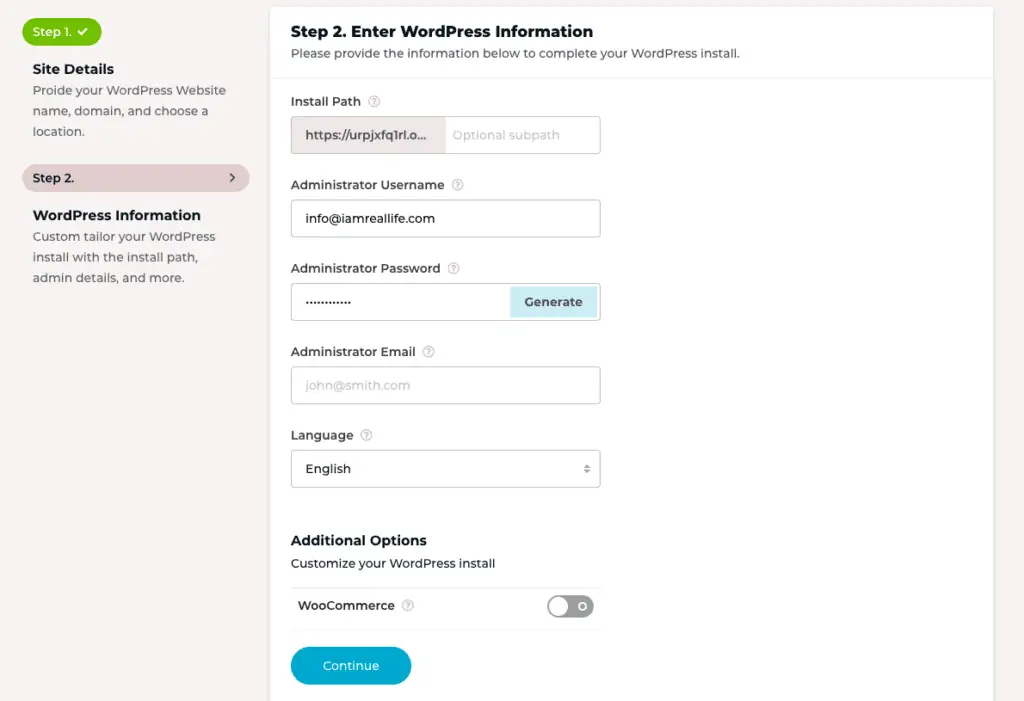 For each field to fill up, there are explanations that you can see by clicking on the question mark. Once all is done, click on continue: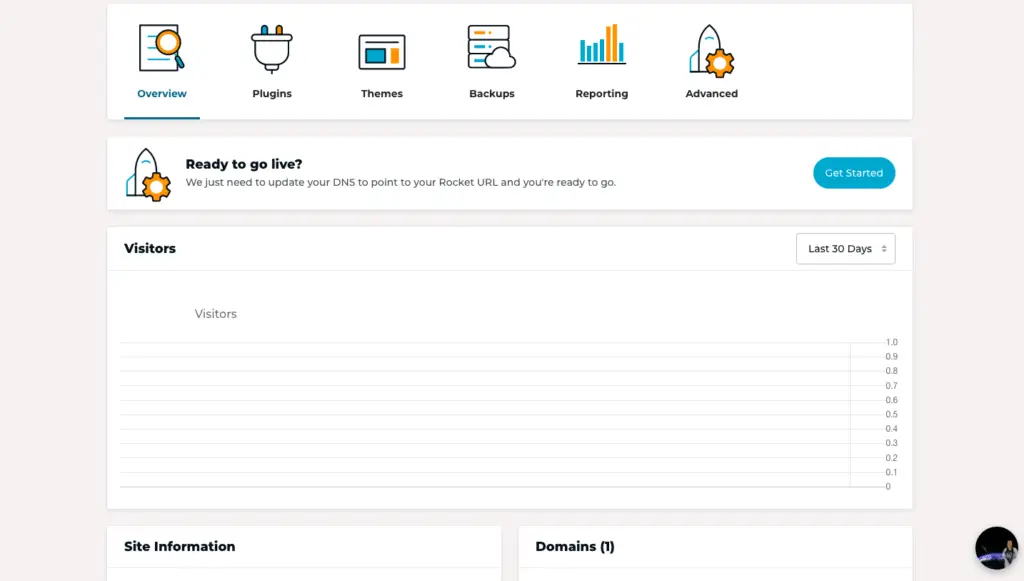 From this dashboard, you can see the visitors, site information, and the domain you have down below. You can add FTP account information if you want, so you have it connected.
Yo can see the top main Menus:
PLUGINS
THEMES
BACKUPS
REPORTING
ADVANCED
Here is what you can do in each menu right from the dashboard:
PLUGINS
If you go into the Plugin Menu you can see all the plugins that are installed, from here you can deactivate them, remove them and update them. When you first start, there are already some pre-installed plugins ready to use: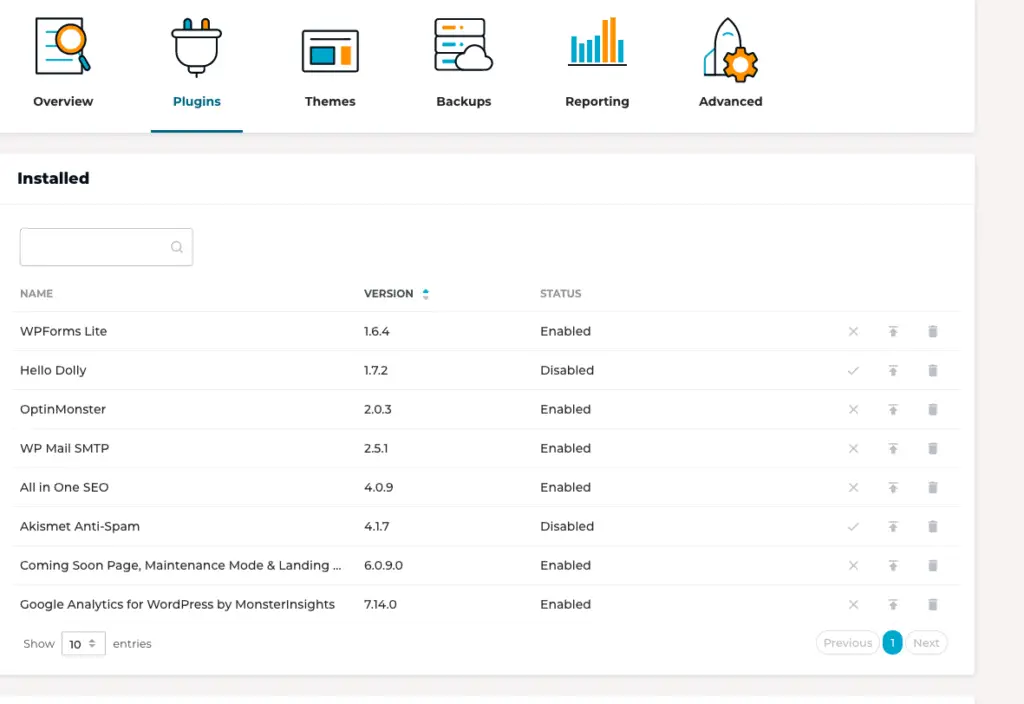 As you can see they have pre-installed a few plugins, some of those are: OptinMonster (Analytics plugin), All In One SEO (SEO plugin), Coming Soon Plugin (it show a coming soon page if you are not ready to show your site) and WPForms (forms plugin).
It is nice as those can easily be the plugins that you are going to install anyway. If you do not want them you can remove them.
THEMES
They have pre-installed few themes, you can choose one of them for your site, or you can remove them and install the one you want.
Form here you can enable and disable themes and remove them.
BACKUPS
In this menu you can create your back ups and managed them.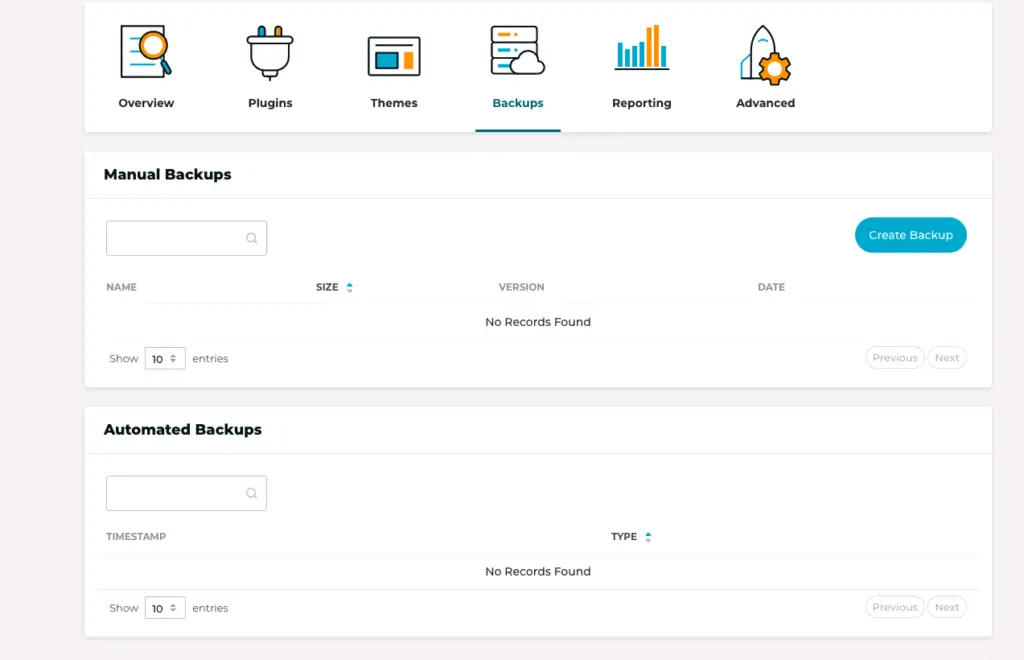 You can also see the automated backups.
REPORTING
This is a quick way to see your cache status and all data regarding the CDN.
ADVANCED
In this menu you can set up automatic updates, you can decide if automate updates for plugins, themes, and WordPress core. You can also set up cron jobs.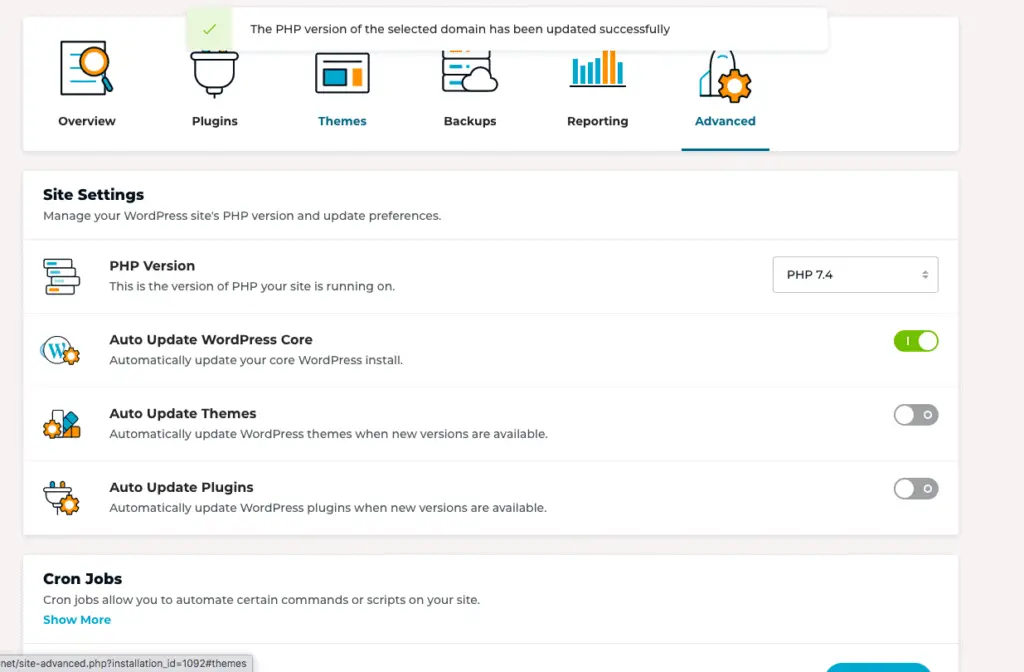 GO LIVE
Now that we have seen an overview of your site's front end dashboard, you have to go live and enter WordPress to start creating the site and write articles.
In order to go live you have to go back to Overview and click on "Get Started":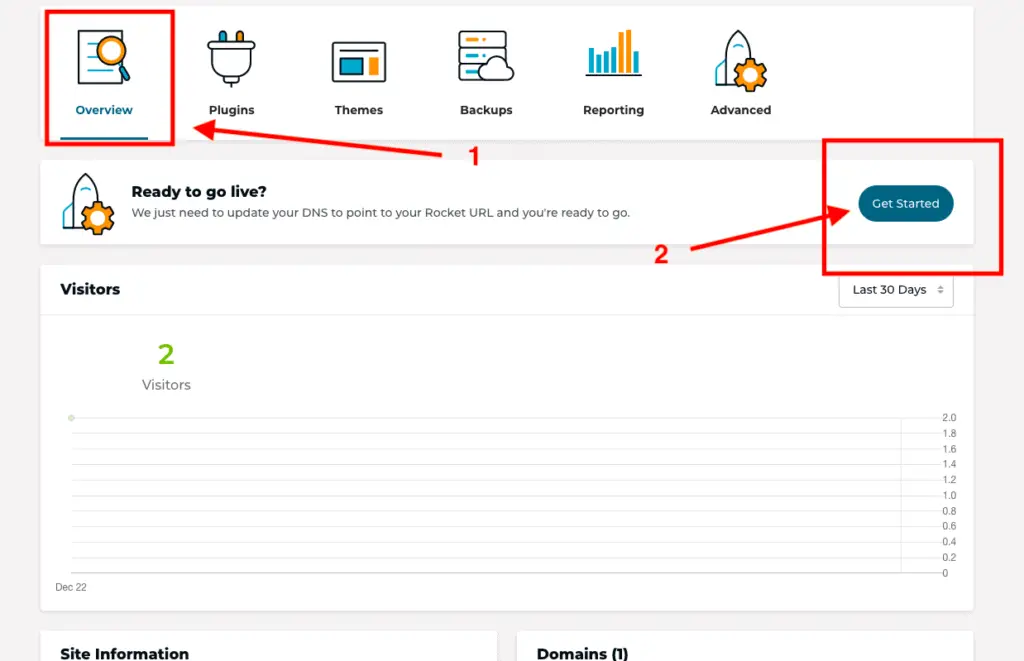 Once you click on "Get Started," you will see another menu coming up. At this point, you have to enter the Domain Name, validate the SSL certificate, and make sure you change your website's DNS records to point to the Rocket Platform.
Usually, you do this with the provider where you registered your domain name. For example, if your domain is at GoDaddy, you can go into your account and update the DNS. Rocket will give you the instructions. Insert the domain name and continue:
Once you have done it, click on continue. If you need help to get it done, ask support or support your Domain Name provider. They will help you to set it up. I remember the first time I had to do it. I contacted GoDaddy and let them do it.
Normally it takes some hours before the update occurs on the web, meaning before people can find your site with your domain. Keep this in mind if you do not see it immediately.
Now, let's access WordPress and start creating articles and pages! In order to do this you have to click on WP Admin:
Remember that until the update of the DNS take place, you won't be able to get the WordPress Admin.
This is all you have to do to get started. It takes approximately 10 minutes to sign-up, access Rocket, and start creating the site. Remember that all technical points are taken care of. As we have shown to you, you have to do the setup required and start writing your first article.
FREE MIGRATION
In case you are not starting a new site, but you already have one, you have to migrate; in this case, you actually do not even have to do it. Once you sign up for a rocket account, you have to open a ticket, and Rocket will migrate your site from any other host, with no charge.
Migration is handle smoothly and fast. Once it is done, you will receive an e-mail and you can access your site with a temporary URL. You still have to update the DNS record as shown before. If you have any doubt, contact support and let them guide you.
Therefore:
Migrate the site (open support ticket)
Go inside Rocket and click Get Started.
Update DNS Record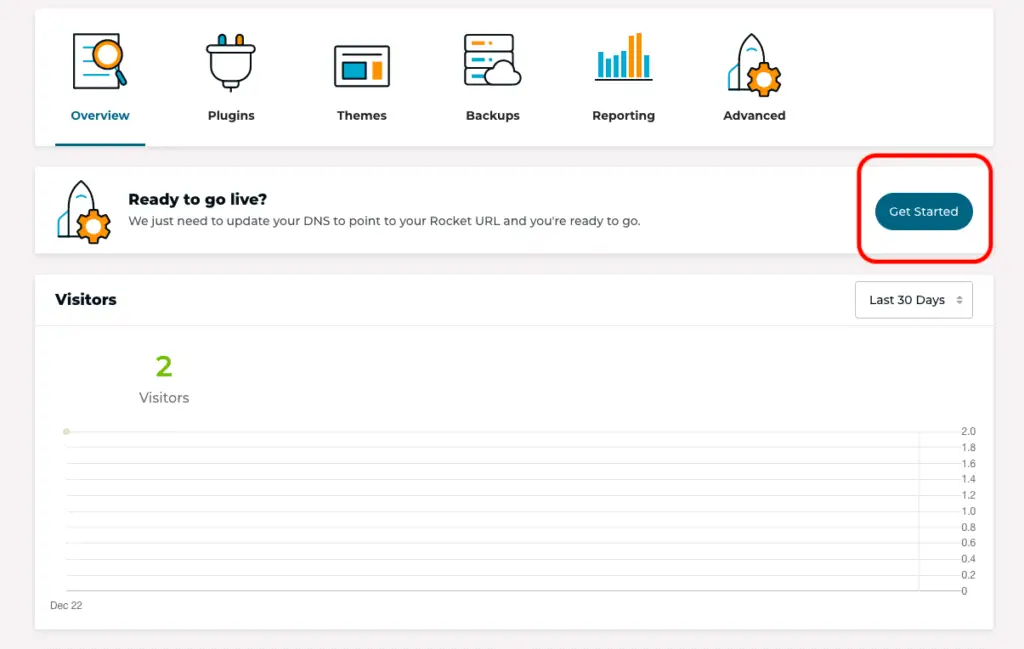 For any doubt always ask support.
PRICING
Rocket can seem quite expensive at first. However, if you are working as a blogger professionally, after taking out all the other expenses you would need to have if you are using a cheap hosting plan, you will see that the price is not that high.
If you paid attention before we listed all the plugins and features you do not need to have or buy if you use Rocket:
Premium Cashing and Speed plugin $49-99 yearly
Images optimization plugin: $4-10 monthly
SSL certificate: it cost anything from $40 to $120 per year
Security plugins cost anywhere from $199 to $499 per year
In total:
Cheap hosting = $5-10 monthly
Image Optimization= $4-10 monthly
Cashing and Speed Plugins: $4-8.25 monthly
Security Plugin: $16-42 monthly
TOTAL: $29-70 Monthly
Therefore if you are lucky, you still have to spend $29 monthly minimally to upgrade your site and optimize it for speed and security because you are economizing on the hosting plan. In fact, the most used plans are shared hosting.
Nothing wrong with those plans, they do their job, but they get you to a certain point only. If you have more needs, you could get up to $70 each month, depending on what you are into.
So, what Rocket has to offer in terms of pricing?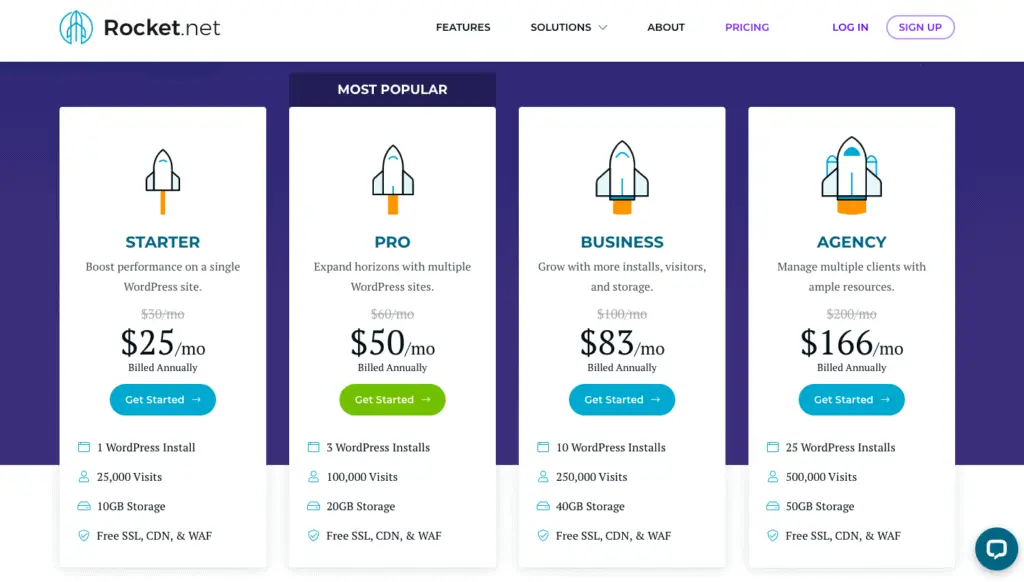 If you have one site with $25 (less than what you would spend with cheap hosting and having all the problems to configure speed, cashing, and security), you are set.
This is also less than competitors like Kinsta, which starts at $30 for one site and $60 for 3. If you have 3 sites, Rockets take care of them for $50.
WHO IS ROCKET BEST SUITED FOR?
I guess there are few possibilities here.
JUST STARTING: If you are starting and have a meager budget, you can get going with a cheap hosting provider, possibly find one that provides an SSL certificate into the plan, even with a low price. When you grow and have traffic and start earning some money, instead of adding endless plugins and pay here and there to optimize your site, move it to Rocket.
NEW SITE FOR AN EXPERIENCED BLOGGER: if you know what you are doing and have a bit of a budget, it can be a good idea to start with Rocket right away, so you do not have to migrate later. The chances are that you can get fat out of the Google Sandbox faster and start profiting earlier.
SOMEONE WHO HAS A SITE AND WANT TO IMPROVE IT: you already have a site for a while; you are monetizing it and get traffic, but your site is slow, and you want to improve it and get it higher on ranking. In this case, you can migrate to Rocket.
What about a totally new blogger starting directly on Rocket? It is surely a steep gradient to start as a blogger with no experience and get into a web host like Rocket.
If you have money and can do it and do the best to learn how to blog, I do not see anything wrong. You may start in the right way from the beginning, and it may be easier not to have to deal with any plugin, back up, and another technical point.
But, it is better for those who do not have extra money to start with another hosting provide and move up over time.
Rocket offers a launch plan for $1 the first month! You could get your site cloned and test it on Rocket. If you are happy with it, get going
OTHER POINTS TO KEEP IN MIND
Rocket is geared around WordPress. Therefore, Rocket is not the right choice if you plan to do other things with your hosting plan. Rocket is for WordPress sites only.
They do not have domain registration functions. Therefore you have to get a domain with another provider, like GoDaddy, Namecheap, etc.
Rocket servers are already on the Cloudflare Enterprise plan. If you subscribe to any one of Rocket.net's plans and host your site on it, you will automatically get all Cloudflare Enterprise plan benefits at no cost. And no configuration is needed.
If you are familiar with Cloudflare you know this is huge.
CONCLUSION
I hope that this Rocket.net review was useful to you and helped you discover a great alternative for your web hosting. If you have any questions or want to add anything, leave it in the comments below.