Are you using Restricted Content Pro and GiveWP? If so, there is a way to track Analytics on sites powered by those two plugins, with an enhanced eCommerce integration now available in MonsterInsights.
MonsterInsights added a new integration to the already comprehensive lists of integrations available to enable eCommerce tracking for sites using GiveWP and Restricted Content Pro plugins.
Let's see how it works.
WHAT IS RESTRICTED CONTENT PRO?
Restricted Content PRO is a plugin that allows you to create a membership site or share content based on various membership levels or contributions. It supports many payment gateways to make it easy to use.
Content PRO comes with a free version too, but the free version is minimal, and it doesn't show what all the functionalities are. The plugin is relatively easy to use and doesn't require a lot of setting up for a basic membership site.
All you have to do is install the plugin, set up all the tiers you need, integrate the payment gateway, and set up your content to match the different levels.
Some of the features are:
Discount codes
Integrations to several 3rd party payment gateways
Many Reporting options
Export of data possible
Extensive documentation
Unlimited subscriptions can be created
Members management possible
Email integrations available
WHAT IS GIVEWP?
GiveWP is a WordPress plugin that allows you to collect donations. You can raise money for yourself, your business, or a non-profit organization. It will enable creating forms that can be displayed on any page you need. There are many styles available for use.
Everything can be tracked and controlled from inside the WordPress dashboard. The free versions allow Paypal and Stripe integrations. The setup is effortless and takes only a few minutes, and it provides unlimited forms.
Some things you can do with GiveWP are:
Build custom donation forms
Use the multi-step donation form template
GiveWP inherits the styles of your theme, so it integrates seamlessly
Add goals, multiple giving amounts, custom amounts, terms, and conditions
Complete overview of your donation activity
Control your data with exports and reports
Filter reports by date, form, and payment method.
Measure performance across multiple campaigns.
And more.
MONSTERINSIGHTS ENHANCED ECOMMERCE INTEGRATION
Most site owners are naturally using MonsterInsights to track their site analytics, whether on the free version or any paid plans. Since MonsterInsights always improve and add new features and options to assist better each site owner.
Lately, MonsterInsights added a new integration that allows to easily set up eCommerce tracking for those websites using GiveWP and Restricted Content PRO.
It is vital to track and understand user behaviors on your eCommerce store. One cannot make data-driven decisions unless one can have accurate reporting on all the key metrics contributing to a successful store.
It is possible to activate enhance eCommerce tracking with a few clicks only. There are no complications or complicated installation processes.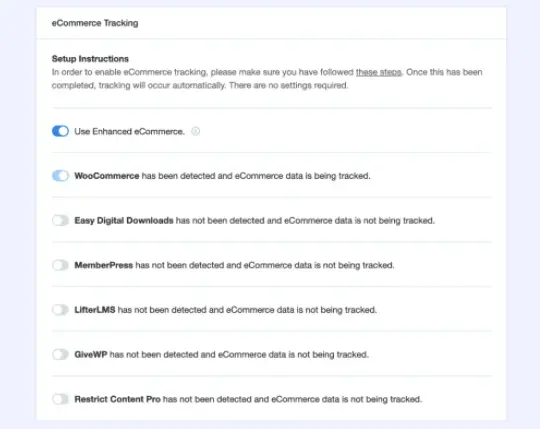 Remember, to use the enhanced eCommerce feature you need to be on the PRO plan.
What can you see on the eCommerce report? First of all, you can view it from your WordPress dashboard, and then you can see all the most important metrics such as conversion rate, transactions, average order value, and of course, revenue.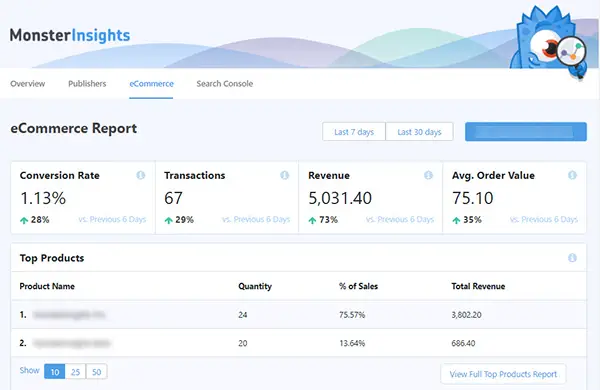 But, it is not all. Just below, if you scroll down you can see where is your traffic coming from (top referrals), so that you can see where the revenue is coming from.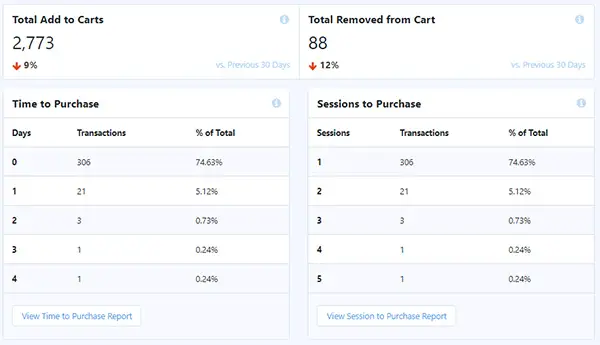 The data are always presented in a way that is easy to understand and digest. MonsterInsights has a user-friendly dashboard and clear layout.
CONCLUSION
As you can see, if you use Restricted Content PRO or GiveWP you can now track eCommerce analytics easily. If you have any questions of what to add anything leave it in the comments below.