12 Minute Affiliate Review: This article will give you all the good points and the bad points of this affiliate marketing methods. If you are wondering if this system really works, I will give you a comprehensive answer.
The 12 Minutes Affiliate System is an affiliate marketing method comprise of "done-for-you" sales pages and products to sell. It gives you traffic options, autoresponders, and all needed to operate as an affiliate for those products. It is mainly a system for newer affiliates that don't yet have experience creating website landing pages and can be a good learning ground.
Let's see how.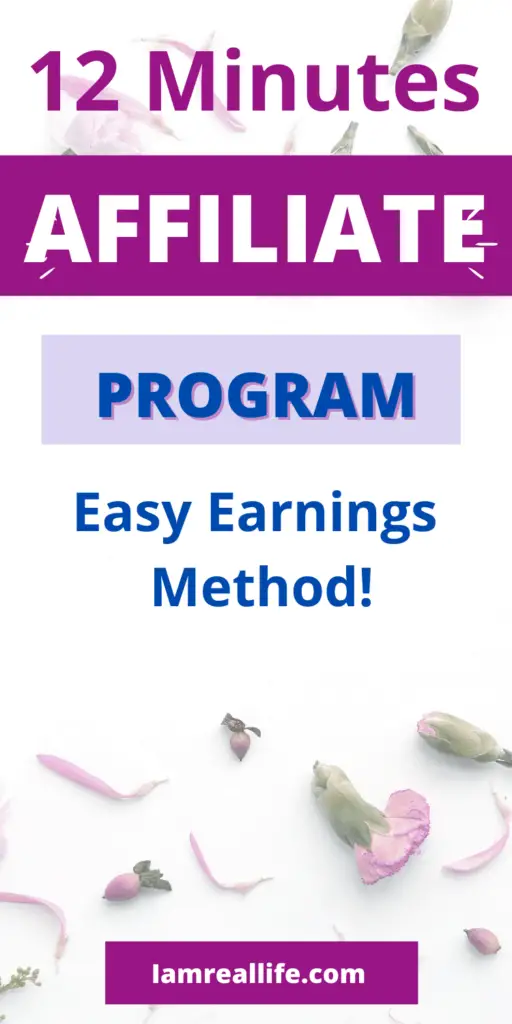 12 MINUTE AFFILIATE REVIEW: WHAT IS IT?
I have to admit that I have spent so much money on weird softwares and "easy businesses" or "things that make money overnight." You can read a bit of my story on my About Page. Therefore I am not particularly enthusiastic about those types of programs.
Some "done-for-you" system may be good for specific type of public:
NEW AFFILIATES WITH NO EXPERIENCE
NO TIME AND WANT TO START A SIDE BUSINESS
LEARNING GROUND BEFORE STARTING A MORE SERIOUS BUSINESS
I can believe that someone who doesn't know how affiliate marketing works and doesn't have the skills to create landing pages, funnels and deal with the technical aspects can short-cut and decide to get into a business model where things are already created.
I can also think about a person who is totally new to this type of business and has little time but wants to get started and get familiar with the type of business.
I still think that starting a blog can be a better investment, even with little time. I will tell you why down below.
I also learned that the 12 Minute Affiliate System name comes from the fact that it takes 12 minutes to set up the account and start working. It doesn't mean that it takes 12 minutes to get income.
There are many income opportunities online, and one of them is Affiliate Marketing. It is an online business that is not complex because of its simple concept of earning commissions by promoting a product, and yet a lot still fail to do it.
12 Minute Affiliate is a plug and play system that only takes 12 minutes to set up for it to be up and running. It emphasizes that affiliate marketing can be done easily, and making money through it is achievable. With 12 Minute Affiliate, making money online becomes easy as 1-2-3 with ZERO techy skills and ZERO prior experience required.
You will have access to a one or complete set of sales funnels that will help you build an email list to send your offers and promotions and make money as an affiliate.
With this system, you can easily earn commissions in the biggest and most profitable niche markets such as Make Money Online, Health and Fitness, and Personal Development.
WHO IS THE CREATOR OF 12 MINUTES AFFILIATE?
In this 12 Minute Affiliate Review, we will give information on the creator of this program. The man behind this breakthrough system is Devon Brown. He is a well-known internet marketer who has another product called Webcopycat.
He is an entrepreneur and believes that success really does not happen overnight because it took him around 7 years to earn money online successfully.
That is why he is sharing this powerful system because this can give you the best chance to succeed in affiliate marketing without spending 7 years to figure out how.
He has created other systems that have helped thousands of people and are known in the Internet Marketing Industry, so you can be sure that his system works and is not a scam.
HOW TO USE 12 MINUTES AFFILIATE?
After purchasing the system, you will get step-by-step instructions on how to start. In the member's area, there are various products you can choose from that you can promote depending on the niche you selected. After choosing the products, you can follow the 3 simple steps for affiliate marketing success:
Step 1 – Personalize the System
This means adding your affiliate link to the products you will be promoting so that the commission goes to you.
Step 2 – Order Website Visitors
This means adding done-for-you traffic that only takes as little as 2 minutes—order website visitors to an automated system that does all the selling.
Step 3 – Collect your Affiliate Commissions
This means keeping 100% of your earnings when you have made a sale. You can even let the system follow up leads for you automatically.
ADVANTAGES
1. Simple system that activates in as short as 12 minutes.
2. You can build an email list.
3. It uses automation to follow up your leads for months.
4. Perfect for newbie and intermediate marketers who either want to start an affiliate marketing business or upgrade their earning potential.
5. This is a business model that really works if done right.
6. It is an easy system with easy to do instructions, absolutely ZERO experience needed.
7. Positive reviews from online marketers.
8. Backed with 60 Days Money Back Guarantee, no questions asked!
9. You are given access to a private Facebook Page once your system is up and running, where you can interact with other entrepreneurs and online marketers. A great way to connect and share tips.
10. Regular invites to FREE private trainings to accelerate your success.
DISADVANTAGES
1. It needs reliable internet connection.
2. Results may vary! Don't expect to get tons of money in the first week. You have to get traffic to those pages, which is one of the main points to resolve for most bloggers and online marketers.
3. If you do not have a budget for ads, you have to use free traffic; even though the system does have some free traffic suggestions, you may have to find other ways to get free traffic to those pages. If you use social media, it can still take weeks to get a volume of traffic.
Most bloggers are getting tons of results with Pinterest. Here is a guide that can help you get free traffic to those pages: HOW TO USE PINTEREST TO DRIVE BLOG TRAFFIC (REALLY).
4. It is not a business that you own. If you were to start a blog, you would own it, and you can re-sell it in the future. Starting your own site can allow you to grow over time, do affiliate marketing, and many other activities. The costs are the same or even less.
RECOMMENDATION
Affiliate Marketing is a legitimate way to earn online and 12 Minute Affiliate is a powerful system that can make earning easier with affiliate marketing using profitable niches.
And this system really works, as proven by positive reviews by online marketers who have tried and tested it. Moreover, the guy behind the system is real and is a well-known digital marketer who has spent years finding the right tools and the right methods to earn online effectively.
There is no risk involved since a money-back guarantee backs the product. You will have the needed support from members of a community who is just like you venturing on Affiliate Marketing and wanting to earn money from it.
IT'S SIMPLE – EVEN FOR BEGINNERS!
Most systems out there designed to help you profit online are NOT as simple (or as easy) as they claim. There's usually loads of 'techie" stuff to do, and you start to hit speed-bumps and get frustrated 5 minutes in.
YOU CAN PROFIT DAILY!
Once you've got everything up and running, it's not uncommon to earn online commissions multiple times a week (or even multiple times a day). And while there's no way to know exactly how much you'll make, We'll tell you that our TOP members regularly make online affiliate commissions
on an almost DAILY basis.
IT CREATES MULTIPLE STREAMS OF INCOME!
Imagine you had a system that AUTOMATICALLY promotes multiple different affiliate products FOR YOU, simultaneously!
This means that you could earn commissions from more than one product on the same day! Again, this is quite a common occurrence for our TOP members. And who knows.. it could be for you too!!
FAST AND EASY SET-UP!
Even if you're not very tech-savvy and it takes you longer than 12 minutes, there's a 90% chance you'll be able to have the ENTIRE system up and running BEFORE you go to bed tonight! Heck, there's even an option to have our team set your entire system up FOR YOU!!
YOU CAN SEE RESULTS QUICKLY!
Once the system is set-up, and you've gotten your done-for-you traffic (both of which can be done today), seeing results shouldn't take very long!
Most members start seeing their email list grow within the first several days, and it's not uncommon for members to see their first commissions not long after that
WORK FROM ANYWHERE   – (LAPTOP LIFESTYLE)
You only need 3 things to get results with 12 Minute Affiliate:
1. A Desktop or Laptop computer
2. An internet connection
3. A willingness to follow simple instructions consistently!
Therefore, you can LITERALLY work from anywhere in the world!
IT'S THE PERFECT SIDE BUSINESS!
Still, have a full-time job and a packed schedule? That's no problem! You can literally grow your affiliate marketing business (using the 12 Minute Affiliate System) using whatever spare time you've got!  Only have 5 hours a week on a Sunday evening? Cool! Only have about an hour each night before you go to bed? That works too!
IT GROWS YOUR EMAIL LIST!
If you've been trying to make money online for more than 5 minutes, then you've probably heard the saying "The Money Is In Your List."
Having a niche-specific email list that you can offer affiliate products to is your business's life-blood & the #1 secret of $100K earners!
DONE-FOR-YOU EMAIL FOLLOW-UPS!
You've probably heard the saying "The Fortune Is In The Follow-Up".
Well, if you have, you know it's 100% TRUE!  But following up with your leads can be VERY time-consuming. That's why 12 Minute Affiliate comes with MONTHS of follow-up emails build into the system!  Just let the system follow up FOR YOU while you're sleeping or with your family!
NO CREATING YOUR OWN PRODUCTS/WEBSITES!
One of the biggest challenges most people face when trying to start their own online business is to know WHAT to sell and HOW to sell it!
With affiliate marketing, knowing WHAT to sell is easy because someone else has already created the product.  And with the 12 Minute Affiliate System, knowing HOW to make sales has already been taken care of!
CONCLUSION
If you are new to this and want to get some experience without doing everything and building a site, you may give this system a try. Do not expect money to flow in without work. In anything, there is work to be done to get a profit.