Zyro: have you heard about this website builder at all? It was created in 2019, and it is already taking the web by storm. It proves that a valid product and service can enter a crowded space and get to the top.
Let's see what Zyro has to offer and why this is an excellent alternative to the usual Website Builders.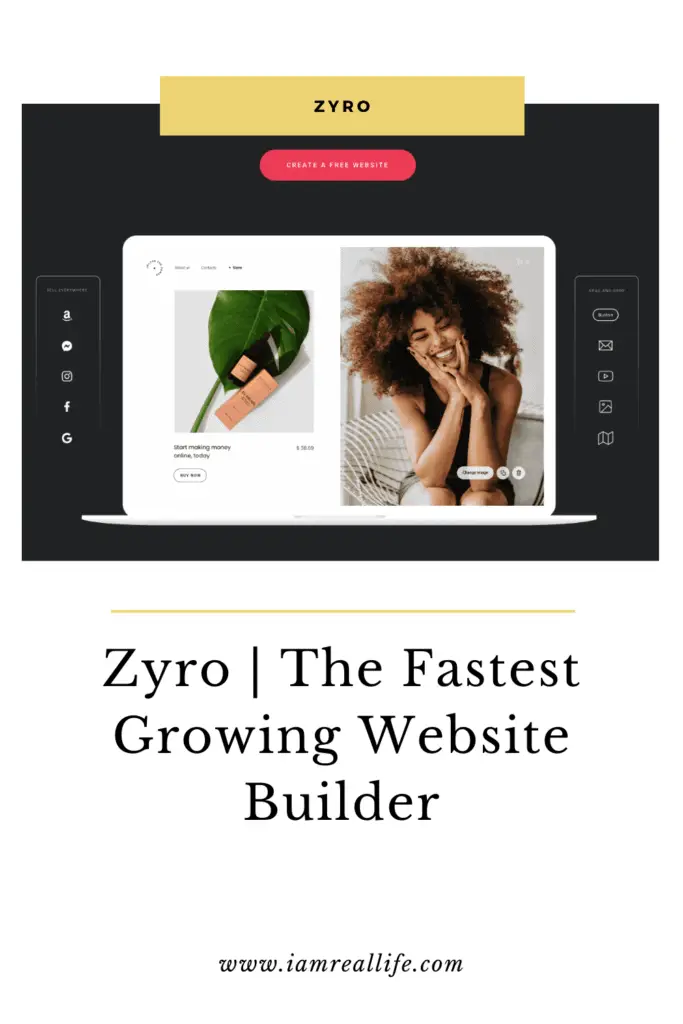 ZYRO BACKGROUND
Zyro is a Lithuanian startup, it started in January 2019, with the primary purpose to make it extremely easy for anyone to get online with a website.
There are tons of website builders, and one could choose the usual suspects to get going with a website, so why should someone get going with Zyro, being so new as a company?
The answer is simple; when they started, they wanted to stand out from the crowd by introducing two excellent tools:
AI Writer helps anyone, no matter their writing skills, to create professional-looking text. It will generate a unique copy on specific topics directly within the web design template. Users will then edit and adjust the document and will have a ready-to-publish website in minutes.
AI Heatmap provides insights on what website visitors will focus on before they visit.
I believe Zyro is perfect for newcomers and people that are starting online now. However, even for the one who are experts, Zyro can offer a lot of simplicity and fast going production.
GETTING STARTED WITH ZYRO
The best thing about Zyro is that you can get going for free. However, it is better to start with the basics plan so you can have your domain, looking more professional, and you can have the additional features not otherwise allowed with the free plan.
The best part is that the basic plan is only $1.99. It is is a ridiculous price for having a site with your domain. I love companies that let you start with little so that you can grow and then upgrade.
To get started go to Zyro and select "create a free website"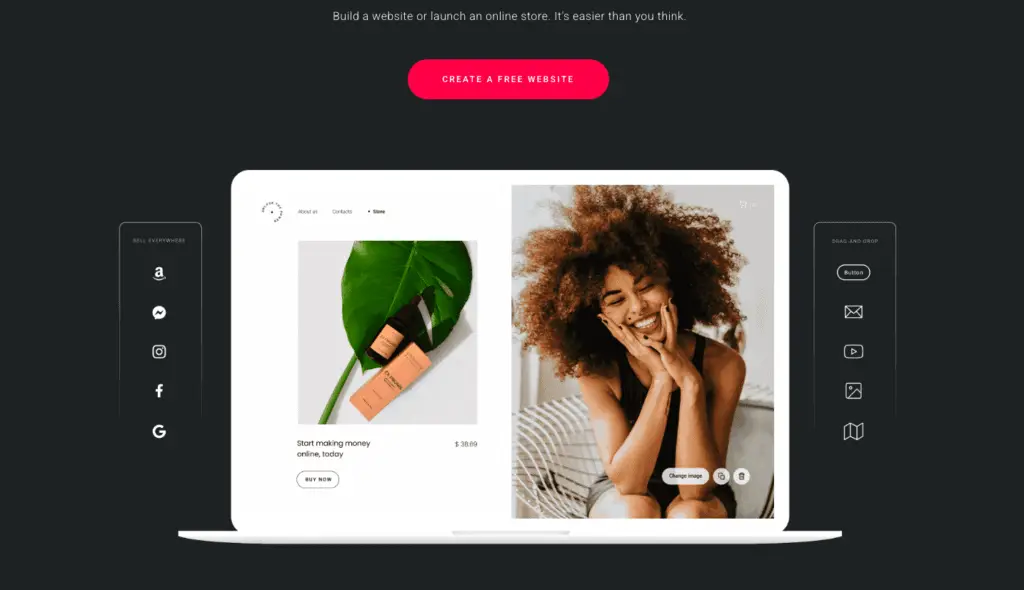 Once you click on it you are directed to another page where you can choose your template: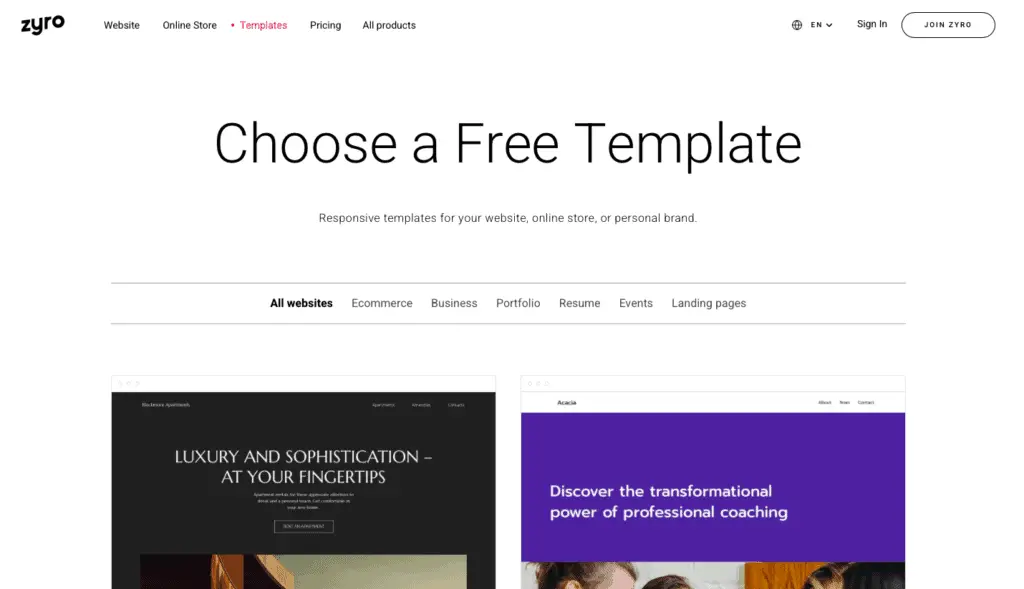 The templates are beautiful and well designed. Once you select the website template, you can immediately start building it.
The editor is clear and very easy to understand, just click over the elements you want to modify to change anything. The menu is easy and intuitive, even for people who have never created a website with a builder.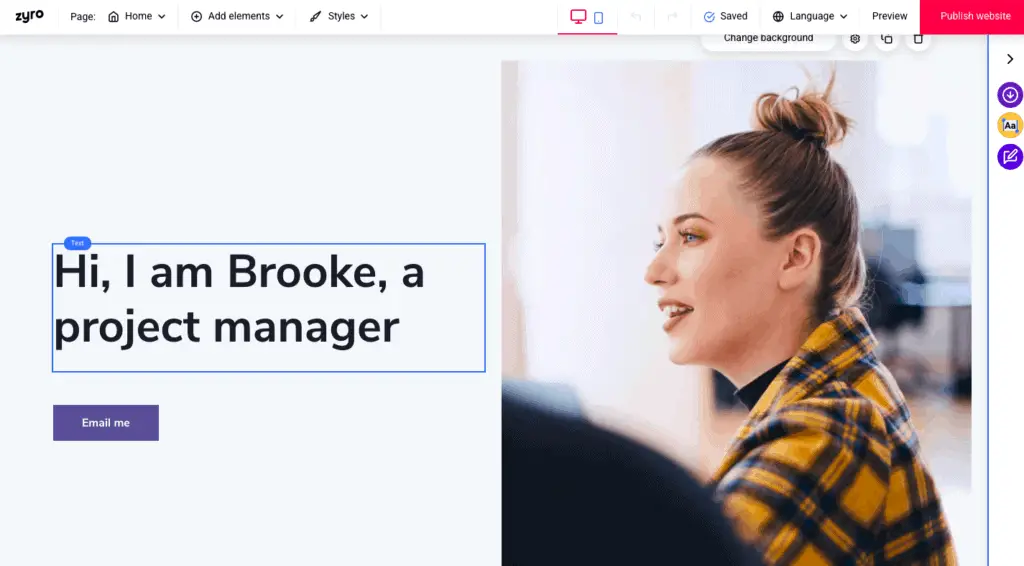 You can add pages, change the style, color, background, see how it look in the mobile version, look at the top bar to see your options. The bar is not cluttered with tons of complicated options, but at the same time, you have all that you need.
Now we come to the promoted feature, the Al Writer. Let's click on a text you want to modify: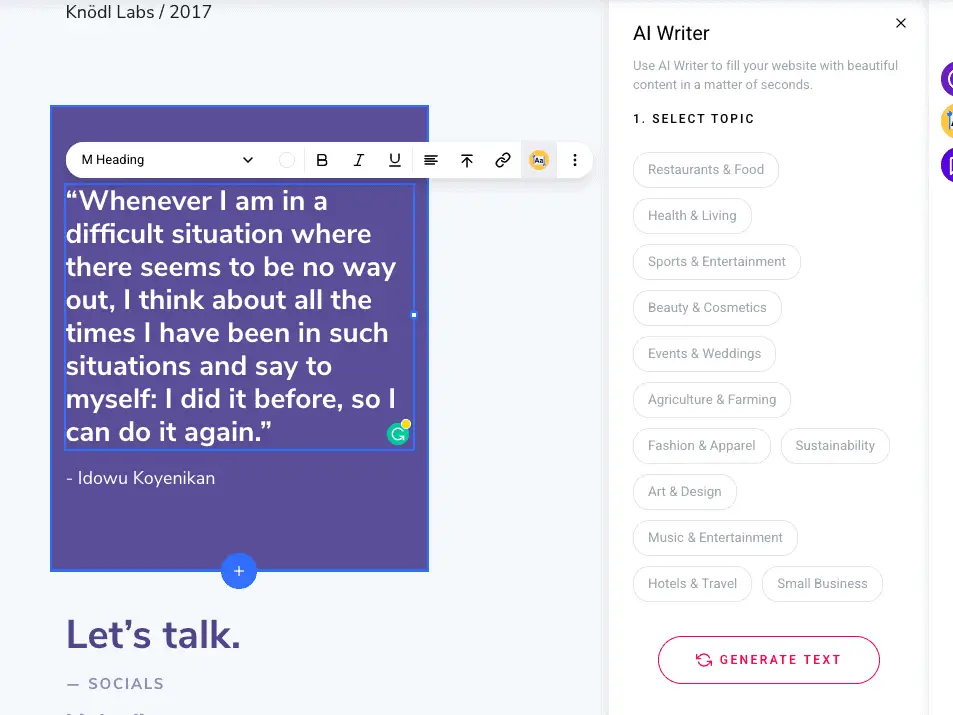 Click on the yellow icon to activate Al, then select what topic you category you need the text for and then click generate text and here are some of the generated text you can choose from: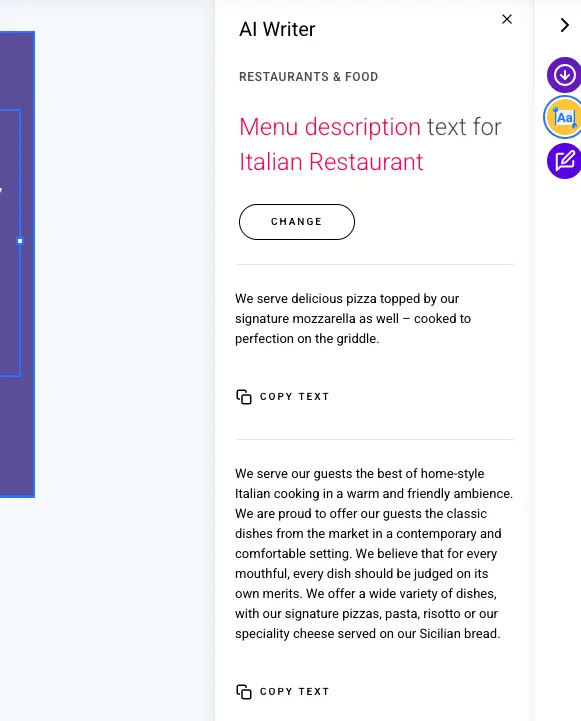 Voila'. I could describe more but you got the idea. From the moment I decided to start, to the creation the step is immediate. When you are ready and created the site, just click on " Publish Website".
If I would have to use a website builder for a client, especially if they don't have tons of complicated request, Zyro would come handy.
There is more, you can also import text from another site: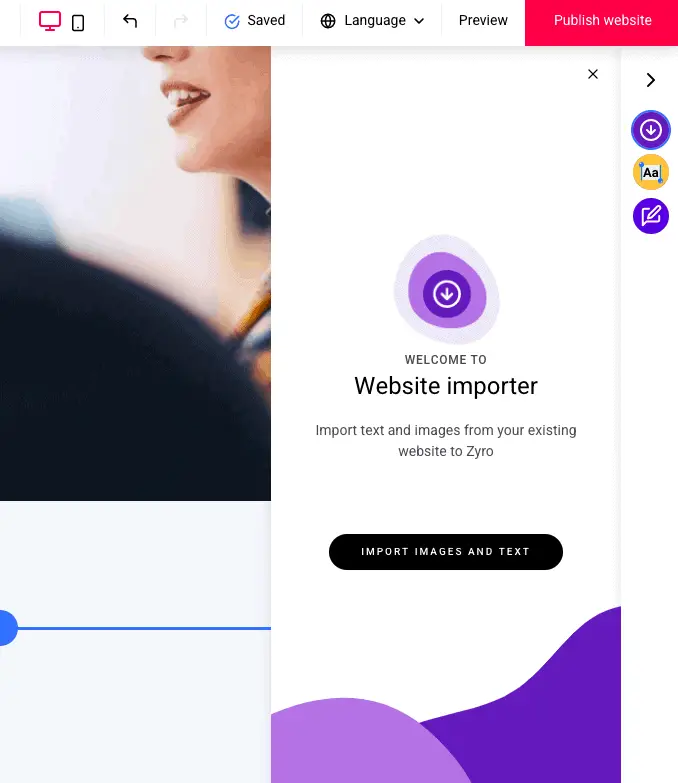 and you can also add a blog: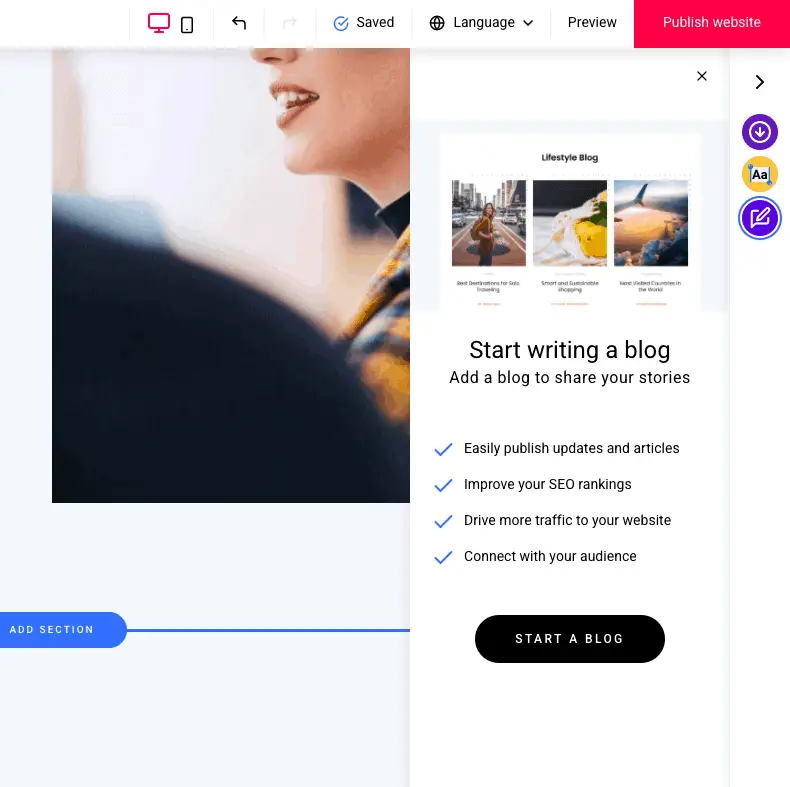 OTHER PERKS
We have seen how easy it is to get a well designed, professional website created with Zyro. Now, what else is there?
Logo Maker: No idea of what could be your logo, you have a can use Zyro logo maker, this is for sure one of the tools searched by the new site and business owners.
Free Domain: this comes with the "UNLEASHED For businesses" plan, which is only $3.49 per month.
Free Hosting: Zyro is going to host your site, think about security and updates; all you have to do is create the website.
Business Name Generator: this is another excellent tool. What name should you choose? This tool can give tons of ideas
Slogan Generator: A slogan for your business can help you to get remembered. Try to create one.
Blog Title Generator: this can be a big headache when you write a lot; it is possible to run out of ideas, a tool like this can help.
Heat map: this tool lets you see where the visitor can focus the attention on the page. It gives the possibility to adjust the website page so that you place the most critical message where the focus is.
Security with SSL: all plans come with an SSL certificate. Only an SSL certificate can be costly with other providers. An SSL certificate can add professionalism and show visitors that the site is secure.
CONCLUSION
Despite the young age, Zyro is excellent in terms of simplicity and ease of use. The templates and images are professional to create a successful site that can impact every visitor.
Best for new website owner of for building websites for others.