InterServer: are you looking to create a website and searching for an excellent, new, affordable, and different service?
Today, I want to take up a company that is around for nearly 20 years. It has all of the above qualities.
Meet InterServers at InterServer.net.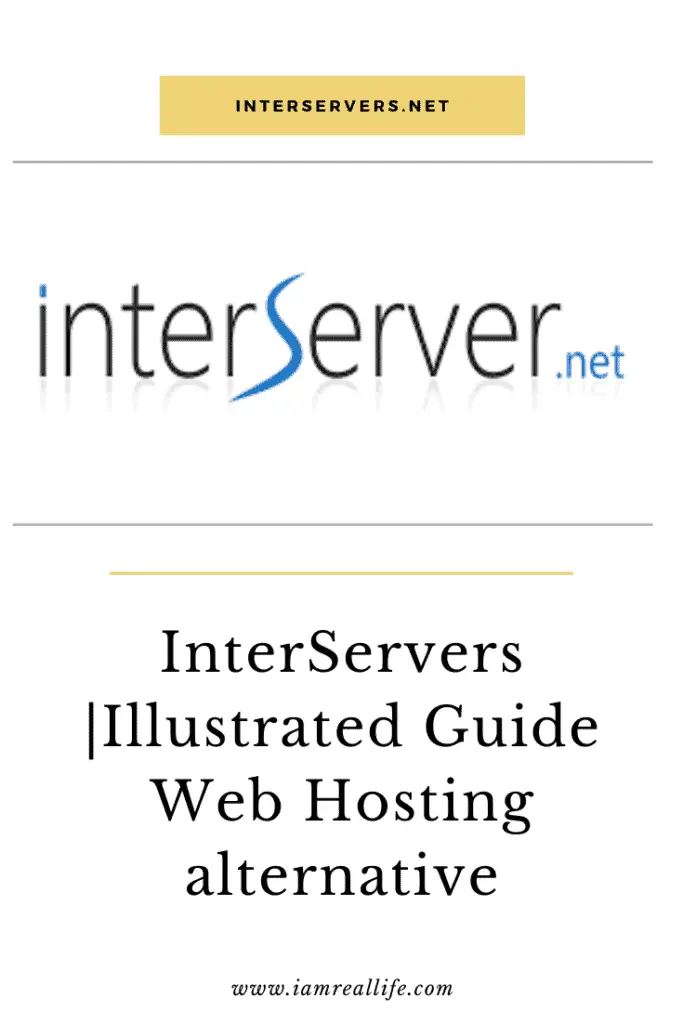 As once I was new too, I will clarify each technical term so you can understand the difference between each and what they are. Nothing was more frustrating when I started, then having people writing all those technical terms like everyone knew what they were.
If you are new and want to start a web site, the chances are that you may not know what web hosting, domains, VPS, and so on are.
Read through for easy clarification.
InterServer is an affordable web hosting provider with an emphasis on high-quality customer service provided via multiple channels 24/7, 365 days a year.
With InterServer, you'll find a variety of hosting options to choose from, including shared, VPS, and dedicated plans, as well as colocation services if you prefer to own your physical infrastructure.
Mike Lavrik and John Quaglieri started InterServer on a strong foundation of technical expertise and customer support.
But also the company image is built on a friendly basis customer relations, showing who they are with photos including so much of "family" dog.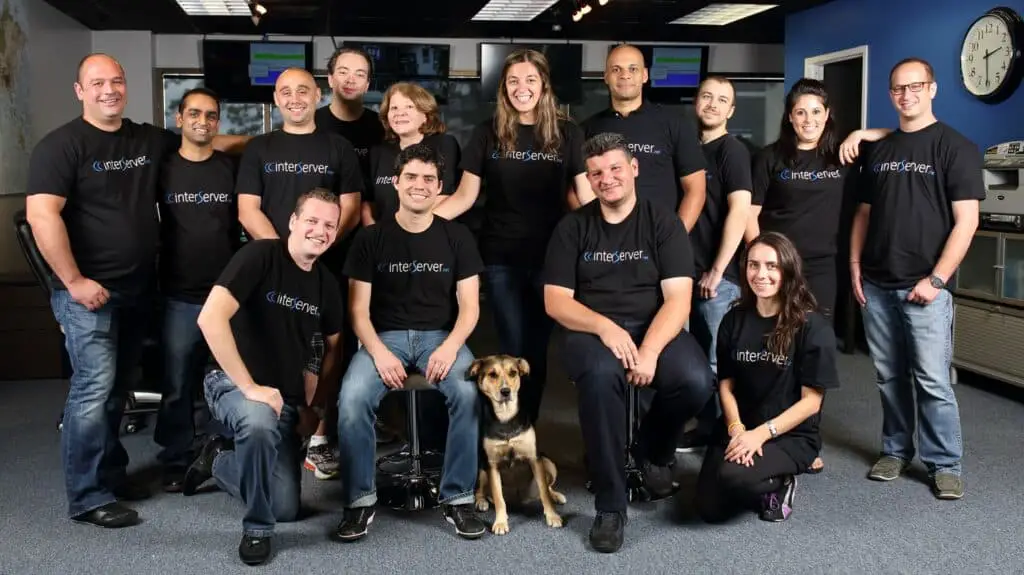 It all exudes trust.
Read also: BEST WEB HOSTING SERVICES
WHAT SERVICES INTERSERVER PROVIDE?
InterServer provides a lot of different services for people who may need a variety of tools to run their business or personal blog.
Those services include web hosting, VPS & Cloud, dedicated servers, colocation, domains, and private email hosting.
HOSTING SERVICES
Web hosting is a service that allows organizations and individuals to post a website or web page onto the Internet. A web host, or web hosting service provider, is a business that provides the technologies and services needed for the website or webpage to be viewed on the Internet. Websites are hosted or stored on specialized computers called servers. When Internet users want to see your website, all they need to do is type your website address or domain into their browser. Their computer will then connect to your server, and your webpages will be delivered to them through the browser.  
Most hosting companies require that you own your domain to host with them. If you do not have a domain, the hosting companies will help you purchase one.
And so InterServer does provide the above service and much more.
Shared hosting: "web hosting in which the service provider serves pages for multiple websites, each having its Internet domain name, from a single web server." In other words, there are other sites hosted on the same server, along with your website.
PROs: Shared hosting is the most economical option for webmasters. Because you're sharing a server with other websites, the server's total operating costs are distributed across multiple users. It is a less expensive option, which may make sense if you're on a limited budget. 
Another plus is that you don't necessarily need a lot of technical skills
CONs: Perhaps the biggest concern is bandwidth. Because you're sharing your hosting with other sites, there are inherent limitations in the amount of bandwidth you have to work with, even if you're technically on an "unlimited bandwidth" plan. A massive surge in traffic on your site could result in network downtime or other complications.
Here are all the services provide d by InterServer Web Hosting:
ASP web hosting refers to web hosting companies that provide support for ASP or Active Server Page. 
ASP/Active Server Pages are HTML pages with embedded ASP scripts. ASP scripts are processed on the server before the page is sent to the visitor's browser. ASP allows you to create dynamic database-driven pages, and a visitor can access data in a database and interact with page objects
If you want to know more you can watch this video:
How to find an ASP web host? You will need to find a web host who will host your website on a Windows server. It is safer to host your ASP pages on a Windows server as they are more stable, and most ASP components work specific to Windows.
InterServers does provide this type of service.
VPS & CLOUD
Short for "Virtual Private Server," VPS hosting is significantly more robust, offering tons of features you won't find with shared hosting. While you technically still share a server, you get a dedicated slice of it that's just for you. A virtual private server (VPS), also referred to as a virtual dedicated server (VDS), is a virtual server that appears to the user as a dedicated server, but that is serving multiple websites.
We are clarifying below what is dedicated hosting or servers.
BENEFIT OF VPS
The benefit of VPS hosting are the following: First and foremost, you get dramatically more space and bandwidth with VPS hosting. This is essential if you plan to generate a lot of traffic or if you anticipate considerable growth in the future.
VPS solutions can help you scale up as your website grows, or scale down if things get slow
VPS Home
Windows VPS
WordPress VPS
Backups 
Webuzo VPS
cPanel VPS
Debian VPS
CentOS VPS
DEDICATED SERVERS
Dedicated hosting is "the rental and exclusive use of a computer that includes a web server, related software, and connection to the Internet, housed in the web hosting company's premises." In layman's terms, with this type of plan, your website will be the only one hosted on its server.
PROs: One of the most common reasons webmasters opt for dedicated hosting is the performance and control it offers. If you expect you'll have a high volume of traffic, for example, a dedicated server could be your best option for handling it. You may also reduce some security risks with dedicated hosting, as your site will be the only one using your server.
In general, you have an overall higher level of control with dedicated hosting. This gives you the ability to add new applications and programs that are to your liking – rather than being stuck with your host's default options. If you need flexibility on the back end, consider dedicated hosting, as this option will let you customize settings in a way that you directly can't with shared hosting.
CONs:  the biggest drawback of dedicated hosting is the increased cost. There's just no way around it. Since there's a single server devoted totally to your website, your operating costs are inevitably higher.
Here are the services offered by InterServers for dedicated servers:
Dedicated Home
Storage Servers
10Gbps Dedicated Servers
GPU Dedicated Servers
Rapid Deploy Servers
COLOCATION
A colocation (colo) is a data center facility in which a business can rent space for servers and other computing hardware. Typically, a colo provides the building, cooling, power, bandwidth, and physical security while the customer provides servers and storage.
InterServer provide this service in different packages.
DOMAINS
A domain name is your website name. A domain name is an address where Internet users can access your website. A domain name is used for finding and identifying computers on the Internet. Networks use IP addresses, which are a series of numbers. However, it is difficult for humans to remember strings of numbers.
With InterServer, you can get a domain, or move your own over. Prices start from $1.99. Very affordable, trying to find better in the market.
PRIVATE EMAIL HOSTING
Another excellent service is a professional email hosting. When you have a site you may want to get an email address connected with your domain, for example, my domain is Iamreallife, my professional email, connected to the site is info@iamreallife.com.
It is more professional and less spammy looking when you are writing to your audience or other companies. It doesn't look good at all to write from a Gmail or similar.
InterServer also provides email deliverability service, meaning they make sure your emails are getting to the other end, and not in a spam folder.
Read also: BEST WEB HOSTING SERVICES
PRICING
There are different prices and plans for the different services starting at $5.
They also have a price lock guaranteed. Meaning your starting price will not increase.
Price Lock Guarantee
A price lock guarantee with InterServer means the price of your services at sign-up is never subject to change. For instance, if you register with our Standard Hosting Plan for $5/month, this will remain the price you pay for the life-span of the account. Of course, there are no contracts, and all services may be canceled at any time.
Currently, there is a great deal which you should take.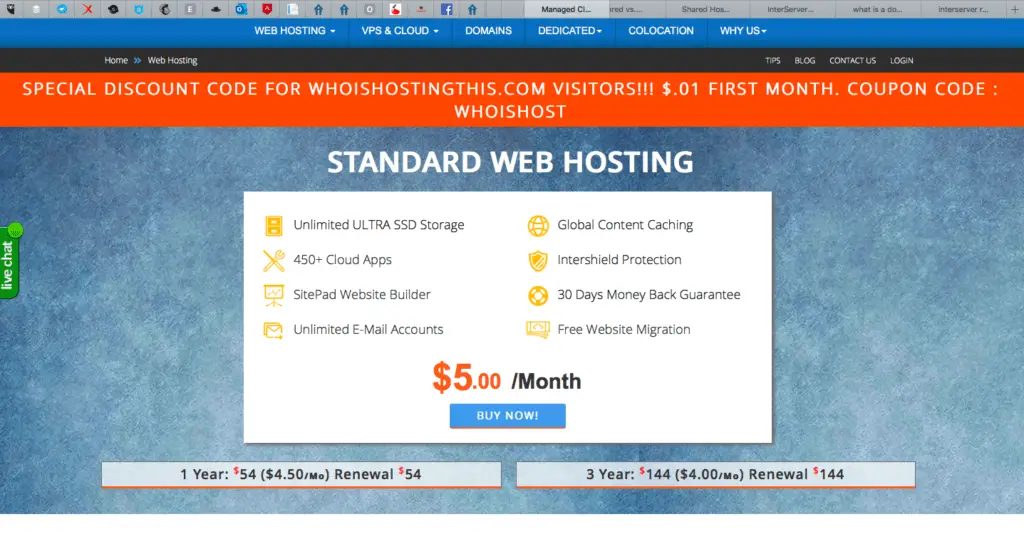 Use promo code WHOISHOST to get the first month at $0.01
INSIDE INTERSERVER
Let's take a tour inside interServers. Bear with me while I am creating my new site.
Let's find out how easy it is to get started.
Let's go into their site and take the first deal of share hosting plan, starting at $5.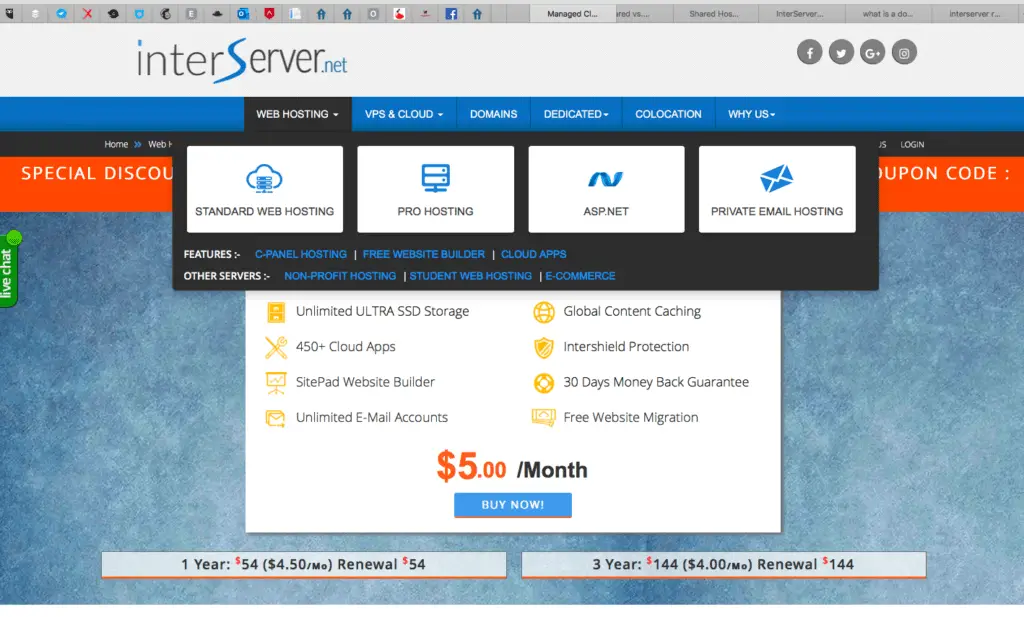 Now that we are on the website, let's click on the buy now for the $5 plan. I am going to go to the next window where I can choose a new domain or move one that I own. I am going to get a new domain.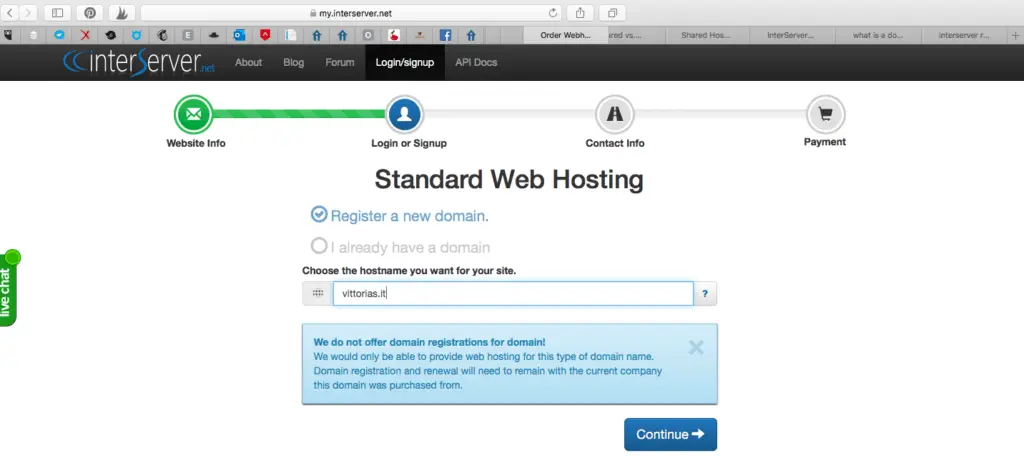 I have now written the domain I would like to get and I am pushing continue.
I am now being asked if I am already a customer or to create an account. I already have an account. Therefore I am going to log in to my account.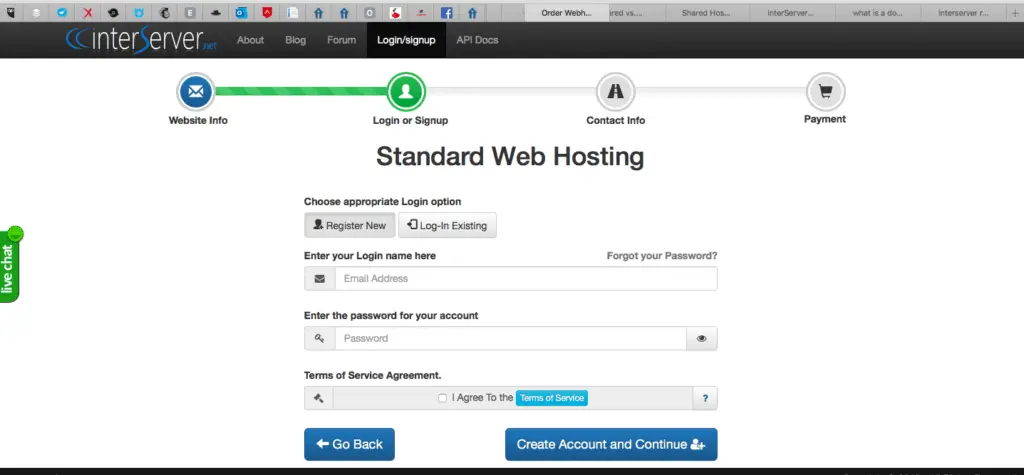 I have clicked on " Log in Existing "in your case, you should click on create a new account and follow the instructions.
There I am: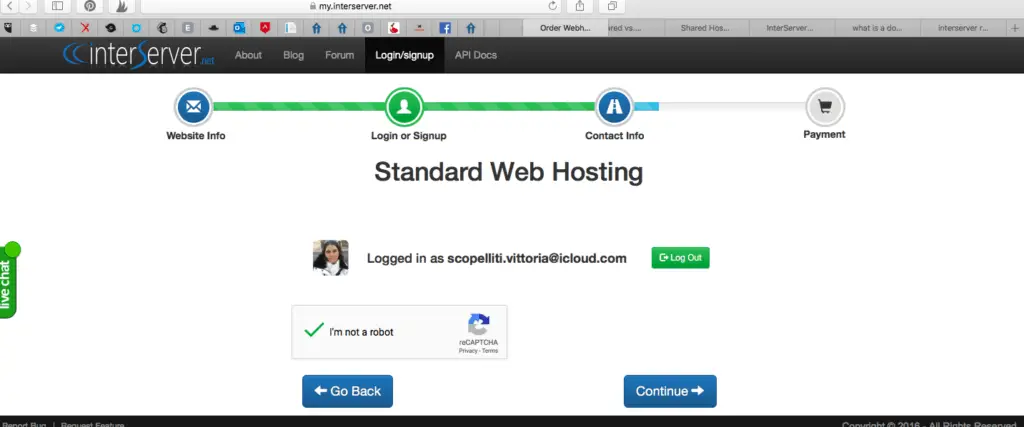 Let's continue to the next page where I am being asked to fill in my contact information. Once done, I continue to the next page where I can select the billing interval, which can be 1, 3, 6 months, and even longer: 24 or 36 months.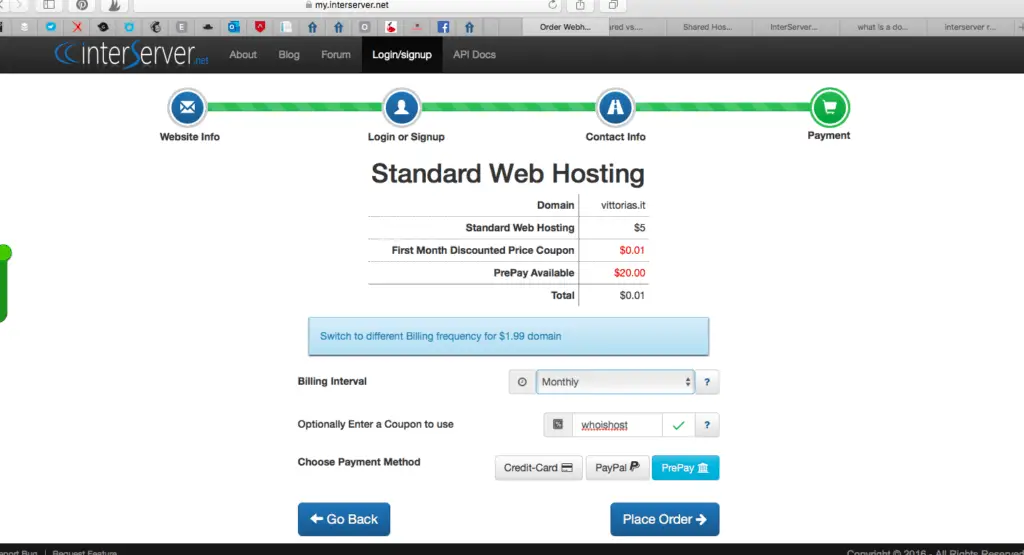 As you can see there is already the current discount code which allows me to get the plan for $0.01.
Starting at 6 months there are additional discounts:
6 months plan: additional 5% off
1-year plan: an additional 10% off
24 months: an additional 15% off
36 months: an additional 20% off
In my case, I am getting the 3 months plan with the first month still at $0.01.
Then I clicked on Pre-Order.
I immediately got the acknowledgment of receipt, as well as the email with all the information to log in into my site
and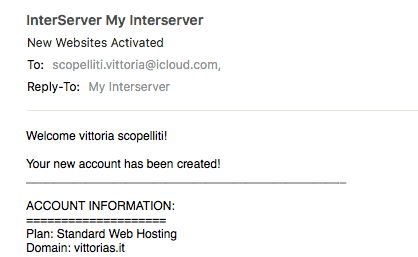 The email continues with all the login informations which I am not showing here.
Going back into the home page of my account:

There it is on web hosting, my site, from there I can log in and access the cPanel, install WordPress and so on.
It took only a few minutes for the entire process.
Read also: BEST WEB HOSTING SERVICES