Are you looking to add Google analytics to your WordPress site, and you wonder how to do it? Today we are going over how to add Google Analytics to WordPress with a simple plugin.
Analytify is a simple plugin that lets you see your Google Analytics inside your WordPress website without going to another site (Google Analytics) and with no need to use codes or do complicated operations.
Let's see how this work.
WAHT IS A GOOGLE ANALYTICS DASHBOARD FOR WORDPRESS?
How would you like to see all the Analytics and data regarding your website traffic right at the beginning of the WordPress Dashboard?
Most people may have already connected their account to Google Analytics. They could have already found out that it may be a bit complex to navigate the different options and understand what they mean. It requires some time and study to do that, especially for new people.
A Google Analytics Dashboard gives you an overall glimpse of your website traffic. Everything from which geographic areas are visiting your website to your keywords, social media traffic, and more.
Analytics often involves studying past historical data to research potential trends, analyze the effects of individual decisions or events, or evaluate a given tool or scenario's performance. The goal of analytics is to improve the business by gaining knowledge that can be used to make improvements or changes.
3 REASONS THAT MAKES ME LIKE ANALYTIFY
There are a couple of analytic plugins out there that are really great. Easy to use, simple, great graphics, let you analyze traffic data easily and fast.
But despite the many benefits of those other plugins, there are features that I like better in Analytify. Here is which one and why:
ANALYTICS UNDER EACH POST
I can see all the data regarding a specific post inside WordPress. If I were to use Google Analytics, I would have to go in and out several menus.
Other analytics plugins do not provide this feature. I think it is excellent. I can see with a glance all that there is to know about that post.
Annual plans are very affordable, other plugins charge really high price for the same features that Analytify provides for free or with the lowest plan at $39. Most analytics plugins start at $99.
With Google Analytics I can't see the traffic coming from Bings, it goes under Direct traffic, it is confusing. Instead Analytify shows how many people are coming from Bing Organically. It is another great function. It is for free.
HOW EASY IS TO USE ANALYTIFY?
It is super easy to check analytics and understand what they mean if they are displayed in a simple form and from a different angle.
Here is what I see when I come into my dashboard using the Analytify Plugin for WordPress:
This is a clear and user-friendly window that shows all the comparable data for a specific period. This is just the beginning; scrolling down, you can see much more.
This is the easiest to use and easy to understand tool to connect to Google Analytics. You don't need to code or do other complex actions, just a few clicks.
INSIDE ANALYTIFY
Let's look inside Analytify and see how easy and great it looks in a real example of a website.
Above, you have seen the top of the Dashboard when you come into Analytify. You can access analytics by clicking "Analytify" under your WordPress Dashboard menu. When you click on it, you will get a summary of your traffic:
Let's scroll down:
Here you see the new sessions percentage, the returning visitors versus the new one, and the devices used, just below what page gets the most visitors. The graphics are beautiful.
Let's scroll down again:
Just below, you can see the Geographic data. Where are all those visitors coming from?
You see it on the map, so you have a visual guide. Also, just below there is a list displaying the Top Countries and top Cities.
Let's continue down the page:
Here you can see which system is used the most by the website visitors. Again the graphic is second to no-one.
Below you get a full report of what keyword people are using to find your website:
Also, they show you what the TOP referring pages and Social Media are so that you can adjust the promotion and marketing.
The plugin also show what happens when people land in one of your pages, meaning you can see the top pages on your site that are the entrance points for visitors, and you can see the top exit pages:
Knowing what pages are causing the visitor to exit the most is great actionable information to adjust those pages and keep visitors on your site longer.
Again it is straightforward to grasp. The way the layout and the graphic are made make it enjoyable to go through the analytics rather than a painful event. This gives a relatively comprehensive view of what is happening inside the website.
TOP FEATURES
Analytify comes with many features and Add-on:
Super easy installation. 1-Click authentication process.
Enhanced eCommerce Google analytics Tracking Add-ons for WooCommerce & Easy Digital Downloads are available (Premium).
Google Analytics Stats (General) under the single posts/pages as a block in wp-admin.
List of top Countries.
List of top Cities.
Social Media Statistics.
List of top Referrers Browsers
List of top Referrers
Mobile device Statistics
See what's happening when users come to your site (Bounce rate of top pages)
Real-time statistics of your site in dashboard. (Premium)
Campaigns statistics (Premium)
ShortCodes (Simple and Advanced) for custom statistics of your own choice (Premium)
Use shortcodes in widgets (Premium)
It helps in SEO optimization and allows you to see traffic data for individual blog posts and pages.
It can be easily customizable with CSS.
You can extend it to at any level. Usage of API's is straightforward to work with.
Google Analytics Stats (Full) under the single posts, pages & Custom Post Types as a block in wp-admin (Premium)
Google Analytics Stats (Full) under the single posts, pages & Custom Post Types as a block at front-end (Premium)
How people are finding you (TOP KEYWORDS)
ANALYTIFY ADDONS
Like other plugins, Analytify comes with addons. They are not mandatory, but in case you need those additional features, you can add them any moment:
In computing, a plug-in (or plugin, add-in, add-on, or addon) is a software component that adds a specific feature to an existing computer program. When a program supports plug-ins, it enables customization.
Here the are the addons that are available with Analytify:
I am giving you here a brief description for each addon.
Goals Dashboard
What is a Goal for Google Analytics? Google Analytics Goal TypesGoals in Google Analytics allows you to track specific visitor interactions on your website. … Then, once a visitor performs the particular action you've defined as a goal, Google Analytics records that as a conversion
A simplified way to showcase the conversions to clients. Create your goals in Google Analytics->Admin, select your website profile.
Set whatever type of goals you want to create and showcase them (to your clients) on your WordPress site using our Google Analytics Goals Dashboard add-on.
Email Notifications
Do you want automatic analytics reports delivered straight to your client's inbox weekly or monthly? This add-on is specially designed for this purpose.
These Analytics reports are in HTML format and render perfectly in almost any email client.
Campaigns
(Track your UTM campaigns)
Definition: UTM codes are one of the ways to track performance from any digital marketing campaign. UTM or Urchin Tracking Module is a simple code attached to any URL to generate Google Analytics data for digital campaigns.
Typical utilization of a UTM code is to create a unique URL for each campaign. The created URL or set of URLs can then be assigned to any marketing campaign which forwards users to your website. This enables Google Analytics to track the data, enabling comparative analysis of traffic and conversions for each campaign source. 
Analytify campaigns add-on helps you to identify the Analytics of your campaigns within WordPress. You can see all your campaigns inside WordPress in once instance.
E-Commerce Tracking (Easy Digital Downloads)
This Add-on will track the sales, transactions, and revenues in Google Analytics and displays stats uniquely and intuitively. It is a huge advantage for new WordPress users.
Easy Digital Downloads is one of the most popular WordPress eCommerce plugins. Packed full of features, and it has integrated Analytify in it.
E-Commerce Tracking (WooCommerce)
If you own an online store, with this addon you will be able to see how many people clicked "Add To cart", in what stage people are leaving the cart, where are they coming, how much money you are generating from which, all those data, just in a glimpse.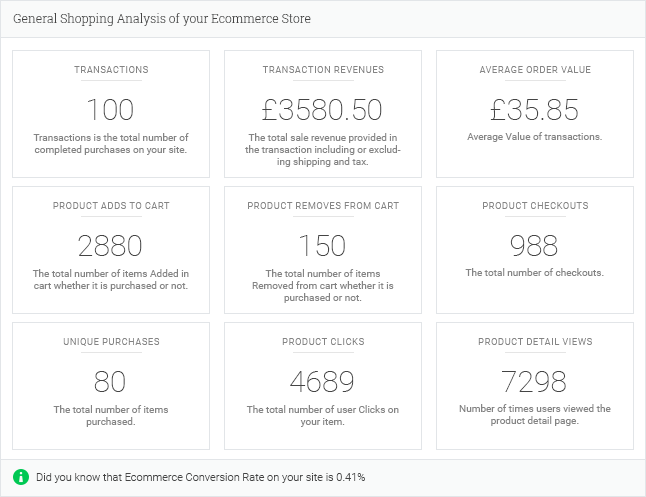 SEE ANALYTICS INSIDE YOUR POST EDITING PAGE IN WORDPRESS
This is a perk in Analytify. You can go into any post and see the related statistics for a period of time. It is fantastic, here is an example.
This is inside my WordPress at the bottom of one of my articles:
Right now, I could go into any of my posts and find out how they are performing. This is a great feature. I love it!
PRICING
The pricing is incredibly affordable, and it comes with different plans. Compared with similar plugins, Analytify prices are by far the most affordable.
Analytify gives a lot of free features that are otherwise a paid or premium options with other plugins.
For example, MonsterInsights, let you see the keywords that people use to find you if you upgrade to the PRO plan, that alone cost $199.
With Analytify, you can see the keywords that people use to find out for free. It is not the only feature that you can get with Analytify for free of with a very affordable plan.
Here is another example, always from MonsterInsights. You need the Pro plan for $199 to get the following features:
See Your Top Landing Pages to Improve Engagement
See Your Top Exit Pages to Reduce Abandonment
Analytify lets you have all those features already in the free version of the plugin. If you want to access all the premium features listed above, you can start with the PRO plan.
It is only $39 for a year.
Compared this price with the lowest price of plugins like MonsterInsights and Exact Metrics, and you see that Analytify gives a better array of options with the lowest price.
There are other options for small businesses, agencies, and developers. Additionally, Analytify allows for different bundles between plans and add-ons:
You can for sure find the plan that fits your needs. As you can see, prices are affordable. If anyone is serious about business and growing, the PRO version is a must.
ANLYTIFY PRO VS FREE
You can download Analytify right now from the WordPress site under Plugins. Click add new and type Analytics. It is right there at the TOP.
Once you have it, you can start taking advantage of it. However, the Pro version has many features and functions that are not available in the Free version:
There you go!
CONCLUSION
I hope to convey the great features and options you can find in Analytify, and I wish I could answer some of your questions. If you want to add anything or if you have questions, leave it in the comments below.