Pinterest for Business and Tailwind together can be two great tools to generate website traffic and become successful bloggers.
Pinterest still offers a way to generate more traffic than any other social media. Tailwind provides a tool that helps anyone utilize Pinterest (and Instagram for those who are active on it) to the maximum capacity.
Here is how I use them to generate traffic to one of my sites.
"This blog is readers-supported. It contains affiliate links, which means I will make a commission should you click through and purchase. I was compensated to create this post."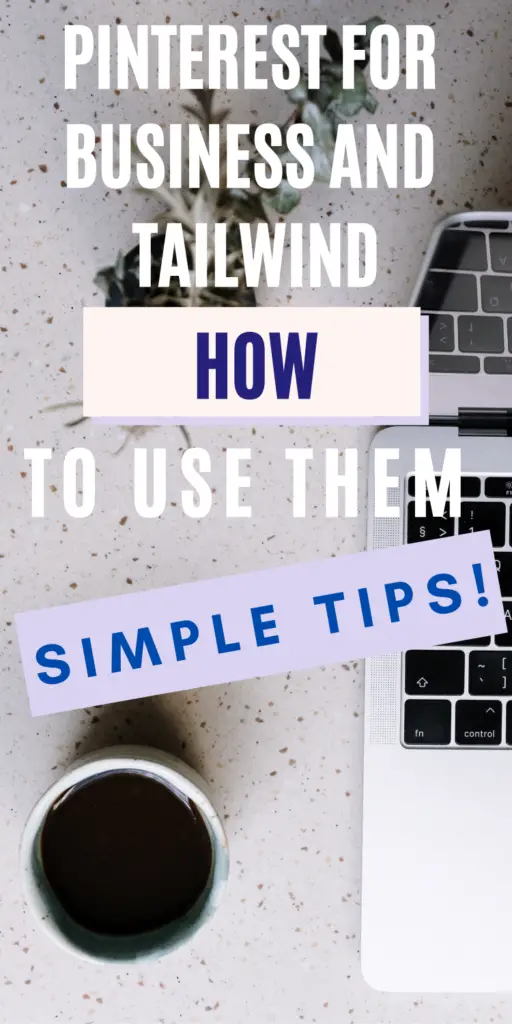 TAILWIND PINTEREST STRATEGY
I recently decided to start a niche site, and I am testing different strategies to get traffic and different monetization strategies. I am curious to find out what it takes for a brand new site and blogger to make a full-time living out of it.
Since that blog is on the pet niche, I started a new Pinterest account and created pins for each new article. Most people are asking questions like:
How long does it really take to grow a Pinterest account to the point of generating huge traffic?
How long does it take to generate traffic from Google on a brand new blog?
The blog I am talking about is nine months old, and the Pinterest account is nine months old, even though I really started to work on it after 3 months from the actual creation. Here is how much traffic I am getting from Pinterest after a few months of pinning.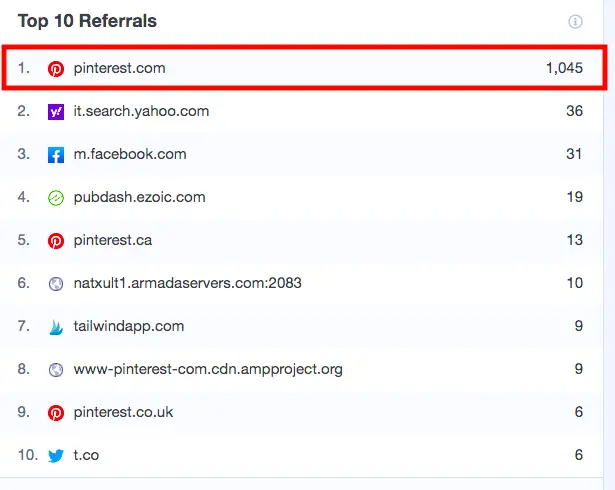 I get a bit over 1000 people to my site every month from Pinterest alone. The Pinterest traffic has been growing over time of consisting pinning. I have used Tailwind to pin and manage my Pinterest account.
Below are my results, and if you are curious, you can also see typical results from Tailwind users HERE.
Here is how the overall traffic and Pinterest traffic have increased over time:

Pinterest traffic has increased as following:
1st month (September 2019): 39 people
2nd month (October 2019): 105
3rd month (November 2019): 154
4th month (December 2019): 266
5th month (January 2020): 554
6th month (February 2021): 642
7th month (March 2021): 812
8th month (April 2021): 778
9th month (May 2021): 952
The traffic hasn't increased suddenly to a very high range, but it grows consistently every month. Perhaps at some point, it will suddenly rise, but I have the idea that it will still take a few months. I will tell you why.
PINTEREST FOR BUSINESS AND TAILWIND: WHAT STRATEGY HAVE I USED?
The first three months of the site were not dedicated to Pinterest, nor I used any tool to schedule my pins. My main concentration has been on writing articles for my blog. I was writing articles, and as soon I finished one, I created a pin and pinned it.
That was all.
After the first three months, I had enough articles to start scaling up my Pinterest strategy. At that point, I started to use Tailwind to schedule my pins and create more pins for my articles.
My strategy has been straightforward. I used to create 5-10 pins for each new article, I would schedule a few directly on Pinterest, and the rest through Tailwind to be scheduled for later.
In the beginning, I would create the pins myself, but when Tailwind Create came out, I started to make my pins with this tool to get new design ideas and economize some time.
So far, the main thing I have insisted on has been to create new articles and new pins. I believe that at the beginning, I have pinned too many repeated pins. I am working now on reducing the re-pinning of already existing pins and pin new designs as much as possible.
Taking into account I started to use Tailwind after 3 months of the creation of the Pinterest account, I could estimate that the traffic to my site went from 154 to 957.
Nearly 10x more traffic!
I think is due to the following reasons:
Consistency of pinning due to the Tailwind Scheduler that let me schedule pins months in advance
Help in creating new designs due to Tailwind Create
Constant creation of new articles
More fresh pins and less re-pinning of old pins
Exposure through Tailwind Communities and Pinterest groups
HOW I HAVE CREATED MY PINTEREST ACCOUNT
When I created the site, I have also gotten the social media accounts secured, with the name I wanted. However, I started to work on them only once I had enough content created.
When I started with the Pinterest account I have immediately created 10-15 boards. I have created the boards targeting the most important keywords for my niche found in Pinterest.
Here is an example, using the Pinterest search bar:

The search bar in Pinterest work similarly to Google, it displays the most common searches from Pinterest users.
Another idea to find boards ideas is to search the biggest Pinterest accounts in your niche, and see what boards do they have. Here is an example: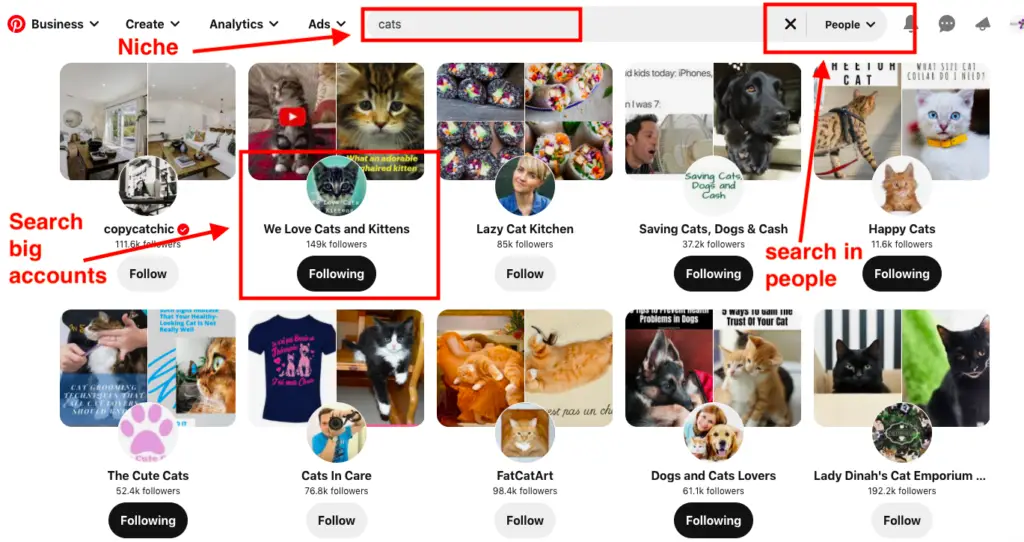 Search people within your niche and find the accounts with a large number of followers. Search their boards to get some good ideas on what boards you can create for your account. Here are some examples: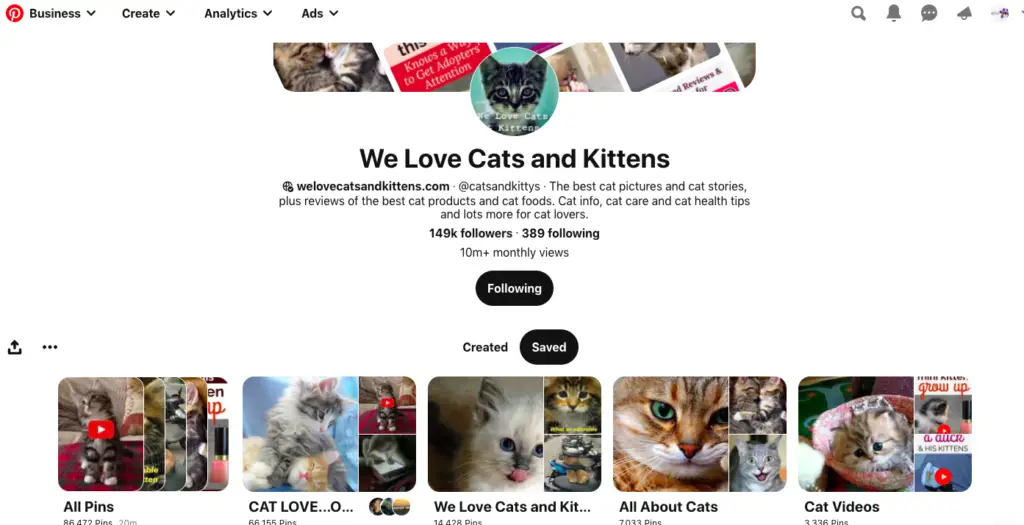 You can check the followers they have for each board and see which one are popular, it can give you an idea of topics you can use for your boards.
In the beginning, I have created 10-15 boards and started to pin. After a while, on average, every month, I would add a few boards based on my blog categories. Also, I believe that at month 5 or 6, I started to join group boards too. I have search group boards in my niche through PinGroupie.
But the boost came through Tailwind Communities. In Tailwind, you can join various communities and get assistance to get your pin re-shared on Pinterest. I got a huge bust and exposure on Pinterest. Here is the result so far: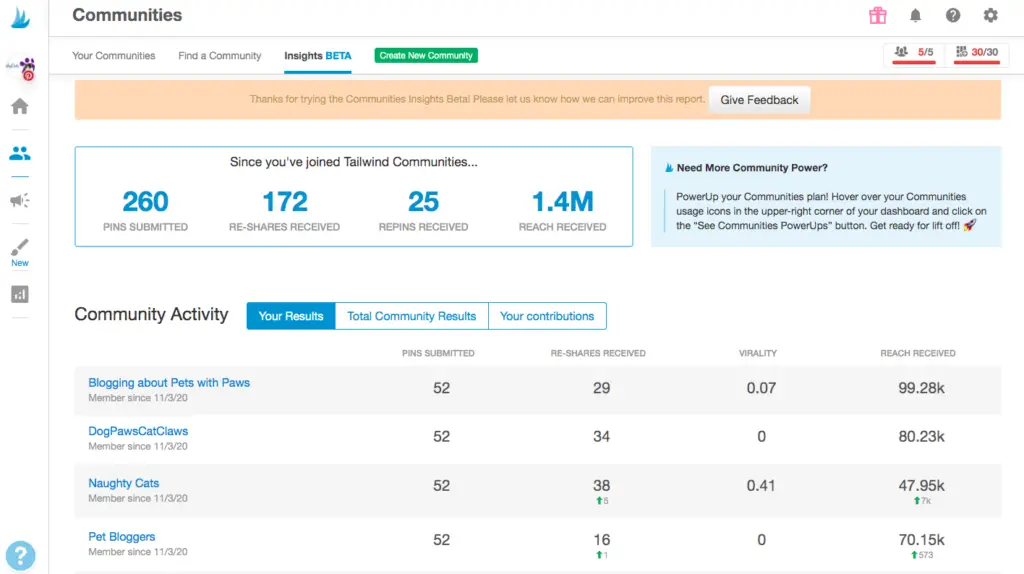 Other community members shares pins of other members, and so is for you. Once you join a community, you should share at least the same amount of pins you submit, to keep the exchange in. In this way, everyone get the chance to gain higher exposure.
HOW MUCH TIME I SPEND PINNING PER WEEK?
I would say I work on Pinterest between 1-2 hours per week. This is why it is great to have a tool that can do things for you. Especially the scheduling. Once you have scheduled your pins, you can go off and take care of new content. You know that your pins are being distributed regardless of what you are doing.
Typically, I have enough pins schedule for a month in advance, sometimes even more. I like to have things lined up. After all, if I have to work more on other things, I am not pressured because I have to create pins or schedule them because my queue is empty.
Here is how my schedule is looking like: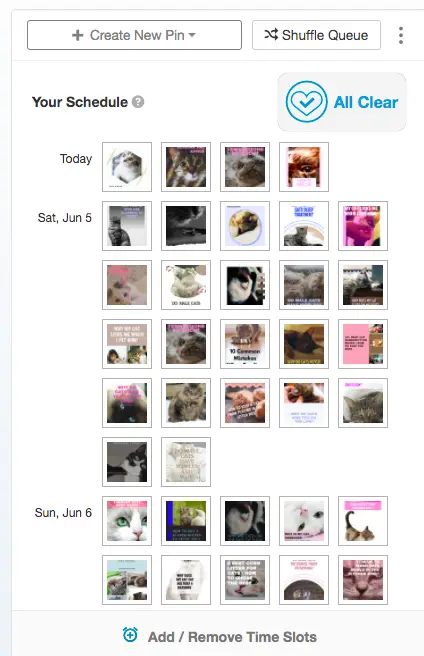 I like to schedule 25 pins per day; however, they could be less, as long as they are original. I am currently working on always having new designs coming out. Before you ask, there isn't a correct number of pins. I believe it depends on the niche and the quality of the pins. Even which boards are being pinned too can be a factor.
The best is to test. One can taste different pinning strategies. Maybe one month one can pin 20 pins, another month 10, and so on until you find what works best for you.
DO YOU NEED A TOOL LIKE TAILWIND WITH PINTEREST BUSINESS?
Eventually you can do everything manually. You could create your own pins, schedule them every day, and use the native Pinterest scheduler. Pinterest has a scheduler you can use, it allow scheduling for the two weeks ahead only.
Personally, I do both. The first time I issue an article. I schedule the pins directly on Pinterest. For example, if I create 10 new pins for an article I just wrote, I would pin 3 or 4 immediately and the rest I would schedule them through the Pinterest native scheduler.
Additional new pins I create for articles with an URL that has already appeared in Pinterest i schedule them through Tailwind. Why?
Because I like to be on my account and check what is going on, and I like to pin the first pins for a given article. I am also testing different things.
But, to be totally honest with a tool like Tailwind I can accomplish the following:
Schedule more than two weeks ahead
Economize time. I do not have to be on Pinterest every day
Help in creating pins faster and with new design ideas with Tailwind Create
Get more exposure through Tailwind Communities
Manage my Pinterest account
What count most after all is content. Unless you hire someone, at some point you need help to create content for your social media. Tools and software are a great help.
Google takes a long time to get you traffic, Pinterest is an easy solution to get immediate exposure and traffic, which can help later in Google ranking too.
FREQUENTLY ASKED QUESTIONS
Here some frequently asked questions and asnwers:
How does tailwind work for Pinterest?
Tailwind is a complete solution for managing and growing a Pinterest account. The platform fully understands how Pinterest works and what the regulations are and works around it. Tailwind lets you create, schedule a pin, inspect your account metrics, and interact with other like-minded bloggers to get more exposure. It is a complete solution to grow a Pinterest account.
Is Tailwind approved by Pinterest?

Tailwind is a Pinterest partner. Therefore you can always be sure that your account is safe. Additionally, Tailwind has alerts and notifications built-in that tell you if you are going against Pinterest's best practices.
Is Tailwind worth paying for?
Tailwind is a complete tool for Pinterest, and it is worth paying for. If you are serious about growing a Pinterest account and market your content on it, you need to get assistance from a complete tool like Tailwind.