WHY ADD A STATS DASHBOARD?
ADD A STATS DASHBOARD: Have you tried to have Google Analytics Statistics right into your WordPress Website Dashboard?
It is very easy to set up and it allows you to have all the data you need when you open the Dashboard and you can immediately see what is going on without having to go to another site.
It looks like this:
For example, when I come into my own site, this is what I see immediately.
I do not need to go to Google Analytics site and look through the many options. This simplify considerably the data gathering and analysis.
Additionally right under Dashboard, there is a tab called "Insights".
Clicking on it, here is what I see:
And beside i can click on Pageviews and get this:
Add a stat dashboard into your WordPress Dashboard Site is really simple and as you can see if very user friendly and easy to understand. No coding, no set up into pages, just a few clicks.
If you scroll down there are more data to see:
There is more to see below as what page have been seen, where the traffic is coming from and so on, all made easy to see and understand and simplified.
This is possible with the MonsterInsights Plugin. This is one of the first Plugins I download when I start a new site. It is easy to do.
READ ALSO: SCROLL DEPTH TRACKING WITH MONSTERINSIGHTS
HOW TO DOWNLOAD THE MONSTERINSIGHTS PLUGIN (LITE)
Add a stat stat dashboard to a WordPress site with this free Monsterisights Plugin ( lite version). Just go to " Add new Plugins" and type analytics and you'll find it right there at the top:
Just click install and then activate it. Once you activate the plug in you follow the instructions on how to connect the you Google Analytics account ( and create one if you don't have it ) with he plugin.
Once you have downloaded the plug in, in few clicks you are guided on how to connect to Google Analytics in few clicks and few minutes.
And there you have it.
READ ALSO: SCROLL DEPTH TRACKING WITH MONSTERINSIGHTS
UPGRADE TO PRO
Once the Plugin is downloaded you can Upgrade to the Professional version by going to the Plugin Settings:
Once in setting you see right at the TOP the option to upgrade to Pro. Once you click on it, you are directed to the this site: (with 50% Discount)
Click on upgrade and get your license key once upgraded.
Once you have your license key, you can now insert in in the original window: ( In the setting page inside your wordpress site)
Once this is done, you'll see:
Click on it and:
Click Install and Unlock and there you go:
READ ALSO: SCROLL DEPTH TRACKING WITH MONSTERINSIGHTS
CONNECT MONSTERINSIGHTS PRO TO GOOGLE ANALITICS
Note: this step is only required if you weren't previously authenticated.
Let's return back to settings and click the follwoing:
Which leads you to this page:
Next, you can click the Allow button to give MonsterInsights access to your Google Analytics data.
This should be all. You may have done this already with the Lite Version download. But in any case there are very clear instructions to follow and all what need to be done is to click where the window says to click.
READ ALSO: SCROLL DEPTH TRACKING WITH MONSTERINSIGHTS
DIFFERENCE BETWEEN THE PRO VERSION AND THE LITE VERSION
There is so much to gain from the PRO version, and again all those add-on and features require no Coding or programming, which you would be require to do some of it if you only use Google Analytics.
As you can see below there are 5X more features in the PRO version:
And Here some more:
You can read more about all the features HERE.
PRICING
Monsterinsights has different price plans depending from what you need and the level of your traffic or business.
The Pro versions gives access to use the plugin for 5 Sites, which is great. This is the recommended Plan. Instead if you are just starting and have only one site go for PLUS.
READ ALSO: SCROLL DEPTH TRACKING WITH MONSTERINSIGHTS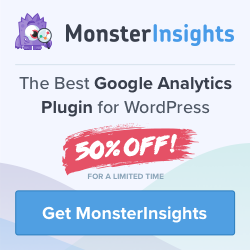 Find it In Pinterest!