How to use the Zeigarnik effect in marketing with multi-step pop-up forms? This may be a different approach to increasing conversion on a website. Are you wondering if a multi-step pop-up would be a good idea? It could increase conversion considerably to the contrary to what it may seem at first.
A multi-step pop-up form is a form that requires a visitor do go through 2 or 3 steps to reach the desired result. This specific type of pop-up form is an example of the use of the Zeigarnik effect in marketing; although visitors are required to do more than one action, this type of pop-up does increase the conversion ratio.
Let's examine the aspects of this phenomenon.
WHAT IS THE ZEIGARNIK EFFECT?
It has been found that incomplete tasks are remembered better than complete tasks:
Zeigarnik Effect: Named after Soviet psychologist Bluma Zeigarnik, in psychology, the Zeigarnik effect occurs when an activity that has been interrupted may be more readily recalled. It postulates that people remember unfinished or interrupted tasks better than completed tasks. (Ref. Wikipedia)
Based on this principle, people are more likely to complete a task once they have started it; therefore the if we translate this principle on the use of the pop-up forms we can conclude that a multi-step form is more likely to be complete since people would put more attention in completing it.
WHAT IS A MULTI-STEP POP-UP FORM?
A multi-step form is a perfect example of how to use the Zeigarnik effect in marketing. It is a form that pops up, requiring a visitor or a customer to complete 2 or more steps. It is not the classic pop-up form that comes up on the screen, asking someone to insert an e-mail address.
One could object that if you add two or more steps, a visitor could be driven away. However, if we follow the principle of the Zeigarnik effect, the fact of requiring something to be completed should create the opposite effect.
Here is an example of a multi-step pop-up form:
But it is true? Does it help to increase conversion?
DOES IT WORK TO USE A MULTI-STEP FORM OR POP-UP FORM?
How do we know if the use of a multi-step pop-up form is really going to increase conversion? We should learn the inside out of how to use the Zeigarnik effect in marketing?
There has been a web study showing that the approach of using a multi-step pop-up form can really work. If you have a site that got traffic, you could test this type of pop-ups for a period of time and test it yourself.
As an example of successful use of such form, you can read: Why Multi-Step Lead Forms Get up to 300% More Conversions
HOW TO CREATE A MULTI-STEP POP-UP FORM WITH OPTINMONSTER
The best way to create a pop-up form is to use a plugin that does exactly that job. We are going to use OptinMonster to show you how to create such a form.
To find out more on OptinMonster you can read:LEAD GENERATION, OPTIN FORMS | OPTINMONSTER ILLUSTRATED REVIEW.
With OptinMonster there are two ways to create a multi-step po-up form:
MonsterLinks™
Yes/No Campaign
The first thing to do is get an OptinMonster license; remember that to create a multi-step form and use MonsterLinks™ and the Yes/No Campaign, you have to have a Pro License.
Let's see how to use the Zeigarnik effect in marketing using pop-ups and MonsterInsights.
CREATING A MULTI-STEP POP-UP WITH MONSTERLINKS™
MonsterLink™ is an embeddable link that you can add to any text or button. When users click this link, your popup campaign will appear. Thanks to the Zeigarnik effect, users will be more likely to opt into your offer.
CREATE YOUR POP-UP
Access your OptinMonster dashboard and select "Create New Campaign":
Now it's time to select your campaign type.

Then you'll need to select a template:
You can also filter your templates depending on the goal of your multi-step popup:
And if you want to create a multi-step popup that's 100% unique to your brand, you can use our Canvas template:
With those templates you can create your pop-up from scratch. Let's use a basic template:
Then, you need to name your popup campaign to stay organized, assign it to your website, and click Start Building: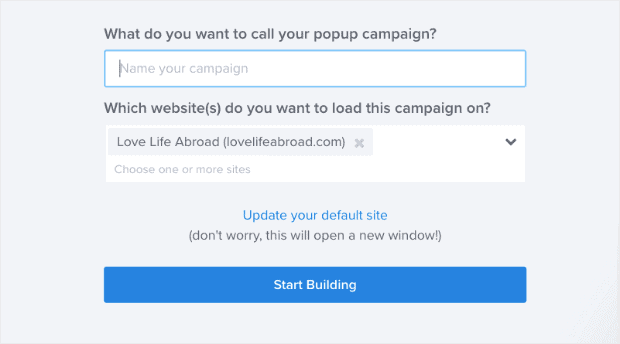 DESIGN YOUR POP-UP
Once you are inside the editor, you have tons of customization options you can choose from. Optinmonster is a highly customizable pop-up form creator. You can change colors, add images, videos, links; you can change styles, and much more.
To modify any part of your multi-step popup, click on the block in your editor. That will pull up the editing tools on the left-hand side:
Plus, if you want to add a new block, that's easy. Just click + Add Block at the top of your editing menu: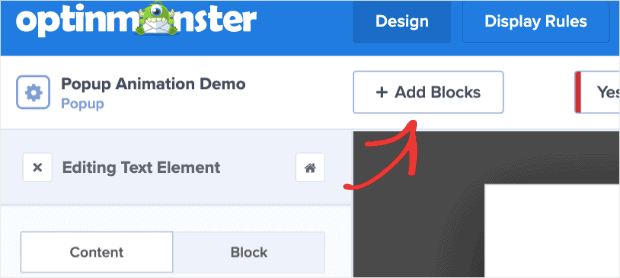 If you scroll down in the left-hand side menu, you'll see the different block options you can add to your multi-step popup. These blocks include,
Button
ChatBot
Countdown Timer
Divider
Image
Video
And more.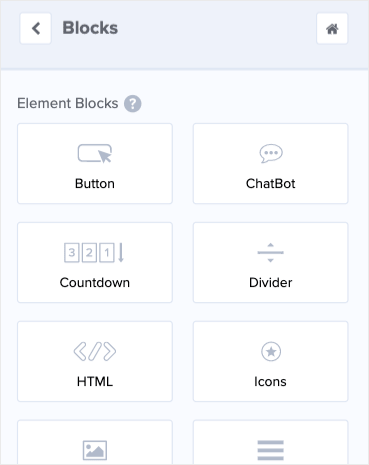 You can add the new block with a drag and a drop:
ADD MONSTERLINKS™
To use MonsterLinks™, you have to do the following: At the top of your editor, click Display Rules
You'll see a drop-down menu below with different options for display rules that you can add. Look for MonsterLink™ (On Click):
Now you simply need to click Copy MonsterLink™ Code:
And that's it! Your MonsterLink™ will be copied to your clipboard, and you can embed it wherever you would like.
CREATING A YES/NO CAMPAIGN WITH OPTINMONSTER
With OptinMonster, you can create a pop-up form that asks the visitor to click Yes or No. You want them to click on Yes. One they click on Yes, they can be redirected to an URL, or they can be asked to opt-in an e-mail list or other.
How do we do it?
CREATE YOUR POP UP FORM
Follow the earlier tutorial to create and design your pop-up form, with some differences. After you start building, you have to select the "Yes/No Campaign."
Then click Enable Yes/No for This Campaign:
This will create a new page in your popup campaign:
At this point you can start customizing the form pulling up the editor:
Now you can modify 3 things:
If you scroll down, you'll also see that you can edit 3 things for both your Yes and your No buttons:
Regular: The appearance of your button in the campaign (color, text, border, and so on)
Hover: How your button looks when the users' cursor hovers over the button (color, text, and so on)
Action: What happens when the user clicks on the button
That last one is particularly important. Make sure that you're selecting the right Action for your Yes and No buttons. The drop-down menu gives you many different action options, including:
Go to a view (the Optin or Success page)
Redirect to a URL
Click to call
Close campaign
And more.
Decide how you want to redirect the visitor based on your campaign.
SET THE DISPLAY RULES
To change your display rules, click on the condition you want to modify. Many options allow you to display the form based on different or multiple visitor behavior.
This will pull up your display options. For this example, we'll click on Exit-Intent®:
You can decide to show the pop-up on a specific URL, page, time of visitor on page and more.
We have seen how to use the Zeigarnik effect in marketing using OptinMonster to create multi-step pop-up forms. Here some related questions:
What are example of the Zeigarnik effect in marketing?
There are some things you can use on your website or email marketing to create the Zeigarnik effect and improve conversion:
How the Zeigarnik effect was discovered?
Russian psychologist Bluma Zeigarnik first studied the phenomenon after her professor and Gestalt psychologist Kurt Lewin noticed that a waiter had better recollections of still unpaid orders. However, after completing the task – after everyone had paid – he was unable to remember any more details of the orders. Zeigarnik then designed a series of experiments to uncover the processes underlying this phenomenon. Her research report was published in 1927, in the journal Psychologische Forschung.
OptinMonster doesn't have a free version, but they have a 30 days money back.
The price versus quality ration and several options and features available make OptinMonster worth using. It is user-friendly, and as shown by the number of downloads, people like it.
CONCLUSION
And here it is how to use the Zeigarnik effect in marketing with OptinMonster. If you have any questions, please leave it in the comments below.