Are you wondering how To Get Approved For ShareASale? If you have tried to get approved for the ShareASale Affiliate Network and got your application disapproved, know that you are not the only one. I did have the same issue when I started my first blog.
To get approved for ShareASale, you have to get a domain name e-mail, your site does not contain adult or illegal content. If your site is new, when you get the declined application, write to them, and provide more information to get approved.
I'll share the details in this article.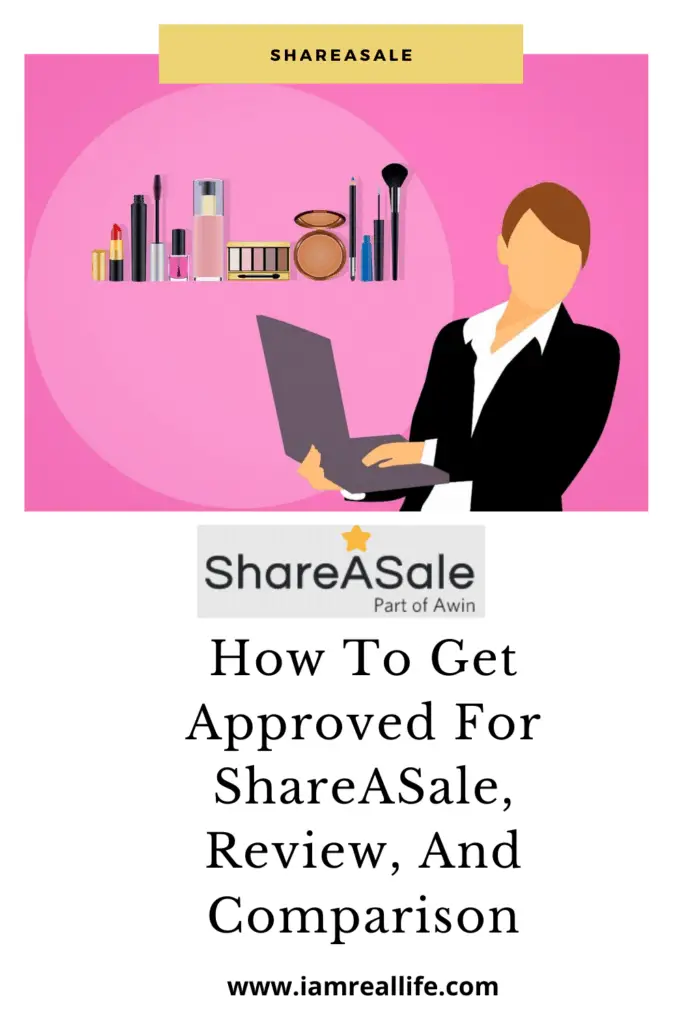 It is very likely, especially if you have a new website with little or no traffic, that you will get denied ShareASale access.
Here is what has happened to me. I started my site somewhere last 2 years ago; after two months, I have applied to join ShareASale.
Here is what is going to happen.
Once you complete the application, usually, you get an automatic e-mail alerting you that your application is pending and that within two days, someone will answer you.
If the site has little traffic or is not in compliance with their terms of service, you get denied access. My website was relatively new. However, there are many affiliate programs I like within ShareASale.
Therefore I decided to write to them and aks why my application was rejected and what I had to do in order to join.
Here is the typical e-mail you get, I only include the first and the last part to hide the passwords and user name.
Their contact email is shareasale@shareasale.com.
This is the first e-mail. Usually, after a couple of days, you will get a second e-mail with either acceptance or denial.
If you get the bad news, simply write to them using the e-mail address provided. For example, I wrote a very simple e-mail asking them to review the denial, and asking what the requisites to be approved are.
You could write something like this:
" Hello, my name is Vittoria. I just applied for ShareASale, but I got denied. The application e-mail was myemail@com. I was wondering what the reason for the denial is and what I need to do to be approved. I just started a blog, and even if new, I am planning to grow it very soon. Please let me know as I really would like to join the program, due to many merchants in your program appropriate for the website I am building."
It is very simple, so they see you are a person who is working on a legitimate project and you are not trying to spam anything.
In my case they replied that they would review it again, the next thing I knew was the approval e-mail: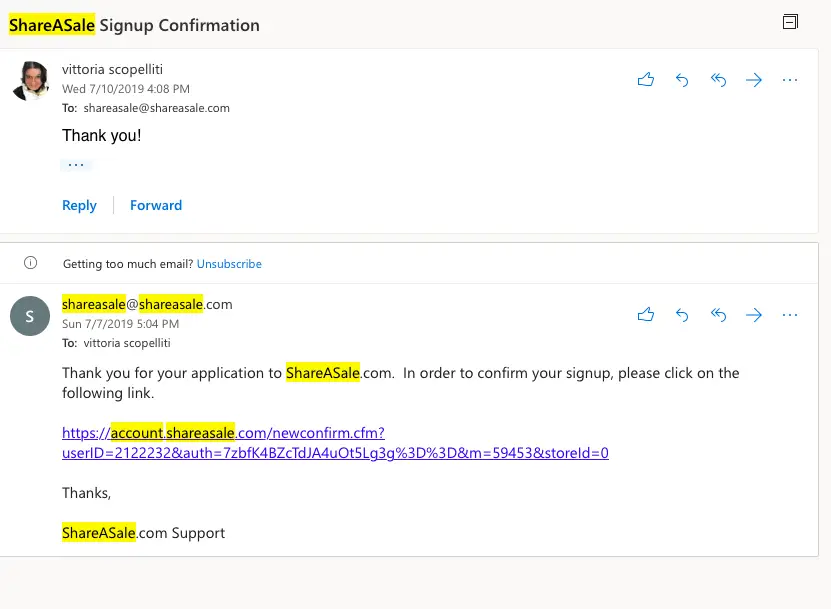 I made it!
I did a similar thing with other programs I got disapproved for. It seems that people like to see that someone really wants to join. Usually, they help you out.
Before getting to this point let's make sure also you fill up the application correctly.
To avoid writing to them after a denial, let's make sure the application is filled correctly.
GO TO SHAREASALE AFFILIATE LOGIN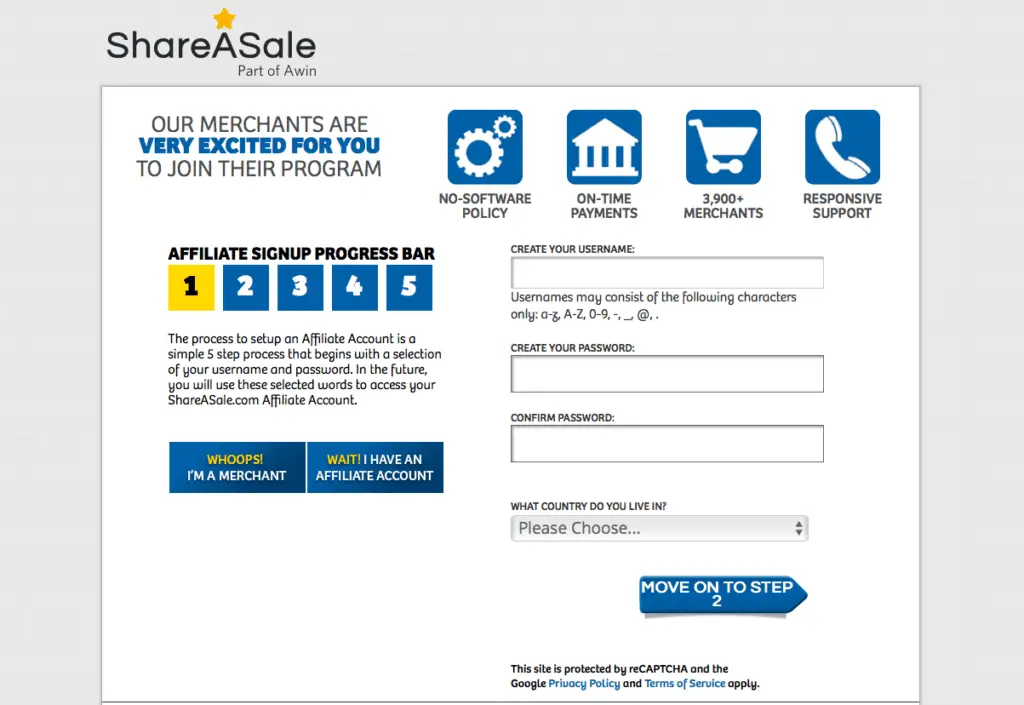 FILL IN THE FORM
This part is easy since it is only a matter of choosing a username and password. The second page will ask you to fill in the website name and other information about your site: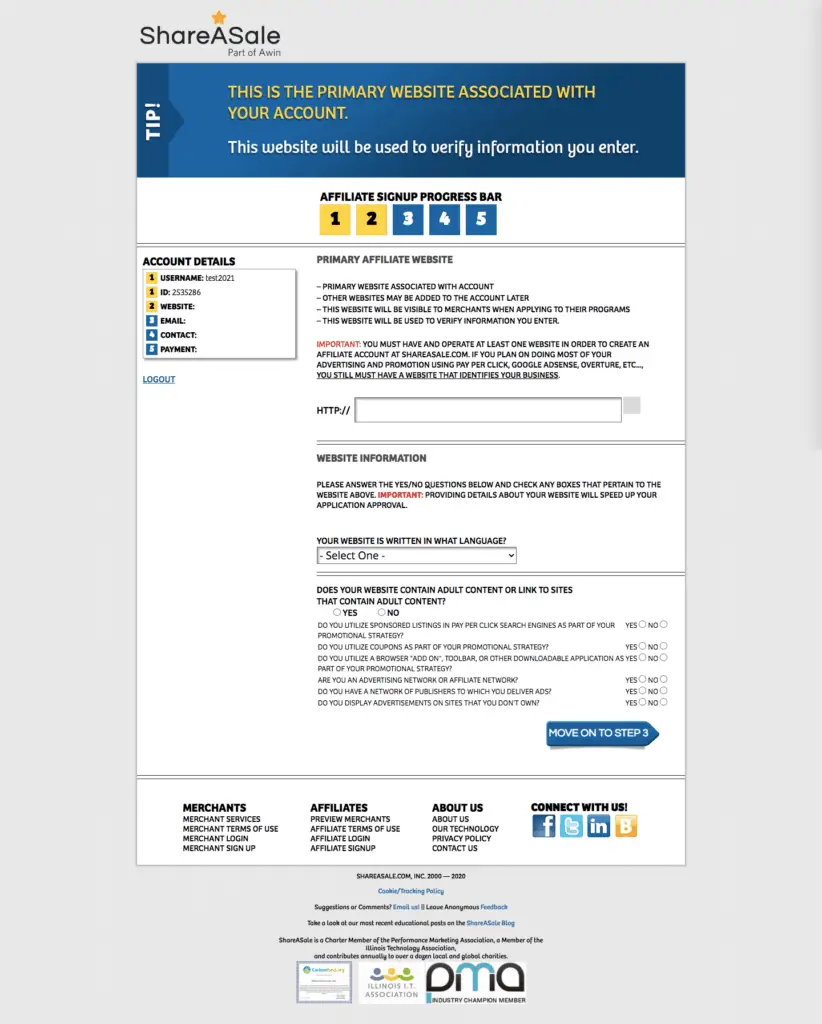 The last part of this page is particularly important, so fill this information with care, do not just click randomly:
It is way better for each of those answers to be no. If yes, you may have to write them separately and explain a bit more, even during the approval process, they tell you in the first e-mail that you can write to them if you have any doubts.
If you have a regular blog or website that is professional and doesn't contain spammy content or adult content, it should not be a problem, even though the traffic may be.
Now, to the next page.
FILL IN THE E-MAIL ADDRESS
Do not use Gmail, Yahoo, Hotmail, and so on. You have to have a domain email, like myemail@mydomain.com.
If you try to use any other e-mail, you can't go forward to the last step. As the last step, you will be asked for contact information.
And this is it.
How to get approved for ShareASale if you are starting?
As I said before, it is better to be upfront and tell them you are building a blog or website and that such a blog will grow within a short time. Thus you have to start adding affiliate links.
Getting into ShareASale is only winning the first battle, the war is not over yet, nonetheless won! So how to get approved by merchants?
I'll share with you some inside pictures of ShareASale. When you first log in, you have a summary of your account.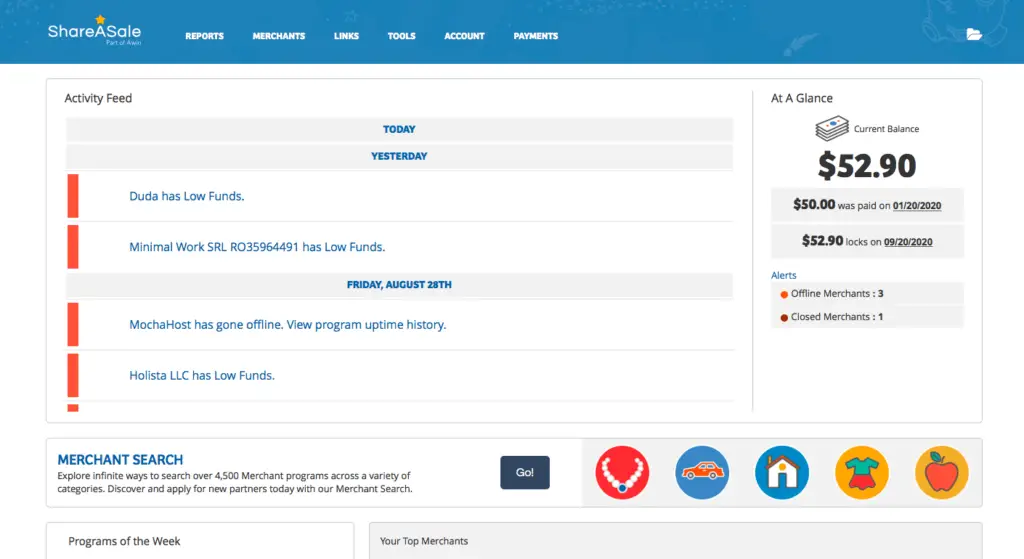 In the top bar, you can find "Merchants" click on it and go to "Search for Merchant":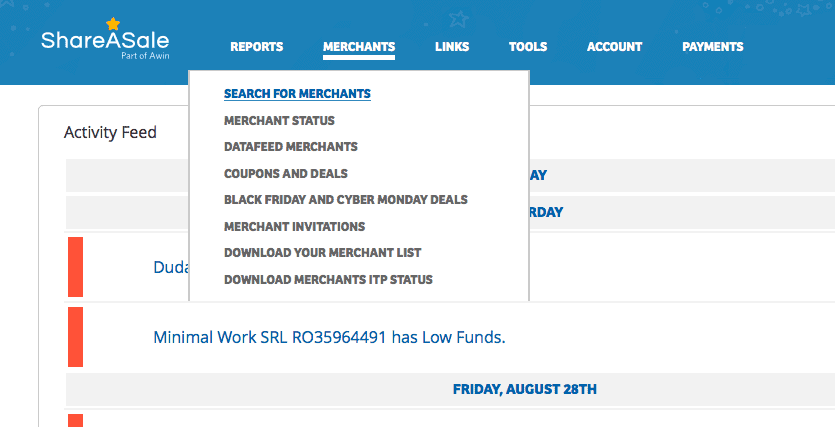 At this point, you will go to a page where you can search merchants based on keywords, names of merchants, and other criteria.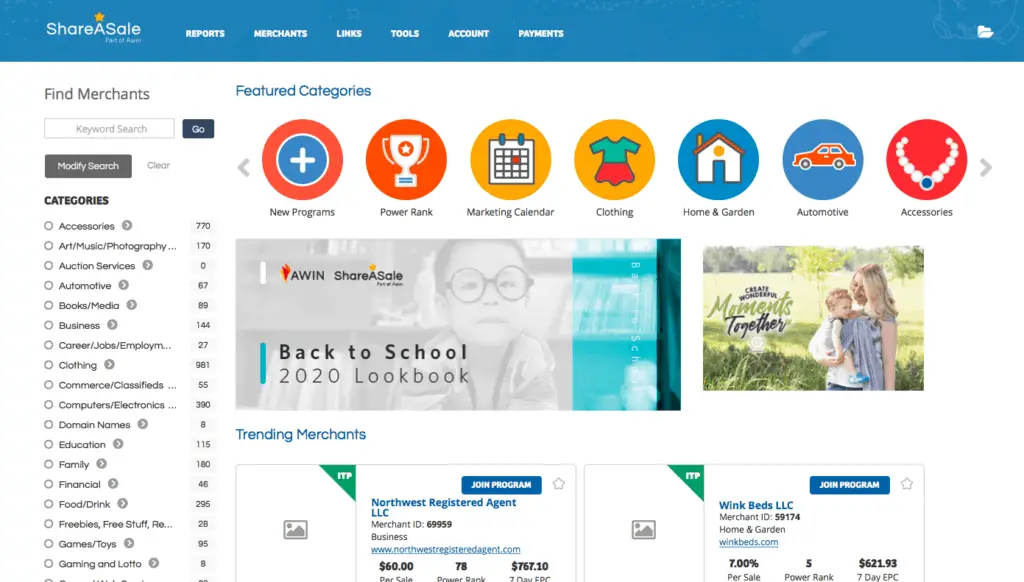 Once you selected a merchant, click on "Join Program".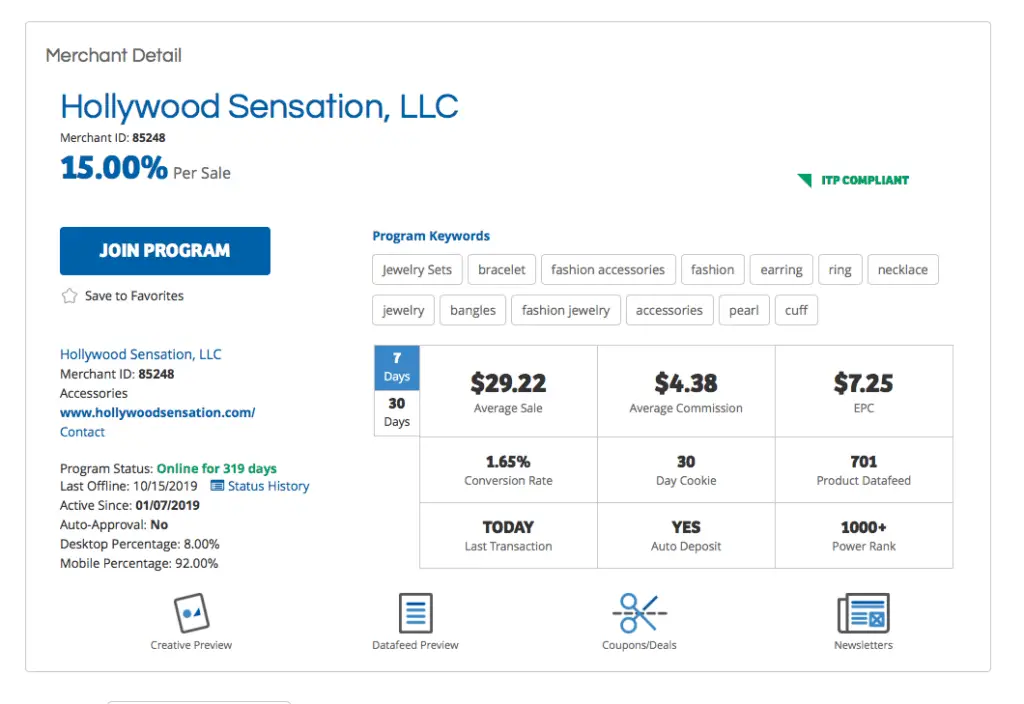 Now, you have to accept terms and condition and write about your promotional methods, it says it is optional: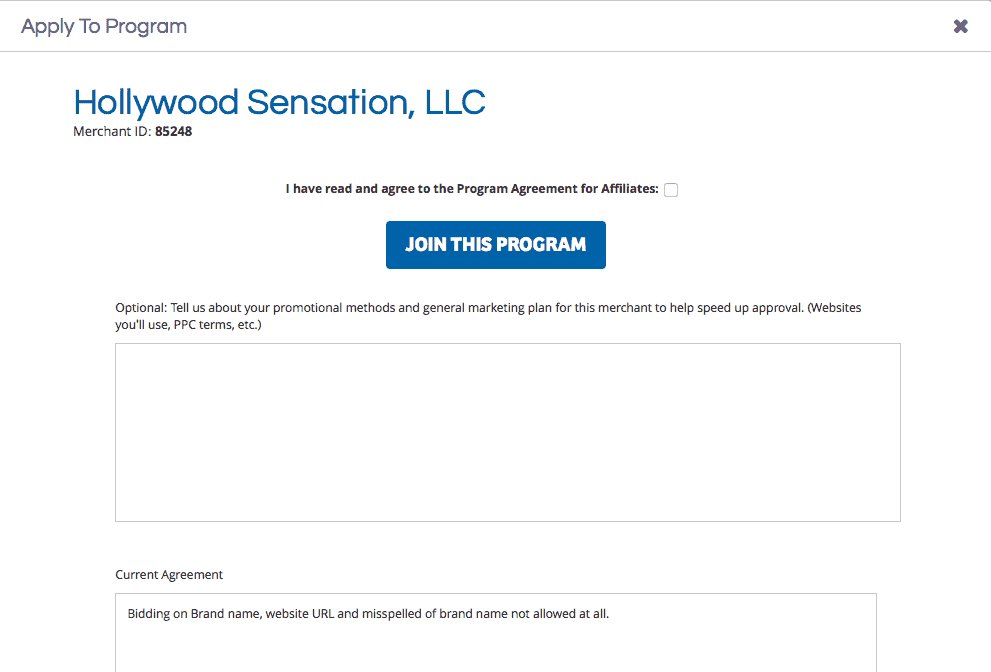 Even if it is saying "optional," you should take the chance to speak about yourself, the site, and what you will do to promote their products. It should include white hat methods, and if you already have followers and a mailing list, you could include the numbers as well.
Once you are done, click again on "Join Program"; either you are automatically approved, or it goes to pending. Someone will answer approving or disapproving the application.
The merchants with automatic approval are very little, so take the time to write what you have to write when you are asking to join the program.
ShareASale is a very trustworthy platform with many reputable brands available in almost every possible niche. If you are starting a niche site, ShareASale could be an alternative to Amazon Associate (Amazon Affiliate program).
Payments are automatic on the 20th of every month. You can choose direct deposits, checks, or Payoneer as a payment method.
The excellent part of joining an affiliate platform with higher standards is that you can be sure you are dealing with professionals. It is another good reason to try to get in there by following the above instructions on how to get approved for ShareASale.
Some of the best brands are on this platform, and if you want to join them you should really join ShareAsale.
To name a few:

It is difficult not to know Jillian and her workouts, one of the best fitness programs one can ever do. Her Facebook profile says it all: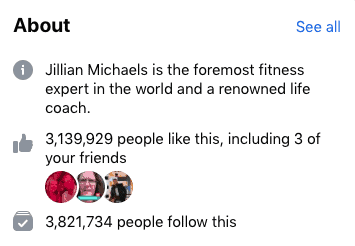 Only 3.2 Million people follow her ( obviously it was sarcastic), this is a top merchant and leader in the fitness sector, and yes, it is on ShareASale.

If you are a blogger and are dealing with keyword research, you may have already come across Long Tail Pro. It is a lifesaver tool that gives suggestions for keywords per any word or search phrase you provide. You see the competitiveness of the keyword and competition.
If you want to join this affiliate program, you have to join ShareASale.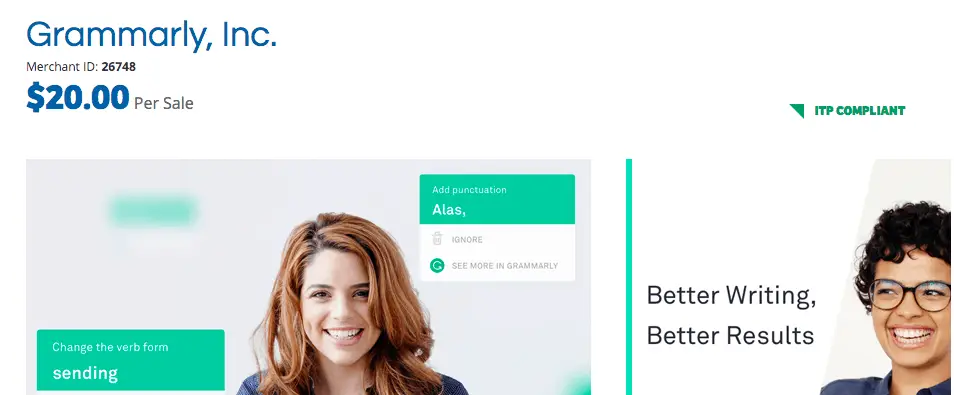 This is one of the world's best grammar checker software; you can use it to correct your grammar when you write on any computer, online, and even while you are blogging. It is a live saver, and for sure, "Grammarly" knows punctuation better than anyone else!
Don't ask me where to put the comma. I have Grammarly installed since when I use it I just write and let it correct all my errors 🙂
Grammarly is on ShareASale.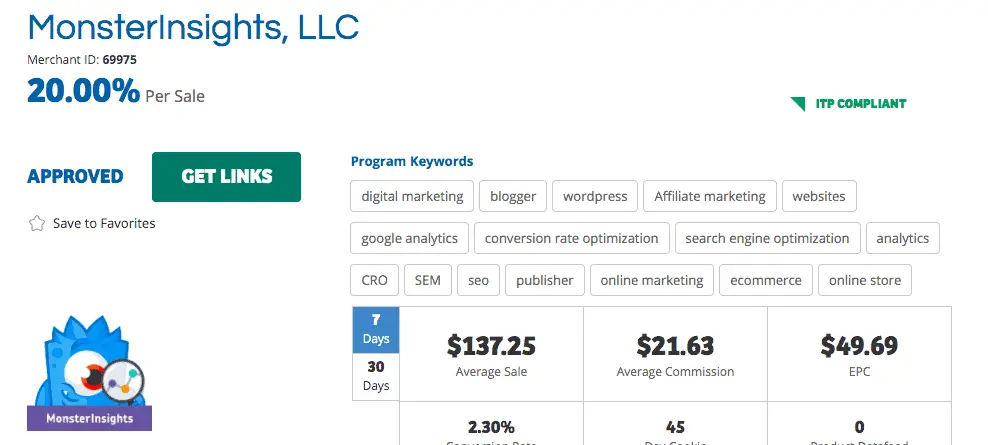 Again if you have a website or looking to create one, you are going to use Google Analytics. MonsterInsights is a plugin for WordPress that lets you see analytics right from your website admin area. No need to go to Google Analytics. On top of it, it is way easier to understand.
Difficult to find a website that doesn't use MonsterInsights, it has been downloaded from over 2 million people: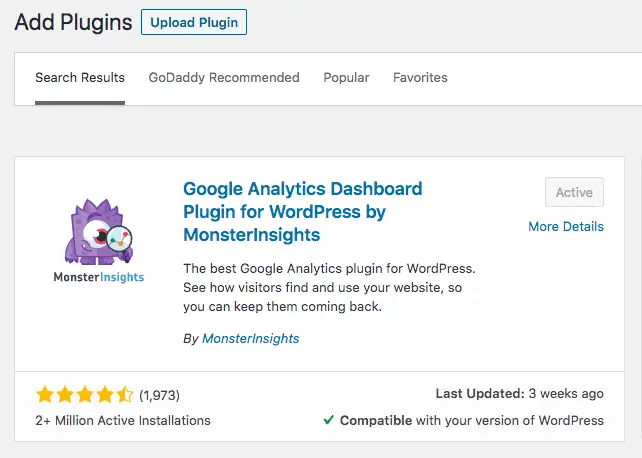 MonsterInsight is a Top Merchant, and it is a top used plugin, not by mistake, if you want to join this affiliate program, you have to join ShareASale.

Weebly is a top brand in its field. It is one of the top website builders. Website creators widely use it. Their affiliate program goes through ShareASale.

Wpengine is a top web hosting provider. It is largely used by bloggers and website owners, it is one of the best out there. They also have their affiliate program on ShareASale.

Tailwind is a Pinterest scheduling tool, it allows you to share your pins with other user's Pinterest accounts, it is an official PInterest partner and Instagram. In fact they have created a great scheduling and posting tool for Instagram too.
If any of you is a Pinterest user, you may have stumbled upon Tailwind one way or the other.
Tailwind is on ShareASale.
The list is endless, just know that ShareASale host some of the best brands and affiliate programs.
Related:
HOW TAILWIND WORKS | BEST ILLUSTRATED GUIDE
Tailwind SmartBio | How to Drive More Instagram Traffic
Here some suggestions in searching for merchants:
Keyword research: you can just insert a keyword and see what merchants are coming out.
You can select a niche; they are all listed out, like travel, fashion, fitness, etc.
You can use filters.
The keyword research and the niche selections are pretty easy to see and use, in fact, as soon as you come into the "search merchant" page, those two options are coming to view immediately: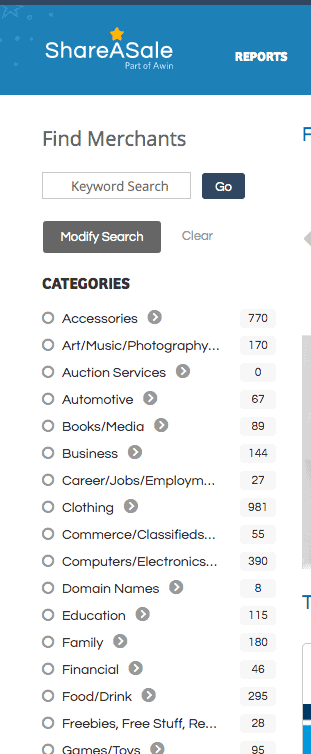 You can insert the keyword in the search bar or click on any of the different niche available. If you want to search instead based on payouts, commissions, and other criteria, click on "modify search" under the keyword search bar: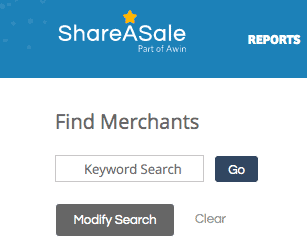 Once you click on it, you will get a new menu to choose from: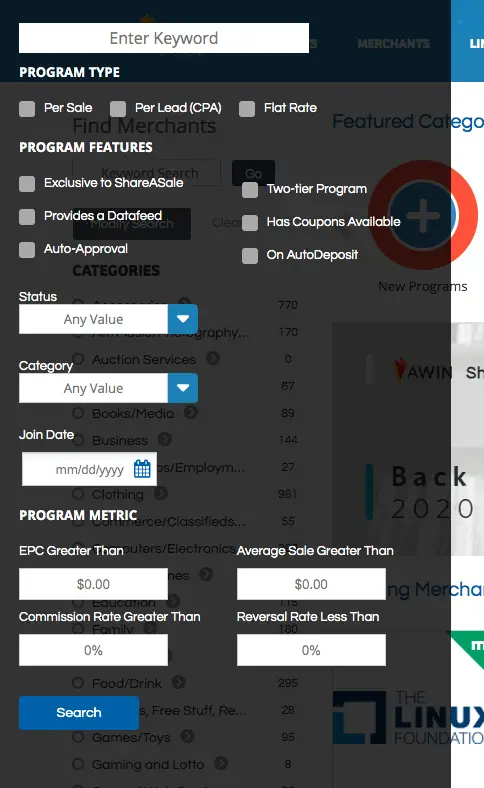 You have now the possibility to restrict the search to specific value and criteria, like keywords combined with commission amount, and other options.
Another great option for some of the brands that are offering multiple products, is "Datafeed", this option let you create product feed to insert in your website. It is a feed because automatically change products in display.
You can insert Datafeed in the middle of a post, in the side bar, under the menu and other places.
Here is an example of Datafeed created with ShareASale, from a merchant that sell pet products:
In the sidebar under 'You May Like" you can see a feed of products from ShareASale merchants, based on keywords I selected. Since this website is on cats, the main keyword is "cat." Therefore this feed is showing cat products.
You can set this up in ShareASale, deciding which merchant you want to use, and what keywords, then you get a code to insert on your website. It is very simple to set up, and it is very practical.
ShareASale lets you create a sales page with a product display as well. I have not seen this in many other affiliate network platform.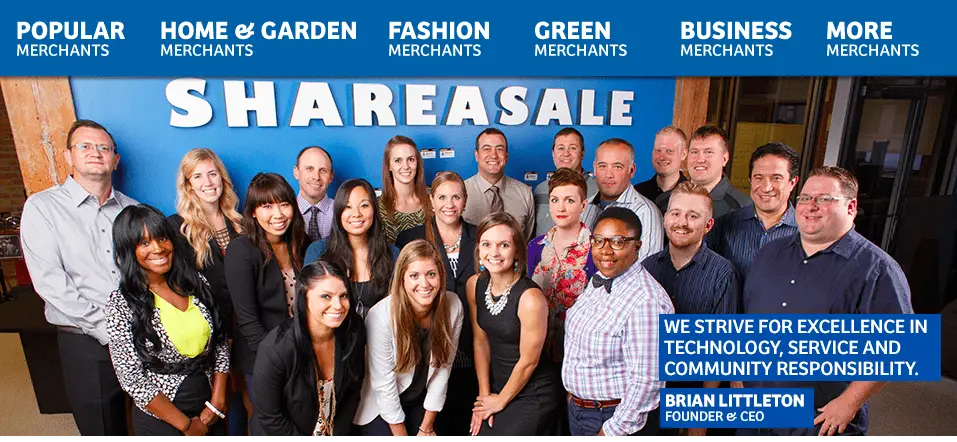 ShareASale has been in business for 20 years, exclusively as an Affiliate Marketing Network. Their technology is known for speed, efficiency, and accuracy .
Their objective is to provide customers with an advanced Affiliate Marketing platform. In January 2017, global affiliate network Awin acquired ShareASale to provide further international opportunities to domestic advertisers and publishers.
Here some related questions and answers:
EPC stands for "earnings per click," and for pay per click affiliate marketing schemes, this is outlined as the commission or payment rate that you earn for your click-throughs or the activity you achieve on your affiliate links.
What can be good alternative for ShareASale?
There are other affiliate networks or platforms you can check out. Here the biggest and most known:
Clickbank
JVzoo
Warrior Plus
Connection Junction (CJ)
Rakuten
Amazon Associate
ShareASale may have merchants willing to give a higher payout than Amazon, for example. Amazon associate is commonly used to promote affiliate products on niche sites.
CJ (Commission Junctions) has other great brands. So those 2 networks would be good to join in search of products for niche sites. Even if Amazon may be easier in terms of the number of products available, it is not a good option anymore, they have cut their commission down considerably.
CJ hosts good and big brands, however, the interface is not user friendly as ShareASale, and they do not have product feed options even though I can suggest you to join both programs.
Related: HOW TO START A BLOG | ILLUSTRATED GUIDE
How can I be a merchant in ShareASale?
Instead of signing up as an affiliate, if you are a brand, sign up as a merchant. Be aware that being on the platform it costs money: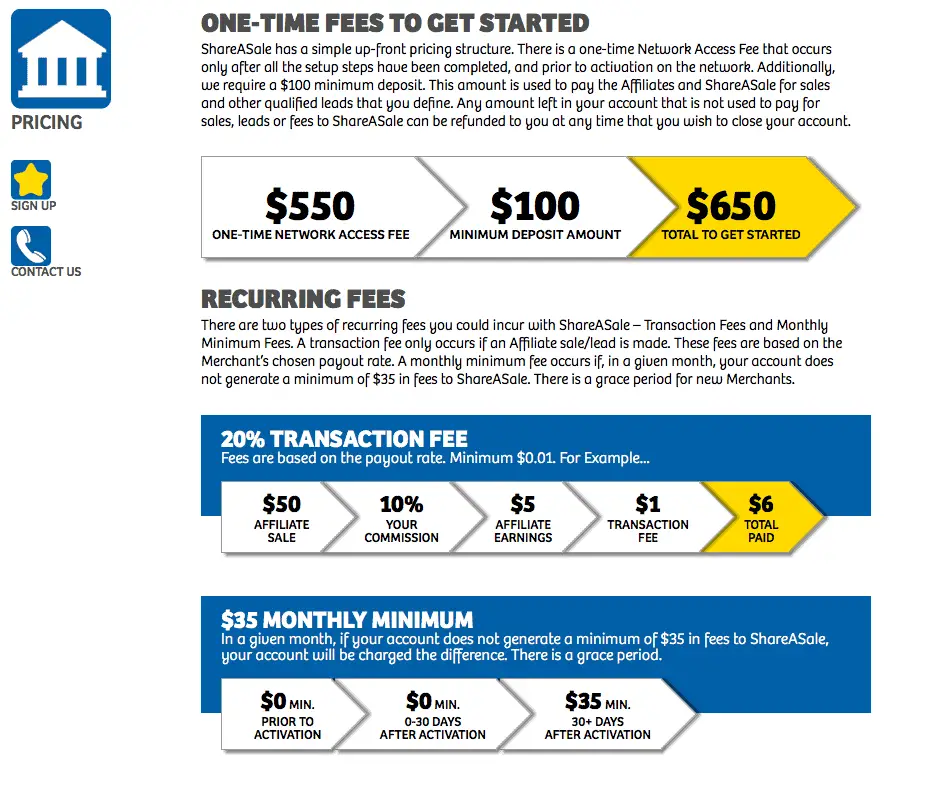 You can choose between a recurring fee or a one time fee. Best is for you to get a bit to establish in your business and then start a referral program if you cannot meet minimum fees and sales, you may lose instead of gaining.
From the other side, you are joining a platform with thousands of affiliates, and you will get great exposure.
How to get approved for ShareASale if you do not have a website or blog?
It is difficult; you may have to see how you are promoting brands, can be social networks, for example. If you have a big audience with many followers, you can pitch them your story and insist on getting approved, showing white hat promotion methods.
CONCLUSION
It should be easier now to understand how to get approved for ShareASale. If you have any more questions, write it in the comments below.