How to connect WPForms and Sendinblue in WordPress? If you have WPForms on your WordPress site and use Sendinblue as your e-mail service provider, you may want to know how to integrate them and use them simultaneously.
WPForms can integrate with several e-mail service providers. One of these is Sendinblue. Integrating WPForms with Sendinblue takes few minutes and lets you manage the list's subscriptions from inside WPForms. There is no need for coding or complications.
Let' s see how.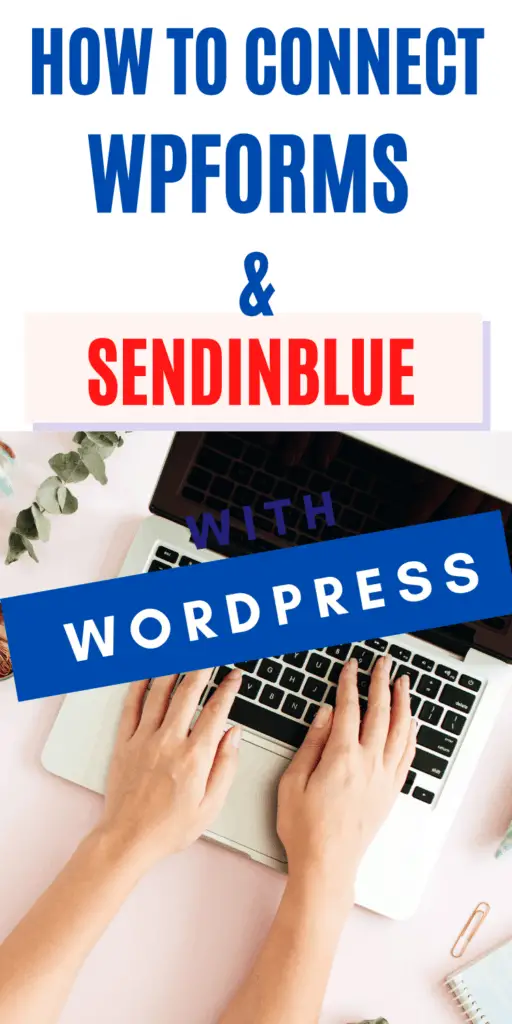 WHAT IS SENDINBLUE?
Sendinblue is an e-mail service provider that allow customer to collect e-mails and perform marketing actions and automations.
With Sendinblue, it is possible to collect e-mails, separate them into various lists, and send promotions to those e-mails with newsletters. Recently Sendinblue has expanded its marketing capabilities, adding SMS marketing, chat for your website to collect more e-mails and service your customers.
But, Sendinblue is not limited only to those functions. You can still do marketing automation, CRM, sign-up forms, landing pages, and Facebook ads. The best part is that Sendinblue offers free plans with the possibility to send 300 e-mails a day.
They provide the opportunity to start marketing, earning, and then advancing to paid plans once one is ready to do it. It is a smart policy to apply. Beginners do not always have the resources to get going in marketing; Sendinblue grows by letting others grow.
HOW TO CONNECT WPFORMS AND SENDINBLUE IN WORDPRESS?
If you are collecting e-mails through your website using forms, the chances are that you are also using WPForms. If you are not using WPForms, but you want to integrate your Sendinblue account with a contact form plugin, you can start using WPForms.
You can download WPForms here. Remember, you need the plus plan to be able to use the Sendinblue addon.
Once WPForms is installed and activated, go to WPForms » Settings and click on the Integrations tab: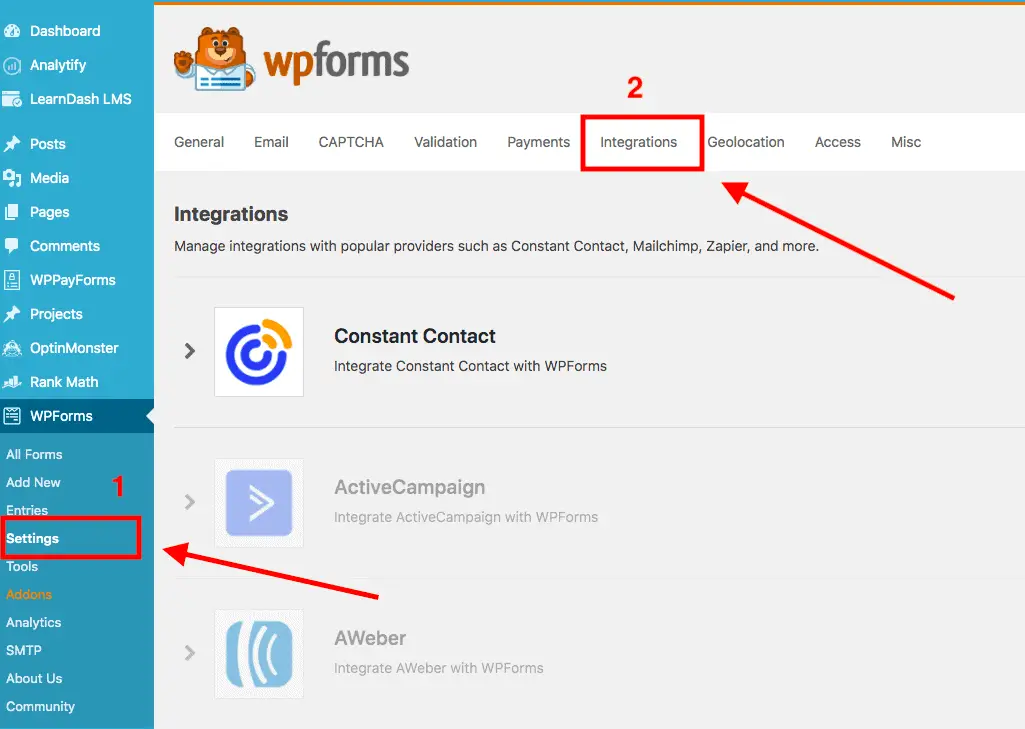 Then and click on then find Sendinblue and click on Integrate Sendinblue with WPForms tab:

Now, click the Add New Account button to enter in your account information:
In the new window, insert you Sendinblue account info, to connect your account with WPForms.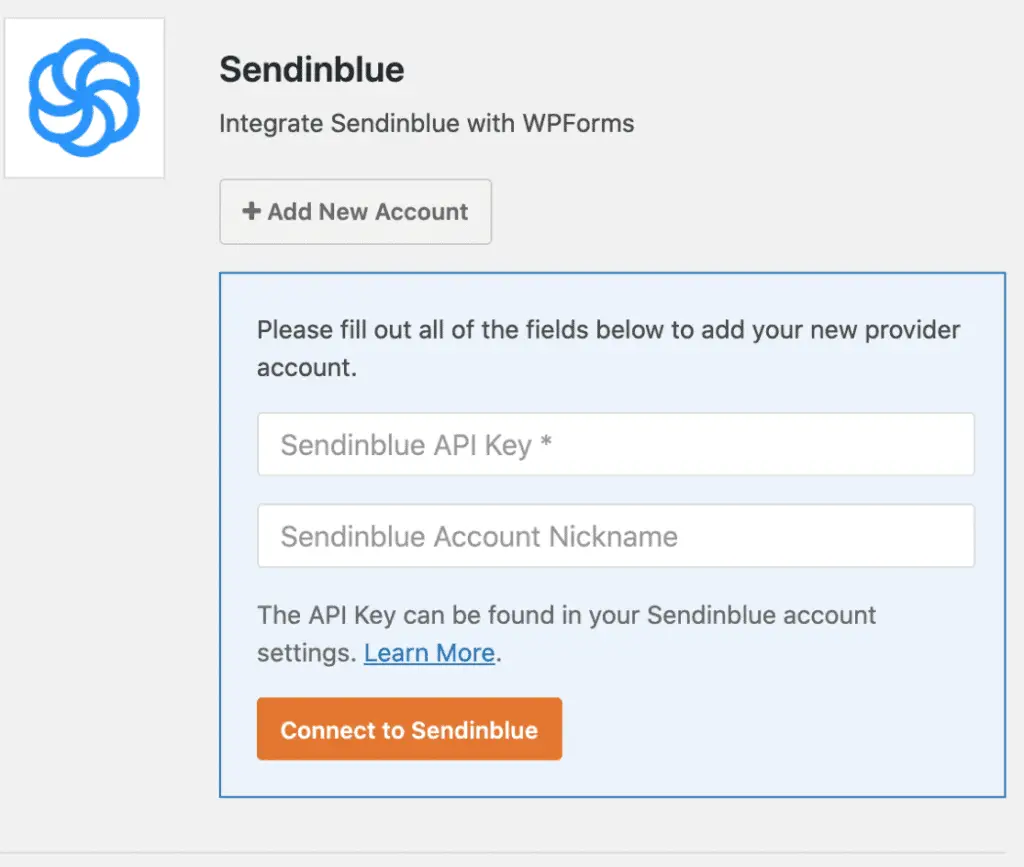 You would need the API key and the Sendinblue account nickname. You can find your API key in your Sendinblue account. In the top right corner, click the name or e-mail connected to your account. A drop-down menu will show several options. Choose SMTP and API: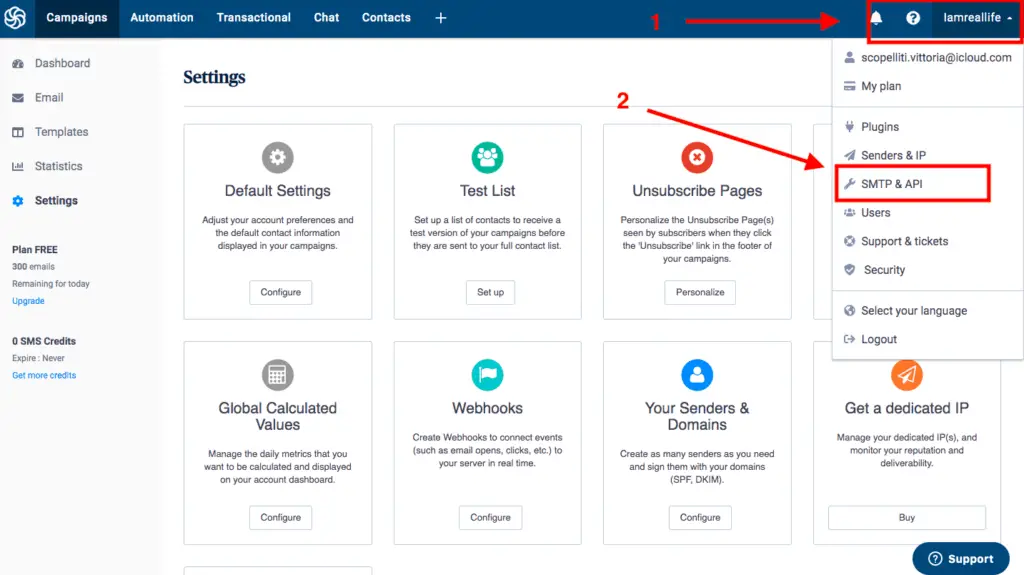 Once you find the API key, paste in the previous window and connect WPForms with Sendinblue. Once you do, you will be able to see the status of the connection at all time:

Now your Sendinblue account is connected with WPForms. Therefore from now on, you will be able to connect any list on Sendinblue with a form and collect e-mails directly from WPForms to Sendinblue.
HOW TO ADD A FORM WITH A SENDINBLUE LIST
Now that Sendinblue is connected with WPForms, we want to add Sendinblue to a new form. It is possible to edit an existing form too.
From the form builder, go to Marketing » Sendinblue. In the Sendinblue tab, click on the Add New Connection button.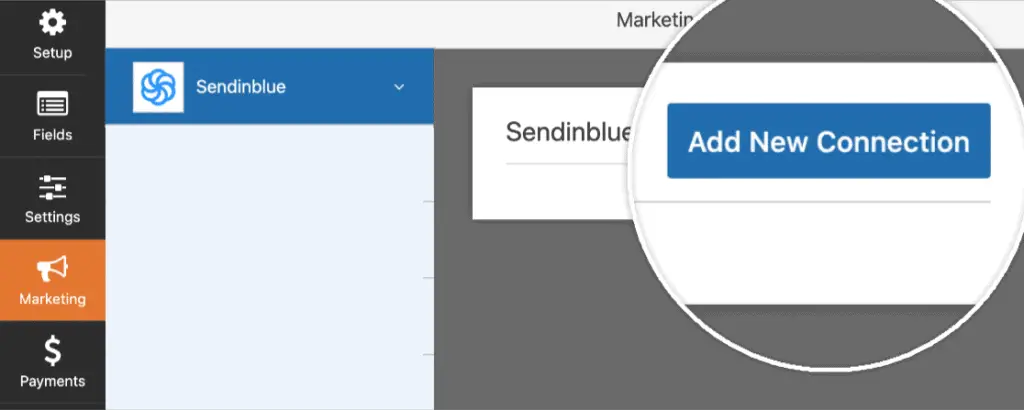 You will be asked to enter a nick name for the connection, it is for your internal use, it is not going to be shown to visitors.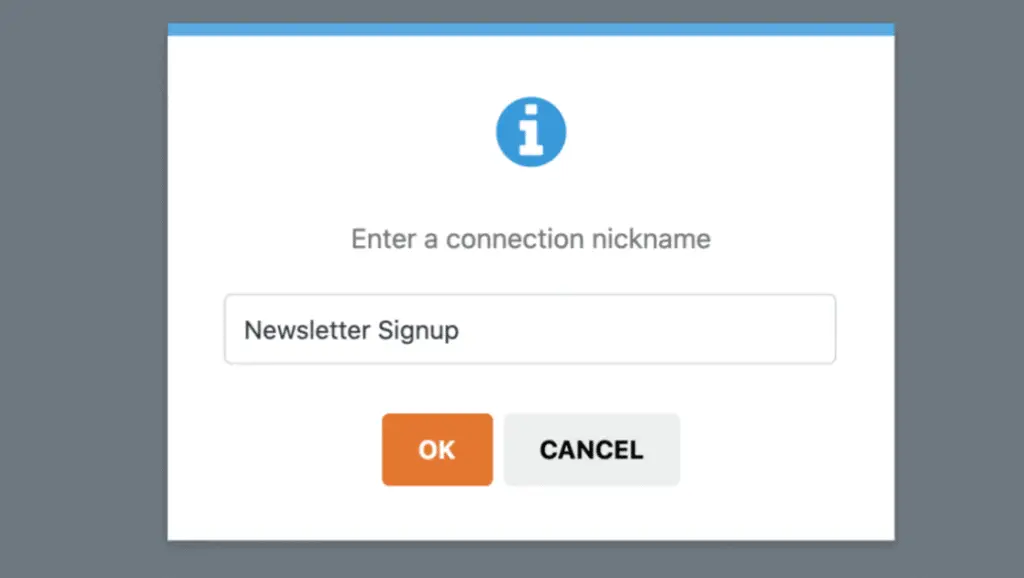 The next step is to select which Sendinblue account to connect to if you have more than one. Under Action to Perform, choose the action you'd like to happen when users submit your form. For our example, Subscribe to add users to Sendinblue contacts.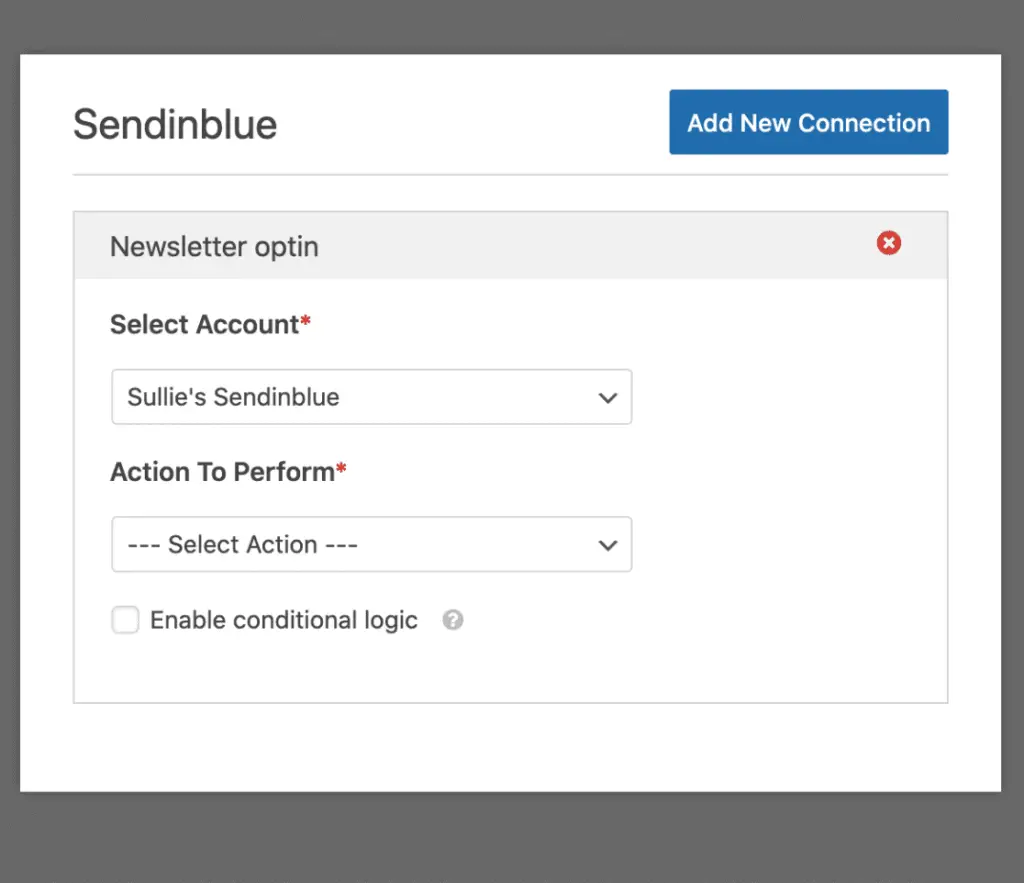 Once that is done, additional settings will appear for you to configure.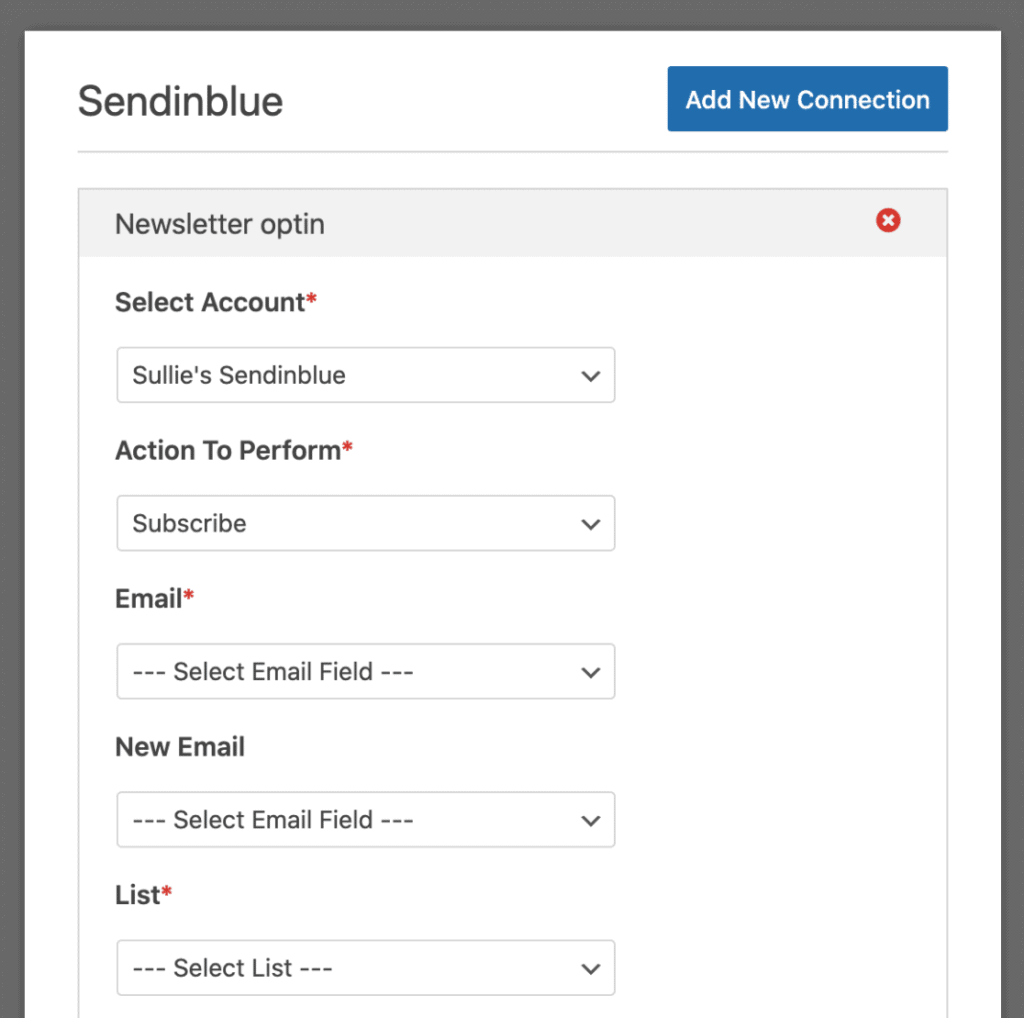 Those are:
Email: Select the WPForms field that will contain the subscriber's email address.
New Email: Select the WPForms field that would contain the new email address of the subscriber. This field is only necessary when updating an existing contact in Sendinblue.
List: Select the Sendinblue list that you'd like the subscriber to be added to.
Once this is done, save your settings and you are good to go.
WHAT OTHER PROVIDERS DOES WPFORMS INTEGRATE WITH?
WPForms doesn't integrate only with Sendinblue. Many other popular e-mails providers are available to integrate with WPFoms, like Constant Contact, ActiveCampaign, Aweber, Campaign Monitor, Drip, Get Response, Mailchimp, and Salesforce.
Each e-mail service provider has features and services that may differ from the other, even though basic services like e-mail sending and auto-responding are available for each of them.
Mailchimp is another free options of beginners. You can use Mailchimp to send up to 10000 e-mails per month for free, you can build e-mail newsletter using free templates and landing pages.
ActiveCampaign, from the other side, is one the best e-mail providers from the standpoint of e-mail deliverability. E-mails sent from ActiveCampaign have more chances to get to the recipient than it was sent from another provider. It is not free, but there is a free trial period.
Get Response allows 30 days of a free trial, and it an awesome provider for building sales funnels and landing pages.
On the other side, many affiliate marketers use Aweber. It can help you build landing pages, e-mail newsletters, and sales funnels. It is good for small businesses.
CONCLUSION
Sendinblue offers great features and services for its users, and it is now integrating with WPForms. WPForms is used by over 2 million people and offers easy and simple integration with Sendinblue.
Collecting e-mails with your favorite provider is now possible with the many addons available with WPForms. If you have any questions or want to add anything, leave it in the comments below.