Is MonsterInsights the Best and Most Popular Google Analytics Plugin for WordPress?
GOOGLE ANALYTICS PLUGIN FOR WORDPRESS – MONSTERINSIGHTS: Why is Monster inside the best Google Analytics Plugin for WordPress ?
A plugin is a piece of software containing a group of functions that can be added to a WordPress website. They can extend functionality or add new features to your WordPress websites.
From my prospective because Monsterinsights is very simple, user friendly and easy to set up plugin, which gives you the full analytics in one glance without having to login and out many websites. It is very beginner friendly, which is what I was looking for when I started with my first wordpress site.
If things were not easy to do or understand, i would pass to the next.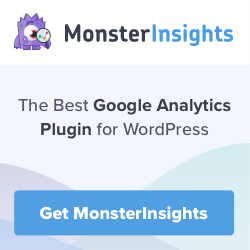 I had very little data on wordpress and how to get traffic, so I was very happy to use this plugin, I have more then one site and it it is the first plugin I set up when I get a new WordPress site.
I want to know right away if there is any response to the changes I am making and how is the promotion responding.
INSIGHTS & ANALYTICS
GOOGLE ANALYTICS PLUGIN FOR WORDPRESS :
INSIGHT: a deep understanding of a person or thing.plural noun: insights
Analytics is the discovery, interpretation, and communication of meaningful patterns in data; and the process of applying those patterns towards effective decision making. (From Wikipedia, the free encyclopedia)
GOOGLE ANALYTICS PLUGIN FOR WORDPRESS, MONSTERINSIGHTS allows you to get the insights of your site and all the analytics you need to make a decision as to what you are going to do next to increase traffic. Without a tool like this is like to drive a car being blind.
MONSTERINSIGHTS INSIDE A WORDPRESS SITE
When I log into my WordPress Dashboard, the first thing I see is the updated overview of my site visitors, page views, bounce rate and average session.
When I clink on the MonsterInsight tab, Just under the dashboard I get the full report
You can immediately see day by day how many people have gone through the site and how many pages were viewed.
If you scroll down you can also see from where those people came from, in terms of who referred the website and from which countries are the top visitors coming from :
READ ALSO: MAKE MONEY ONLINE – BEST GUIDE FOR BEGINNERS 2019
MONSTERINSIGHTS – USED BY MORE THEN 2 MILLION PEOPLE
As you can see from the inside this is really easy to understand and gives an immediate idea of what is going on inside the website and from where, based on this you can repeat successful actions or cancel the one that bring you nothing.
For example Facebook is one of the main source of traffic for this site, so as one of my strategy I am going to spend time to market and reach people in facebook as well as Pinterest. I would use those platforms to drive traffic as much as I can as those are being successful.
MonsterInsights has been downloaded and is being used from more the 2 Million people as you can see from the screenshot below. It is really easy to use and very understandable even for beginners.
Unlike other Google Analytics plugins, MonsterInsights allow you to enable all advanced Google analytics tracking features with just a few clicks (no need to hire a developer).
The best part is that MonsterInsights comes with a Google Analytics Dashboard for WordPress that shows you actionable analytics reports right inside your WordPress dashboard as you can see above.
READ ALSO: MAKE MONEY ONLINE – BEST GUIDE FOR BEGINNERS 2019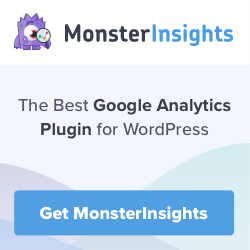 MONSTERINSIGHTS FEATURES & ADDON
Monsterinsights comes with many features and add-on to help anyone to really analyze the data and get a correct decision to improve any website performance.
QUICK & EASY GOOGLE ANALYTICS SETUP
GOOGLE ANALYTICS PLUGIN FOR WORDPRESS : With MonsterInsights, it is "effortless" to properly setup Google Analytics in WordPress. Yes, you can enable all advanced Google Analytics features with just a few clicks.
If you can point-and-click, then you can setup WordPress analytics and start seeing insights in under 15 minutes (no code necessary).
GOOGLE ANALYTICS DASHBOARD + REAL TIME STATS
MonsterInsights makes analytics easy and accessible for everyone.
Google Analytics has a steep learning curve which often prevents small business owners from making informed decisions to grow their business.
That's why MonsterInsights comes with a built-in Google Analytics Dashboard for your WordPress site, so you can see all the useful information about your visitors right inside your WordPress dashboard.
Type of Reports:
Audience Report helps you get to know your visitors in a whole new way. It shows you detailed insights like which country your visitors are coming from, what are they most interested in, which device are they using, their age, gender, and a whole lot more. You can use this demographics report and audience clues to tweak your website design and content accordingly.
Behavior Report shows you exactly how people find your website, which keywords did they search for, who referred them, what did they click on your site, and more. You can use these useful stats to identify low-hanging fruits, new partnership opportunities, and promotional areas to focus on.
Content Report shows you stats on exactly which content gets the most visits, so you can stop guessing and start creating content that gets more traffic and conversion.
Ecommerce Report shows you important store stats like total revenue, conversion rate, average order value, top referral sources, and more (all in one place).
Forms Report shows you conversion stats for various contact forms and lead forms on your website, so you can improve the conversions to grow your business.
Search Console Report shows you exactly how well your website is ranking in Google, so you can further optimize your SEO to grow your organic traffic.
Custom Dimensions Report helps you dig deeper by showing you useful stats like who are your most popular authors, what are the best publication times, which are your most popular categories or tags, how well are your Yoast focus keywords and SEO score performing, and more.
READ ALSO: MAKE MONEY ONLINE – BEST GUIDE FOR BEGINNERS 2019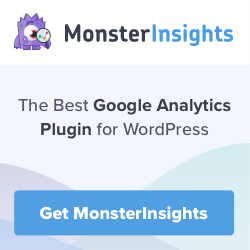 GOOGLE ANALYTICS ENHANCED ECOMMERCE TRACKING MADE EASY
Google Analytics Enhanced Ecommerce tracking is a powerful feature that lets you track user behavior across your online store starting from product views to checkout page to thank you page and beyond.
With MonsterInsights' easy WooCommerce Google Analytics integration, you can setup WooCommerce analytics with literally 1-click.
Once you have enabled WooCommerce tracking, MonsterInsights will show you all important WooCommerce metrics in a single dashboard including WooCommerce conversion rate, top products in your WooCommerce store, total transactions, total revenue, average order value, top referral sourecs, and more.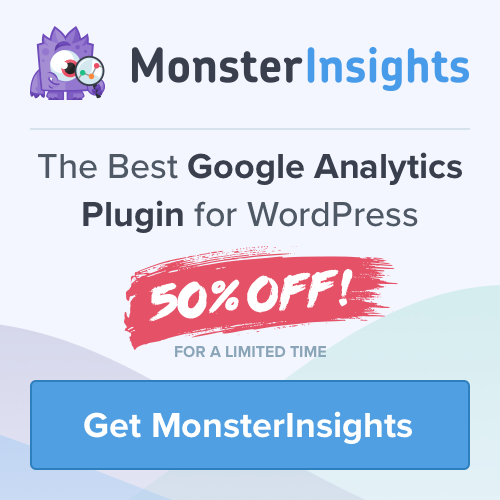 Our WooCommerce analytics report also include other detailed WooCommerce event tracking data like total add to carts, total removed from cart, time to purchase, and sessions to purchase.
For those who want to go beyond our WooCommerce stats dashboard, you can easily open up the Google Analytics dashboard to combine WooCommerce Google Analytics data with other secondary dimensions and filters to find exactly what you're looking for.
Aside from WooCommerce Google Analytics integration, MonsterInsights' Ecommerce addon also offers seamless integration for the Easy Digital Downloads plugin.
Simply put, MonsterInsights' Enhanced Ecommerce for WordPress feature is by far the easiest and most powerful in the market.
READ ALSO: MAKE MONEY ONLINE – BEST GUIDE FOR BEGINNERS 2019
GOOGLE ANALYTICS + GDPR COMPLIANCE
MonsterInsights helps make Google Analytics GDPR compliance easier for business owners.
The mutually agreed General Data Protection Regulation (GDPR) came into force on May 25, 2018, and was designed to modernise laws that protect the personal information of individuals. … GDPR alters how businesses and public sector organisations can handle the information of their customers
Our EU compliance addon allows you to:
Anonymyze IP in Google Analytics
Disable the Demographics and Interest Reports for Remarketing and Advertising
Disable UserID and author name tracking
Enable the compatibility mode. See also How to Enable Compatibility Mode in MonsterInsights
Integrate with Cookie Notice and CookieBot plugins to collect user consent before tracking
Integrate with Google AMP Consent Box before enable tracking
AMP — which stands for Accelerated Mobile Pages — was introduced by Google in October of 2015. AMP is an open-source custom web development framework created to speed up the loading time of web pages on mobile devices. Google AMP is a website publishing technology that lets you create web pages that load almost instantly on mobile phones. Since its inception in early 2016, over 25 million domains have published more than 1.5 billion AMP pages.
Integrate with Google Analytic's Chrome browser opt-out extension and built-in cookie opt-out system
Offer Easy Opt Out link for Google Analytics tracking
While no single plugin can guarantee 100% GDPR compliance in WordPress, MonsterInsights goes to great length in helping business owners with Google Analytics GDPR compliance.
READ ALSO: MAKE MONEY ONLINE – BEST GUIDE FOR BEGINNERS 2019
UNIVERSAL TRACKING + GOOGLE ANALYTICS FOR AMP AND INSTANT ARTICLES
MonsterInsights uses Google Analytics universal tracking, so you can track your users across devices and platforms.
Accelerated Mobile Pages (AMP) is a project by Google that helps you speed up your website. However if you don't set it up properly, Google AMP can cause you to lose your website analytics. Our Google Analytics AMP integration allows you to have accurate Google Analytics tracking on all AMP enabled pages. It works seamlessly with AMP for WordPress plugin.
MonsterInsights also offer 1-click Google Analytics integration with Facebook Instant Articles.
READ ALSO: MAKE MONEY ONLINE – BEST GUIDE FOR BEGINNERS 2019
GOOGLE ADSENSE TRACKING AND AFFILIATE LINK TRACKING
With MonsterInsights Ads tracking addon, publishers can easily track the performance of their Google AdSense Ads inside their Google Analytics dashboard.
MonsterInsights affiliate link tracking makes it easy for bloggers and affiliate marketers to track their affiliate links with Google Analytics.
MonsterInsights uses event tracking for all WordPress outbound link tracking which is far more accurate than any built-in WordPress analytics solution.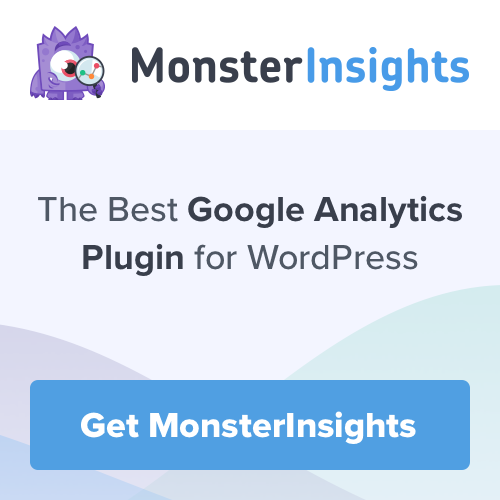 Unlike other WordPress analytics plugin, our Google Analytics affiliate link tracking does NOT slow down your website because all events are recorded via JavaScript and sent straight to your Google Analytics account.
MonsterInsights' affiliate link tracking feature works with all WordPress affiliate link management plugins including Pretty Links, Thirsty Affiliates, and others.
READ ALSO: MAKE MONEY ONLINE – BEST GUIDE FOR BEGINNERS 2019
CUSTOM DIMENSIONS TRACKING, CUSTOM GOOGLE ANALYTICS EVENT TRACKING, AND MORE
Every report in Google Analytics is made up of dimensions and metrics.Dimensions are attributes of your data. For example, the dimension City indicates the city, for example, "Paris" or "New York", from which a session originates. The dimension Page indicates the URL of a page that is viewed.
Metrics are quantitative measurements. The metric Sessions is the total number of sessions. The metric Pages/Session is the average number of pages viewed per session.
The tables in most Analytics reports organize dimension values into rows, and metrics into columns. For example, this table shows one dimension (City) and two metrics (Sessions and Pages/Session).
| DIMENSION | METRIC | METRIC |
| --- | --- | --- |
| City | Sessions | Pages/Session |
| San Francisco | 5,000 | 3.74 |
| Berlin | 4,000 | 4.55 |
MonsterInsights's Google Analytics event tracking feature for WordPress doesn't just stop at affiliate link tracking.
You can use MonsterInsights custom Google analytics event tracking feature to easily add outbound-link tracking, file downloads tracking, call-to-action button tracking, hashmark tracking, telephone link tracking, and more.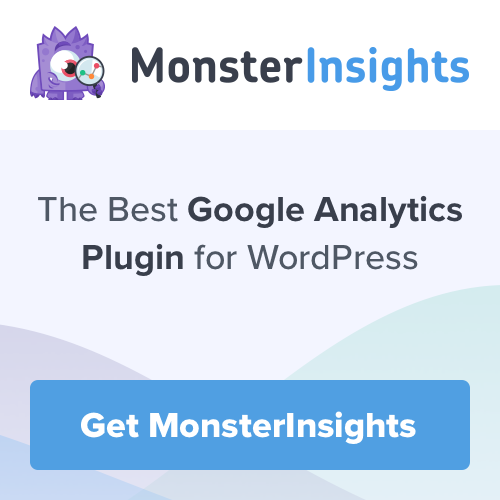 MonsterInsight's powerful Forms Tracking add-on uses Google Analytics custom event tracking feature to enable form analytics in WordPress. With just 1-click, you can enable form conversion tracking for your contact forms, lead generation forms, registration forms, surveys, and any other type of form in WordPress.
MonsterInsights' Custom Dimensions addon allows you to push WordPress analytics even further. You can use Google Analytics custom dimensions to generate helpful WordPress stats for:
Author Tracking – see stats for each author to find which author's posts generate the most traffic.
Post Type Tracking – see stats for WordPress post types to find out which sections are performing the best.
Category Tracking – see stats for your WordPress categories to find out which sections of your sites are the most popular.
Tags Tracking – see stats for your WordPress tags to find out which tags are the most popular.
SEO Score Tracking – see stats for your Yoast SEO score and see how it impacts your traffic.
Focus Keyword Tracking – see stats for Yoast focus keyword and see how it correlates with your traffic.
Logged-in User Tracking – see WordPress stats for what percentage of your users are logged-in.
User ID Tracking – see stats for each individual logged-in user's activity through User ID custom dimension – great for Ecommerce and membership sites.
Published Time Tracking – track the performance of your posts based on their published time in Google Analytics.
MonsterInsights allow you to take full advantage of all the powerful Google Analytics features.
READ ALSO: MAKE MONEY ONLINE – BEST GUIDE FOR BEGINNERS 2019
GOOGLE ANALYTICS DASHBOARD PLUGIN FOR WORDPRESS MULTISITE NETWORKS
You can control who has access to view the Google Analytics Dashboard report in WordPress. MonsterInsights permissions setting allows you to hide Google analytics reports for specific user roles.
Similarly, we undrestand that some sites may want to exclude logged-in users from Google Analytics tracking. MonsterInsights gives you granular control to exclude admin in Google Analytics as well as other user roles.
Our performance addon allows you to adjust sample rate and site speed sample rates for Google Analytics.
By now you can probably see why MonsterInsights has become the most popular Google Analytics plugin for WordPress.
We understand Google Analytics better than any other analytics plugin for WordPress.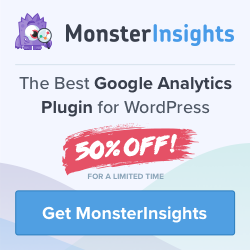 FULL MONSTERINSIGHTS FEATURE LIST
Quick and Easy Setup – Easily setup Google Analytics for WordPress with just a few clicks (no coding needed)
Real Time Stats – See real time stats inside your Google Analytics dashboard.
Universal Tracking – Get better insights with Google Analytics' universal tracking.
Google Analytics Dashboard – See the stats that matter from right inside your WordPress dashboard with custom Publisher Report, Ecommerce report, and Search Console report.
Ecommerce Tracking – Add Google Analytics Ecommerce tracking to WordPress.
WooCommerce Google Analytics – Add Enhanced Ecommerce Tracking to your WooCommerce store.
Easy Digital Downloads Google Analytics – Add Enhanced Ecommerce Tracking to your EDD store.
Ads Tracking – Track your Google Adsense ads with Google Analytics.
Affiliate Link Tracking – Track your affiliate links and get stats that matter.
File Download Tracking – Enable file download stats with just a click.
Custom Link Tracking – Track your outbound link clicks with Google Analytics.
Events Tracking – Track custom button and banner clicks with Google Analytics.
Custom Dimensions Tracking – Enable Google analytics custom dimensions tracking for WordPress.
Author Tracking – See author stats and discover who's the most popular author on your site.
Popular Post Tracking – See which blog post and section is the most popular.
Custom Post Type Tracking – Track the performance of your custom post types.
Referral Tracking – See how visitors are finding your website to better focus your marketing efforts.
Performance Tracking – Control the performance rate and sample rate for your Google Analytics report.
Enhanced Link Attribution – Get better analytics with enhanced link attribution.
Google Analytics for AMP – Add proper Google Analytics tracking for Google AMP.
Google Analytics for Facebook Instant Articles – Add proper Google Analytics tracking for Facebook Analytics.
Google Analytics GDPR Compliance – EU compliance addon helps you improve Google Analytics GDPR compliance by adding adding anonymize IP, cookie consent for Google Analytics, opt-out tracking, and more.
Form Conversion Tracking – Track conversions for your WordPress forms. Works with all popular plugins including WPForms, Contact Form 7, Gravity Forms, Formidable Forms, and more.
Google Optimize Tracking – Enable Google Analytics support for Google Optimize A/B Testing.
Google Analytics Tools – Helpful tools for Google analytics such as UTM link tracking builder.
Want us to add something else? Suggest a feature and we'll get it added!
GOOGLE ANALYTICS PLUGIN FOR WORDPRESS – MONSTERINSIGHTS PRICING
If anyone is really serious about building a business or website, it is necessary to be able to access easily to the above features and know you have all the best possible insights and can track near to anything in your website.
If you do weekly or monthly analysis to decide where best to invest your promotion, this is THE tool.
The price are as follow:
The plan are starting from $99. For a whole year!!!!! This plan has most of the features and it is good to start from if you are starting now with analytics.
The Pro Plan can be used with 5 sites!!! and you have all the incredible features. Nothing is left untracked, this plan is really the best.
MONEY BACK GUARANTIED
There is no free trial with MonsterInsights but they have a 14 days money back guaranteed, so it is risk free.
If you don't like MonsterInsights over the next 14 days, then we will happily refund 100% of your money. No questions asked.
MONSTERINSIGHT LITE VERSION
You can start downloading this version from the WordPress Plugin menu. This is free and you can start using MonsterInsight with very basics features as tracking website visitors, see the pages are landing on, and the countries they are coming from.
READ ALSO: MAKE MONEY ONLINE – BEST GUIDE FOR BEGINNERS 2019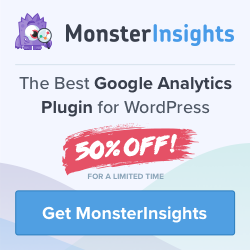 Find it in Pinterest !